Molly Yeh Just Announced Her Pregnancy In The Most Hilarious Way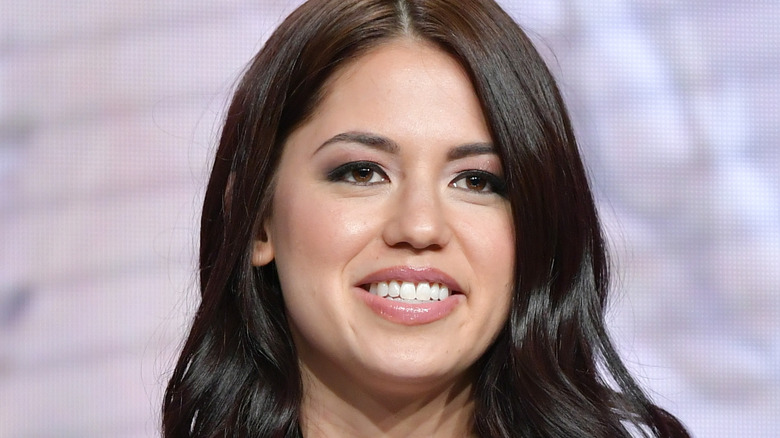 Amy Sussman/Getty Images
Molly Yeh has a babka in the oven. We don't mean literally; we can't promise you Yeh will make a loaf of the sweet Jewish bread in the upcoming season of "Girl Meets Farm" on Food Network. The season premiere is September 19 (via People), and one look at Yeh on the show will give it away anyway, so Yeh made the announcement a couple days ahead of time, on Twitter and Instagram. The TV chef and cookbook author, and husband Nick Hagen, are expecting their second child. The image Yeh chose to post on social media to accompany the news wasn't the standard sonogram or baby-bump pic, either. It was a cross section of a babka loaf with a big air bubble baked into its center. If you use your imagination while looking at the photo, a cute little curl of white dough sits in that dark air bubble, with what looks like an umbilical cord attached.
Yeh's caption read, "Well i was gonna post a sonogram pic but this babka cross section looked just as cool and is probably just as accurate?? Which is me telling you that ... we've got another human on the way!!! Due February!" She added the hashtags #babkaintheoven and #iwantasalamisandwich. Clearly, those pregnancy cravings are really affecting Yeh's hashtag choices.
Sunny Anderson, many others congratulate Molly Yeh on social media
In fact, Molly Yeh told People she's been craving hard boiled eggs and chicken Caesar salad wraps lately — and justifying all those boxes of macaroni and cheese she's been going through by telling herself they're for her firstborn, 2-year-old daughter Bernie. "We're so excited to add a new little bean to the family!" Yeh told People.
Congratulations poured into Instagram and Twitter from Yeh's fans, including many from the food world. Sunny Anderson offered up a celebratory string of bread and party popper emojis. Washington Post food reporter Becky Krystal wrote, "Congrats to getting ready to have another one of the best-fed kids ever."
Some Instagram commenters were impressed with that babka's resemblance to an actual sonogram. "Totally an ultrasound babka!" @bisforbagelbook said. "I feel like this could be the new 'chihuahua or blueberry muffin' meme," @icankook added.
"This is the best baby announcement ever," @phoenix0315 chimed in. "Also mmmmm is that chocolate babka!?"