Everything You Need To Know About Molly Yeh's New Cookware Line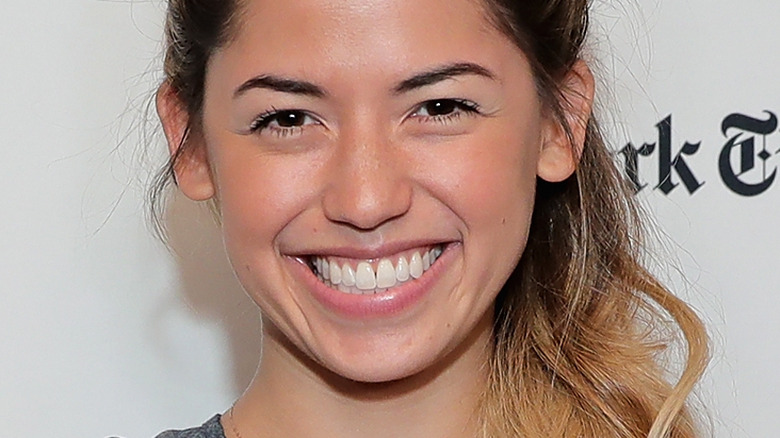 Neilson Barnard/Getty Images
Molly Yeh's parents have a lot to brag about. The former Brooklynite is a Juilliard-trained percussionist turned accomplished chef, named to Forbes' "30 under 30" list. She lives on the border between North Dakota and Minnesota with her fifth-generation farmer husband, two small children, and their chickens (per My Name is Yeh). As an extension of the journals she kept her entire life, Yeh launched her blog in 2009, winning "Food Blog of the Year" awards from Saveur and Yahoo.
Building on that momentum, Yeh wrote her first book, a memoir, "Molly On The Range: Recipes and Stories from an Unlikely Life on a Farm." The cookbook marries Yeh's Chinese and Jewish heritage while honoring her new Midwestern lifestyle on the farm. Yeh puts her stamp on recipes like Asian Scotch Eggs and Scallion Pancake Challah Bread while introducing us to the recipes that she's grown to appreciate, like Marzipan Mandel Bread (via Random House). Following her memoir, Yeh became the host of "Girl Meets Farm" in 2018 on the Food Network. Inspired by the whimsical farmhouse kitchen where Yeh lives and shoots her show, Yeh developed a line of housewares. Sold exclusively at Macy's, here's what we know about the line so far.
The Girl Meets Farm cookware line
Molly Yeh launched her houseware collection "Girl Meets Farm" on July 25, 2022. The product line is available nationwide at Macy's stores, on the Macy's app, and online. In a statement on the Food Network, Yeh said, "I find such joy working in my kitchen and wanted to design a product line that can spark that same feeling in others." Yeh announced the launch with a video on Instagram in the comfort of her home wearing slippers. Forty thousand likes later, Instagrammers seem to love the collection, commenting that they want all the pieces and asking if she'd add her curtain pattern to the line.
The collection contains cookware, bakeware, kitchen storage, cutlery, serving pieces, and a line of "parent and me" products designed for the little chefs in your family, matching the larger adult versions. The pieces are offered in all the colors of the rainbow and are full of fun patterns. The induction-compatible cookware includes modern wooden handles on colored stainless steel pots and pans, in addition to cast iron skillets and Dutch ovens. Perhaps the stunning matte pink braiser with a gold handle represents Yeh's aesthetics the best, retailing for $114 online. 
To celebrate the launch, Yeh announced a 'big fun giveaway' in the Instagram post. Currently, the entire "Girl Meets Farm" cookware collection is available in stores, with a select 14 pieces available online and more added over time. The product line retails from $9 to $129, and we want them all.