Consumers Spent More At Restaurants On Black Friday Than On Electronics
Davide Zanin Photography/Shutterstock
Each year, on the day after Thanksgiving, or Black Friday, stores mark down prices on clothing, electronics, and big-ticket items, effectively encouraging Americans to increase their shopping habits for at least one day. According to CNBC, United States consumers spent an expected $9 billion on Black Friday, and even more on its online-based sibling, Cyber Monday ($11.2 billion). Online sales, in general, had a large impact on Thanksgiving-week spending, with $5.29 billion spent on the holiday itself. In comparison, $2 billion to $3 billion is spent online on any given day.
Just a day after such a tremendous meal, you might not expect something like food to be discounted. Turns out, it actually is. Popeyes, for example, offered a free chicken sandwich with the in-app purchase of a chicken sandwich combo starting on Black Friday. Another deal that ended a few days after Black Friday was from Taco Bell. According to Sports Keeda, the Tex-Mex brand ran a buy-one-get-one deal on its Bell Breakfast Box. And when consumers get tired from the hustle and bustle of shopping, they're likely to turn to a restaurant for a hot, relaxing meal.
More shoppers dined out this year than last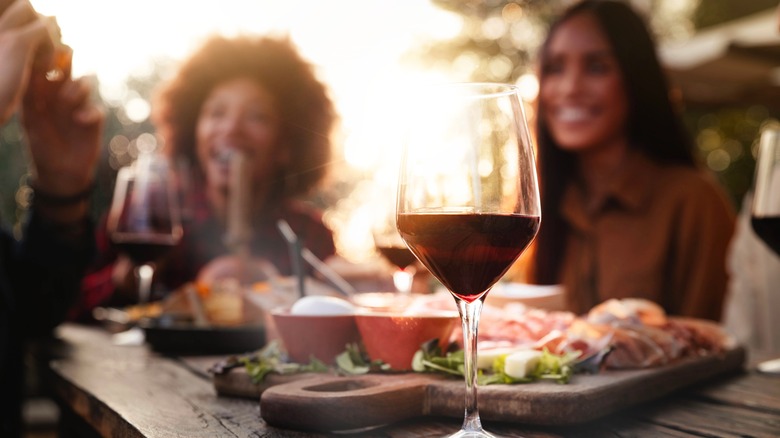 DavideAngelini/Shutterstock
You just spent all day Thanksgiving in the kitchen preparing food, and now you're spending the entirety of Black Friday searching for the best deals. If you're guessing that most shoppers don't feel inclined to cook again on Friday, you'd be right. Per QSR Web, consumers in 2022 spent 23% more in restaurants on the weekend following Thanksgiving and Black Friday than they did in 2021. According to findings by Google from the National Restaurant Association, 72% of Americans who shop on Black Friday visit some sort of eatery throughout the day.
For those who don't brave the Black Friday crowds, Thanksgiving leftovers are the typical dish of choice. In a study of 2,000 people, 7 in 10 enjoy next-day leftovers even more than the actual Thursday-night dinner (via Study Finds). When it comes to which put-away food hits the plate, 62% say turkey is best the following day, and 46% feel that mashed potatoes and stuffing rise supreme on Friday.