Popeyes' Has A BOGO Deal For Its New Blackened Chicken Sandwich
We all love cooking here at Mashed.com, but if we're being perfectly honest, sometimes we feel a little bit of kitchen burnout from time to time. Apparently, we're not the only ones — according to a recent study by the Food Industry Association, cooking fatigue has become more prevalent among consumers in 2022, which, considering how much time we've all spent in the kitchen over the last few years, is perfectly understandable.
With Thanksgiving just a few short days away, we wouldn't be surprised if even more people start feeling a lack of motivation to turn on the stove once all of those plastic containers of yummy leftovers have been emptied out. This, again, is perfectly understandable, as a 2019 One Poll survey found that Americans can spend upwards of 10-15 hours shopping, prepping, and cooking just for this Turkey Day feast (via New York Post). Tack on to that a few hours of Black Friday shopping at the mall, and we're sure that venturing back into the kitchen is the last place some people want to be.
Still, a person's got to eat. Takeout is one relatively hassle-free way to fill your tummy, and this year, Popeyes is offering customers the opportunity to grab two meals for the price of one. According to Chew Boom, the restaurant will be running a BOGO deal in the days after Thanksgiving that will even offer patrons the opportunity to try its newest menu item free of charge.
The limit does not exist on Popeye's Black(end) Friday deal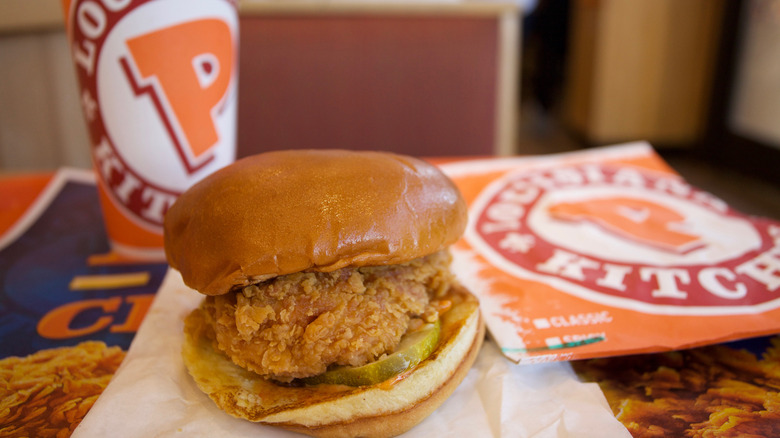 Elliott Cowand Jr/Shutterstock
Turkey is the star of the show on Thanksgiving, but after eating a few servings of it during your holiday feast (and countless Thanksgiving leftover recipes cobbled together in the days after), you may be looking for something — anything — else to fill your tum. If it's chicken you're salivating for, Popeyes will be running a post-Turkey Day promotion that has both your cravings and wallet in mind. According to Chew Boom, the chain will be offering BOGO chicken sandwiches for pick-up or delivery from Friday, November 25 through Sunday, December 4 as part of its Black(end) Friday deal. To take part, customers need to purchase a chicken sandwich combo through the Popeyes website or mobile app, which will then qualify them for a second sandwich at no charge.
Patrons can use the deal to order a classic Popeyes chicken sammie or can use it towards the eatery's new Blackened Chicken Sandwich. Consisting of a breading-free, Cajun and Creole-seasoned chicken breast, mayo, and pickles on a toasted brioche bun, YouTuber The Endorsement said in his review that the handheld "might be one of the juiciest sandwiches" he's had from the chain, and at no charge, this may be the perfect time to give it a try. As an added bonus, Chew Boom reports that there's no limit to the number of times this deal can be redeemed, so if you like it, you can continue getting it for free all Cyber Week long.