The Origins Of Eating Brisket During Hanukkah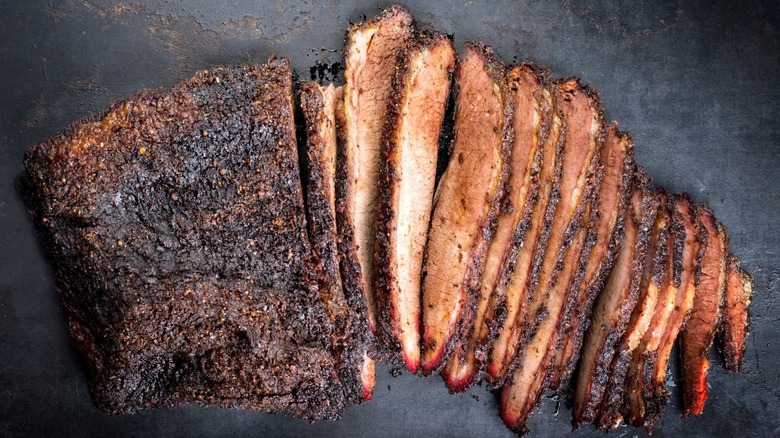 hlphoto/Shutterstock
While the goyish world may associate the winter holidays with chestnuts roasting on an open fire and visions of dancing sugarplums, whatever those may be, Jewish families have a different set of food traditions. These include latkes and sufganiyot for Hanukkah, Chinese food for Christmas, and brisket for any time the whole mishpocha gets together for dinner. While brisket is not a Hanukkah-specific food, Noah Bernamoff of Mile End Delicatessen told Forward in 2012, "Name any Jewish holiday and people will tell you they ate brisket."
So why is brisket a fixture of any and all Jewish holidays (Hanukkah included) in the same way that turkey is at Thanksgiving or ham at Eastertime? Brisket isn't a strictly Jewish dish in and of itself, after all. As Aish points out, it's well-known in different Asian and European cuisines, as well, and even Chipotle uses the stuff in its burritos. Still, there are several reasons brisket is a classic Jewish comfort food that's particularly well-suited for large gatherings.
Brisket is economical, versatile, and potentially kosher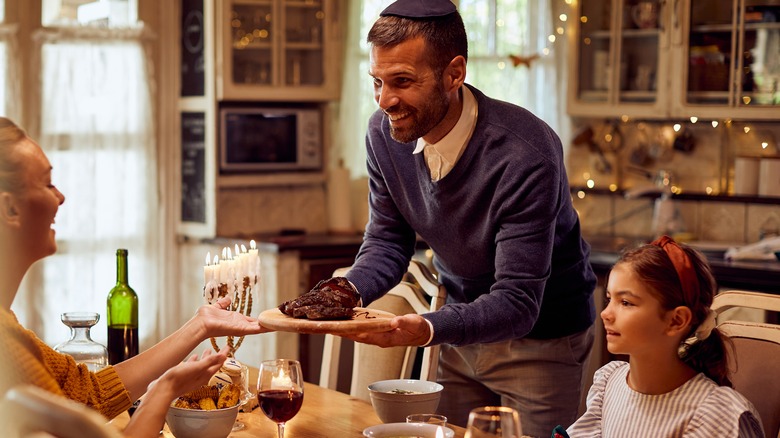 Drazen Zigic/Shutterstock
One reason why brisket became so popular in Jewish cooking is that it is, or can be, kosher, which is not something that can be said about every cut of beef. According to Kosher Eye, only meat from the front of the cow can qualify and brisket comes from a cow's sternum area. Another reason why brisket first caught on with early Jewish immigrants is that it was fairly cheap due to being a large, often tough cut of meat that needs to be cooked low and slow. In fact, BrisketTown owner Daniel Delaney told Forward that the Ashkenazi butchers who settled in Texas started smoking their brisket as a way to preserve this hard-to-sell meat until they could find anyone willing to buy it.
Not to mention, a cut of meat that's big, cheap, and just needs to be tossed into a pot and braised all day long sounds as if it's tailor-made for a holiday meal. Even better, brisket recipes are something that can be customized to suit any bubbe. Some braise their brisket in vinegar, others prefer a tomato-based broth, while still others go for soy sauce or even soda.