The One Gadget You Need To Make Velvety Steamed Eggs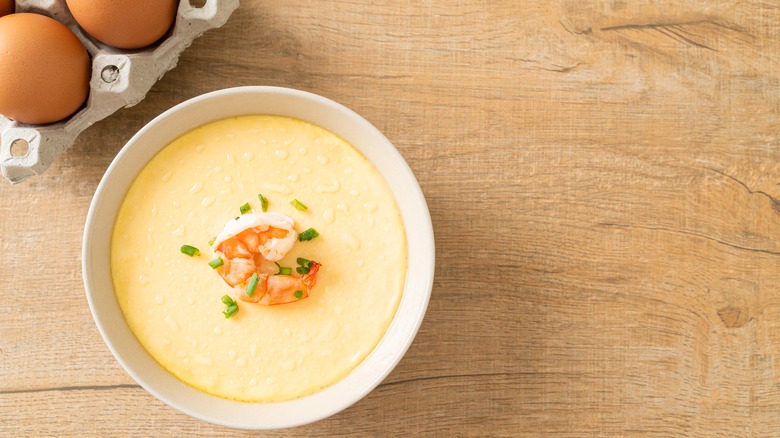 gowithstock/Shutterstock
Eggs can be a very controversial food, with some people loving them and others absolutely despising them. No matter which camp you fall in, eggs are one of the most versatile foods to cook. When it comes to an egg breakfast, the possibilities are almost endless. Fancy omelets, scrambled eggs, sunny-side up, and poached only graze the surface of how to cook eggs.
No longer are eggs relegated to a breakfast afterthought. Decadent burgers are topped with perfectly fried eggs, while no party is complete without an appetizer of deviled eggs. Shakshuka is a popular Middle Eastern dish made with a spicy tomato sauce with poached eggs that can be eaten any time of day. Chawanmushi is a Japanese egg custard dish, where steamed eggs are the star (per Just One Cookbook). The egg custard is often topped with ingredients like vegetables, fish, or shrimp. The egg dish can be eaten any time of day, though it is most commonly eaten as an appetizer.
While the process of steaming eggs may sound a bit intimidating, it's easily something that can be made at home.
Get yourself a steamer basket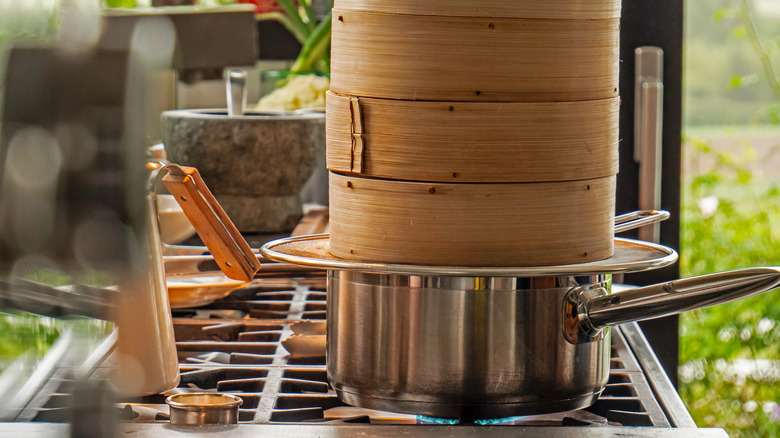 Capchure.ch/Shutterstock
There's no need to dine out at a nice restaurant to get restaurant-quality steamed eggs at home. According to Bon Appétit, all you need is a large pot, a steaming rack or basket, and a heatproof bowl. All you need to do is boil water in your pot, scramble eggs with warm water, then place the egg mixture in a bowl on top of the steamer rack. Once the eggs have simmered for about 8 minutes, they can be removed from the pot and eaten (via Made with Lau). The final texture is like a pillowy custard, that should jiggle slightly when moved. While the final texture is superb, adding some seasonings like XO sauce or black vinegar will take it to the next level.
If you want to make the process even easier, you can cook the entire egg mixture in a Tatung steamer. This device is a rice cooker and steaming device in one, meaning you don't need a separate basket or rack. On the days you don't want steamed eggs, you can use a steamer basket to cook hard-boiled eggs. The process is the same, except the eggs are raised above the water. According to A Couple Cooks, steamed hard-boiled eggs are not only easier to peel, but they also taste better.