Taco Bell Is Now Marrying A Couple In The Metaverse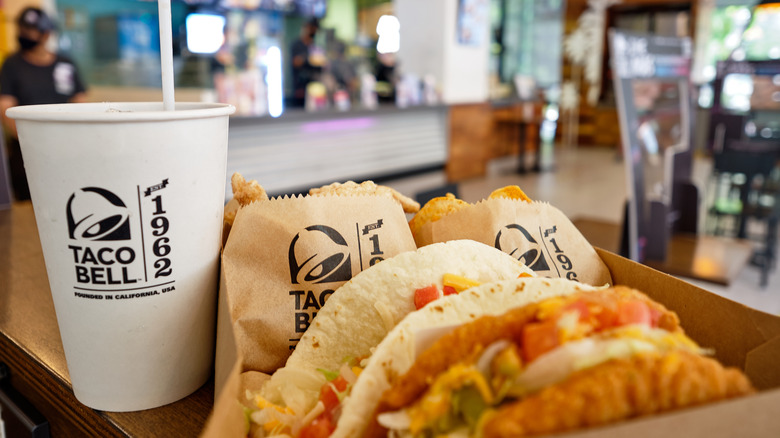 KULLAPONG PARCHERAT/Shutterstock
Some people spend their entire lives dreaming of their ideal wedding day. For many, this involves securing the perfect photographer, picking a scrumptious menu, and locking down a beautiful location. This can get complicated and expensive, but what if you could get your favorite food and location all in one? Some loyal customers are tying the knot at restaurants and fast food chains while getting some pretty cool perks. Chains have picked up on the hype and have started offering special contests for lucky winners who choose to say, "I Do" in a very non-traditional way. In 2021, a couple married at Dunkin Donuts in the drive-thru, complete with a donut bouquet.
Taco Bell fans can also tie the knot in an over-the-top Taco Bell wedding. In true Vegas fashion, Taco Bell superfans can book a wedding for up to 25 people in a Taco Bell chapel complete with a Taco Bell sauce packet bouquet. But now, the popular Mexican-inspired QSR is marrying one lucky couple from the comfort of their home.
Attend a wedding without leaving your house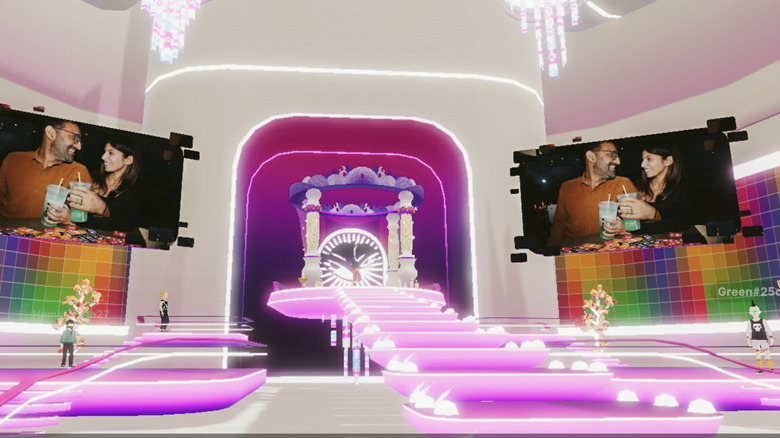 Taco Bell
On February 24, Taco Bell will be hosting one couple's metaverse wedding, with a complete over-the-top reception in Decentraland's virtual world. The entire wedding will be virtual, complete with an avatar bride and groom, as well as attendees. Sheel Mohnot and Amruta Godbole beat out 300 other couples to win this one-of-a-kind wedding. While a virtual wedding may seem a bit unusual to most, for Mohnot and Godbole, it's incredibly fitting, as it parallels their relationship. The two were set up by a friend, but their first meeting took place over the phone. They both share an Indian heritage, as well as a deep love for Taco Bell. Their first date was at a real-life Taco Bell, where they love to eat the chain's vegetarian-friendly options.
The bride and groom will embrace their Indian heritage, with the groom's avatar entering the wedding on an elephant. Like with any real-life wedding, no reception is complete without food. In Decentraland, the bride and groom will cut into a Cinnabon Delights cake and fans will be able to scan a QR code that will display the couple's favorite Taco Bell vegetarian options. After the public and private virtual celebration, the fast food chain will gift the couple an intimate reception at the beachfront Pacifica Taco Bell location.