What Gordon Ramsay Is Really Like On Next Level Chef, According To Omi Hopper - Exclusive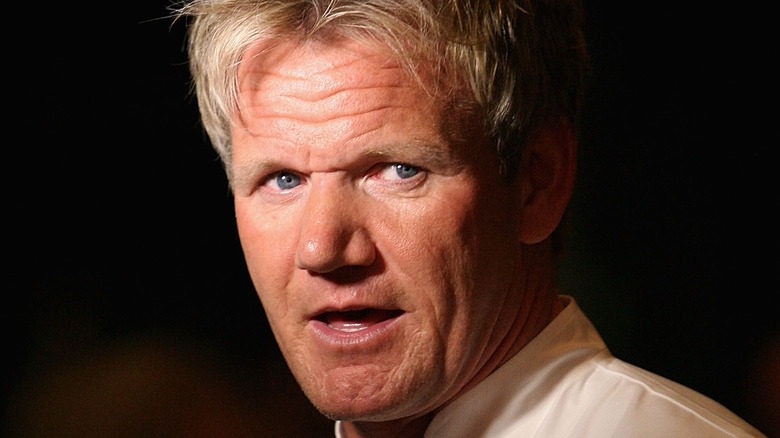 Robert Prezioso/Getty Images
Everyone, their great-aunt Thelma, and her pet marmot know that Gordon Ramsay has a penchant for the dramatic. His fiery, leave-no-half-cooked-beef-Wellington-unturned attitude is quite possibly singlehandedly responsible for catapulting televised food competitions to almost unheard-of popularity in the United States.
Be that as it may, Christina Wilson, the reigning "Hell's Kitchen" Red Kitchen sous chef and Ramsay's VP of Culinary in North America, described Gordon Ramsay to Mashed as "gracious." On both "Hell's Kitchen" and "MasterChef," he's "really constructive" during challenges, Wilson said, and truly thoughtful in his feedback to contestants. 
It's not just his employees who think that way. "Hell's Kitchen" Season 21 finalist Alex Najar told Mashed that Ramsay is "probably one of the greatest people I've ever met in my life." Season 21 winner Alex Belew gushed to Mashed about the Michelin-starred chef's culinary knowledge. "His brain, I don't know what speed it plays on, but it's not normal. It's ramped up times 10, and when he's bouncing back and forth from kitchen to kitchen, he's got so many fires going," Belew remembered.
What's Ramsay like on his newest televised undertaking, "Next Level Chef," and does he truly live up to the hype? We asked current Season 2 contestant Omi Hopper in an exclusive interview.
Omi Hopper describes Gordon Ramsay behind the scenes on Next Level Chef
Omi Hopper may have been on Nyesha Arrington's team, but she got some quality time with Gordon Ramsay on the set of "Next Level Chef." Without spoiling too much, we can say only that the contestant from Rhode Island made it through at least three episodes of the show, and relatively unscathed.
On set, Gordon Ramsay impressed Hopper. In her exclusive interview with Mashed, she recalled Ramsay as "a jokester," adding, "He's sarcastic, but he makes you laugh. The spontaneity is superb ... There were so many times where he would come up and say something, and I'm like, 'Is he being for real?' I wouldn't know. But when you start to learn his sense of humor, he's pretty awesome." 
Similarly to contestants on "Hell's Kitchen," Hopper also praised Ramsay for his plethora of knowledge and mentorship capabilities. "When he gave feedback about our food, it was to help us grow," she said, "and it was to help us get to the next level." 

Follow Omi Hopper's journey by tuning in to "Next Level Chef" on Fox every Thursday night.