Tyson Foods Launches New Chicken Sandwich And Sliders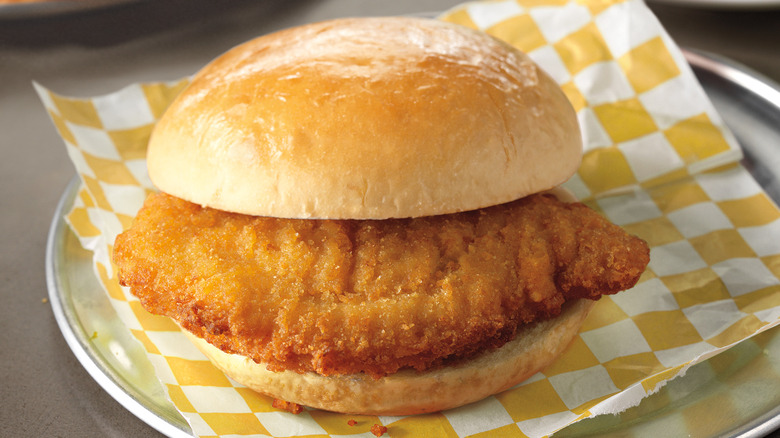 Tyson Foods
Entering its fourth year, the battle for the best chicken sandwich wages, with Americans having more options than ever. In 2019, when Popeyes dared to launch a rival crispy chicken sandwich, a threatened Chick-fil-A took to Twitter to remind everyone that they were the OG. The back-and-forth banter sparked an industry-wide poultry war, with all sides calling fowl (sorry) on the other's claim to have the best-fried chicken sandwich.
While quick-serve restaurants (QSR) were busy debating the merits of their buns, and consumers were eating their way through all the competitors, driving sales higher, Tyson Foods sat quietly, profiting from it all. Tyson, the same company that fills the poultry section at our supermarkets with raw chicken parts and freezers with breaded nuggets, also supplies QSRs with their patties and nuggets. Tyson is the nation's largest meat processing company, accounting for two-thirds of the processed poultry sales in the U.S. According to the Guardian, Tyson processed 2.1 billion birds in 2020 and controls "almost" every step in the supply chain. In the great chicken sandwich war, Tyson dominated the competition, playing all sides.
Despite supplying QSRs, Tyson has announced a new product line to compete directly with them. Cutting out the middlemen, Tyson is launching four new chicken sandwiches, and here's what we know so far.
Chicken sliders and sandwiches are on the way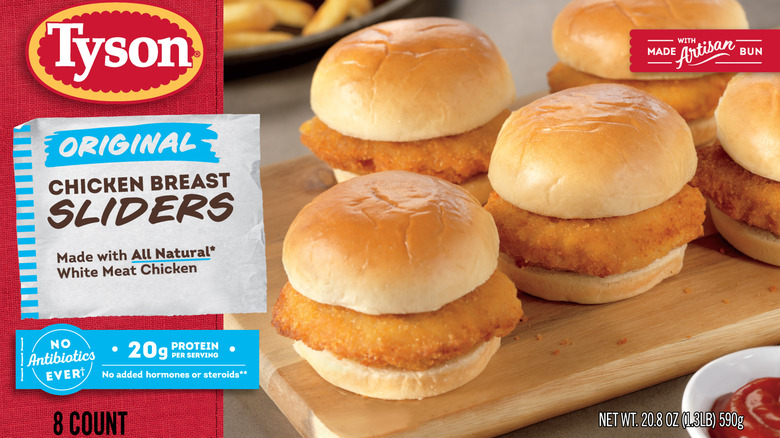 Tyson Foods
According to a press release, Tyson Foods is launching restaurant-quality chicken breast sandwiches and sliders in original and spicy flavors. These frozen sandwiches are made with all-natural white meat chicken on artisan buns and are available in the frozen snack section of supermarkets nationwide. Dubbed "Instant Craveification," these frozen meals are ready in minutes via baking, microwaving, or air frying, allowing consumers "to get the chicken sandwich they crave without leaving home," according to Colleen Hall, Tyson's senior director of marketing. The chicken breast sandwiches are sold in boxes of four sandwiches, and the chicken breast sliders come in packages of eight. 
The four new chicken sandwiches were added to Tyson's line of over 80 breaded, grilled, fresh, and frozen chicken products offered to consumers, including chicken patties similar to the latest products sans bun. While Tyson profits from the rising popularity of fast-food chicken sandwiches, this is the first time it has competed directly with its customers and stands to increase its control in the market, which has seen supply chain issues due to massive avian flu outbreaks. 
Tyson's new sliders enter a market with some competition such as White Castle's chicken sliders. Will this reignite the chicken sandwich wars, a new? Tyson has already proven not to be one to mess with.