Why Chick-Fil-A's Fried Chicken Sandwich Is Always Super Juicy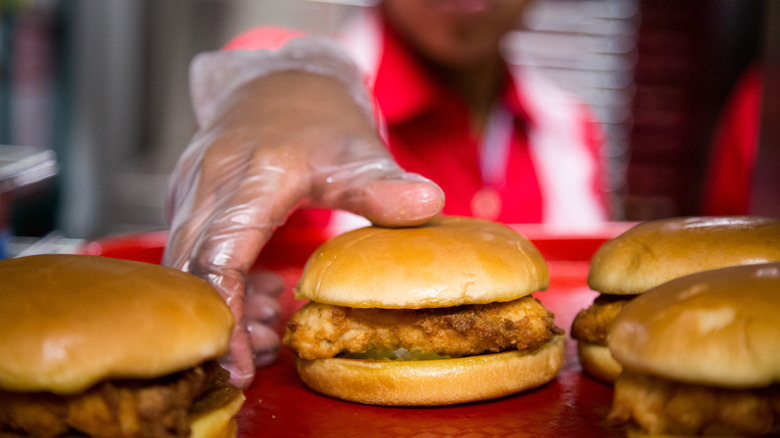 Bloomberg/Getty Images
America loves chicken. In fact, TheTravel reports that nearly 8 million chickens are consumed each year in the United States — that's a lot of poultry. But let's be real, what's better than a well-seasoned slab of juicy chicken paired with hearty sides and a refreshing beverage? The answer is obvious: fried chicken. Fried chicken is so popular that there are countless fast-food chains and franchises across the country dedicated to perfecting the art of fried chicken. Whether you prefer to stop by Church's for a two-piece combo, enjoy the comforts of corn nuggets with Chicken Express tenders, or opt for a KFC Famous Bowl, there's one fried chicken chain that tops the rest when it comes to popularity — Chick-fil-A.
According to QSR, Chick-fil-A is the most popular fried chicken chain in America, outdoing heavyweight competitors like Popeyes, Raising Cane's, and Zaxby's by a landslide. Whether it's their five-star customer service or their abundant selection of dipping sauce, we know one thing to be true — Chick-fil-A makes a dang-good fried chicken sandwich. Part of the sandwich's appeal, aside from its one-of-a-kind breading, is how juicy it is. But what's Chick-fil-A's secret behind that juicy cut of fried chicken?
A juicy Chick-fil-A sandwich is all about the brine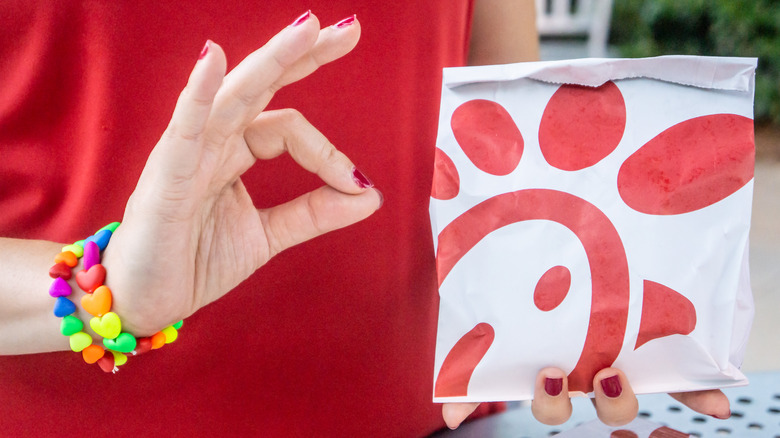 Jaimieandkyleshootstock/Shutterstock
Chick-fil-A fans have long speculated the secret ingredients that make up their decadent sauces and fried chicken. Many speculators have theorized that a pickle juice brine is to thank for the sandwich's unforgettable tenderness. But while a good brine does give Chick-fil-A's fried chicken sandwiches their juicy flair, The Austin American Statesman debunked the myth by taking a look at the chicken's ingredient list and credited a salt, sugar, and MSG brine instead. Turns out that the sandwich's pickled tang is just a side effect of the mouth-watering pickles that come with it.
Brining is a food preparation method designed to keep meat tender and moist during the cooking process. The brining process typically includes letting your meat soak in water infused with salt or sugar for an extended period of time to eliminate the risk of a bone-dry cut of meat. You can also use wine, beer, vinegar, thyme, peppercorns, and in Chick-fil-A's case, MSG to enhance your brine.
Although Chick-fil-A doesn't use pickle juice in their brine, you can make homemade fried-chicken sandwiches with your own Claussen-infused brine for a juicy, zesty sandwich that rivals Chick-fil-A's award-winning brine.