Howard Schultz Is Officially Out As Starbucks CEO (Again)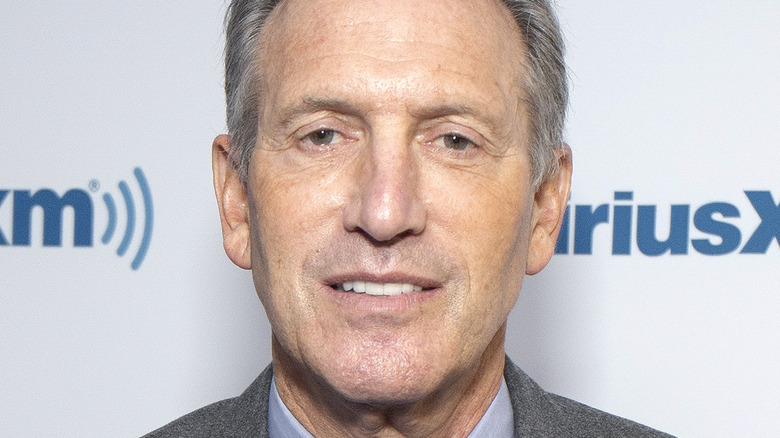 Santiago Felipe/Getty Images
In a letter to the senior leadership team, Howard Shultz announced that he was stepping down on March 20 as interim CEO of Starbucks, again. This is the third time Shultz has left the position, and he will be replaced by Laxman Narasimhan. While the change wasn't a surprise — Narasimhan was named the incoming CEO in September 2022 — the move does come two weeks earlier than suspected.
Shultz first resigned as CEO in 2000 when he became Starbucks' global chief strategist and chairman, only to return in 2008. He kept that position for another decade before resigning for the second time in 2018. In 2022, Shultz rejoined the company as interim CEO for the final time, replacing retiring executive Kevin Johnson, who was CEO for five years.
Shultz will continue to serve as a member of Starbucks' board of directors. He joined the company in 1982, when Starbucks had only four stores, as the director of operations and marketing. During his tenure, Shultz has been credited with overseeing the chain becoming one of the first companies to offer comprehensive health care and stock options for all employees. While the company has grown to more than 35,700 stores globally, recent legal troubles have overshadowed Schultz's legacy. Since rejoining Starbucks in 2022, Shultz's primary focus has been defending the company's labor practices and union busting as stores try to unionize.
Egregious and widespread misconduct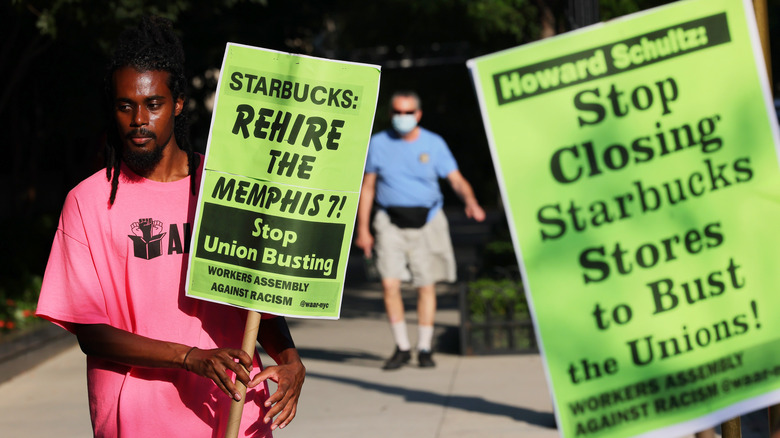 Michael M. Santiago/Getty Images
On March 29, Schultz is scheduled to testify before the Senate Health, Education, Labor, and Pensions Committee (HELP) regarding the company's labor practices. Chair of the HELP Committee, Senator Bernie Sanders, announced last week that Shultz had agreed to testify, a reversal from February 2023 when he declined, and potentially saving himself from a subpoena. Schultz has been vocal about not wanting Starbucks' employees to unionize, and the company's alleged anti-union tactics are the source of the chain's recent bad press. In a statement, Sanders said, "I look forward to hearing from Mr. Schultz as to when he intends to end his illegal anti-union activities and begin signing fair first contracts with the unions" (per CNN).
Since 2021, the National Labor Relations Board (NLRB) has certified 285 votes to unionize Starbucks' stores, while 57 of 9,300 U.S.-operated stores declined. The company has been accused of aggressively blocking unionization, using intimidation practices, and "egregious and widespread misconduct," according to NLRB administrative law judge Michael Rosas. In response, the union has filed hundreds of unfair labor charges against Starbucks, and the company reciprocated by filing over 100 charges against the union. Both sides have seen victories so far.
Incoming CEO Laxman Narasimhan
NLRB Judge Rosas is seeking the company's rehiring of all terminated employees from stores in and around Buffalo, New York, and wants Starbucks to make them whole. In addition, the board would like Starbucks to post notices informing Starbucks employees of their right to unionize. That notice should either be read by the CEO to the employees, or the CEO should appear at meetings where it is read.
Hoping to put an end to the Starbucks scandal, incoming CEO Laxman Narasimhan was scheduled to officially join Starbucks' board of directors and begin his role as CEO on April 1. In preparation, he used the last five months immersing himself in the business by visiting 30 stores, plants, and support centers globally. Before Starbucks, Narasimhan was CEO of Reckitt Benckiser, the company behind Lysol products, and spent time as PepsiCo's global chief commercial officer.
In his letter, Schultz called Starbucks "something that holds a place in my heart second only to that of my beloved family." After 40 years, Shultz left leadership with some words of wisdom, writing, "Everything you need to know resides inside of each of you." Narasimhan will lead Starbucks' annual shareholders' meeting this Thursday.