Starbucks' Olive Oil Coffee Review: Don't Knock It Until You Try It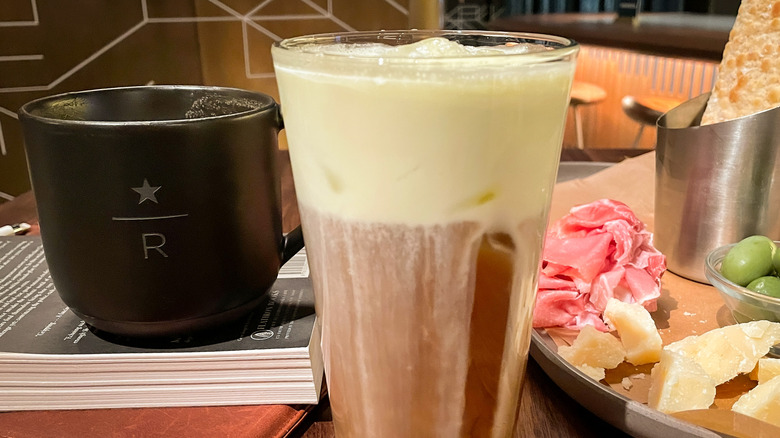 Jenny Kellerhals/Mashed
Starbucks introduced its new Oleato coffee drinks — extra virgin olive oil-infused coffees — in Milan and stores across Italy back in February. As news of the drinks spread in the U.S., everyone from casual coffee drinkers to foodies and coffee connoisseurs speculated about how they might taste, if they would be too oily to enjoy, and whether they were even real in the first place. So when the drinks were finally released stateside on March 23, we headed to one of the handful of stores offering the strange new beverages to verify that they are, in fact, real and see for ourselves how they stack up to the speculation and the expectations.
We found that the drinks surprised us but had an unmistakable Starbucks touch. To prepare you for the experience, we've collected everything you need to know about the new Oleato coffee drinks from Starbucks, including what's in them, where you can find them, how much they cost, what their nutrition information is, and how to enjoy them. We also run through everything that's available in the special Oleato collection. We're giving you our honest opinion of the drinks to help you decide whether or not they're something you should try. Here's what you need to know.
There is actually olive oil in it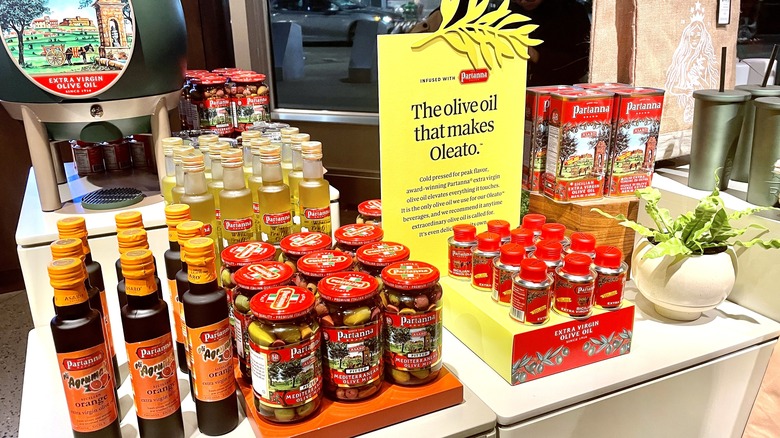 Jenny Kellerhals/Mashed
When Starbucks announced the Oleato coffee beverages, they were described as coffees infused with extra virgin olive oil. That sounds lovely, but the term "infused" can mean different things, depending on the method used to incorporate the flavor. The company further clarified that the olive oil is "steamed, shaken, or blended" into drinks, depending on how the particular drink is made. For example, olive oil is mixed with oat milk and steamed together for the hot latte version. It is shaken into the Iced Shaken Espresso and blended into the Golden Foam topping for the cold brew Oleato drink.
But not just any generic olive oil would do for this particular collaboration. Starbucks uses extra-virgin olive oil made by Partanna, an olive oil producer in the brand's eponymous town on the western coast of Sicily. The oil itself is made from a blend of olives that includes castelvetrano olives, often considered to be the best Sicilian olives. The brand was chosen because of how well the flavors of its oil pair with Starbucks' arabica coffees. While there isn't just one particular Starbucks roast being used for the Oleato beverages, the Blonde Espresso Roast makes an appearance in several of the drinks, as does specialty Starbucks Reserve espresso and cold brew roasts. While the whole bean specialty Starbucks Reserve coffees are available for sale, you will likely need to go to a Starbucks Reserve Roastery or coffee bar to find them.
Where you can find the new Oleato drinks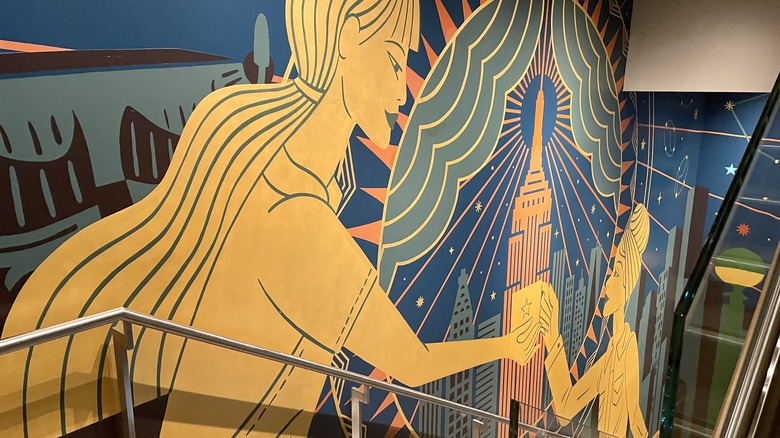 Jenny Kellerhals/Mashed
As you may have guessed by the specialty and reserve ingredients used in the Oleato drinks, they aren't available in all Starbucks locations (yet). In the U.S., you'll be able to find them at select locations in Seattle, New York City, Los Angeles, and Chicago. Starbucks Reserve Roasteries, coffee bars, and stores are currently offering the drinks along with the original Starbucks location in Seattle's Pike Place Market and select regular store locations in Los Angeles. A wider release is underway, with the drinks hitting more locations in Seattle and L.A. first, before eventually making their way to stores nationwide.
At the moment, different Oleato beverages are also available in different locations. We had our first taste of the Oleato drinks at the new flagship Starbucks Reserve in the Empire State Building in NYC, where the Oleato Caffè Latte, Iced Cortado, Golden Foam Cold Brew, and Golden Foam Espresso Martini are being served. The latte and cold brew are available in every location serving the drinks, although in Seattle and L.A., an Iced Shaken Espresso is available in lieu of the Iced Cortado.
There is currently no word on how long the olive oil-infused drinks will be available on Starbucks menus or whether they will be a seasonal offering moving forward. But given that the release has just gotten underway, we imagine that these drinks will be around for several more months at the very least.
Premium prices for an artisan coffee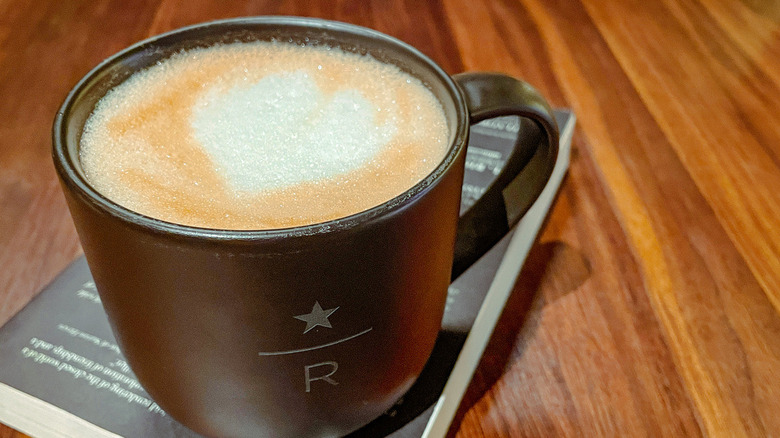 Jenny Kellerhals/Mashed
Ordering one of these specialty-crafted coffees is more like ordering a cocktail than a coffee, and the price of the drinks reflects that. With that said, where you buy the drinks has a lot to do with how much they cost. At the Starbucks Reserve in Seattle's SoDo neighborhood, the Oleato Caffè Latte with Oatmilk costs $5.50 to $6.50, depending on the size; whereas at the Seattle Roastery, the lattes cost $7.50 to $8.50. At the Empire State Building in New York City, the latte can cost up to $9.50, although that includes a larger 24-ounce size. The price of the Oleato Golden Foam Cold Brew is about the same as the price of the latte, based on the location where you purchase it.
There are also more premium options available for those who want a luxe coffee experience. This includes the Golden Foam Espresso Martini served in Starbucks Reserve locations that have a cocktail menu. Each martini costs anywhere from $18 in Seattle to $23 in NYC. An Oleato Tasting Experience is also available for $60 per person, which includes drinks and food and requires a pre-reserved ticket.
Once Oleato is available in Starbucks stores, you'll also have the option to add Partanna olive oil to any drink you choose. A single press of olive oil for your drink will be an additional $1, and the olive oil-infused Golden Foam addition will be $2.
What's the nutrition information?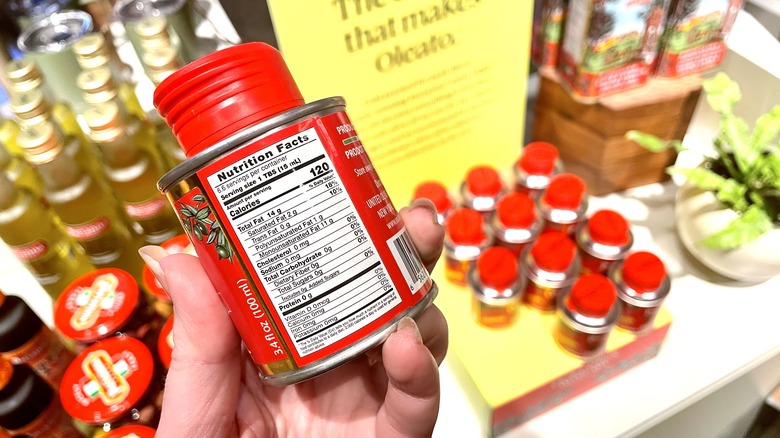 Jenny Kellerhals/Mashed
It shouldn't come as a surprise that adding a spoonful of olive oil to your drink will have a notable effect on the nutritional value of your coffee. But just how much of a change can you expect? Originally, Starbucks stated the drinks each include a "spoonful" of olive oil. But, a spoonful could mean a teaspoon or a tablespoon, or something else entirely. Assuming that it means a tablespoon, one serving of Partanna olive oil would be an additional 120 calories per drink, with all of those calories coming from its 14 grams of fat.
The grande (16-ounce) Oleato Caffè Latte with Oatmilk will run you 330 calories. In comparison, a regular latte of the same size has about 190 calories. A grande Golden Foam Cold Brew has 380 calories, 300 of which are from fat. For comparison, a grande Chocolate Cream Cold Brew is 250 calories. Finally, the grande Oleato Iced Shaken Espresso with Oatmilk and Toffeenut is the lightest option, with only 250 calories. So given the differences in calories, we think it's safe to assume that a full tablespoon of olive oil is included in each beverage.
There are plenty of people who already drink olive oil for the reported health benefits, so the overall effect of these drinks is relative, based entirely on your own nutritional needs. If it's already part of your diet, or you already drink bulletproof coffee, Oleato drinks aren't much of a departure.
Other offerings to complete the Oleato experience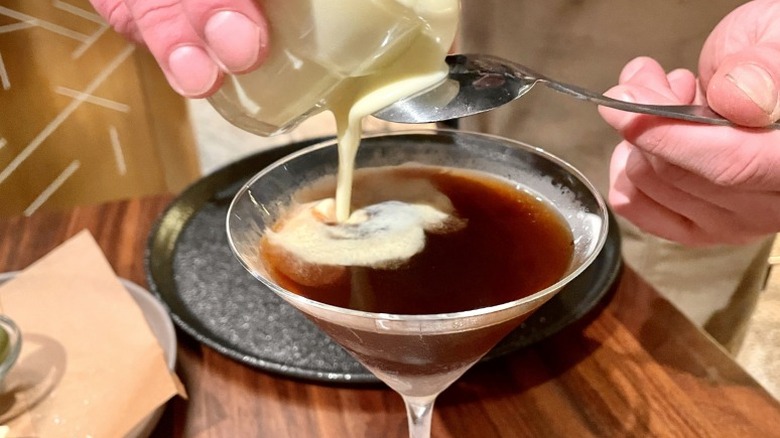 Jenny Kellerhals/Mashed
What's a coffee break without something to snack on? It feels especially necessary to grab a bite to eat when that coffee includes olive oil, perhaps making it easier for some people to make the mental food-to-beverage connection with the Oleato drinks. Luckily, Starbucks Reserve locations have an expanded food selection with heavy Italian influences that seamlessly compliments the elevated line of coffee drinks.
The most obvious pairing would be the olive oil cake, with powdered sugar, lemon, and toasted pistachios. The cake also happens to be dairy-free, thanks to the use of olive oil instead of butter. We also think the cannoli Siciliani or the tiramisu would be great sweet choices. Since the Oleato drinks lean savory, any of the focaccia sandwiches or pizzas would be fitting choices as well. We ordered the Parma Origin Board to snack on with our Oleato drinks. It included Parmigiano Reggiano, Prosciutto di Parma, and Cerignola Olives.
If you're a big fan of espresso martinis, you'll likely want to give the Oleato Golden Foam Espresso Martini a try. You might also be interested in the Starbucks Reserve Espresso Martini Flight, which runs about $27 and includes three different martinis with three different flavored liqueurs: Orange Cacao, Molé Spice, and Cherry Limone.
Our verdict: A surprising afternoon indulgence for Italophiles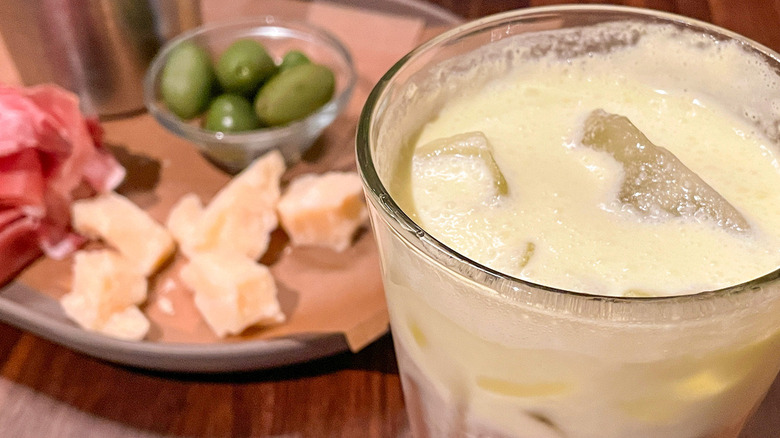 Jenny Kellerhals/Mashed
We get why you might be skeptical about olive oil-infused coffee, but don't reject it before trying it. Our tasters who were more curious than contemptuous were met with a drink that surprised them — in a good way. Yes, you can taste the olive oil, so these drinks are ideal for people who actually enjoy the taste (Frankly, given the price point, you'd better be able to taste the olive oil).
The coffee and the oat milk flavors are still completely upfront and apparent in the Oleato Caffè Latte. Next, the olive oil taste appears with mild, fruity, and floral green olive notes. The olive oil steamed in with the milk makes for a light and fluffy emulsion that's smooth and creamy, not greasy or oily like we were worried it might be. Texturally, it was no different than drinking coffee with cream. The Oleato Golden Foam Cold Brew is sweeter than the latte with a more obvious olive oil flavor. The Golden Foam seems thicker than the usual cold brew foam but still very velvety without being greasy.
The Oleato drinks might not be for everyone, but they're not nearly as extreme as some people imagine. One of our tasters said they'd never drink a dirty martini, which includes olive brine, but would gladly consider an espresso martini with olive oil-infused foam. It's clear these Oleato drinks are made for slow afternoons meant for sipping coffee and nibbling on flavorful snacks.