The Oldest Delis In NYC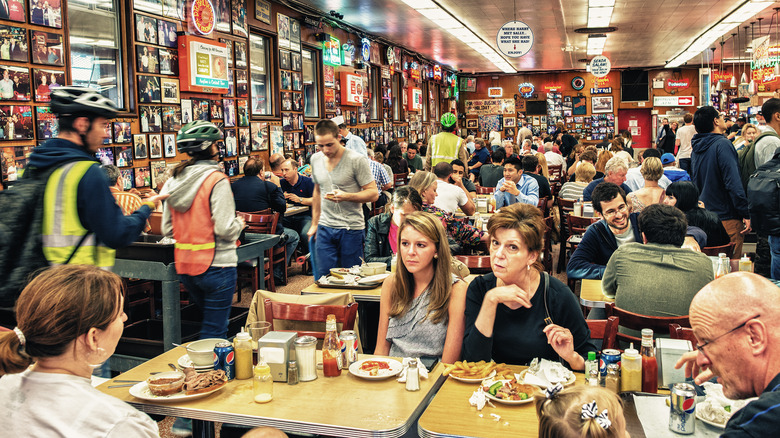 GagliardiPhotography/Shutterstock
New York is iconic for a number of different food items, ranging from dollar-slice pizza joints to the high-end steakhouse. The Jewish deli is also really entwined with the city's culture. Delis are a huge part of New York's culinary and cultural tapestry. They're often prominently featured in films and TV shows set in the Big Apple: Many of us may recall the famous scene from When Harry Met Sally, which is set at Katz's. 
Jewish delis have existed in New York since the late 19th century. Many of these delis were opened by immigrants from Europe who settled on the city's Lower East Side. Many of these delicatessens were offshoots of Jewish-German appetizing stores, and they served staples like cold cuts and pickled herring, in addition to dishes from other countries such as Hungarian goulash or the now staple Romanian pastrami. 
These days, delis are known for a wealth of different dishes and offerings ranging from brisket to matzo ball soup, but the crowning glory of the deli is undoubtedly a towering pastrami-on-rye with a side of pickles. And while many of these delis have grown and evolved with the times, you can still get that old-school experience at some of these historic spots.
Katz's Delicatessen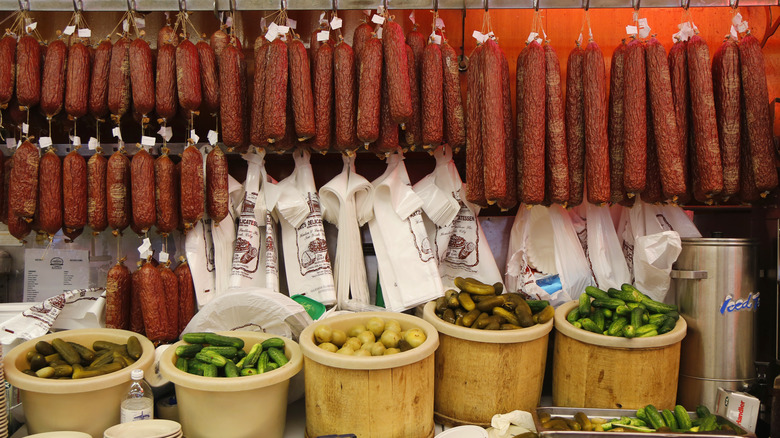 Leonard Zhukovsky/Shutterstock
It's impossible to think of the old-school New York deli without thinking of Katz's, which is the first Jewish deli that graced New York after its opening in 1888, according to Ted Merwin's Pastrami on Rye: An Overstuffed History of the Jewish Deli. According to Katz's official founding story, Iceland Brothers, the predecessor to Katz's, opened on Ludlow Street in 1888. Its name evolved to Iceland & Katz with the arrival of Willy Katz in 1903. When Willy's cousin Benny joined him in 1910, and the pair bought out the Icelands, and the deli took on its current name. In 1917, it moved across the street to its current location, and it has been a New York City staple ever since.
Katz's is best known for its gargantuan pastrami sandwiches. Making pastrami entails a slow-cured process that can take up to a full month as compared to industrial products, which are cured in just 36 hours. The deli sells a whopping 15,000 pounds of pastrami each week. While some historians claim that Katz's founding date may be a bit exaggerated, the deli is definitely still a legendary spot in the city.
Russ & Daughters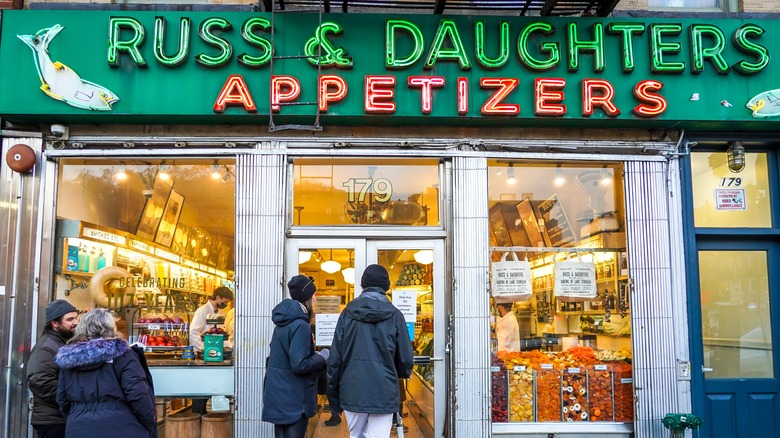 Leonard Zhukovsky/Shutterstock
If Katz's is popular for its corned beef, then Russ & Daughtersis undoubtedly known for its lox. Joel Russ, a Jewish immigrant from Poland, had been peddling herring from a cart since 1904. In 1920, Russ upgraded the cart to a shop on East Houston Street, and the shop has been selling the best lox ever since. He was later joined by his three daughters, Hattie, Ida, and Anne, in 1933, at which point, it became the first known American business with "& Daughters" in the name. 
Until 2014, Russ & Daughters operated a to-go-only business that was iconic for its legendary long wait times. In 2014, fourth-generation owners and first cousins Josh Russ Tupper and Niki Russ Federman opened the deli's first sit-down café. Today, whether you brave the line at the original spot or snag a seat, you'll be rewarded with the quality-driven ingredients the iconic spot is known for, from the bagels to the hand-sliced lox to the tangy capers.
Pastrami Queen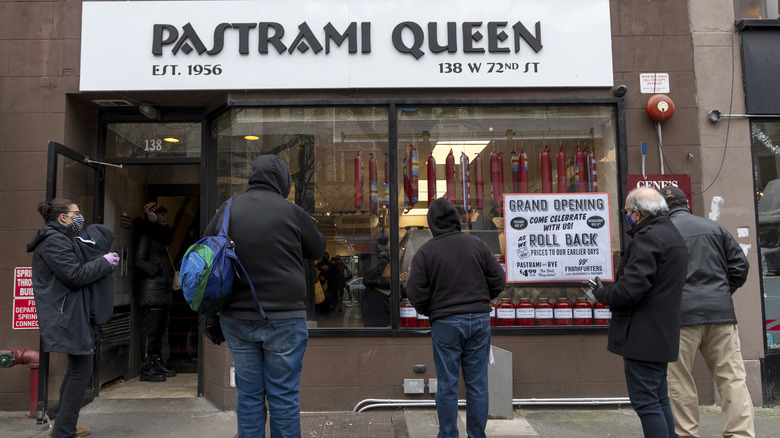 Alexi Rosenfeld/Getty Images
The Lower East Side is not the only part of New York that's known for its delis. Pastrami Queen has been serving Upper East Siders pastrami since 2006, and before you second-guess whether it's one of the oldest delis in New York, rest assured: This was not its first location. In 1956 that Pastrami Queen's predecessor, Pastrami King, first opened in Williamsburg, Brooklyn. The deli relocated to Kew Gardens, Queens, before reaching its final destination on Lexington Avenue, where the tiny kitchen is known for its juicy, hand-cut pastrami. 
A few more modern twists have, of course, arisen, such as the choice to opt for ultra-local Orwashers bread over the traditional rye. Orwashers is a city veteran in its own right. It was founded in 1916 by a Hungarian family before being sold to Keith Cohen in 2008. Today, Orwashers quality is a key part of the neighborhood's artisan bread scene, with New York touting the bread (and its use by Pastrami Queen) as being of the highest quality among the deli standard. And that's not the only high praise garnered by this pastrami spot. The late Anthony Bourdain proclaimed that Pastrami Queen's pastrami sandwiches are the real deal: It's hard to argue with that!
PJ Bernstein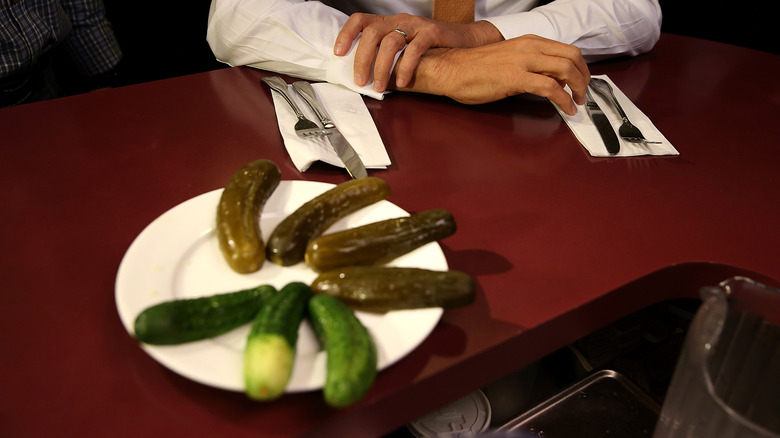 Justin Sullivan/Getty Images
Since PJ Bernstein opened in 1965, it has been serving delicious corned beef and matzo ball soup on Third Avenue. It's a celebrity hot spot that has bewitched the palates of stars from Lucille Ball to Sharon Stone (the former was apparently keen on the kosher franks here; Ms. Stone, meanwhile, ostensibly favors the turkey sandwich with a side of chicken soup). 
The deli was originally opened by the eponymous Mr. Bernstein, and it was taken over by Alex Slobodski in 1983. Slobodski swore to maintain all of the old recipes and traditions. Today, his grandson Eugene has picked up the baton with help from Chef Tommy Jedrzejezyk, who has been manning the kitchen for over two decades. Jedrzejezyk makes every menu item except the desserts and the pickles. While PJ Bernstein may not have the same name recognition as some of the delis that are heavy hitters, it stands out as one of the last remaining great NYC delis.
Eisenberg's/S&P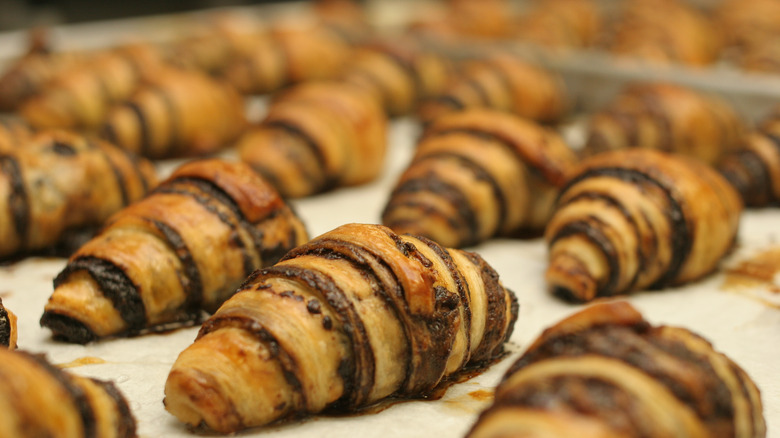 Michal and Yossi Rotem/Shutterstock
The Eisenberg Deli isn't the same since it changed hands in 2022, but we still believe that the luncheonette, now known as S&P, remains one of the most iconic New York Delis. It originally opened in 1928 in Flatiron. Eisenberg's has long been a favorite for soda shop staples like fried eggs and egg creams. And while it has changed hands many times over the years, it wasn't until 2022 that it also got a name change, albeit one that actually evokes an earlier iteration of the local staple.
New owners Court Street Grocers' Eric Finkelstein and Matt Rossleans tell Eater that the goal of the rebrand was to rectify some of the corners that have been cut in the past. Some of the fan faves have been given a slight sprucing: The tuna melt on rye is ostensibly better than ever, and the pastrami, while not made in-house, is served on an excellent sandwich (in far less gargantuan portions than the famed iterations at Katz's). If you finish it off with an excellent rugelach, then you'll have an excellent meal. 
Sarge's Delicatessen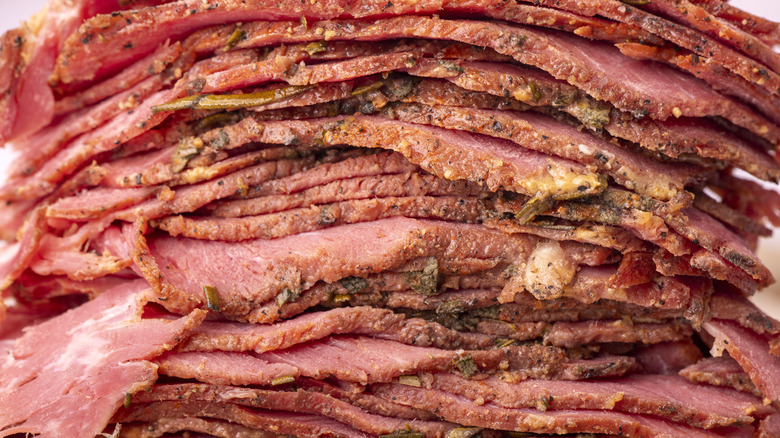 Bernjuer/Getty Images
In 1964, NYPD Sergeant Abe Katz satisfied a long-held dream by opening what has since become the city's only 24-hour Jewish deli. This establishment is a true mashup of two NYC restaurant genres: The deli and the diner. The authentically retro Sarge's is known for its vinyl booths, Tiffany's lamps, celebrity photo wall, and The Monster, which purports to be the city's largest sandwich: The towering combination of pastrami, corned beef, roast beef, fresh turkey, salami, lettuce, tomato, coleslaw, Russian dressing, and three slices of thick-seeded rye bread is certainly a sight to behold, at nearly a foot in height. To order it is to accept a true culinary challenge!
Sarge's is still with us is a testament to fourth-generation owner Andrew Wengrover's commitment to keeping Katz's dream alive. Sarge's suffered a grease fire in 2012, which threatened to shutter the restaurant for good. However, through Wengrover's perseverance, it reopened in 2014 with a slightly spruced patina adding to the old-school appeal.
2nd Ave Deli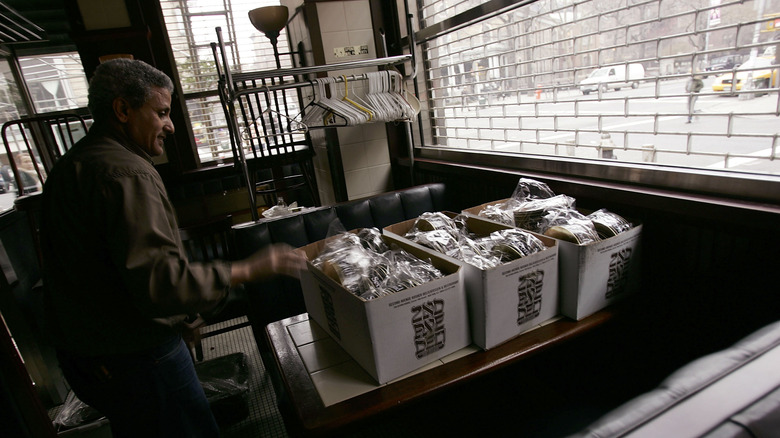 Spencer Platt/Getty Images
2nd Ave Deli, located in Murray Hill, remains the true New York deli for many people. 2nd Ave Deli is a top-rated kosher deli that has received a James Beard Award, recompensing its commitment to Old World Jewish favorites. But the road to 33rd Street was long and arduous. It was opened in 1954 by Abe Lebewohl, and the original deli on the eponymous 2nd Avenue quickly became known for its sandwiches piled high with pastrami. After Lebewohl's untimely demise in 1996, when he was murdered en route to the bank, his widow, daughter, and brother took up the helm, only to finally close the doors of this storied establishment in 2006. 
The following year, however, the 2nd Ave Deli was reborn thanks to Lebewohl's nephews, who didn't just bring the deli to Murray Hill but also expanded it to the Upper East Side. However, reviewers remain divided regarding whether the reincarnated deli is as good as it once was. While some assert that the combo of corned beef and pastrami still deserves its reputation as one of the city's best sandwiches, according to others, both the sandwich and the matzo ball soup are as good as they once were. That said, the outlet notes that the place may have lost some of its original charm. 
Barney Greengrass
Agave Photo Studio/Shutterstock
Barney Greengrass, located on the Upper West Side, has been the self-styled "Sturgeon King" since the eponymous Barney moved his original shop from Harlem (where he first opened in 1908) to this storied location on Amsterdam Avenue. It was created with the goal of responding to the demand for a store that offers high-quality food. The deli is now run by Barney's grandson Gary, who gleaned his knowledge of hand-sliced lox from his dad, Moe, beginning in 1961.
Barney Greengrass has been a stalwart of the neighborhood, and it has made countless appearances on the big and small screen, with cameos in shows like "Sex and the City," "Seinfeld," "You've Got Mail," "30 Rock," and more. A major claim to fame for the deli dawned with the approach of the new millennium when Gary assured journalists that orders would be taken on carbon paper order slips! While Barney Greengrass is definitely known for its bagels and lox, the must-order dish is undoubtedly the smoked salmon scramble with onion, served with a side of bagel and schmear.
Mill Basin Deli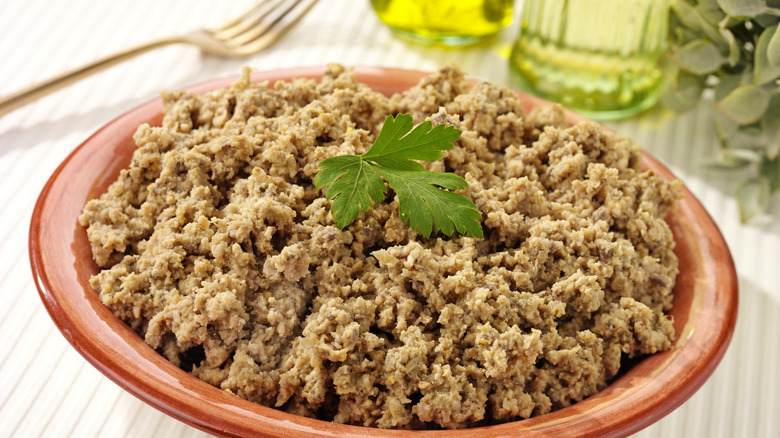 CKP1001/Shutterstock
Of course, there's no need to stay in Manhattan to find a Jewish deli. The Kosher Mill Basin deli has been serving Jewish comfort food to Brooklyn's Flatlands–Mill Basin border neighborhood since 1973, with a wide range of options hailing from across the Jewish diaspora, including Polish-style tongue, Hungarian beef goulash, and classic chopped liver.
Mill Basin Deli features a large appetizing counter that sells cold cuts, salads, kugels, and chopped liver. This deli operates both as an eat-in restaurant and a to-go business. Should you opt to linger a while, however, you'll reap an added benefit. Mill Basin, in addition to specializing in Jewish food, also prides itself in its collection of fine art. Dig into your pastrami sandwich under the watchful eye of Marc Chagall, a Belorussian artist born to a poor Jewish herring merchant who became one of France's foremost avant-garde painters. Mill Basin Deli truly offers a unique dining experience you won't find anywhere else.
David's Brisket House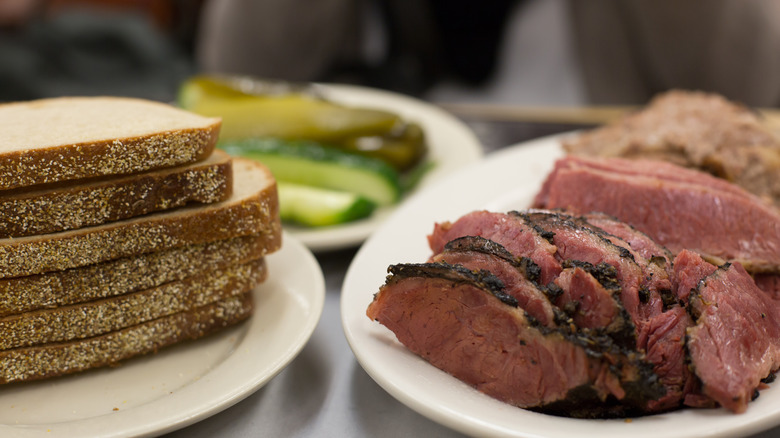 Rachel Moon/Shutterstock
David's Brisket House is a Brooklyn deli that is perhaps the prime example of the innate diversity that makes New York such a phenomenal place to eat and live. This self-styled "old-school" Jewish deli was first founded in the 1960s by David, a Russian Jew who opted to bring brisket to the predominantly Black New York City neighborhood. He later sold his deli to two Yemeni friends in the '80s, one of whom was Jewish while the other one was Muslim. 
When the Jewish friend left the establishment, David's Brisket House became perhaps the world's only Muslim-owned Jewish deli serving a predominantly Black clientele. Today, Muslim Yemeni brothers Riyadh and Farouq Gazali are at the helm. The countermen are all Yemeni; the food is all halal. The recipes, however, remain as rooted in Jewish tradition as ever. While the brisket is delicious, the corned beef and pastrami are also wonderful options. 
Junior's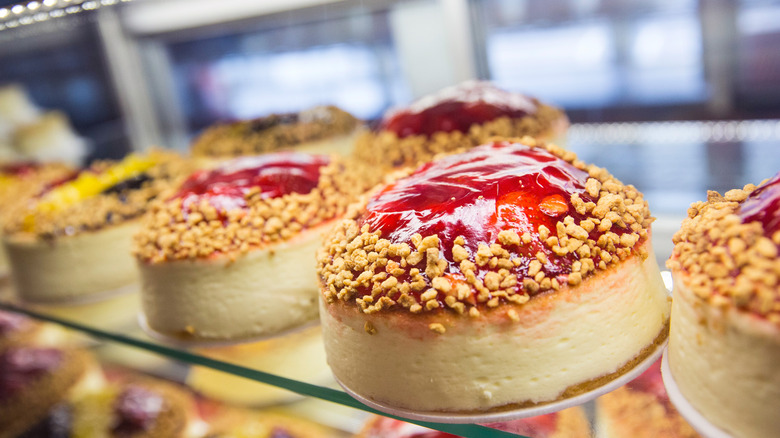 Andrew Burton/Getty Images
Junior's is best known for its cheesecake, and indeed, this downtown Brooklyn staple's cheesecake is beloved by many New Yorkers, including Senator Chuck Schumer, who admitted to spending over $8,600 on the creamy concoctions. But the cheesecake is not the only offering on the menu of this diner-deli hybrid, which was first opened in 1950 by Harry Rosen. 
It also has a full menu of options ranging from classic matzoh ball soup, pastrami, and potato pancakes to some internationally-inspired additions that ultimately feel out of place: Thai ginger BBQ wings are offered in the same column as chopped liver; house specialties include Hungarian goulash but also Italian shrimp parm (definitely neither parve nor kosher). According to New York Magazine, Junior's is mostly touristy, and it's also a Disneyland version of New York. But that's not meant as a dig, according to the reviewer, who writes that it would be a shame if anything changed its vibes. 
Liebman's Deli
Leonard Zhukovsky/Shutterstock
Liebman's has been serving up deli classics since 1953 in the Bronx. The menu boasts a handful of "favorites" including Reubens, knishes, and a pastrami and corned beef combo sandwich that's appropriately overstuffed and served with deli fries and derma (also known as kishka), which is a dumpling of sorts made by stuffing a chicken fat-enriched spiced flour-and-vegetable mixture into beef casings. 
The Michelin guide claims that to skip the pastrami here would be  blasphemous, and the matzo ball soup ostensibly has all the healing powers you could ever desire from what is indeed often termed "Jewish penicillin." Liebman's, thanks to its Riverdale location, is considerably less touristy than some other New York delis, which only adds to the old-school appeal. If for that reason alone, rather than take your spoils to go, it may be worth taking your time to actually sink into a booth before digging in.
Ben's Kosher Delicatessen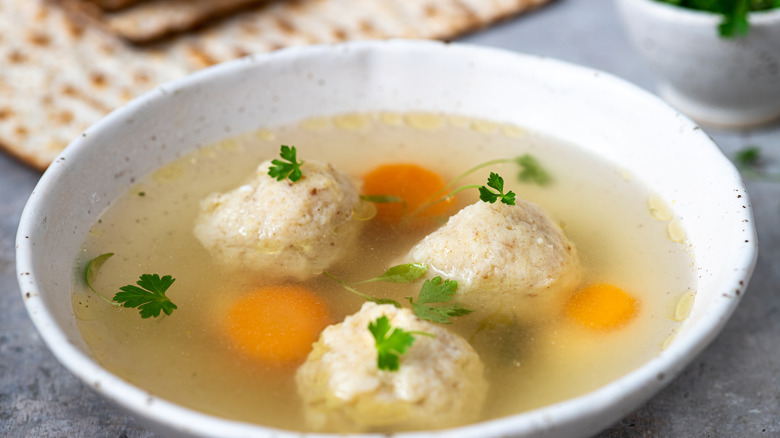 Viktoria Hodos/Shutterstock
Ben's Kosher Delicatessen Restaurant & Caterers in Bayside, Queens, has been serving kosher deli foods and Eastern European comfort fare since 1972, and it boasts the same old-school charm and appeal today. The deli cures its own corned beef. The owner of Ben's inherited the deli bug from his dad, a dry cleaner turned deli owner, who taught his son the trade at his counter on Manhattan's West 72nd Street. The father and son split ways (mainly to keep the familial peace), and the first Ben's opened on Long Island.
These days, the deli has expanded to encompass five outposts: Three on Long Island and one in Boca Raton (often known as the "sixth borough") in addition to its Bayside branch, which has a pleasantly crowded and boisterous dining room along with a prominent appetizing counter. This family-owned spot is particularly beloved for its fresh-cut coleslaw, and baked knishes in addition to the aforementioned soup and house-cured corned beef as well as all-you-can eat pickles. And if you like what you try, Ben's also caters!