We Didn't Deserve Dollar Slices Of Pizza In NYC – And Now They're Vanishing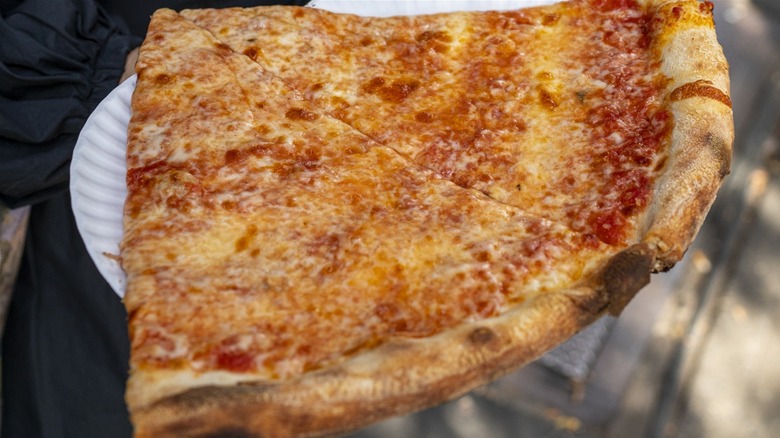 Robert Nickelsberg/Getty
When The New York Times broke the news of the existence of 99¢ Fresh Pizza, a pizzeria at the corner of 41st Street and Ninth Avenue in New York City, the restaurant's manager, Oli Miah, was worried about the amount of publicity the article would bring. Cars were already lining up at all hours filled with customers looking to score a piece of low-priced cheese pizza. Not only was the pizza wallet-friendly, but according to some, like taxi driver Shkele Athar, it was also pretty darn tasty. "I've never seen pizza so cheap and so good anywhere," Athar said.
But NYC's love affair with $1 pizza slices didn't end with 99¢ Fresh Pizza as New Yorkers and visitors alike have relished in paying just $1 for pizza slices for some time. Take Instagrammer @dollarpizzaslicenyc, for example, who has tasted, photographed, recorded, and reviewed $1 pizza slices from all over the city.
Despite NYC's affinity for the dollar slice, they're sadly disappearing, and we have inflation to thank. Per the New York Post, one of the city's famous $1 pizza joints, 2 Bros. Pizza, has recently had to raise its price per slice to $1.50. "Over the past few years, we had done everything in our power to keep the cheese slices at $1 while refusing to compromise on our quality. We were no longer able to break even," said co-owner Eli Halali.
Forking out more dough for a slice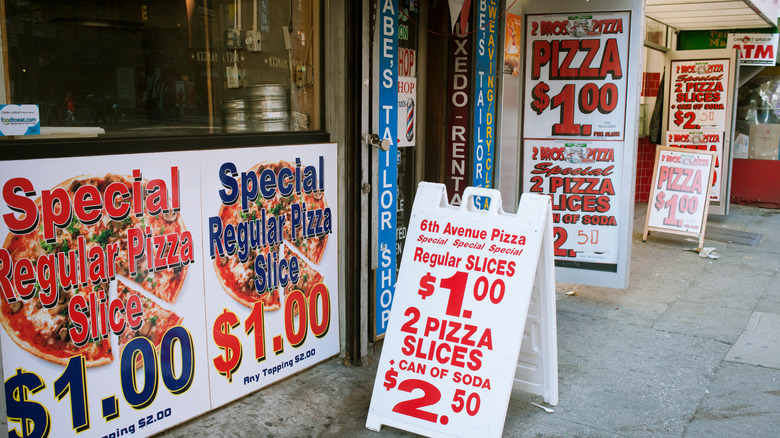 rblfmr/Shutterstock
The rising costs of, well, everything was a major factor in the 2 Bros. Pizza's 50% price hike. "Inflation is affecting every single ingredient, every item we use," said co-owner Oren Halali. But we can't go without noting that $1.50 for a slice of pizza is still a pretty good deal, considering that, according to Bloomberg, in 2022 the average price of a slice of cheese pizza was more than $3 in each of NYC's five boroughs. This price shatters the 40-year-old "pizza principle," an economic idea by which – with nearly uncanny precision, we might add – the price of a slice of pizza was nearly always the same as a one-ride subway fare, which stood at $2.75 in 2022.
2 Bros. Pizza isn't the only pizzeria combating inflation and rising costs. As early as late 2021, 99¢ Fresh Pizza's owner Mohammad Abdul had to consider raising the cost of a slice, but he struggled with how it would affect his clientele. "Maybe I can raise it five cents. Some customers don't have the money to buy the pizza," he said (via The New York Times).
For now, we'll have to pay up or cut our pizza orders short. "I usually get three slices, but now I'm only getting two ... This sucks," said college student James DeCamp (via New York Post).