Fast Food Restaurants That Serve Alcohol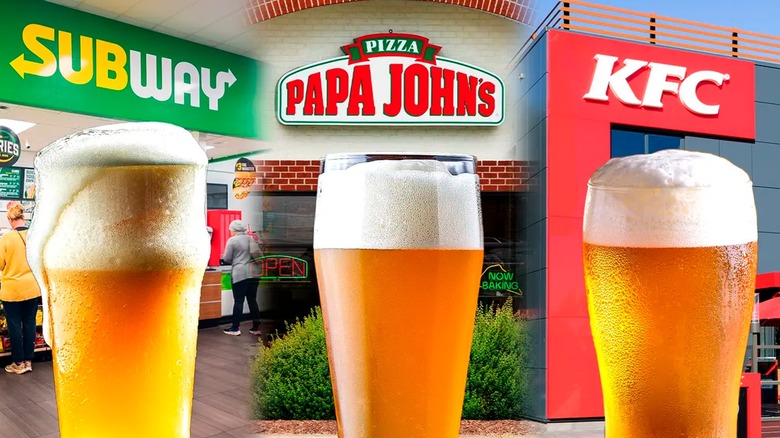 Static Media / Getty / Shutterstock
In the U.S., it's uncommon for fast-food restaurants to serve alcohol. Liquor regulations, which can vary by state, county, or even town, that were put in place after Prohibition makes it costly and difficult for any establishment to get licensed. It's not like a fast-food chain can bypass local laws and grand licenses to serve alcohol at all of its dozens, or even hundreds, of restaurants. The high cost of a liquor license sometimes can outweigh the sales revenue a fast-food chain would make on serving alcohol, so many opt not to offer it at all.
The location of fast-food joints can also impact whether or not they're allowed to serve alcohol, such as if it's located near a school or church. A liquor license can also have a great impact on staffing. Many fast-food chains employ people under the age of 21, which can complicate the business model as well as the brand's reputation for being family-friendly.
Fast food establishments in other parts of the world are more likely to serve alcohol along with internationally-available menu items. It might not be the norm for every McDonald's drive-thru to feature a beer list, but there are some ways to enjoy your fast-food favorites with a cocktail. We decided to find some instances of fast-food restaurants serving alcohol (like Hollywood's hottest club, Taco Bell Cantina). You might have to travel far and wide, but you can have a Big Mac and a beer, too, if you're determined enough.
Chipotle
Chipotle is one of the most well-known fast-casual restaurant chains that serve alcohol alongside its famous burritos and bowls. Because it's not often loudly advertised, many people forget they can order cocktails along with their typical Chipotle order. As of 2023, Chipotle revamped its margaritas by creating a hand-made version. The brand got rid of the pre-mixed margarita concoction for a hand-shaken recipe with Patron or Sauza tequila, lemon and lime juice, agave, and triple sec.
Chipotle's booze menu usually includes domestic and imported beers, canned wine, margaritas, and occasionally other specialty cocktails depending on the location. The price also varies by store, but it's usually a good deal to get a drink at the fast food joint. Sometimes, like in the summer 2018, Chipotle locations in New York City would have happy hour specials on drinks to encourage people to rethink the way they typically indulge in a Chipotle burrito.
Starbucks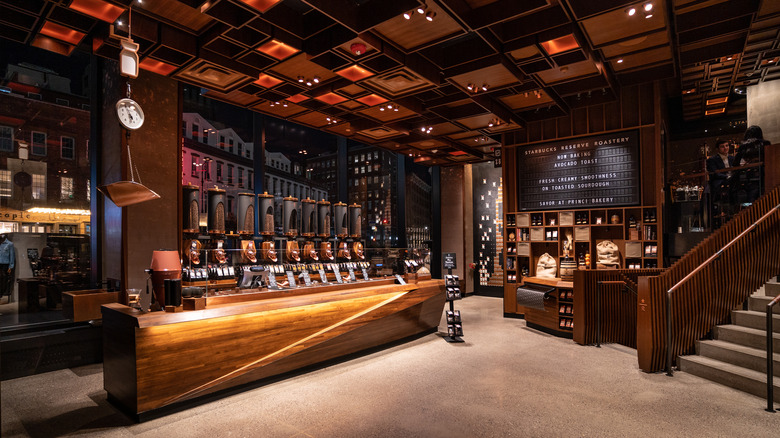 pio3/Shutterstock
Don't get too excited — Starbucks doesn't allow its customers to add a shot of booze into their usual Frappuccino or iced latte, sadly. The chain does have a few select Starbucks Reserve Roasters locations that combine craft coffee with cocktails for those of age who are interested. The Reserve Roasters spots are located in metropolitan cities like New York City, Shanghai, Milan, and Tokyo. The Seattle location is one that includes a bar that mashes up alcohol and coffee for fairly reasonable prices — it's an experience.
Patrons can sip on creations like a Starbucks espresso martini or a whiskey barrel cold brew flight. Tours are available at Reserve Roasters locations for fans to learn more about the possibilities of Starbucks coffee outside of the usual morning pick-me-up.  Starbucks previously tried to introduce an "Evenings" menu at some stores in U.S. cities back in 2014, but the drinks and small plates concept fell to the wayside.
Shake Shack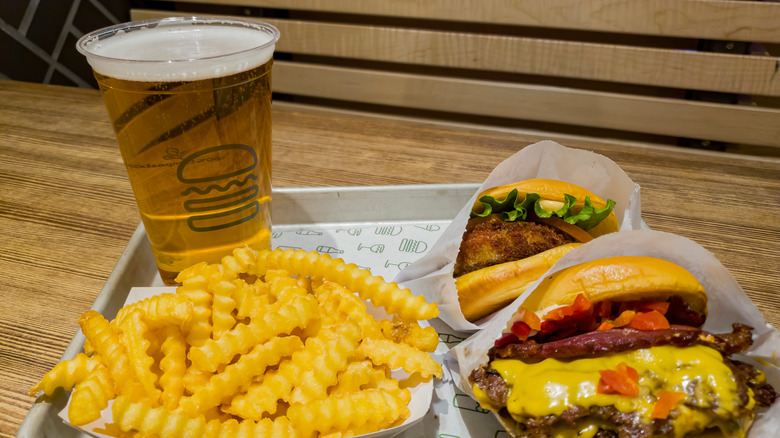 Kit Leong/Shutterstock
Many people think of Shake Shack as elevated fast food, so it's not a surprise that the burger chain offers alcoholic beverages for those old enough to drink to pair with their all-American meal. Shake Shack is all about offering exclusive menu items, and the brand extends that philosophy to the drinks. The New York-founded chain offers a beer called Shackmeister Ale, a golden brew from the folks of Brooklyn Brewery that is created just for Shake Shack.
Those who have tasted the house beer describe it as a mild pale ale with citrus notes and mild bitterness, making it a great partner to a greasy cheeseburger. For those wine drinkers who frequent the chain, Shake Shack has its own Shack Red and Shack White blends, made by Domaine Lafage, that each pair perfectly with cheesy fries and thick milkshakes. The house alcohol options make it even more enticing to take an outing to Shake Shack and spend some time enjoying your meal and appreciating the ambiance.
Pizza Hut
Pizza Hut has served beer and wine in its sit-down restaurants for a while, but in 2017, the company began alcohol delivery to bring the time-honored pairing of pizza and beer to the homes of its customers. Pizza Hut expanded beer delivery to 300 more stores in 2019 to test the waters and planned on extending that to even more of its pizza shops.
While the beer and wine list varies depending on location, a few staple domestic beers like Blue Moon, Budweiser, Busch Light, and Miller High Life are often available. Additionally, Pizza Hut usually offers imports like Stella Artois and Corona Extra, but it's important to check the menu to make sure your personal brew of choice is available. It's also not guaranteed that every Pizza Hut location will deliver booze to your door, but it never could hurt to ask when calling in your pizza order.
Taco Bell Cantina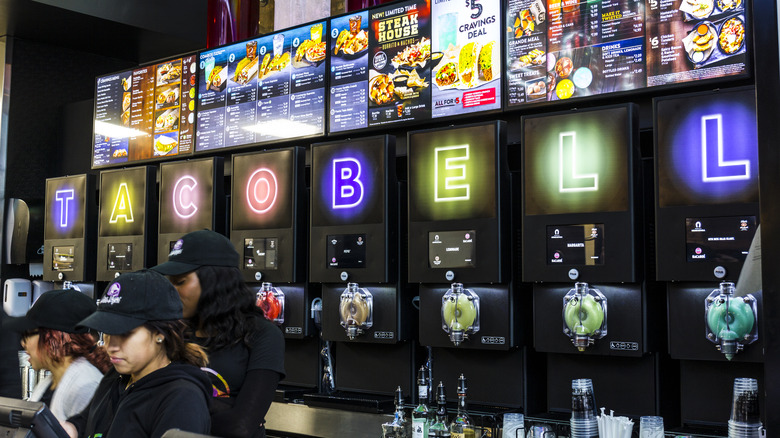 Jonathan Weiss/Shutterstock
Taco Bell Catina might be one of the most well-known chains that offer fast food staples and alcoholic beverages. The specialty Taco Bell establishments stand out as they're usually open late and offer more exclusive menu items than the typical drive-thru. The most notable difference is that Taco Bell Cantina offers an extensive menu of beer, wine, sangria, and liquor to spike Taco Bell's signature Freezes.
Taco Bell enthusiasts can opt for the Mountain Dew Baja Blast with a shot of Ketel One vodka or a Cantina Margarita with Don Julio tequila. The exact booze options vary by location, but each Taco Bell Cantina likely has at least one drink to entice every kind of drinker. It helps even more if they're major fans of the fast-food taco chain, but it's important for first-time Catina customers to remember that alcohol is limited to dine-in only, regardless of if there happens to be a drive-thru available.
Steak 'n Shake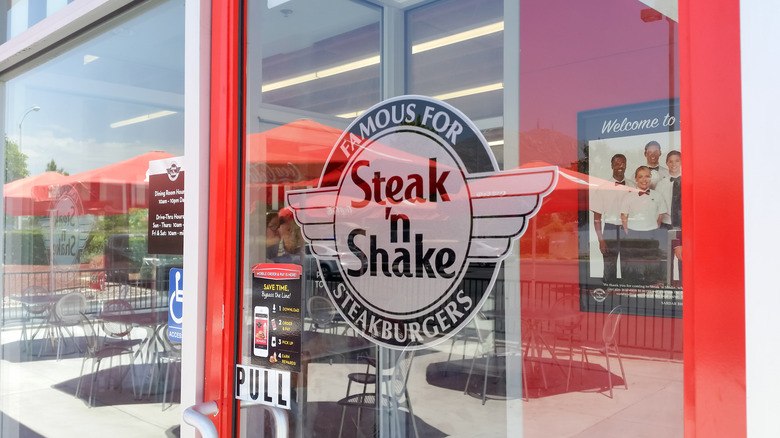 The Image Party/Shutterstock
Steak 'n Shake is a fast-food chain with a major nostalgia factor. The restaurants are designed like old-school diners, serving milkshakes, hot dogs, and fries with a seasoned swagger. One uncommon sight to see at the average Steak 'n Shake location is people drinking any kind of alcohol. That is unless you're stopping at a specific Steak 'n Shake in Las Vegas, Nevada.
Inside the Las Vegas Hooters Casino Hotel hides a 200-seat Steak 'n Shake complete with a bar. The one-of-a-kind location offers spiked milkshakes and other uncommon menu items. It's probably one of the few places you can enjoy a classic Steak 'n Shake burger meal while also getting drunk, and gambling your money away on top of it all. For the ultimate Steak 'n Shake fans, the location that serves alcohol should be added to your bucket list. After all, the brand does milkshakes so well that a boozy version has to be amazing.
Wienerschnitzel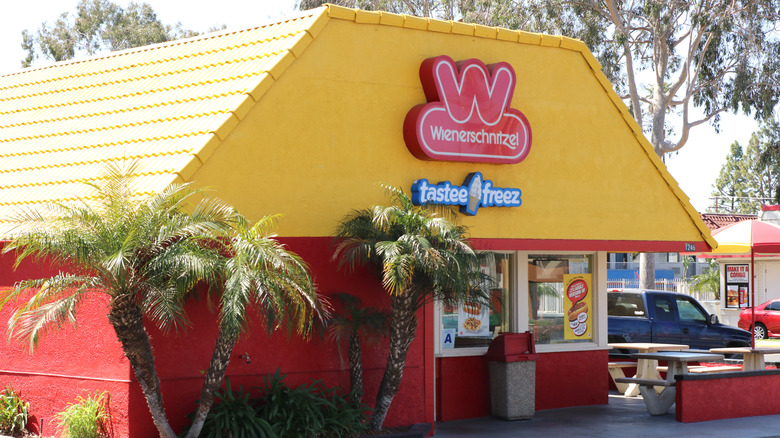 Eric Glenn/Shutterstock
Wienerschnitzel is a fast-food hot dog chain that is most commonly found in Western U.S. states like Washington and Arizona. As is true with most hot dog stands, it's not the first place drinkers would think of to stop at to drink a beer. But what better snack goes with a cold pint than a perfectly grilled hot dog? The combination is possible for Wienerschnitzel fans, but it's just a matter of location.
If you happen to stop at the Burbank, California Wienerschnitzel location, you will find something that pays homage to the chain's origin story — a beer tap. J.R. Galardi, the 25-year-old son of Wienerschnitzel founder John Galardi, even proudly proclaimed that a Southern California Wienerschnitzel location was the place he learned how to perfectly pour a beer during one summer he spent working. The rare Wienerschnitzel location sells beer and other alcoholic beverages, including Mike's Hard Lemonade.
Smashburger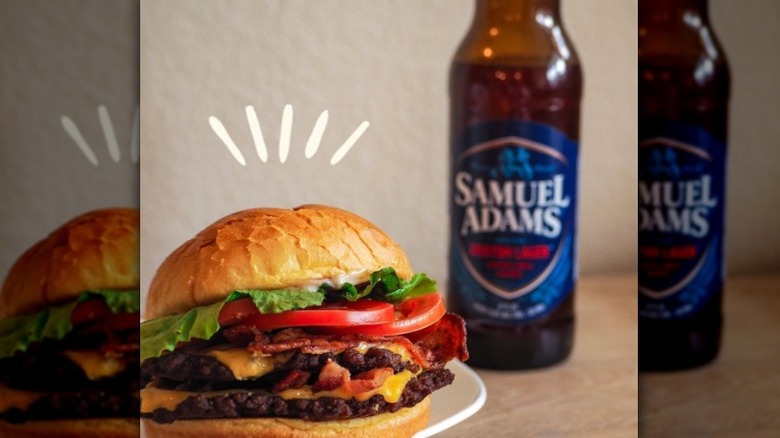 S and S Imaging/Shutterstock
Smashburger is another elevated fast-food burger joint that sells a variety of alcoholic beverages on its menu alongside typical fares like fries and buffalo wings. The beverage selection varies by location, but many Smashburgers will have a solid beer line-up that may include options like Samuel Adams, Dos Equis, Blue Moon, and Miller Lite. For those who don't drink beer, many Smashburger locations also serve White Claw hard seltzers, which also serve as a gluten-free option. The alcohol options might be limited for now, but the folks at Smashburger are looking to change that.
In 2022, Smashburger upped its game at one location in Denver that has a full-service bar. Unlike the typical fast-food location, customers can enjoy draft beers or specialty cocktails to wash down those mouth-watering burgers. The chain announced plans to open more Smashburger locations with a full-bar concept so it just seems like a matter of time until it becomes the norm.
White Castle
White Castle is a bit of an anomaly in the fast food landscape of 2023, but the brand that is known for its mini sliders is looking for ways to stand out in the modern era. One method the brand has experimented with is, you guessed it, booze. Since 1934, White Castle has been headquartered in Columbus, Ohio. In 2018, the store did a revamp that included offering beer and wine to its customers who are 21 and older. It's not the norm to pair White Castle sliders with booze, but the classic location isn't the only place that's tried the idea.
White Castle initially tried selling beer and wine at its co-branded restaurants in 2011. Both booze options sold for less than $5 a serving, which was still a steal, but the trend didn't catch on. Regardless, Evil Genius Beer Co. in Pennsylvania created a tangerine IPA designed to pair with the fast-food sliders. The 5.6% beer is called "White Castle It Hits Different," which might not be available at the drive-thru, but it's the only drink worthy of pairing with your takeout White Castle meal.
Qdoba
Qdoba is an underrated Mexican fast-food chain that sometimes gets overshadowed by other popular chains like Chipotle or Moe's Southwest Grill. Booze enthusiasts who are looking to drink a beer with their burrito bowls and queso dip shouldn't overlook select Qdoba locations that are licensed to serve alcohol. In Casper, Wyoming, two Qdoba restaurants can serve booze so long as at least 60% of each store's revenue comes from food rather than liquor, according to Oil City News. A Qdoba in Newark, Delaware had a similar stipulation once it got its liquor license approved — only 5% of total sales can come from alcohol and workers must serve alcoholic beverages, notes Newark News. No self-serve margaritas allowed.
Another Qdoba in Nebraska also randomly has a "huge bar in the middle," according to a 2018 Trip Advisor review. It may seem unconventional, but a Mexican cerveza is the best refreshment to go with a massive burrito, whether it comes from Qdoba or anywhere else.
McDonald's
Unfortunately for U.S.-based McDonald's lovers, McBeer or McWine hasn't become a thing for American fast food locations. Those in other parts of the world, namely Europe, can enjoy a beer with a Big Mac or McNuggets basically whenever and to their stomach's content. Major European countries like France, Germany, Spain, and Italy have McDonald's that also serve booze. Even smaller nations like Portugal, the Czech Republic, and Serbia are known to be able to enjoy McDonald's beer. Over in Asia, South Korea became the first McDonald's in Asia to serve draft beer in 2016 since the 2004 closure of a location in Hong Kong that sold booze. South Korean customers are limited to one beer per signature burger, but they're at least allowed the luxury.
In the early 1980s, one California McDonald's nearly became the first and only of the brand's U.S. establishments to serve liquor. The folks behind the Mammoth Lakes franchise fought to obtain a liquor license. They argued that the McDonald's was located in a town filled with adult tourists so selling booze would help to exemplify that resort-like feeling. The franchise owners ended up not following through with pursuing the liquor license so as to not ruffle too many feathers in the community, and U.S. McDonald's stores have remained alcohol-free ever since.
Subway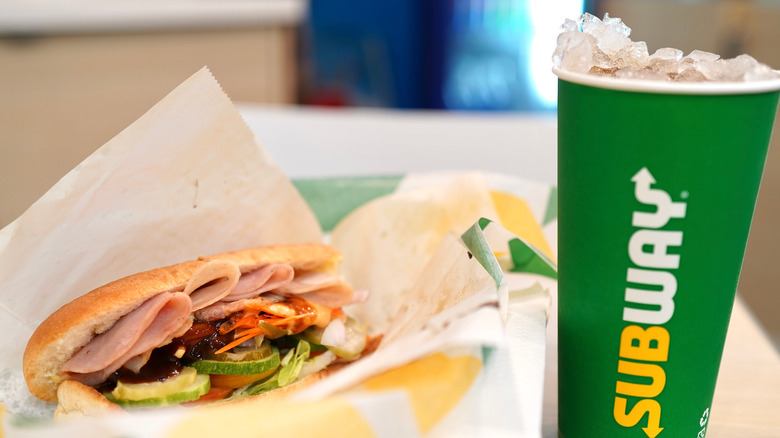 Prachana Thong-on/Shutterstock
Subway deli sandwiches might not seem like the ideal meal to go with beer, but those who have tried it declare otherwise. A select few U.S. Subway locations are licensed to serve alcohol — one being the 24-hour Subway on the Las Vegas Strip. The store has a license to sell beer and other alcoholic beverages to its Las Vegas patrons which fits in with the rowdy vibe of the city. Over at the Grand Junction Regional Airport in Denver, there is a Subway store that also is licensed to serve beer and wine. The catch is that the airport actually owns the liquor license rather than the fast-food franchise, which also makes sense considering there are no rules about acceptable times and places to have an alcoholic drink at the airport.
Internationally-located Subway establishments are also known to sell beer. In Russia, it's common for customers to order a pint along with the toasted footlong or flatbread. It might not make a lot of sense, but Subway and alcohol are a pairing you shouldn't knock until you try it.
Papa John's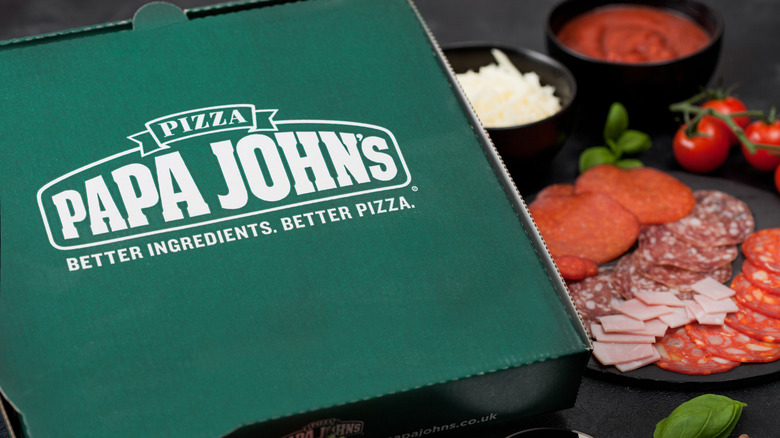 DenisMArt/Shutterstock
Another mainstream pizza chain that will sell you beer along with your regular pie at some locations is Papa John's. In 2018, Papa John's began testing alcohol delivery in select markets to see how its customers responded. Along with its signature pizzas and other menu items, the brand's pizza delivery drivers deliver six or 12 packs of domestic and imported beer. In 2020, Papa John's decided to expand its alcohol offerings by teaming up with a craft brewing giant.
Papa John's announced that the brand would be teaming up with BrewDog to add two craft beers to its takeaway menu. The beer options offer a refreshing alternative to the typical 2-liter of soda most people add to their cart when ordering pizza delivery. The alcohol options vary by store but if you're lucky enough to be able to order beer delivery, you can save yourself the extra trip to the liquor store.
KFC
Many junk food fans can agree that nothing pairs as well with fried chicken as an ice-cold beer. Kentucky Fried Chicken, unfortunately, doesn't sell American customers packs of beer or draft pints to enjoy with their buckets of Original Recipe and butter-slathered biscuits. If you happen to frequent a KFC outside of the U.S., such as in a place like Tokyo or Poland, you might be able to order a Carlsberg beer along with your fast food chicken order. The KFC locations that serve booze aren't the easiest to track down, but they're totally worth stopping by if you run into a location in the wild.
For those KFC fans stuck in the U.S., they can get creative at home by pairing their favorite dishes with booze. Kentucky Fried Chicken even offers an at-home wine pairing guide for people to pick the perfect bottle to enjoy with their chicken, sides, and desserts.
Burger King
Burger King is another beloved fast-food chain that has a habit of offering global customers outside of the U.S. alcoholic options to go with the Whoppers and Chicken Fries. In 2015, Burger King was approved to sell alcohol to its dine-in customers in the United Kingdom. The stipulations are that Burger King can only sell beer that contains less than 5% ABV, and customers are not allowed to leave the premise with their drink. Burger King locations in other countries like Spain, Singapore, and Venezuela also are known for selling alcohol.
Burger King tried to offer alcohol to its American customers through its 2009 launch of the Whopper Bar. The concept was an upscale version of Burger King that utilized high-quality ingredients and beer. Burger King opened Whopper Bars in New York City, Las Vegas, and Miami, but the concept fizzled out after a short period of time.