Chrissy Teigen's Cravings Pop-Up LA Bakery Is 'Such A Dream'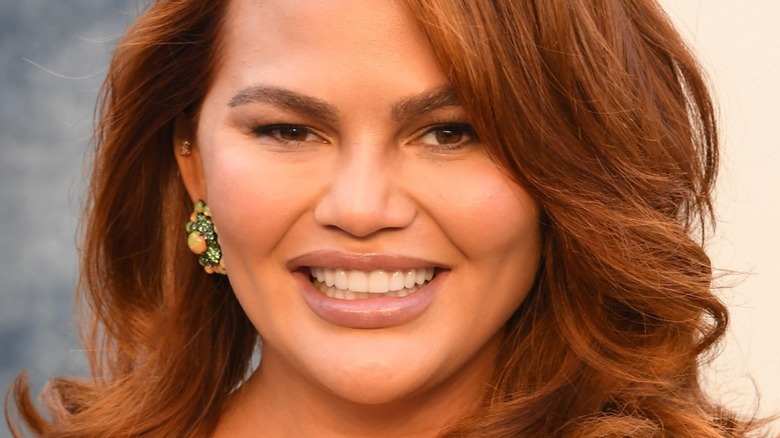 Steve Granitz/Getty
Chrissy Teigen is on top of the world after the opening of her Los Angeles bakery, a pop-up called Cravings x Shopify. As Teigen told Mashed, "It's such a dream! I am over the moon to see the Cravings brand come to life with the help of Shopify. It's been so much fun to design a world of my wildest cravings." 
Teigen isn't only lending her name and products to the enterprise but has been involved in designing the selfie-friendly layout, which features a wall covered with flowers, a fountain flowing with syrup, and a butter sculpture that isn't made of the ingredient but portrays a giant stick adorned with flowers. On Sunday, May 20, coffee drinks from "The Coffee Bean & Tea Leaf" will be sold alongside a mouthwatering line-up of sweets. The offerings at her whimsically-themed bakery include mochi pancakes, waffles, and white chocolate macadamia cookies made using Teigen's recipes. The baked goods sold at Teigen's pop-up are also available for consumers to buy as baking mixes. 
If you're considering what to try, Teigen recommends the banana bread, explaining that her recipe for this pandemic favorite is "kind of what started it all." Cravings x Shopify opened its doors on May 12, but if you plan to visit, act quickly: It will close shop on the 21st. You can purchase tickets for $5 through the website. To sweeten the deal, the entry fee can be applied toward a purchase of any non-food item. 
Cravings x Shopify is more than just a bakery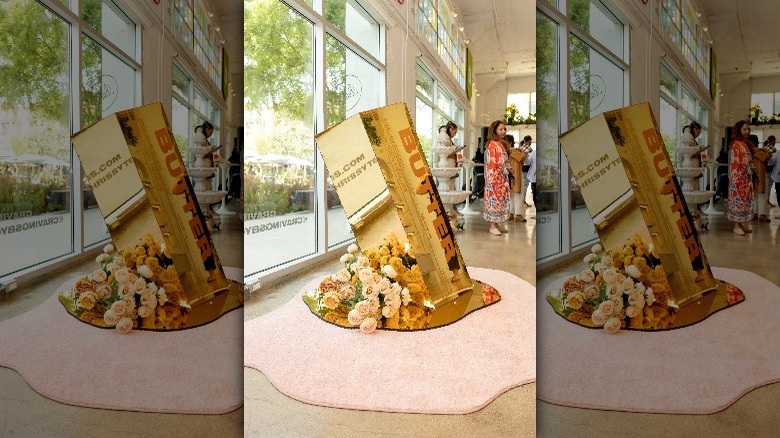 Cravings by Chrissy Teigen
While Chrissy Teigen raves about getting the chance to sell actual baked goods rather than just cookbooks and boxed mixes, the Cravings x Shopify pop-up only dedicates about half of its 4,000 square feet to her floral, festive eat-in café and bakery. Customers can shop for all the necessary equipment to make the same items at home, starting with the Cravings line of cookbooks and box mixes in the rest of the storefront. Beyond that, Cravings cookware and other kitchen accessories will be sold along with other fun, food-themed merch, such as blankets. If you can't make it to the pop-up during its short run, you can still pick up selected Cravings items at big-box stores, including Walmart and Target, or on Teigen's Cravings website. 
We don't know whether Teigen's cookies and banana bread will eventually be available for sale in their baked forms. But, for those located in Southern California, you may be able to find the boxed mixes sold at Bristol Farms grocery stores. Bristol Farms and Teigen have quite the connection as not only does this local mini-chain sell her products, but their website published an interview with her where she disclosed the secret to being a successful entrepreneur: You've got to love what you sell. That said, when your product is as delicious as Teigen's chocolate chunk cookies, that advice isn't hard to follow.