Discontinued Fast Food Breakfast Items We'll Never Eat Again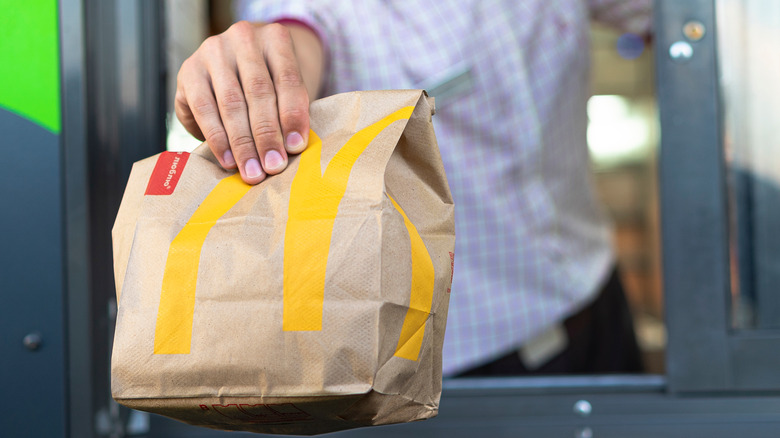 Gargantiopa/Shutterstock
For most fast food consumers, the appeal of the drive-thru window lies in the afternoon and evening options on the menu. Whether it's the Big Mac at McDonald's or a Dave's Double at Wendy's, these lunch and dinner offerings are a big part of the reason why these chains have remained popular over the decades. However, there are a wide range of fast food fans who love nothing more than lining up in the morning for fluffy eggs, crackling bacon, and the ever-popular Egg McMuffin.
Unfortunately, for every long-running fast food breakfast item, there are several morning mainstays that have fallen off the menu for good. Some were trial run items that never got past the initial testing phase, others were part of a special promotion that came to a close, and still others just went away with no fanfare or explanation. The loss of these items is very keenly felt amongst fast food early birds. Here we present to you a list of a few of these discontinued breakfast items that are still missed to this day.
McDonald's Happy Meal Breakfast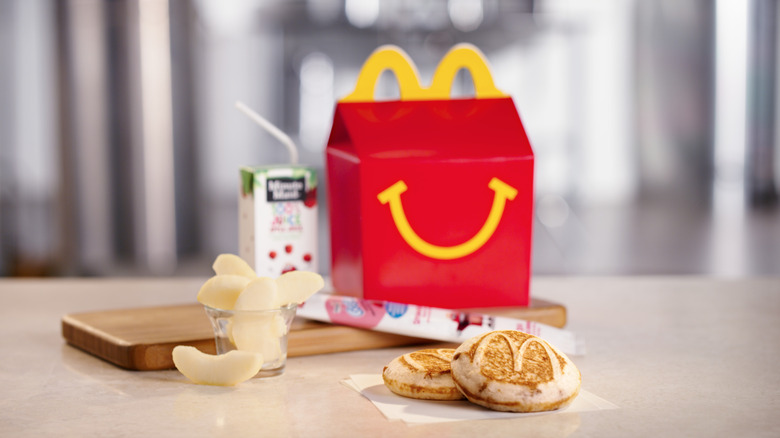 McDonald's
Ever since it was first introduced in 1979, the McDonald's Happy Meal has been one of the iconic chain's most popular items. Mickey D's diners have long loved the ever-popular combination of McDonald's food and a collectible toy, all packaged in a colorful cardboard box. So much so that, in 2022, the franchise introduced its first-ever line of Happy Meals for adults.
Back in 2016, McDonald's attempted to bolster the success of the Happy Meal by introducing a breakfast-themed variant. At more than 70 restaurants in Tulsa, Oklahoma, the franchise rolled out all-day Breakfast Happy Meals, which offered diners the option of McGriddles or the classic Egg McMuffin, as well as an array of sides, ranging from apple slices to hash browns. And, of course, the prerequisite toy was also included. Unfortunately for Tulsa residents, and the rest of the world, this experiment in early-morning joy was short-lived, having never gotten out of the testing phase.
Taco Bell's Chicken Biscuit Taco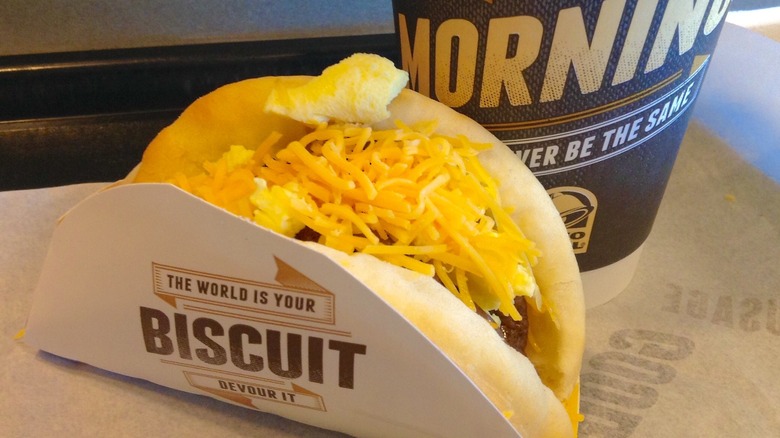 Flickr/Mike Mozart
While Taco Bell has always created menu items that have pushed the boundaries a bit, such as the Naked Chicken Chalupa that swapped out the chalupa shell for a piece of fried chicken, it was when it came to breakfast that the Mexican chain went completely overboard. Starting in 2014, Taco Bell decided to offer up some truly outrageous dining options. Items like the Naked Egg Taco, offering up fried potatoes, bacon, and cheese all wrapped up in a fried egg, delivered bizarre twists on classic meals.
A year after rolling out breakfast selections, Taco Bell unveiled the Chicken Biscuit Taco, which replaced the popular Waffle Taco option, much to some fans' consternation. A nod to the Southern breakfast staple of chicken and biscuits, this dish served up a piece of crispy chicken (rolled in tortilla chips) served up in a taco shell made from a biscuit. No gravy, surprisingly, but you could get it slathered in honey, if you prefer. Sadly, this item didn't catch on with Taco Bell diners and was quietly dropped from the menu within a year.
McDonald's Eggs Benedict McMuffins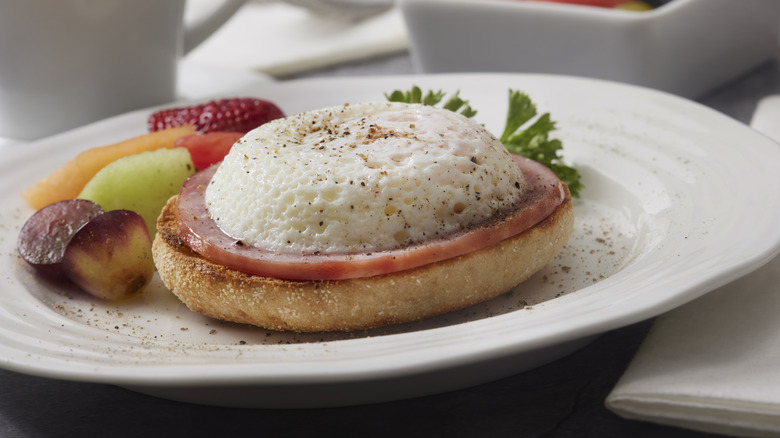 Lauripatterson/Getty Images
When it comes to fast food morning dining, McDonald's is arguably the king of the hill. From the McGriddle to the iconic Egg McMuffin, the Golden Arches has long been the trendsetter for tasty ways to start the day. And, back in 2016, they decided to up their AM game by adding a classic brunch staple to their breakfast menu.
Billed as a part of the franchise's new Big Breakfast Platter, McDonald's Eggs Benedict was essentially a pair of Egg McMuffins with the tops removed and drizzled with Hollandaise sauce. Although it had brunch fans drooling, Mickey D's eggs benny was only rolled out in Taiwan for a limited time (via Brand Eating). The Big Breakfast Platter also offered a seasonal side salad, hash browns, and a choice of a hot or cold drink, which would have definitely made it a very popular choice for stateside diners. There's always the chance that McDonald's could change their mind on serving Eggs Benedict. We have a feeling that a lot of people would be grateful if they did.
Carl's Jr.'s Blueberry Muffin Buns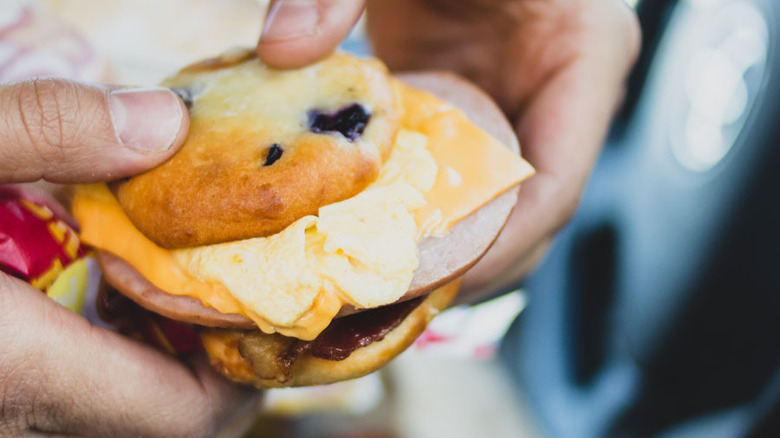 Foodbeast
Lots of fast food joints have opted for the "sweet/savory" combination, such as the McGriddle at McDonald's or the Taco Bell Waffle Taco. Carl's Jr. decided to try and get on the bandwagon when, in 2016, they began offering breakfast sandwiches made with blueberry muffins instead of rolls. They also had another sandwich, which swapped out the blueberry muffins for cornbread. It was a bold move, but one that the chain had tried before, having brought out a French Toast breakfast sandwich just the year before.
Foodbeast noted that the muffin-ized sandwiches were being tested at different locations throughout Southern California. Unfortunately for anyone looking to wedge their sausage and eggs between two blueberry muffins, these sweet and savory sandwich options never made it past the testing stage and can no longer be found at any Carl's Jr. locations in Southern California or anywhere else. Still, it's fair to say that this one wasn't really given a chance to succeed and could be ready for a comeback.
Burger King's Enormous Omelet Sandwiches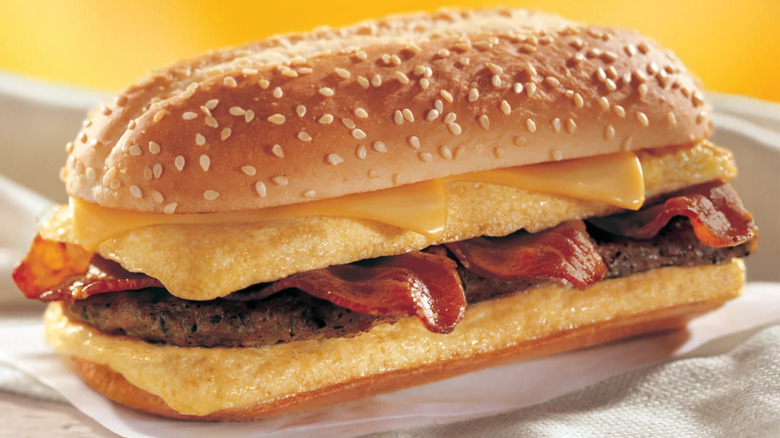 Burger King
A bacon, egg, and cheese sandwich has long been a breakfast staple for diners on the go, but back in 2005, BK decided to kick everything up several notches. The aptly named Enormous Omelet Sandwich stuffed two eggs, bacon, cheese, and a sausage patty into a massive hoagie-sized roll. Newsday noted that the sandwich was so popular with truckers, it was colloquially known as the "trucker's breakfast."
However, despite its road-trip appeal, the Enormous Omelet Sandwich also had its fair share of detractors. Not long after Burger King debuted the new breakfast item, CNN Money published a scathing piece pointing out just how unhealthy it was due to its high fat and salt content. Just one Enormous Omelet Sandwich packed an astounding 730 calories and almost 50 grams of fat. To put that number in perspective, the entire Grand Slam breakfast at Denny's, which is packed with bacon, sausage, eggs, and two pancakes, has 665 calories. After a while, Americans began to rethink how much fat they were consuming in the morning, and the Enormous Omelet Sandwich was ultimately shelved.
Wendy's Mornin' Melt Panini
For most of its first 20 years, Wendy's kept their menu strictly focused on the square burgers that had made them a household name. When they did debut breakfast options in the mid-'80s, Wendy's took great steps to differentiate themselves from their competitors. Rather than egg sandwiches and pancakes, they offered made-to-order omelets. However, morning diners weren't ready to take that much of a fast food leap, and Wendy's returned to what it did best.
After some timid attempts to revive breakfast in the 2000s, Wendy's brought it back in full in 2012. One of the first offerings of this new foray was the Mornin' Melt Panini, comprised of eggs, tomato, bacon or sausage, and Asiago cheese stuffed between two slices of sourdough bread. Sadly, Wendy's customers weren't really on board with the artisan breakfast menu, and within a year, the panini and other items were yanked from the menu. Business Insider speculated that the failure may have been because McDonald's and other chains already had such a strong claim to fast food breakfast. Whatever the case, you can still order some morning meals at Wendy's, but if you want a panini, you'll have to look elsewhere.
Jack In The Box's Prime Rib Steak And Egg Burrito
A breakfast burrito is most definitely a coveted item for some early morning eaters. What's not to like? All of your favorite morning fixings tucked into a flour tortilla, maybe even with a side of salsa? Sign us up. Given the popularity of the burrito as a breakfast choice, Jack in the Box decided to throw its hat into the ring in 2018 and debut the Prime Rib Steak And Egg Burrito. This monstrous morning delight featured flame-grilled steak, eggs, hash browns, two types of cheese and Sriracha sauce rolled up into a tortilla.
According to Brand Eating, this bad boy came loaded with 850 calories and 50 grams of fat, making it an unwise choice for anyone watching their waistlines. This may have contributed to its swift decline, as the burrito was only available for a limited time. After January 2019, the Prime Rib Steak and Egg Burrito was removed from Jack in the Box's menus and has yet to make a comeback.
Taco Bell's Mini Skillet Bowls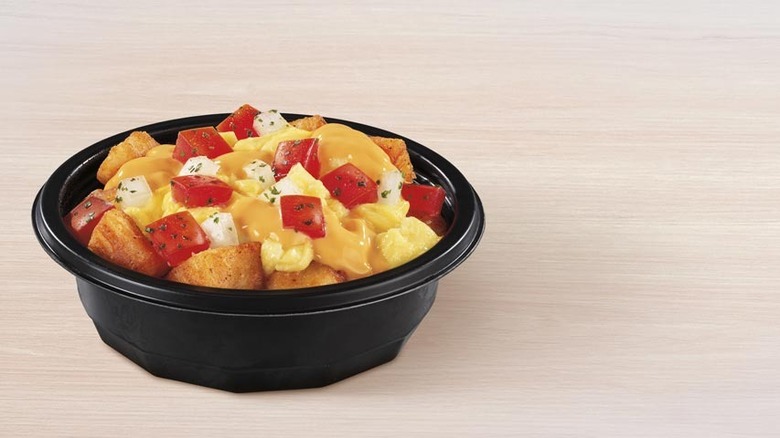 Taco Bell
Taco Bell and breakfast have long had a turbulent relationship. Recently, the Southwest-themed chain has made efforts to right the ship, but even as recently as 2016, they were continuing to experiment with mixed results. One of these trial items was the Mini Skillet Bowl, filled with potatoes, eggs, cheese, and pico de gallo.
The bowls were popular among Taco Bell patrons but dropped off the menu in 2020, along with a dozen other favorite items like the Mexican Pizza, the ever-popular Quesarito, and the Spicy Potato Soft Taco. The pandemic played a role in the Skillet Bowl's demise, with fewer commuters hitting the drive-throughs for a morning pick-me-up, according to Insider. Fan outrage was such that Yahoo News reported on an Austin, Texas, bar hosting an event during which, for one night, they served their own versions of the discontinued items, including the Skillet Bowl. This wasn't enough to inspire Taco Bell to bring back the bowls to their menu full-time, but one can always dream.
McSkillet Burrito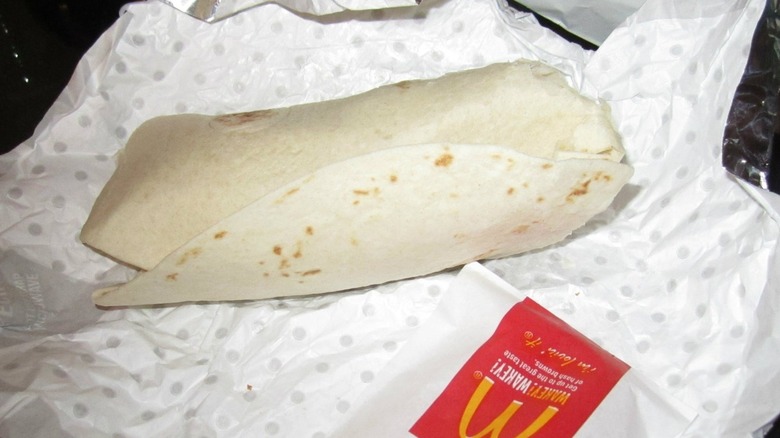 Facebook
If one were to compare fast food chains to pop stars, then McDonald's is the Madonna of breakfast, forever reinventing itself in pursuit of perfection. As part of this relentless chase for morning domination, McDonald's unveiled the McSkillet burrito in 2007. A monster burrito jammed almost to bursting with sausage, eggs, potatoes, peppers, onions, and salsa, the McSkillet quickly earned an admittedly small but devoted following. Part of its appeal was its massive size, with Brand Eating claiming that a sausage McSkillet weighed in at nearly half a pound. The thing was so big it was almost daring you to eat it.
Unfortunately, the fact that it did attract only a small following, coupled with a comparatively high price point  — it went for up to $3.29 in some markets, according to the Impulsive Buy – meant that the McSkillet was not able to enjoy any kind of sustained success. In 2010, McSkillets began to drop from McDonald's menus across the country and, by 2013, they were gone entirely.
Dunkin's Donut Fries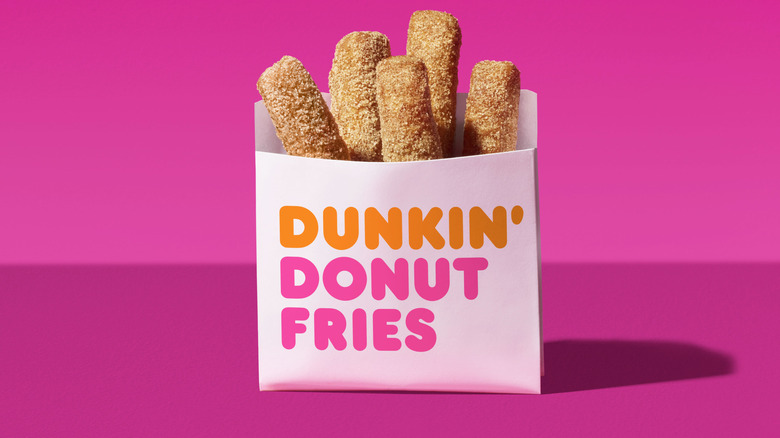 Dunkin'
For more than 60 years, Dunkin' has consistently done two things better than just about any of their competitors: coffee and donuts. That said, they have also always tried to innovate and reinvent themselves when it comes to new offerings. This has led to the creation of such beloved items as the Peanut Butter Cup Macchiato, the Arnold Palmer Coolatta, and, of course, Donut Fries.
Launched in 2018, Donut Fries were almost a combination of a donut and a churro. They were lovingly described by Dunkin' itself as being, "individual pieces of delicious, buttery croissant style donut dough that are tossed in cinnamon sugar and served warm." And yes, that's as good as it sounds. Unfortunately, the fries experiment proved to be a brief one, and Dunkin' yanked them from the menu.
Egg White Delight
Back in 2013, McDonald's diners looking for healthy breakfast options had reason to rejoice. Starting on April 22 of that year, the chain began adding the Egg White Delight to their menu (via Foodbeast). Following a successful test in locations in Atlanta and Austin, the decision was made to take the Egg White Delight nationwide.
Made with egg whites, lean Canadian bacon, and white cheddar served on a whole-grain muffin, the Egg White Delight was seen as a calorie-counting alternative to the franchise's usual breakfast offerings. However, it lasted as a menu mainstay for only five years before McDonald's began to scale it back. By 2022, it was pulled from menus everywhere. The Takeout noted that the Egg White Delight went out with something of a whimper rather than a bang, with very little fanfare to mark its passing. But, for Mickey D's patrons looking for a more waistline-friendly morning choice, the loss of the Egg White Delight is still keenly felt.
Sonic's French Toaster Breakfast Sandwich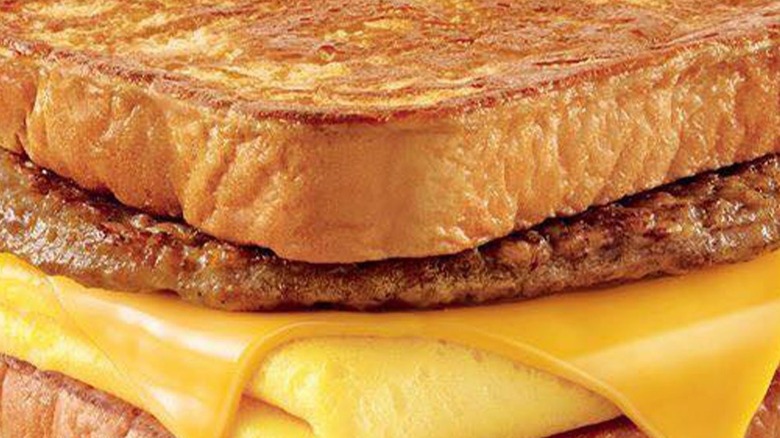 Alot
Sweet and savory has always been a combination that fast food chains have experimented with, and with good reason, since it's a combo that diners have often enjoyed. Back in 2015, Sonic got into the sweet/savory game with their version of a breakfast Monte Cristo. Similar to their Breakfast Toaster, which is still available, the French Toaster offered early risers a French Toast sandwich instead of one served on the usual Texas Toast. 
Packing ham, bacon, or sausage, along with eggs and American cheese into two slices of thick-cut French Toast, the French Toaster basically sought to compile everything we love about breakfast into one belt-busting meal. Sadly, it was a limited item from the get-go, meaning that diners' time with the French Toaster was always destined to be short. In addition, that "limited time" caveat means that it's not likely that the French Toaster will be gracing Sonic menus again anytime soon. But, as sure as the sun comes up every morning, there's always hope.
Denny's Sizzlin' Supreme Skillet
Denny's has long been known for its signature breakfast dishes, from the Grand Slam to the famous Moons Over My Hammy ham and scrambled egg sandwich. Its signature skillets were another way that the restaurant chain could continue to make its mark, both in the morning and throughout the day. The Sizzlin' Supreme Skillet was a popular breakfast choice, with sausage, spinach, peppers, onions, mushrooms, and potatoes. All of that was topped with cheddar cheese and two sunny-side-up eggs. 
Although the breakfast skillets were popular, the pandemic hit a lot of restaurants hard. Many chains were forced to cut back on their inventory and scale back their menus. Among those affected was Denny's, which saw such items as the Choconana Pancakes, Fit Slam, and Slow-Cooked Pot Roast all fall by the wayside. The Sizzlin' Supreme Skillet was also among the collateral damage. Luckily, Denny's diners still have Moons Over My Hammy.
IHOP's Simple n' Fit Omelette
IHOP was another victim of COVID-related cutbacks. Back in 2020, the chain's 12-page menu was reduced to two pages, which meant that some difficult choices had to be made at the top. From replacing the regular menus with disposable ones to swapping out the syrup bottles with single-use containers, IHOP took a number of steps to stay afloat during the pandemic. In addition to the heartbreaking loss of some signature items, such as the banana and Nutella crepes, IHOP also had to let go some of its healthier choices. This included the loss of the Simple n' Fit Omelette. 
Made with spinach, mushrooms, onions, diced tomatoes and Swiss cheese, then topped with diced tomatoes, the Simple n' Fit Omelette was good choice for calorie-conscious IHOP patrons. It even came with a side of mixed fruit. IHOP has expanded its menu since those cuts three years ago, but the Simple n' Fit Omelette didn't make a return. However, all is not lost for Simple n' Fit Omelette fans. Today notes that diners can still assemble one with the chain's Build Your Own Omelette.
Taco Bell's Waffle Taco
Of all of the breakfast items that Taco Bell debuted in 2014, this one was arguably the item that garnered the most attention. Featuring scrambled eggs, cheese, and sausage or bacon stuffed into a waffle-like taco shell, the waffle taco seemed to be exactly what Taco Bell mornings were made for. And, indeed, not long after their debut, the waffle tacos were quickly being buzzed about and debated over on social media. 
However, all of that online attention didn't translate to big numbers at the cash register, making the waffle taco the "Snakes on a Plane" of fast food breakfasts. Within a year of being released, according to Entrepreneur, the waffle taco was retired, never to grace mornings (or late nights) again. In the years since its departure, some fans have started petitions, lauding the waffle taco and championing for its return. While, to date, those petitions haven't led to a waffle taco resurgence, if the Mexican Pizza has taught us anything, never count out Taco Bell fans.