The Best Scrambled Eggs Recipe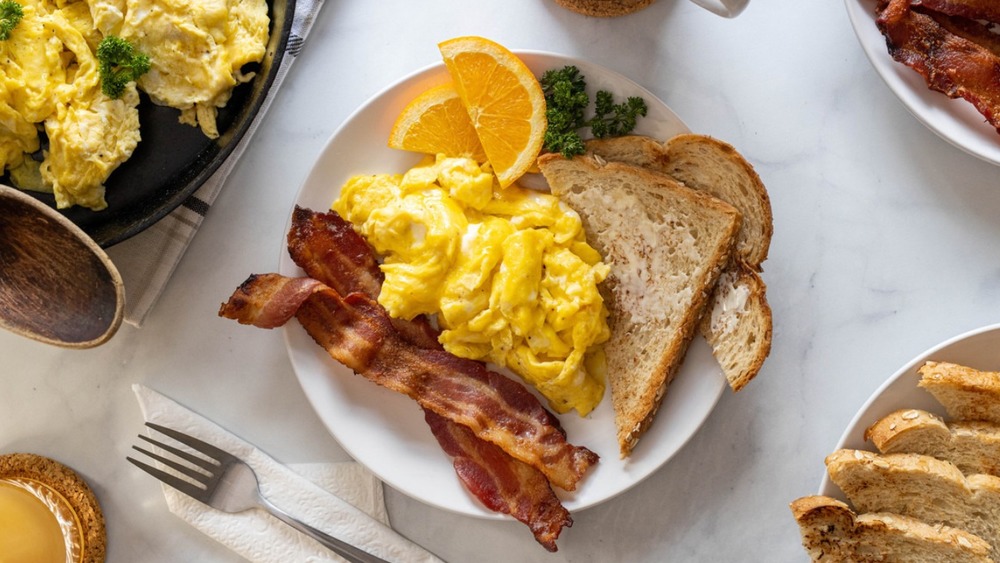 Keith Kamikawa/Mashed
There are a lot of strong opinions when it comes to how to make the best scrambled eggs. Some swear by the French way — which involves using butter and a splash of dairy. Others wouldn't let dairy near their scramble! Meanwhile, tricks and tips abound for cooking up perfect eggs, from incorporating olive oil to adding orange juice. Yes, seriously. In the end, scrambled eggs are about texture, so technique definitely comes into play. That is why Keith Kamikawa says his version of scrambled eggs is worth your attention. He tells Mashed, "It's all about creamy, fluffy scrambled eggs." We can't argue with that! 
For Kamikawa's scrambled eggs recipe, you will use butter and dairy. As he tells us, "Having the richness of the half and half with butter guarantees this recipe will work." 
As you will see, this recipe serves one, but as he said, "If you need eggs for more than one person, it's as simple as multiplying the recipe to accommodate as many people around the breakfast table." Once a friend or family member tastes these delectable eggs, you will certainly draw a crowd!
Grab a few ingredients for this scrambled eggs recipe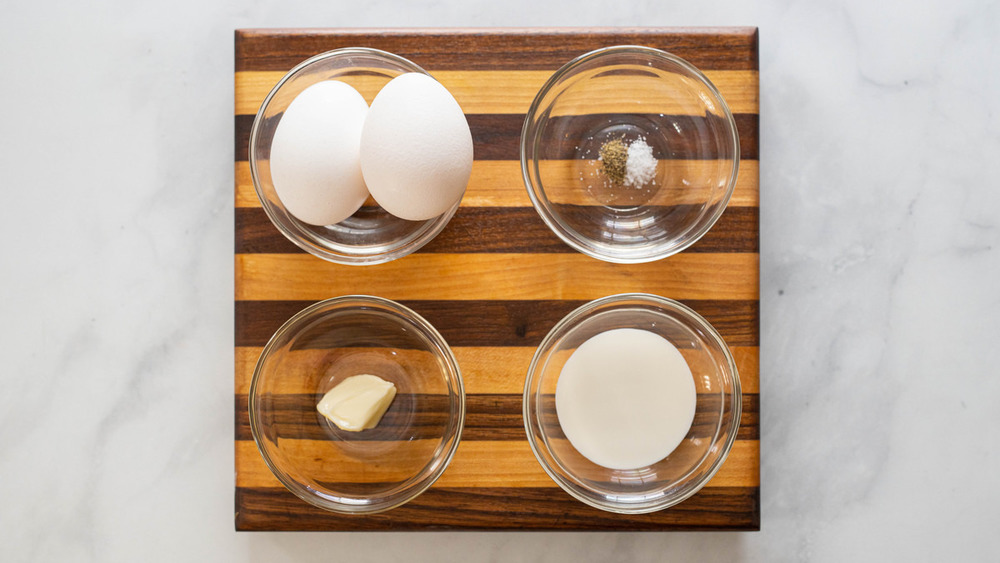 Keith Kamikawa/Mashed
Breakfast comes together almost by magic with how few ingredients you need for this scrambled eggs recipe. You'll grab two large eggs, half and half, kosher salt, black pepper, and unsalted butter — since you are already incorporating salt here.
We asked Kamikawa why he recommends using butter over oil or even a non-stick cooking spray, and his answer won us over immediately. "The flavor of butter can't be beat when working with eggs," he told Mashed. He added, "This recipe contains so few ingredients that you really can taste everything. And the natural depth of butter complements the eggs perfectly." Yeah, we are already hungry!
Another natural question is why he uses half and half in favor of milk, and again, it seems flavor is top of mind when it comes to this ingredient choice. Kamikawa explained, "Half and half has that extra punch of good fat that rounds out the eggs." Don't have any half and half on hand but dying for some scramble? It's okay — as Kamikawa told us, "Milk can certainly work as a substitute, but it is a little watery, while half and half adds richness and helps fluff the eggs to a perfect consistency." Yup, again, our mouths are watering!
Give the eggs in this scrambled eggs recipe a good scramble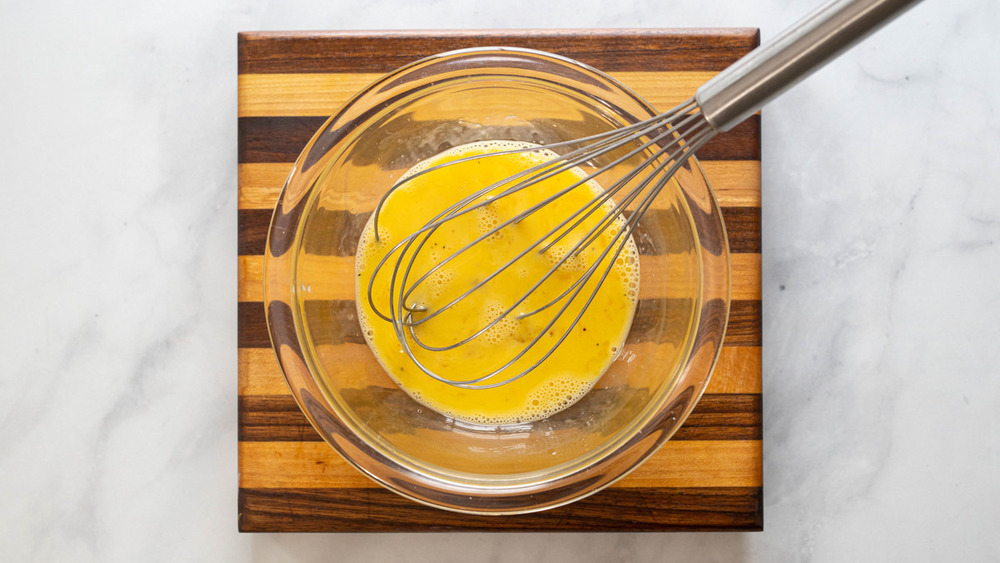 Keith Kamikawa/Mashed
Your first step toward making this scrambled eggs recipe is to add all of your ingredients, save the butter, in a bowl, and beat them until they are well-combined. We wondered why Kamikawa suggests scrambling before the eggs hit the pan, and he told Mashed, home cooks should not underestimate the significance of this step. "Having a good scramble of the ingredients before they go into the pan is important in the overall fluff and texture of the eggs." 
This does sound highly consequential, especially with Kamikawa adding, "Waiting to scramble the eggs after they hit the pan will result in whites and yolks cooked separately, and a breakdown of the half and half, making an unpleasant, watery mixture." Nope, we don't want that. 
Meanwhile, as you scramble for survival, you can take a moment to heat a non-stick pan over medium to high heat and grab that butter.
Pour your eggs into a hot pan for this scrambled eggs recipe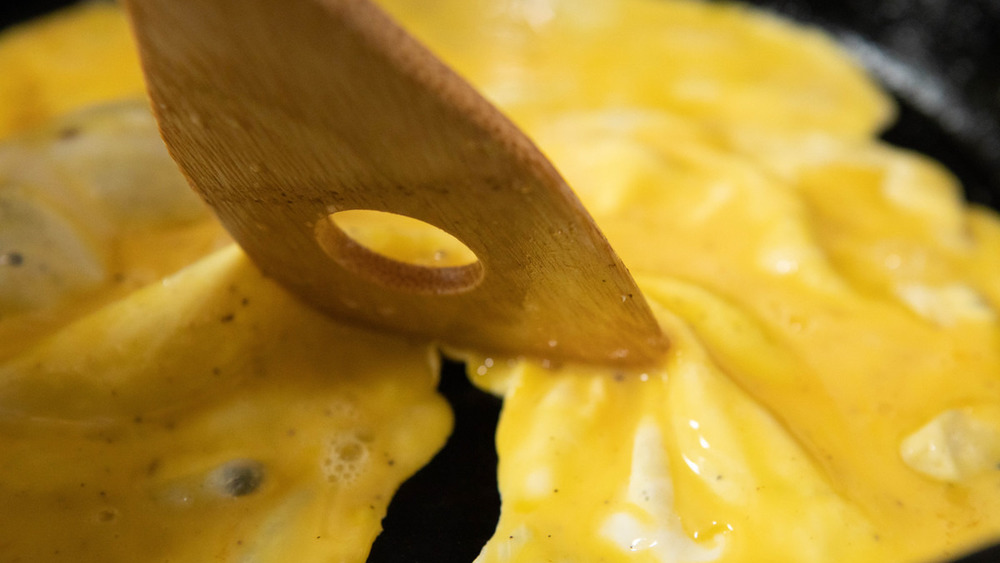 Keith Kamikawa/Mashed
Once your non-stick pan is heated, go ahead and add the butter to coat the pan until it melts. Now, it's time add the egg mixture to the pan to make this scrambled eggs recipe. Watch closely —  once bubbles form in the eggs, you will use a spatula to gently scrape the eggs from the bottom of the pan. Kamikawa instructed us to work the eggs from the outside of the pan toward the center. 
Obviously, the biggest fear here is over- or under-cooking your carefully prepared breakfast. We asked Kamikawa for tips on how to avoid this culinary nightmare, and he advised, "Once there is a nice bounce to your eggs, and they're glossy and still wet, it's time to pull them." He added that taking the pan off the heat earlier rather than later is key since, "the eggs will keep cooking and stiffening after the heat is off from the pan and even after they immediately hit the plate."
Keep a close eye on your eggs for this scrambled eggs recipe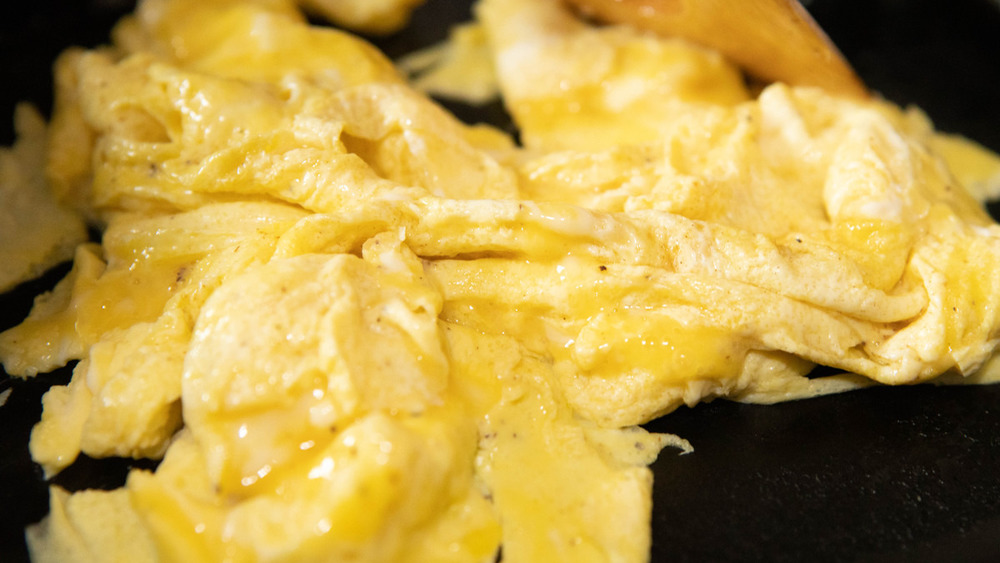 Keith Kamikawa/Mashed
To ensure that you perfectly cook this scrambled eggs recipe, keep in mind the scrambling process isn't a long one — probably a minute (or less) will result in egg nirvana. Just be sure to continually scrape around the pan until the eggs clump together. Kamikawa recommends a folding technique as you work to cook the eggs, again, pulling them off the heat while still slightly wet. Of course, it must be acknowledged that scrambled eggs can be a highly personal dish, so ultimately, you will cook them until your desired firmness is achieved.
"Make sure your eggs still cling together and aren't soupy," Kamikawa advises, adding another tip for how to know when your breakfast is ready to be served: "The eggs should lightly clump or curd." He also noted to Mashed, "If the eggs are still too liquidy that you can't pull them out with a spatula, they're not quite there yet."
Serve up a delicious breakfast with this scrambled eggs recipe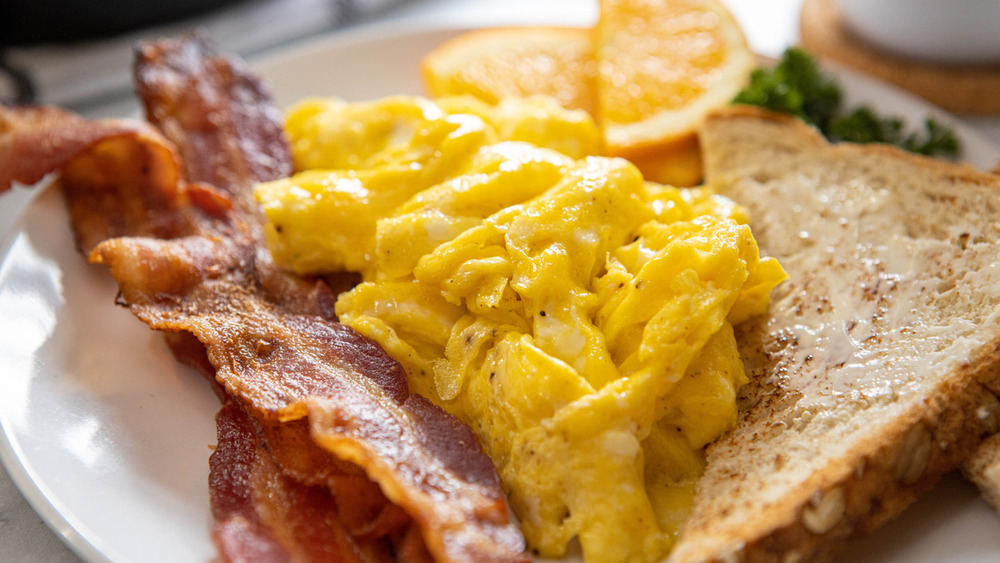 Keith Kamikawa/Mashed
Okay, so your eggs are scrambled just right, which of course, may take just a bit of trial and error. But at this stage, all that is left is to serve 'em up! Kamikawa told Mashed, "Scrambled eggs are a wonderful, versatile breakfast." Yes indeed, which is why we love them so. He recommends serving his scramble "with your favorite classic side like bacon and toast." Another way to enjoy them is right up our alley, with Kamikawa suggesting, "Make them on the go in an awesome breakfast burrito."
In his house, he tells us, "I fix homemade sausage, so I love my scrambled eggs with a side of my savory sage breakfast sausage patties." Truly, there is no wrong way to eat scrambled eggs. Some people even enjoy them with peanut butter. As for the creator of this recipe, he joked, "I'm a monster and put ketchup on my scrambled eggs." Hey, absolutely no judgement here!
The Best Scrambled Eggs Recipe
There are a lot of strong opinions when it comes to how to make the best scrambled egg, but Keith Kamikawa's version of scrambled eggs is the winner.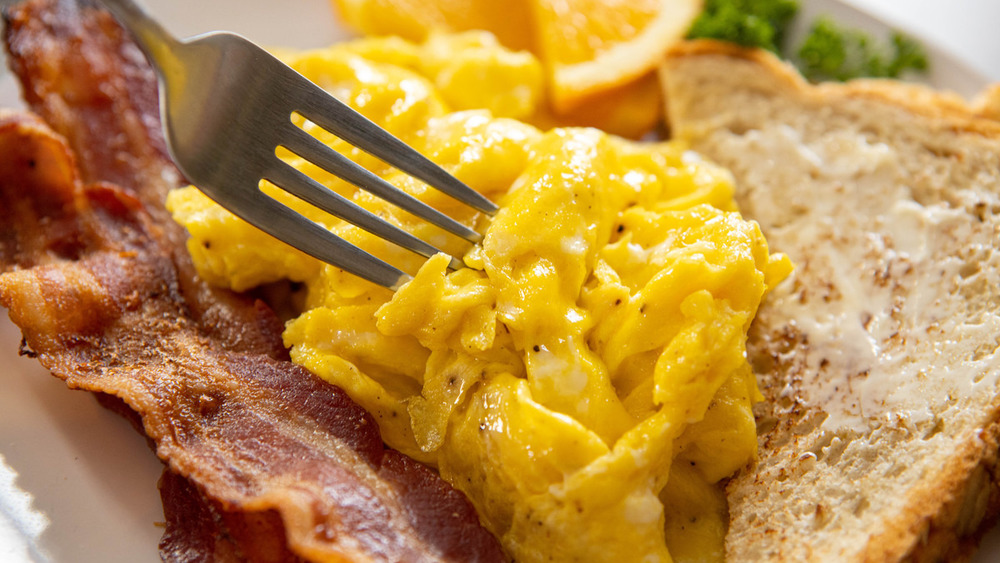 Ingredients
2 large eggs
1 tablespoon half and half
1 pinch (1/16 teaspoon) kosher salt
1 pinch (1/16 teaspoon) black pepper
½ tablespoon unsalted butter
Directions
Add eggs, half and half, kosher salt, and black pepper in a bowl. Beat until combined.
Heat a nonstick pan to medium-high heat and add butter, coating the pan as it melts. Add the egg mixture, and once bubbles form, use a spatula to scrape the eggs from the bottom of the pan, working the eggs from the outside of the pan toward the center. Continually scrape around the pan until the eggs clump together. Gently fold the eggs for 30 seconds to 1 minute. Cook the eggs until they are slightly wet or to your desired firmness.
Serve and enjoy!
Nutrition
| | |
| --- | --- |
| Calories per Serving | 213 |
| Total Fat | 17.0 g |
| Saturated Fat | 7.8 g |
| Trans Fat | 0.3 g |
| Cholesterol | 392.8 mg |
| | |
| --- | --- |
| Total Carbohydrates | 1.5 g |
| Dietary Fiber | 0.0 g |
| Total Sugars | 1.0 g |
| Sodium | 266.5 mg |
| Protein | 13.1 g |