Barbiecore Cakes Are The Delicious Treats That Let You Enjoy Life Vibrantly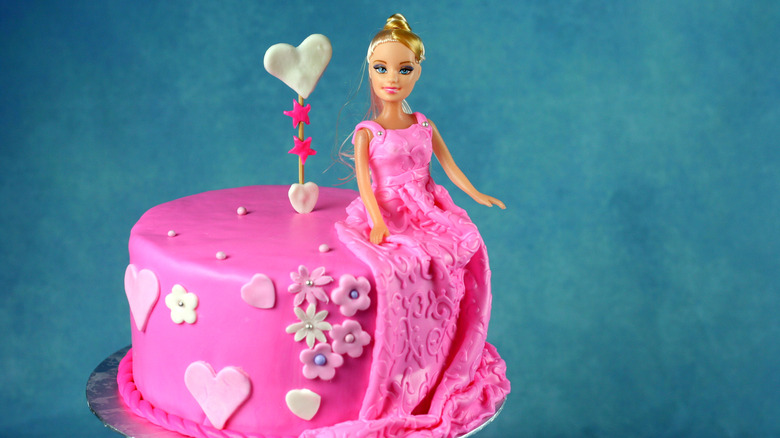 Dolly MJ/Shutterstock
The summer of 2023 is the summer of Barbie. With the impending release of Greta Gerwig's movie, the plastic toy-turned-fashion-icon (and writ large cultural empress) has never been more popular. Recently, her impact is showering baking TikTok with pink sprinkles, with Barbiecore cakes becoming some of the most viral confections on the platform.
One viral video featured a "Barbie Pool Cake" made of a blue sponge, pink frosting, and a blue jello pool, complete with donuts and licorice pool floaties. Another cake was draped in blue fondant printed with typical Barbie symbols and, naturally, topped with loads of pink frosting and candy beads. One especially impressive TikTok creation was a heart-shaped cake, meticulously embellished with tiny pink bows and pearl necklace decorations.
The TikTok cakes are part of a larger cultural movement in fashion, social media, and beyond called Barbiecore. For those unfamiliar, Barbiecore channels the hot pink stylings of Mattel's classic line of dolls and accessories into a vibrant lifestyle that embraces fun. Recently enlivened by the revival of Y2K fashion and the much-anticipated Barbie movie, the style movement oozes anything pink, girly, and glamorous. Even Cold Stone Creamery has hopped aboard the Barbie movie hype train, introducing a sprinkle-covered Barbiecore cake of its own. The ice cream chain is also debuting a cotton candy-flavored ice cream that has customers creating Barbie shakes and participating in a new stylish TikTok trend that might be the pink antidote to Grimace's purple horrors.
There's one general rule: the pinker the better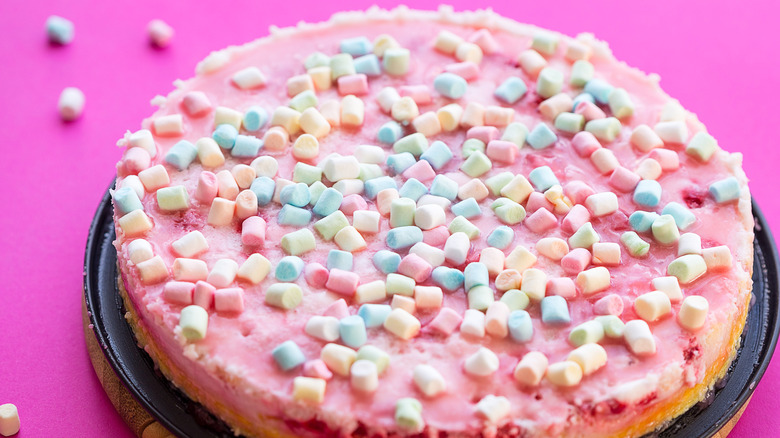 Ksenija Toyechkina/Shutterstock
Some baking accounts on TikTok have gone all-in on Barbiecore cakes, cookies, and sweets, posting multiple videos that transform baked goods into fashionably pink, glittery confections worthy of Barbie's own kitchen. Common decorating motifs to watch out for are palm trees, diamonds, hearts, the classic high-ponied Barbie silhouette, and of course, Barbie's high heel. In terms of ingredients, sugar reigns supreme here, with lots of pink and blue frosting, fondant, and sprinkles.
The Barbiecore cakes seem to have stoked Barbie-related excitement amongst impressed viewers who want to recreate or taste the baked goods for themselves. After all, anyone who ever chewed on their plastic Barbie accessories as a kid can finally dig in with these edible creations. In a helpful tutorial for beginners, one of the TikTok creators revealed how she Barbie-ified a store-bought cake instead of starting from scratch — no baking skills required. It's also easy to imagine a Barbie-themed cake as the perfect centerpiece for your Barbie dance party, pool party, or movie pregame.
To those of you patiently waiting for Bratz-inspired cakes and fashion, as some TikTok commenters were, we can only hope your moment in the spotlight is coming. Ken fans, however, can stay waiting. The Barbie fans have spoken: let them eat (pink) cake.