Ramen Waffles Are The Silky TikTok Trend We Didn't Know We Needed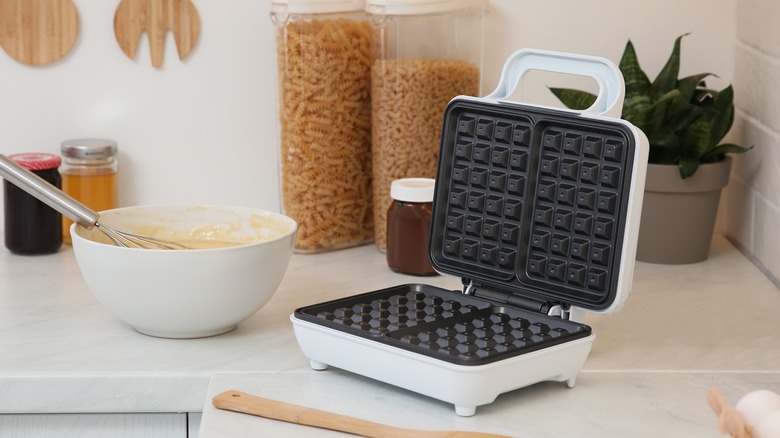 New Africa/Shutterstock
As it turns out, the things you can make in a waffle iron extend far beyond just standard Belgian waffles. For instance, you can make cookie waffles, cinnamon roll waffles, or even ramen waffles. Granted, one of these things isn't like the others, but it's no less delicious. 
While it may seem like a messy combination, it's actually fairly easy and mess-free to create. To make your very own ramen waffle, start by boiling your favorite instant ramen. Next, you'll want to remove your cooked noodles from the pot, piling them neatly on your waffle maker. Let the device work its magic, and — voila — an easy upgrade for instant ramen. 
Now that you have your own waffle made of noodles, you can dress it up and add flavor in a number of different ways. Consider creating your own sauce or adding a few extra ingredients to complete your creation. Here's how you can zhuzh up your meal without tossing it back in the ramen broth.
Fun ways to enjoy a ramen waffle while staying true to ramen
Just because it's a waffle doesn't mean it has to be sweet. You may not want to desecrate your ramen with the addition of maple syrup. Sure, one TikTok user says it "tastes incredible," but you can't expect this combo to be everyone's cup of tea.
Instead, you can make a delicious instant ramen sauce using ingredients like black vinegar, chili oil, and soy sauce. You can also top your ramen waffle with an egg to give the meal some protein, or chopped green onions to give it extra flavor. If you're feeling especially creative, you can even make two ramen waffles, and use them as a bun for a breakfast sandwich, complete with eggs, cheese, and bacon or sausage.
Naturally, the crunchy ramen waffle has prompted a wide range of responses, from people loving it to Reddit users suggesting you save yourself some time by just eating uncooked ramen straight out of the package. A fair point, but nowhere near as fun. As one person wrote on the platform, "I am disappointed, hungry, jealous, disgusted and amazed [at] the same time."