The Delicious Sauce Your Instant Ramen Is Craving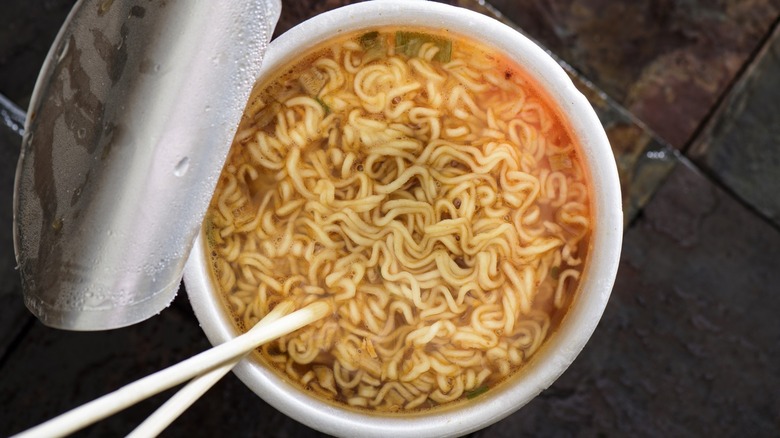 4kodiak/Getty
We are never going to turn our noses up at instant noodles. They are the lifeblood of many kids, college students, and hungover adults. But you don't have to limit yourself to whatever sauce or seasoning packet comes with them. Making a homemade, delectable sauce is easy and also gives your usual lunch an instant upgrade with a greater depth of flavor. 
One TikTok recipe for such a sauce is easy to follow, adds way more interest to the noodles, and requires only a few pantry staples: soy sauce, vinegar, chili oil, tahini, garlic, ginger, and sesame oil. Whisk the ingredients with some starchy hot water from your noodles to ensure everything has combined smoothly before tossing the drained noodles with your sauce. 
While the recipe recommends using black vinegar and tahini, you can make substitutions based on whatever you have in the house. Rice vinegar would be a good substitute for black vinegar, though it will slightly alter the dish's taste. Black vinegar imparts a malted, lightly sweet flavor similar to balsamic vinegar. If you don't have tahini, a paste made from toasted sesame seeds, you can use peanut butter since it's also a nutty, flavorful spread — but be aware of any nut allergies if you plan to serve this to guests. 
Elevate your homemade ramen sauce with extra ingredients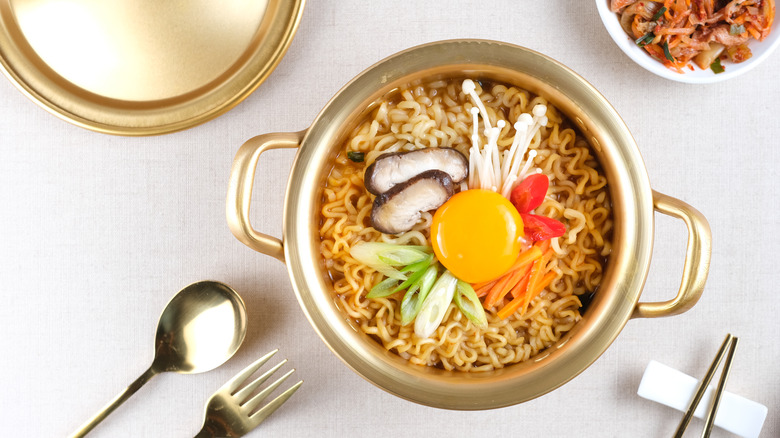 Ketut Mahendri/Shutterstock
The TikTok creator features Trader Joe's squiggly, knife-cut noodles in the video, but this recipe will work with any instant ramen noodle brand. For an easy upgrade, consider changing the brand of noodles you buy. On the high price point end, Momofuku offers instant noodles for $13 for a 5-pack, and Public Goods sells a similar noodle style for $8.95. The best part of these noodles is that they are wider than Maruchan's budget instant ramen, which gives the sauce more surface area to cling onto. That's especially great when using homemade sauce instead of packet flavorings.   
Another great way to give instant noodles a little zing is with easy, flavorful toppings. Chopping green onions or cilantro can add an earthy, refreshing flavor. You can also buy pickled peppers or radishes and use a squeeze of lime to impart extra acidity. Or, consider using traditional Korean kimchi to add some fermented funk. 
While you probably don't want to spend time making fall-apart tender steak to add to your quick lunch, you can quickly hard-boil, soft-boil, or fry an egg for extra protein. For the more adventurous, you can add a raw egg and let the hot water poach it. Adding protein is a great move for those who want to feel more satisfied after eating instant noodles — and helps create a more balanced meal.