Upgrade Your Salmon Burgers With A Smear Of Spicy Mayo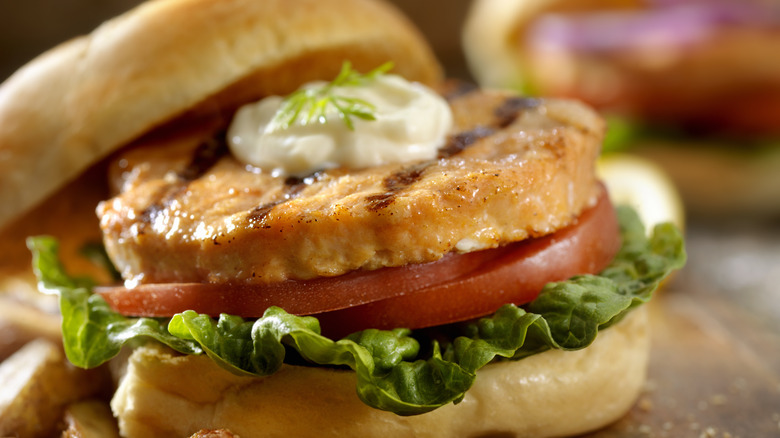 Lauripatterson/Getty Images
When you think of a burger, ground beef might be the first protein that comes to mind. We love a beefy, juicy burger, but the possibilities for what to put inside two buns are nearly endless. If you love salmon but want a different way to cook it, consider making salmon burgers. While fresh salmon can be used to make burgers, canned salmon is one great shortcut for saving time and money. Like all burgers, what adds a kick to salmon burgers — and makes them something special — is the sauce. Instead of choosing ketchup or Thousand Island as a condiment, try your salmon burger with a spicy smear of chipotle mayo.
Chipotle is a jalapeño pepper that has been smoked and dried out. When the dried chiles are canned with tomato, vinegar, and spices, it's called chipotle in adobo. A classic chipotle mayo recipe is incredibly simple and requires only three ingredients: chipotle in adobo, mayo, and lime. All the ingredients are added to a bowl and mixed together, with the chiles being smashed until well incorporated with the other ingredients. After the chipotle mayo is blended, it gets seasoned with salt and is ready to be slathered on the salmon burgers.
Salmon and spice are the perfect pair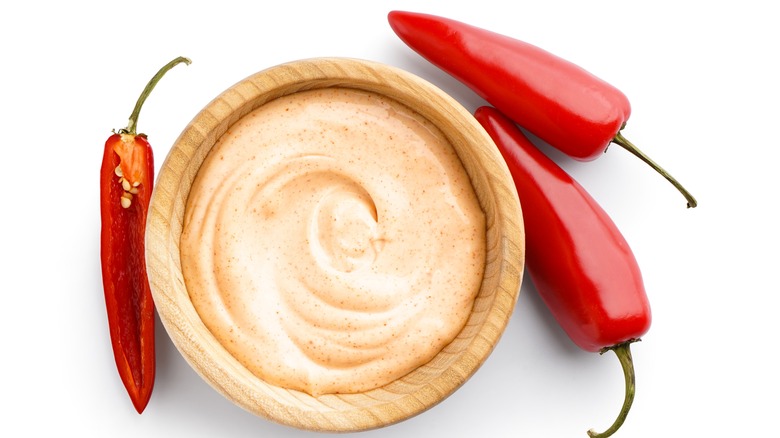 Pixel-Shot/Shutterstock
It makes sense that salmon would pair well with chipotle mayo since salmon can hold its own with bold flavors. Salmon is a fattier, firmer fish that pairs well with almost anything. Unlike milder fish, like halibut, salmon has a rich profile that can take quite a bit of heat. Along with spicy foods, salmon also pairs well with sweet and savory seasonings, like honey, soy sauce, and brown sugar. It's also hard to get bored of salmon when it's so versatile: This fish can be grilled, baked, broiled, pan-fired, and served raw.
The Pioneer Woman, Ree Drummond, takes her salmon burgers to the next level by adding a sesame soy sauce glaze to the finished burger. If you can't handle the heat, you can amp up the umami, sweet, and salty flavors by combining honey, lime, soy sauce, sesame oil, and butter. 
Like beef burgers, salmon burgers aren't complete without sauce and toppings. Even though there's debate about whether fish and cheese belong together, many salmon burgers forgo cheese for fresh toppings like cucumbers, lettuce, or avocado. Regardless of what you put on your salmon burger, don't forget to slather on the sauce for an extra tasty bite.