Classic Chipotle Mayo Recipe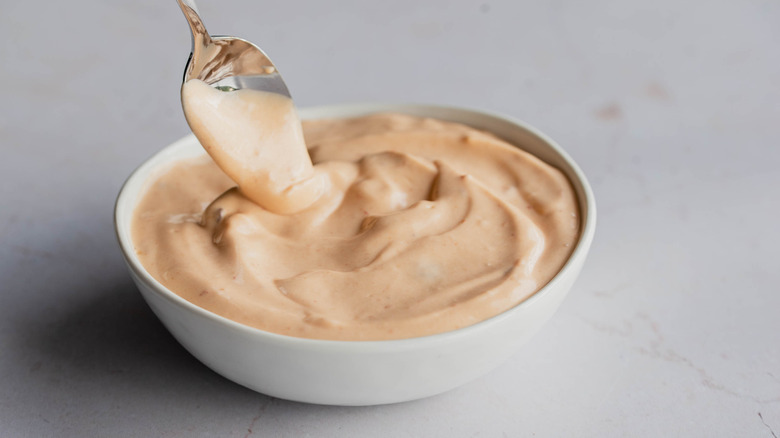 Michelle McGlinn/Mashed
When you're looking to upgrade your basic mayo, you don't need to head to the store to buy another condiment. Rather, this recipe for classic chipotle mayo is so simple, so easy, and so versatile, that you'll wonder why you haven't been making it for years. In fact, those are the exact reasons that recipe developer Michelle McGlinn always has a jar of the recipe stored in her fridge. "It is quick and easy, no mess, and no cleanup if you are just stirring it together. It is great to make for guests because everyone loves it and it goes on just about anything," she says. 
And it truly is easy, requiring just four ingredients and four minutes to make. Plus, you can easily personalize the recipe based on your spice and flavor preferences. "It's a very classic chipotle mayo. This one uses the adobo sauce and some of the chipotles in it for a creamy, intense, smokey heat. It can be made with many subtle variations — chipotle powder instead of adobo sauce, more or less lime juice, some garlic or paprika, or with the addition of sour cream," McGlinn suggests, adding that the sour cream works especially well when pairing it with fish dishes. So go ahead and give the standard recipe a try, then get creative with your spice rack to see how to truly make it your own.
Gather your ingredients for classic chipotle mayo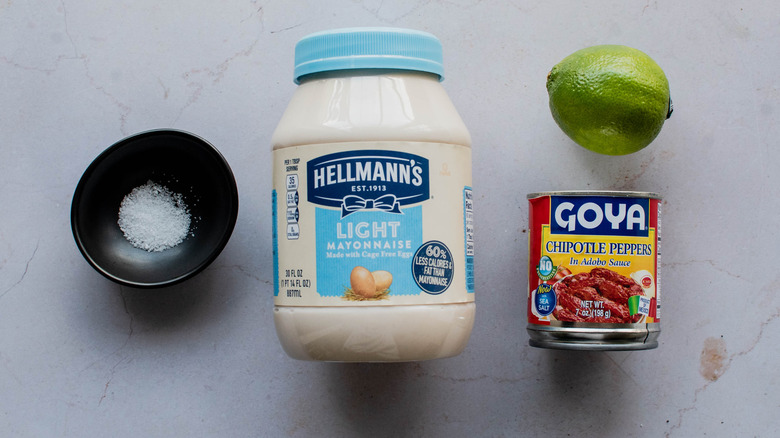 Michelle McGlinn/Mashed
Technically this recipe requires five ingredients, but two of them come in the same jar, so really you just need four items: mayonnaise, a jar of chipotles in adobo (you'll use the sauce and the chipotles), a lime, and salt. 
Place the ingredients in a bowl and stir well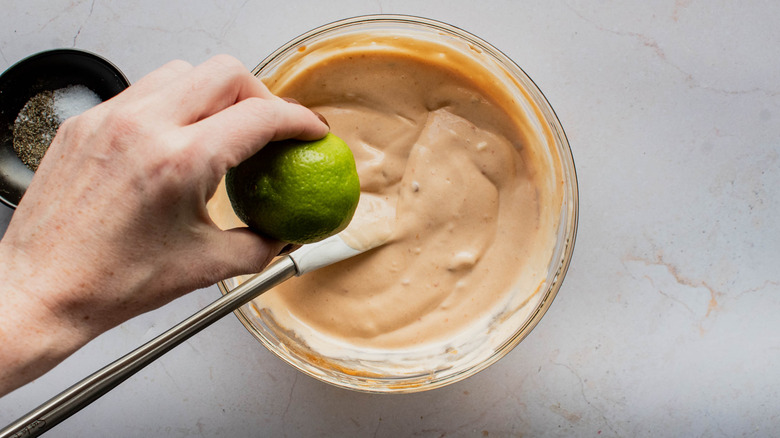 Michelle McGlinn/Mashed
The simplicity of this recipe can't be overstated. Simply add all the ingredients to a small bowl, and stir well to combine. Just be sure to use the back of a spoon or a fork to crush the chipotles into the mayonnaise as you stir — you want the final texture to be smooth, not clumpy. If you want to guarantee a smooth sauce, you can blend the ingredients together in a food processor rather than stirring them.
Serve or store for future use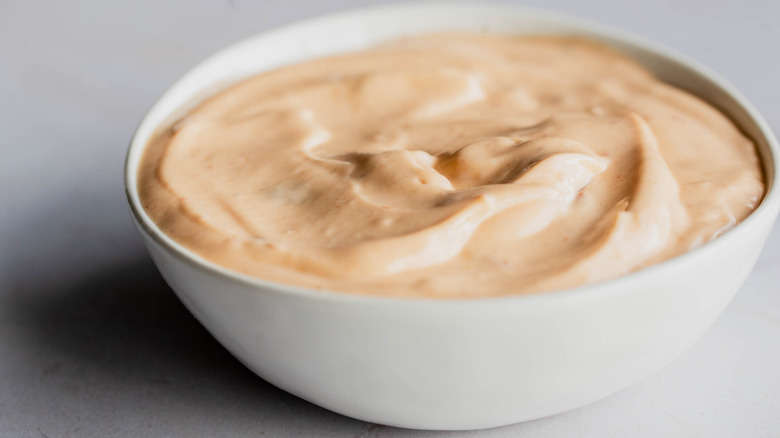 Michelle McGlinn/Mashed
Your mayo is now ready to use! And truly, there are so many ways to enjoy the spread. "I use chipotle mayo for tacos, arepas, and burritos most commonly. A lot of people love chipotle mayo on bagel and breakfast sandwiches. It's also good on salads since it tastes good with rice and avocados, chicken, and fresh veggies, or as a dipping sauce for french fries," McGlinn says. But the options don't stop there, as she adds, "It would be delicious in an egg salad. A chipotle mayo-chicken salad would be awesome, so that's another idea in the same vein." 
In other words, the sky's the limit when enjoying your condiment. And you'll have plenty of time to test different options as McGlinn says it will keep in the refrigerator in an airtight container for up to 2 weeks. 
Classic Chipotle Mayo Recipe
Upgrade your plain old mayonnaise with this classic chipotle mayo rendition.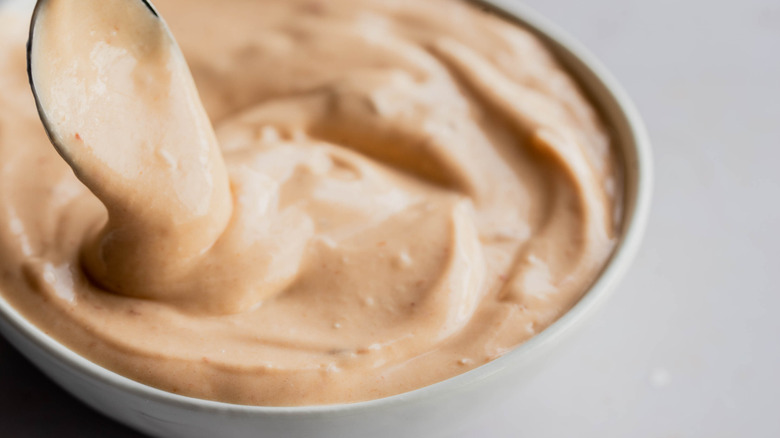 Ingredients
1 cup mayonnaise
¼ cup sauce from chipotles in adobo
1 whole chipotle in adobo
1 lime, juiced
¼ teaspoon salt
Directions
Add the mayonnaise, adobo sauce, chipotle, lime juice, and salt to a bowl.
Mix the ingredients well. Use the back of a spoon to crush the chiles to combine them into the mayonnaise until it's smooth.
Blend the ingredients in a food processor, if desired, for a smoother sauce.
Use the sauce as desired, and store it in the refrigerator for up to 2 weeks.
Nutrition
| | |
| --- | --- |
| Calories per Serving | 274 |
| Total Fat | 29.7 g |
| Saturated Fat | 4.4 g |
| Trans Fat | 0.0 g |
| Cholesterol | 15.0 mg |
| | |
| --- | --- |
| Total Carbohydrates | 2.1 g |
| Dietary Fiber | 0.5 g |
| Total Sugars | 0.8 g |
| Sodium | 431.6 mg |
| Protein | 0.2 g |