The Most Mouth-Watering Salad Pizzas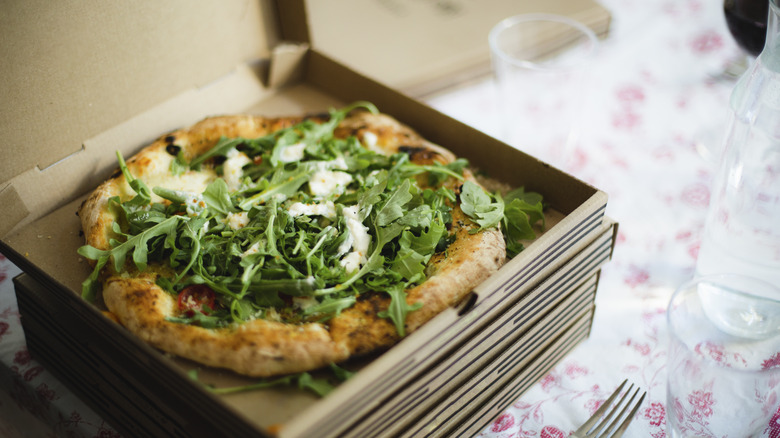 Linda Raymond/Getty Images
Picture a perfect crispy-on-the-outside and soft-on-the-inside pizza crust topped not with the usual melted cheese and tomato sauce, but with a medley of fresh greens, colorful vegetables, and zesty dressings. Welcome to the world of salad pizzas, where comfort food and wholesome salads collide. Salad pizzas have emerged from the collective consciousness as a delightful answer to those asking for a lighter yet equally satisfying take on traditional pizza. These culinary creations reimagine the classic pie by replacing the traditional toppings with a bounty of garden-fresh ingredients.
Now, of course, we love traditional pizzas, and we don't think that salad pizzas should replace them. They're just a different option for when you want something fresh, green, and crisp. If you're hearing the din of a thousand nonnas scolding you in your head, you can even think of them as flatbreads topped with salad — different than pizza but just as tasty.
In this exploration of the most mouthwatering salad pizzas, we'll take a look at some delicious flavor combinations: from those inspired by Greek salad or fattoush to those loaded with herbs or piled high with potatoes. There are all kinds of ways to make a pizza salad, and we're about to take a tour of some of the tastiest options.
Greek salad pizza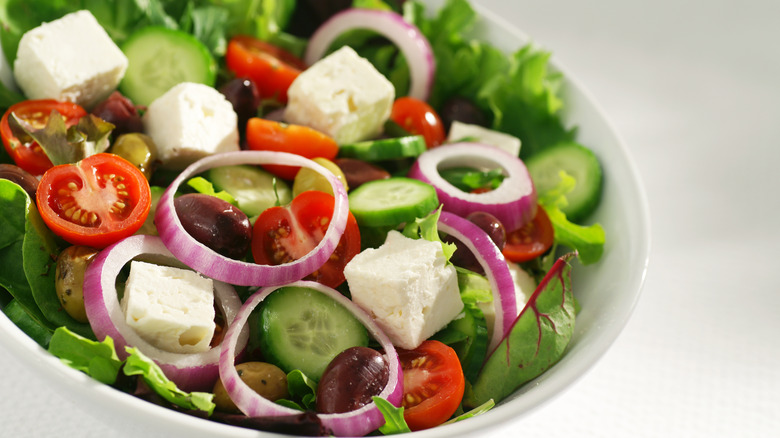 Thecrimsonmonkey/Getty Images
Imagine a slice of pizza that transports you straight to the sun-soaked shores of the Mediterranean. Introducing the Greek salad pizza — a dish that marries the flavors of a classic Greek salad with the undeniable allure of a perfectly baked pizza pie. As with any salad pizza, the crust comes first. You can use your favorite pizza crust recipe or even store-bought dough. Bake it with a hearty drizzle of olive oil and a sprinkling of salt, and then it's ready to top with your salad ingredients.
So, what makes a Greek salad and what should you top your salad pizza with? A classic Greek salad starts with cucumber, tomato, bell peppers, and red onion. Then, you add some olives into the mix. But, the real star of the show is the crumbled feta cheese. Briny, creamy, and utterly irresistible, the feta lends its unique flavor to each bite. But, of course, you can use your imagination here and add extra ingredients, such as artichoke hearts or fresh, crisp lettuce.
And let's not forget about the dressing. Greek salads are dressed fairly simply — usually with high-quality extra-virgin olive oil and a squeeze of lemon juice. We'd recommend following the same rules for your Greek salad pizza.
White bean salad pizza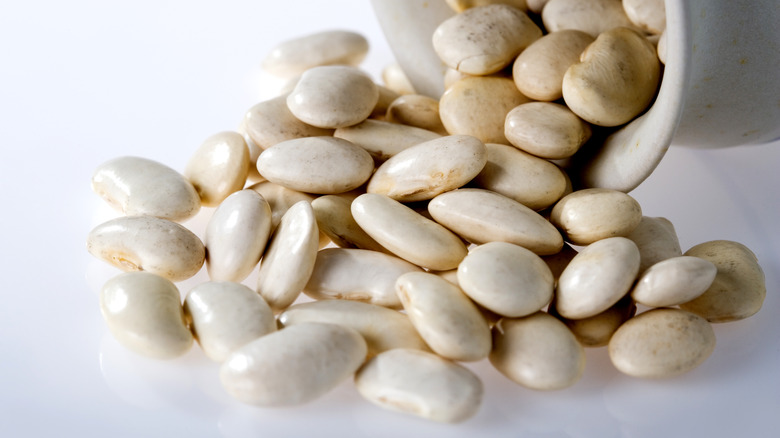 Ayimages/Getty Images
If you're looking for an elevated and paired-back take on a salad pizza, you might want to give a white bean salad pizza a whirl. Imagine a canvas of perfectly baked pizza crust, its surface adorned with a symphony of white beans, Parmesan cheese, and arugula leaves. It's like a classic Italian bruschetta met a pizza, and they decided to throw an unforgettable party with beans.
Those creamy, hearty white beans play a leading role here. They bring a mellow earthiness that sets the stage for what's to come. You can choose to leave them whole or mash them slightly with salt, pepper, and olive oil to create a creamy spread to top the crust. Paired with the nutty bite of Parmesan, it's like a match made in culinary heaven. The cheese, with its umami richness, elegantly counterbalances the mild sweetness of the beans, creating a medley that's both comforting and complex. It also works with other hard cheeses or even vegan cheese.
And then, there's arugula — the fresh, peppery addition to this dish. This salad pizza could feel a bit rich and one-note with a doughy base, creamy beans, and rich cheese, but the arugula brightens it and makes it fresher. Finish it off with a squeeze of fresh lemon juice, and you've got something special.
Caesar salad pizza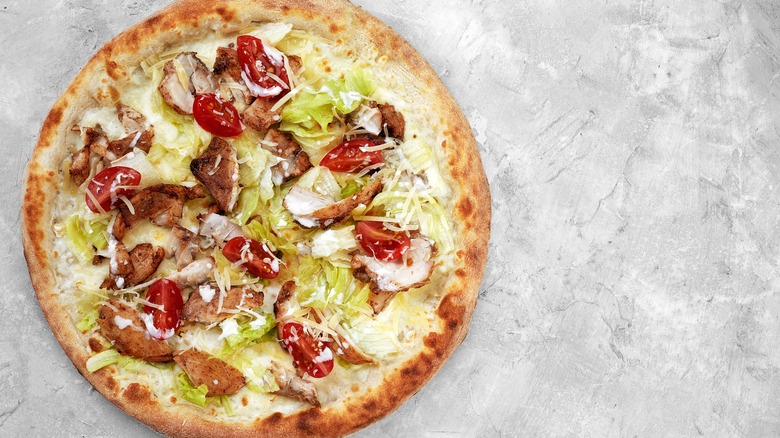 Gerain0812/Shutterstock
Caesar salad is a classic for a reason, so why not let this old favorite join the world of pizza? This fusion brings together the cozy embrace of pizza with the tasty crunch of a Caesar salad. The pizza crust, with its comforting chewiness, acts as the canvas for the crisp freshness of the salad. With every bite, you get a little bit of that doughy goodness intermingling with the satisfying flavor of Caesar salad.
So, what makes a Caesar salad? Of course, you need crisp, refreshing romaine lettuce. Usually, you'd have croutons in the mix, but in this context, the pizza base takes the place of the croutons. Then, of course, there's Caesar dressing, which is truly what we're all here for. With its creamy garlic punch and tangy notes, it infiltrates every nook and cranny of this creation. As you sink your teeth into the slice, your taste buds are met with a burst of umami-rich Parmesan, the whisper of fresh herbs, and the subtle zing of lemon. To mix things up a bit, you can also add creamy burrata cheese to your creation. Now, that's a salad pizza you'll never forget.
Pesto salad pizza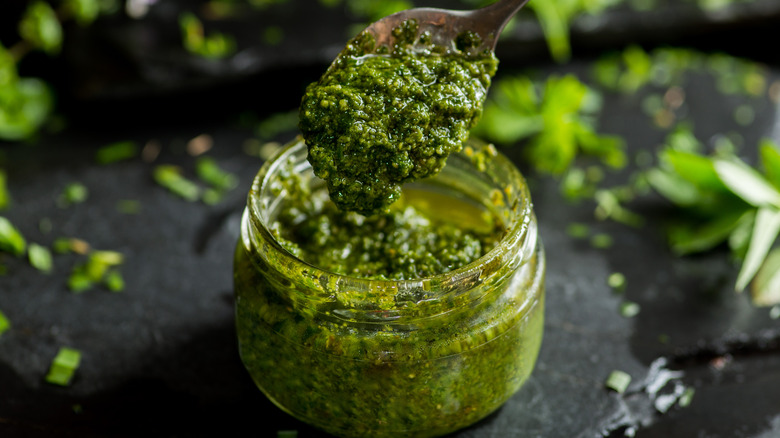 smirart/Shutterstock
Imagine the rich, herby goodness of pesto mixed with fresh salad, and you're well on your way to knowing what a pesto salad pizza is. To start, you'll need to prepare the base. Before baking, smear the base with a generous helping of green or red pesto. You can also add a little cheese at this point if you want to. But here comes the fun part — the canvas is yours to paint. You get to top that pesto-slathered base with the salad of your dreams. Whether you're in the mood for a riot of colorful veggies, a medley of fresh greens, or a combination that tickles your taste buds, the choice is yours.
So, why does it taste so darn good? First, there's the pesto, which infuses each slice with aromatic flavors. If you choose to add cheese, it brings a savory, umami element. Then, greens provide a refreshing contrast to pesto's richness, offering a light, crisp element. The veggies you choose -– whether it's juicy cherry tomatoes, vibrant bell peppers, or crunchy cucumbers -– add their own textures and flavors, turning each bite into a delightful surprise. You can go all out with the salad, too, adding anything from cooled roasted veggies to crunchy sprouts to rich, flavorful olives.
Chopped salad pizza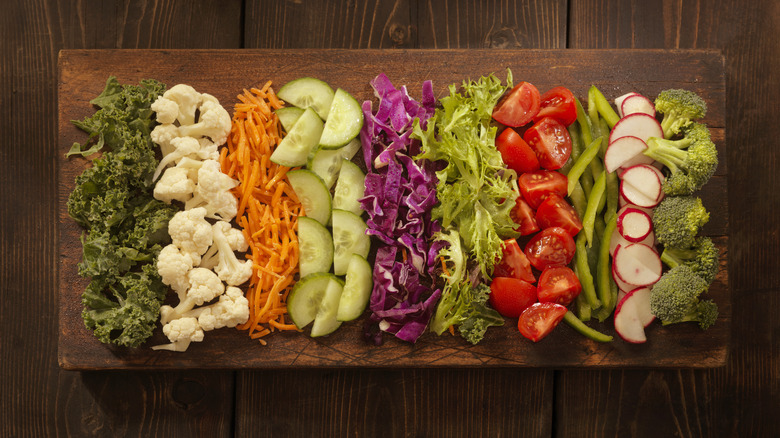 Lauripatterson/Getty Images
Do you love chopped salad about as much as you love pizza? Then a chopped salad pizza is the obvious first port of call on your salad pizza journey. So, what exactly is a chopped salad? Well, it's exactly what it sounds like — a salad that's been chopped to perfection. Instead of tossing your greens and veggies together in their natural state, a chopped salad gets its ingredients cut into bite-sized pieces. This makes it a perfect type of salad for topping pizza since it's easy to distribute the ingredients evenly.
And, one of the coolest things about chopped salads is their versatility. You can customize them to your heart's content. Craving an Italian vibe? Chop up some tomatoes, roasted red peppers, olives, and artichoke hearts, and you're in business. Feeling a bit Tex-Mex? Chop some avocado and romaine, and mix it with black beans, corn, and crunchy tortilla chips. The possibilities are endless, and that's what makes chopped salads so darn exciting.
But it's not just about the flavors, it's about the texture too. Chopping up the ingredients means that every bite offers a balanced blend of crunch and creaminess. Balanced atop your pizza base, it's a textural marvel. And, if you're wondering about dressings, chopped salad goes with anything, so the world of sauces is at your disposal.
Muffuletta salad pizza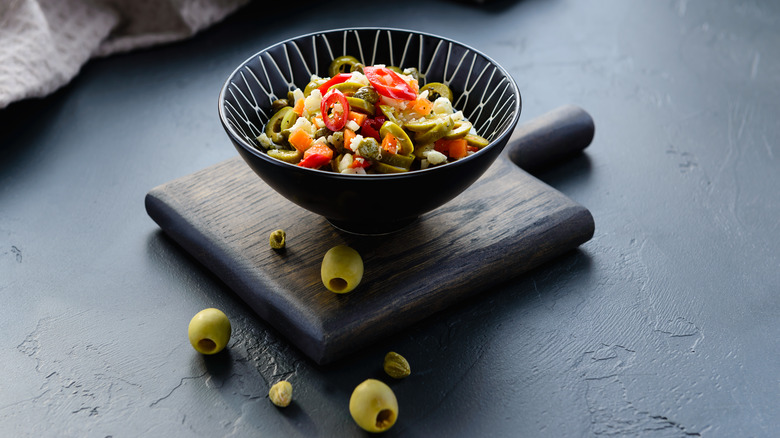 Olga Leschenko/Shutterstock
What if you could bring the marvel that is the olive salad from a muffuletta sandwich to your pizza? Well, that's a dream you absolutely want to make a reality — unlike that one about the creepy clowns. Muffuletta is a New Orleans classic sandwich featuring a salad that's a vibrant mix of olives, pickled vegetables, garlic, and herbs.
In the world of salad pizzas, muffuletta salad isn't just any topping — it's the star of the show. It takes center stage, transforming your pizza into something that can transport you straight to the bustling streets of New Orleans, where bold tastes reign supreme. But, what's in a muffuletta olive salad? It usually contains a trio of olives, Italian giardiniera (pickled vegetables), pickled onions, pepperoncini, garlic, herbs, and a hint of acid from vinegar or the pickling juices from the jarred ingredients you've used. You may already have your go-to recipe. There are also plenty to be found online.
Once you've got your olive salad, just pile it high on your cooked pizza base. You might want to add some greens or fresh herbs for good measure. Drizzle the whole thing with olive oil, and you're ready to eat.
Caprese salad pizza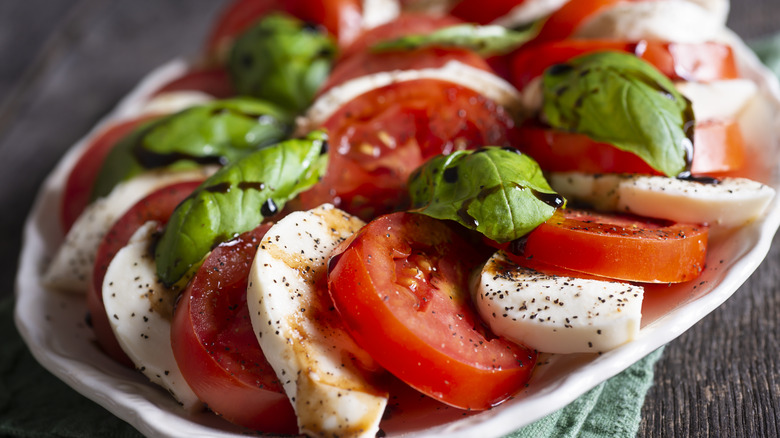 Rudisill/Getty Images
Caprese salad is a classic Italian creation that celebrates simplicity. It showcases just three things: the juicy sweetness of tomatoes, the milky richness of mozzarella, and the aromatic freshness of basil. Now, imagine that translated onto a pizza. The crust, with its crispy outer layer and chewy center, forms the perfect stage for these ingredients to shine. Each bite is a journey through layers of textures — the crispiness of the crust, the juicy burst of tomatoes, and the tender creaminess of mozzarella. And let's not forget about that basil, with an aroma that infuses every bite with a touch of Mediterranean magic.
These are all ingredients that you might expect to find baked onto a pizza, but in the realm of salad pizza, you don't cook them. You just layer tomato, mozzarella, and basil raw onto a cooked pizza base. Such a classic trio of ingredients doesn't need anything but a sprinkle of salt and pepper to make them shine. However, if you're longing for a dressing, add a drizzle of extra virgin olive oil and balsamic glaze.
Three-bean and avocado salad pizza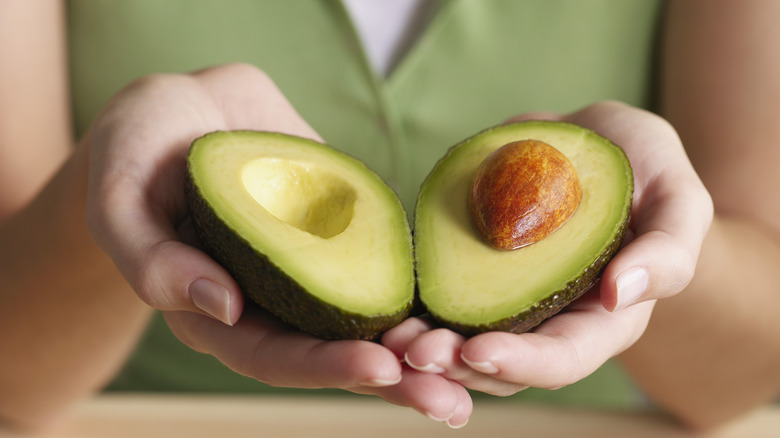 Jupiterimages/Getty Images
Pizza might be Italian, but there's no reason why your salad pizza toppings need to be. You can bring a downright Southwestern or Tex-Mex flair to your pizza base with a three-bean and avocado salad. If that seems strange, just think of your crust as a giant, puffy tortilla, and you're all set.
But, before you can make this pizza, you need to know what goes in a three-bean and avocado salad. Three-bean salads are popular, so it's possible you already have a go-to recipe, but it's easy to wing it if not. Just choose your three beans — black beans, pinto beans, red beans, cannellini beans, and garbanzo beans are all great options — and add corn, coriander, lime juice, and fresh tomatoes. Then some chopped avocado adds a rich, creamy element. Load it up on your cooked pizza base, and the crust's crunchiness plays off the creaminess of the avocado while the beans offer a hearty bite against the backdrop of the fresh, zingy lime. If you want something extra to bring it all together, it works well with dollops of sour cream or fresh lemon-mayo dressing.
Vegan salad pizza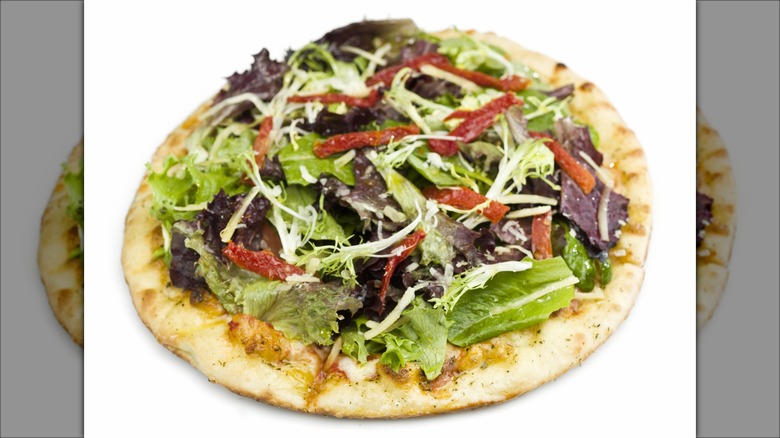 Juanmonino/Getty
There's no reason why vegans shouldn't get an invitation to the salad pizza party. In fact, salad pizza is particularly well-suited to being made plant-based. First off, you have the crust. An authentic Italian pizza base recipe doesn't contain eggs or dairy, so you don't need to make any changes there. Before baking it, consider boosting the flavor with olive oil and garlic or even vegan pesto slathered on top.
Once it's cooked and crispy, you can go wild with the toppings for your vegan salad pizza. Anything that your little vegan heart desires can be yours for the munching. Consider tomatoes, red onions, capers, roasted red bell peppers, zucchini ribbons, arugula, baby spinach, fresh herbs, or artichoke hearts. If you want to add a bit of extra crunch, think about nuts and seeds or prepared crispy onions. To dress it, drizzle over some vegan mayo, tahini sauce, vegan Caesar dressing, or even just a generous helping of extra virgin olive oil. You can also find some really nice artisan vegan cheeses on the market that would make a nice addition to a plant-based salad pizza.
Herby salad pizza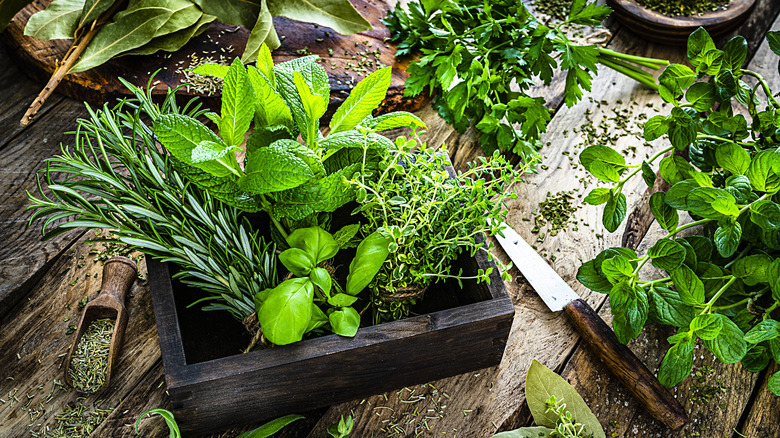 Fcafotodigital/Getty Images
If you're a fan of fresh herbs, a herby salad pizza is where they can really shine. Start with your cooked pizza base, adding some flavor from garlic and olive oil. Then, instead of the usual toppings, we're talking about a vibrant bouquet of fresh herbs — basil, dill, cilantro, parsley, mint, and whatever else your herb-loving hands reach for.
Now, hear us out before you start questioning the absence of your usual pizza toppings. This isn't just a random pile of herbs thrown on a pizza. Each herb brings its own flavor profile, and mixing them up only makes it better. But, of course, you're not only going to top it with herbs. While fresh herbs are the headline act, you need an opener or two to complete the vibe. You might want to add semi-dried tomatoes for a zing of flavor or some creamy burrata cheese. Rich, umami olives complement the freshness of the herbs, while fresh lemon juice adds brightness to the proceedings. Sometimes, less is more. You want to let the herbs stand true in all their glory while making sure there's enough complexity to keep you interested.
Fattoush salad pizza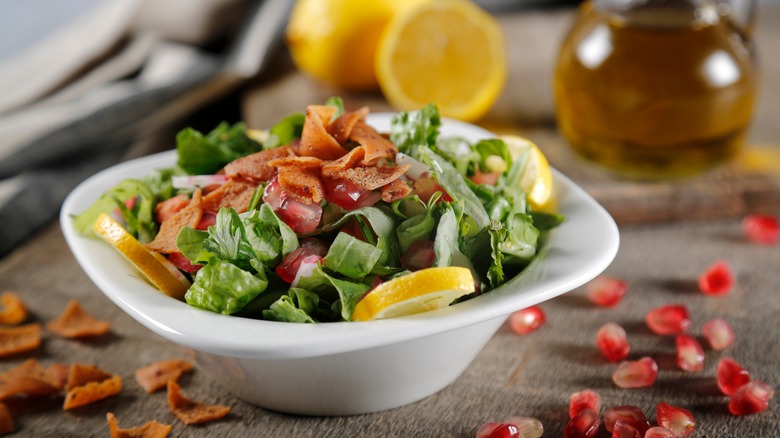 Hashem Issam Alshanableh/Shutterstock
Middle Eastern fattoush salad is the perfect inspiration for a delicious salad pizza. But before you get started, you need to know what fattoush salad is. Originating from the Levant region, it's a delightful medley of fresh vegetables, herbs, and crispy toasted or fried pieces of pita bread, all tossed together in a tangy, zesty dressing.
It typically features tomatoes, cucumbers, radishes, bell peppers, and red onions. These vegetables provide a vibrant and crunchy base for the salad. Then, you have fresh herbs — a crucial element in fattoush — adding a burst of aromatic and earthy flavors. Common herbs used in fattoush include mint, parsley, and sometimes purslane. Now, one of the standout features of fattoush is the inclusion of toasted or fried pieces of pita bread. However, your crisp pizza base will add the bread element to this salad.
Finally, you have the dressing, which is usually made with a combination of olive oil, lemon juice, and spices, including sumac, which imparts a tangy, slightly citrusy flavor. So, when you've got your salad ingredients chopped and ready, toss them in the dressing, then throw the whole lot on your cooked pizza base. If you want a creamy element, tahini sauce works nicely here.
Potato salad pizza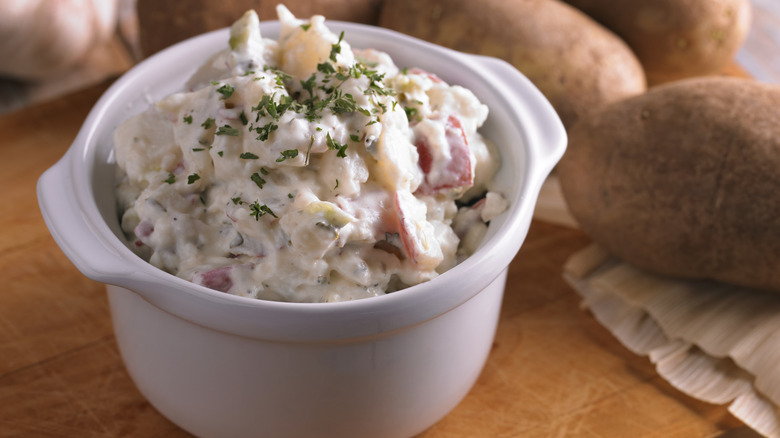 4kodiak/Getty Images
Some people might call you crazy, but you'll be having the last laugh when you combine potato salad and pizza to make a potato salad pizza. Yes, you heard us right. This is a pizza base topped with the same creamy potato salad that's a staple at cookouts and potlucks all over the U.S.
Now, I know what you're thinking — potatoes on pizza? Well, that's not even weird. In fact, you'll find potato pizza on the menu all over Italy. That's 10 points to the carb-lovers in our midst. Admittedly, you won't find potato salad on pizza anywhere from Lombardy to Puglia, but hear us out. The soft, melt-in-your-mouth potatoes add a luxurious texture that contrasts beautifully with the crispiness of the crust. Then you've got that creamy, herb mayo dressing and the fresh zing of green onions. It's completely delightful. And, if you're craving more in the way of salad, add a handful of greens, such as arugula or baby spinach, on top to freshen it up.
Potato salad pizza is a playful nod to the comforting dishes of our past, reinvented in a way that's both unexpected and utterly satisfying. It's a slice of edible nostalgia that bridges the gap between tradition and innovation.
Ranch salad pizza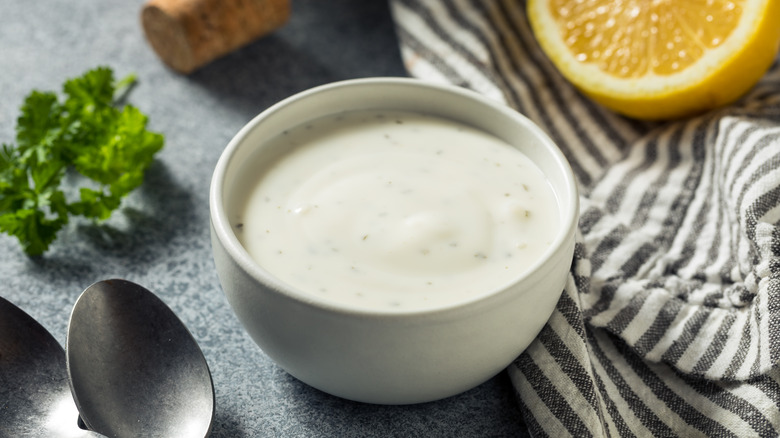 Bhofack2/Getty Images
We all know that ranch dressing can boost any salad, so it's definitely an ingredient you should explore if you're interested in experimenting with salad pizzas. The base of ranch dressing can be either buttermilk or mayonnaise, or a combination of both. Buttermilk provides a tangy flavor and helps create the dressing's creamy consistency, while mayonnaise adds richness.
Then, a mix of herbs and seasonings is added to give ranch dressing its distinct taste. Common ingredients include parsley, chives, dill, garlic powder, onion powder, and sometimes dried mustard or paprika. These herbs and spices contribute to the dressing's signature flavor profile. This is rounded off with lemon juice or vinegar to add sharpness and brightness.
And, the beauty of ranch? It pairs well with so many ingredients, so you can really go wild with your salad choices. Feeling like you want a Southwestern-inspired mix of beans, corn, avocado, and cilantro? Ranch has got your back. Equally, it goes well with more traditional salad combinations, such as lettuce, tomato, and cucumber. So, remember to stock up on ranch or make your own next time you're craving salad pizza for dinner.