Creamy Lemon Tahini Dressing Recipe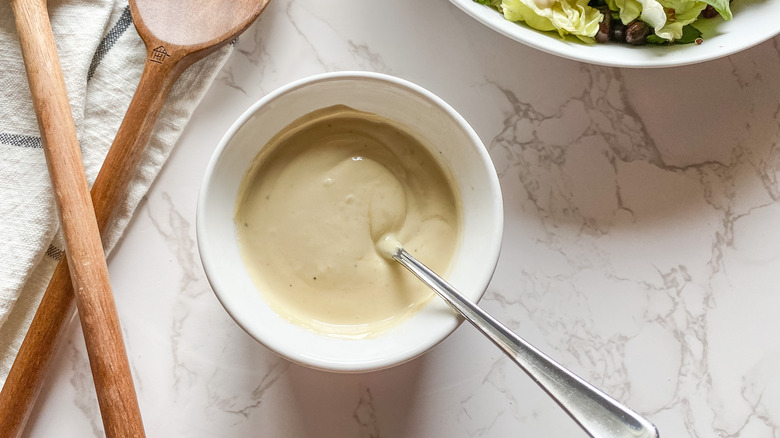 Kristen Carli/Mashed
If you're never drizzled creamy lemon tahini dressing across a bed of fresh greens, then you're definitely missing out on a seriously great flavor experience. Recipe developer and registered dietitian Kristen Carli has created a salad dressing that will make you vow to never ever again buy a bottle of dressing at the store. Nutty, creamy, and bright, the dressing pairs perfectly with salads, grain bowls, and, thanks to its more thick texture, works wonderfully as a dip when served with veggies.
Not only does this dressing taste fantastic, but it also takes only 10 minutes to make with the help of a handy food processor. Make it fresh right before you serve it or save it in an airtight container to use over the next couple of days. The blending of tahini with powerful garlic and tart lemon juice produces a flavor unlike any other you've ever tasted. The olive oil base also helps to make this dressing a heart-healthy treat that won't overload you with saturated fats. With just one bite, we're pretty confident that this dressing will become your favorite go-to just about every time.
Gather up the ingredients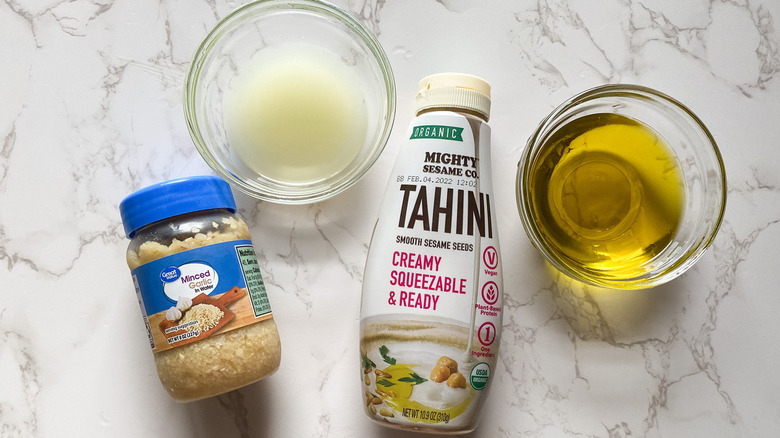 Kristen Carli/Mashed
Did we mention how easy it is to make this recipe? Not only is it simple, but it only requires half a dozen ingredients, too, many of which you probably already have waiting for you in your pantry and fridge. To whip up this creamy lemon tahini dressing, you'll need tahini, lemon juice, minced garlic, salt, pepper, and olive oil. Yes, really, that's all you're going to need.
Carli explains that bottled lemon juice works wonderfully for this recipe, so no need to get a hand cramp from squeezing a fresh lemon, though you're certainly welcome to go for it if you have fresh lemons on hand. And, since the ingredients list is so short, it's best if you use extra virgin olive oil. The unique flavors of less processed extra virgin olive oil will add another layer of flavor and complexity to the final dressing.
These ingredients come together for a unique taste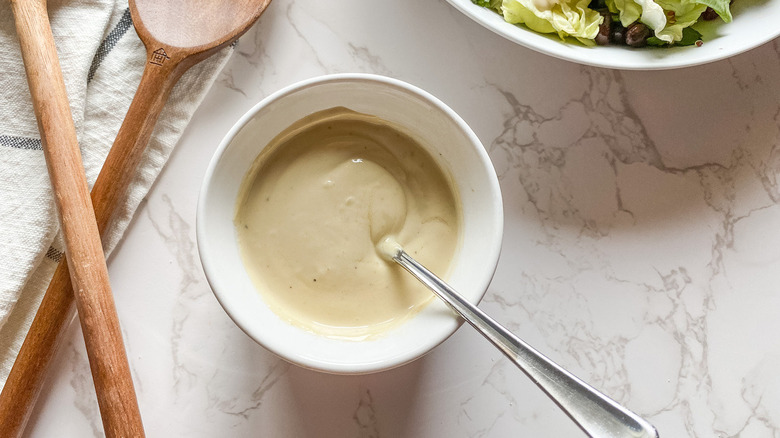 Kristen Carli/Mashed
These ingredients may sound a bit strange together if you're not already familiar with them, but Carli knows how fantastic they can be when they meld together into one dressing. "The nuttiness from the tahini pairs well with the bright acidity of the lemon. Lemon and tahini go really well together," she says.
Another beauty of this delicious dressing is that it's also dairy-free and vegan, satisfying several different types of dietary needs all at once. Some people who are looking to watch their fat intake may opt to leave out the oil and use water instead, adjusting the consistency with more or less liquid. For even more zing, you could also add more garlic or sprinkle in additional spices like rosemary, parsley, paprika, or cayenne.
What is tahini, anyway?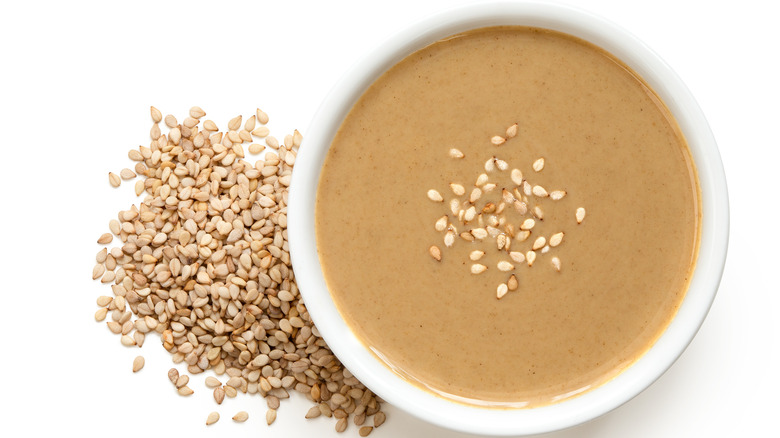 Shutterstock
Surprisingly, tahini may not be all that unfamiliar once you take a look at some ingredients lists. It may be innocuously hiding in your hummus or even buried in your brownies. It is made with sesame seeds that have been toasted and ground into a thick paste. Tahini is ideally slightly nutty, creamy, and deeply savory. Bad tahini, on the other hand, tends to be bitter and dry, and definitely not what you want for this or really any other recipe. So when you're shopping at the store for tahini, grab the best brand you can buy.
"I used store-bought tahini here but you can make your own," Carli notes. In fact, she has an easy recipe for rich and delicious homemade tahini if you want to try it for yourself ahead of making this recipe.
Grab your food processor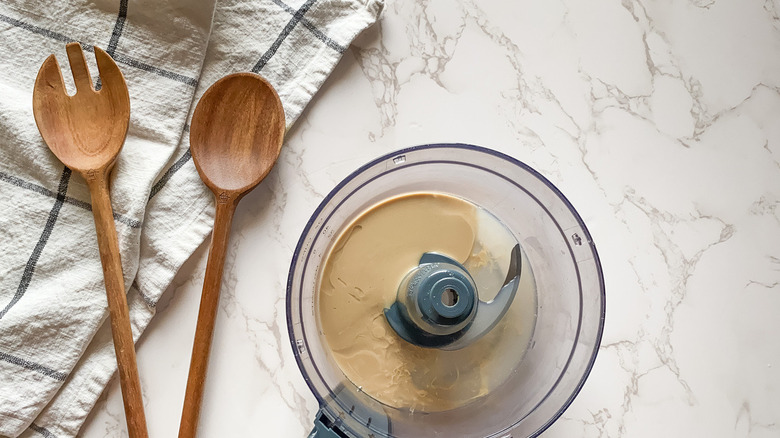 Kristen Carli/Mashed
Add ½ a cup of tahini to the bowl of your food processor, followed by ¼ cup lemon juice, 1 teaspoon minced garlic, ½ teaspoon salt, and ¼ teaspoon pepper. Process the ingredients until combined, which will take about 30 seconds. While the food processor is still on, stream in ½ cup of extra virgin olive oil. "The easiest way to add olive oil to the food processor is through the streaming tube," Carli explains. That's the small hole in the top of most food processors which is designed to allow you to slowly stream liquid into the mixture you're processing.
Be sure that you're slowly adding in the olive oil to make sure that it's fully emulsified into the final dressing, rather than separating into an unsightly oil slick on top. Continue processing until smooth, which should take just another 30 seconds to achieve.
Food processors are a must-have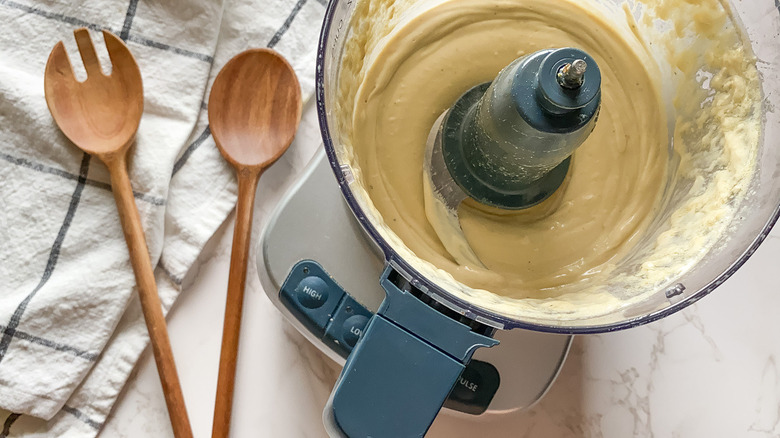 Kristen Carli/Mashed
Carli gushes about her food processor and says it's a must-have in her kitchen. Without it, she couldn't whip up amazing recipes like creamy lemon tahini dressing, or at least not in the short times you see here.
A food processor can indeed save you a ton of time and energy in the kitchen. Consider that its presence means you're tied no more to tedious prep work. A processor can easily dice your onions, mince parsley, grind up cheese, shred veggies, slice tomatoes, and blend ingredients to a smooth and creamy consistency. With this recipe, a food processor allows for the perfect blending of ingredients to make a creamy dressing that you likely couldn't attain with just a spoon or whisk.
How to serve creamy lemon tahini dressing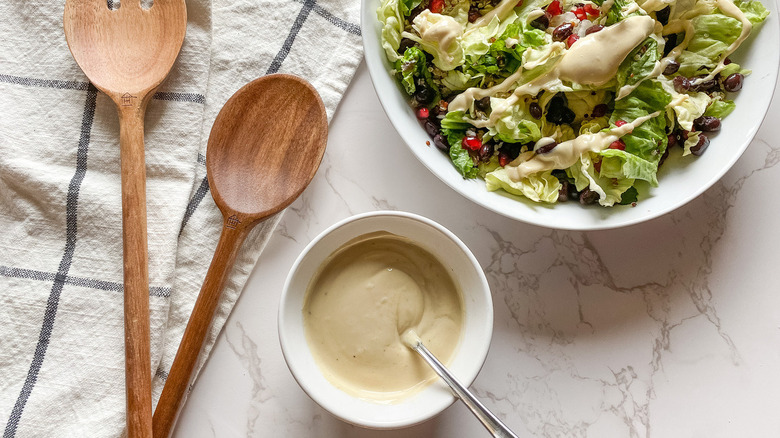 Kristen Carli/Mashed
Carli prefers to use her homemade creamy lemon tahini dressing drizzled atop a heap of greens in a salad, blended with grain bowls, or as a dip for sliced vegetables. But this dressing isn't limited to just this trio of ideas.
If you're feeling adventurous, you can spread creamy lemon tahini dressing atop a plain or lemon poppyseed bagel or a crisp slice of whole wheat toast. It also would taste intriguing blended with falafel and stuffed in a pita. Thin the dressing out more and use it as a marinade for meat you plan to plop on the grill or spread it atop your burger patty.
Creamy Lemon Tahini Dressing Recipe
If you're never drizzled creamy lemon tahini dressing across a bed of fresh greens, then you're definitely missing out on a seriously great flavor experience.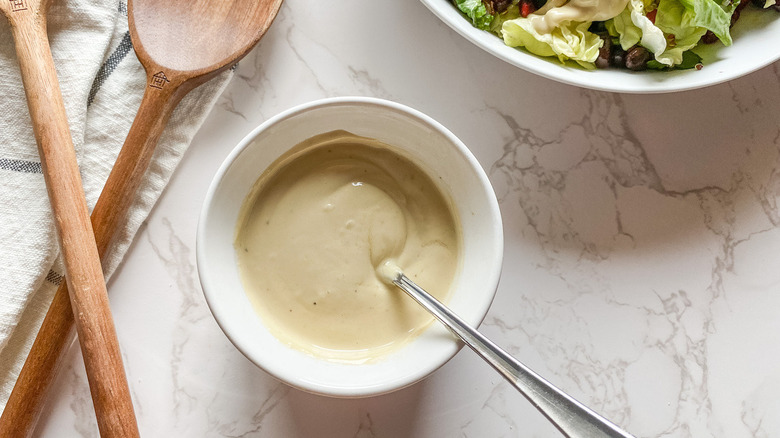 Ingredients
½ cup tahini
¼ cup lemon juice
1 teaspoon minced garlic
½ teaspoon salt
¼ teaspoon pepper
½ cup olive oil
Directions
In a food processor, add tahini, lemon juice, minced garlic, salt, and pepper. Process to combine.
While the food processor is on, slowly stream in olive oil through the streaming tube at the top of the processor.
Continue processing until smooth, about 30 seconds.
Nutrition
| | |
| --- | --- |
| Calories per Serving | 422 |
| Total Fat | 43.2 g |
| Saturated Fat | 6.0 g |
| Trans Fat | 0.0 g |
| Cholesterol | 0.0 mg |
| | |
| --- | --- |
| Total Carbohydrates | 7.8 g |
| Dietary Fiber | 2.9 g |
| Total Sugars | 0.5 g |
| Sodium | 170.1 mg |
| Protein | 5.2 g |