Fast Food Scones Ranked Worst To Best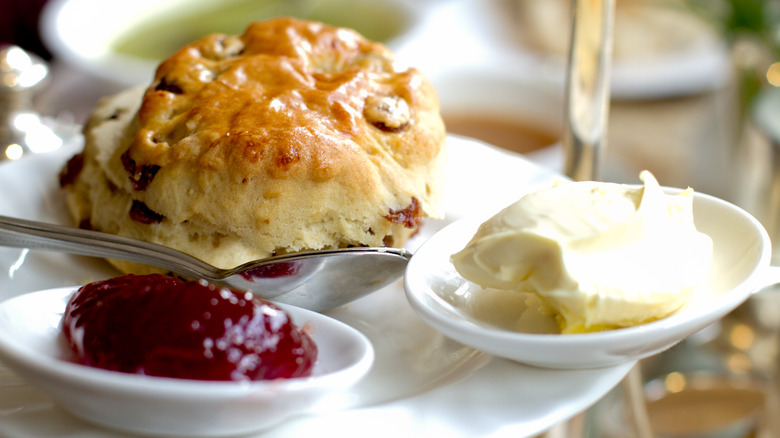 Grandriver/Getty Images
Scones. The distinct flaky pastry known worldwide has traditionally been more popular in countries like Ireland and the U.K., where a plain, raisin-filled, or cheese-flavored classic edition is topped with clotted cream or jam and served with tea. But in America, where scones are steadily growing in popularity, changes have been made to the beloved breakfast bakes that make them stand apart from their European counterparts.
Restaurants, coffee shops, and bakeries all across the United States have taken the conventional pastry and deviated from the standard trio of flavors, inventing nearly endless new profiles. American scones are flavor-packed and generally not made to be overpowered by jelly or drowned out by an accompanying beverage like Earl Gray. They are sweeter (usually complete with sugar or frosting on top), more moist in texture, and very clearly intended to be standalone treats — the star of the plate on which they sit. And you no longer have to have a gourmet bakery nearby to get your hands on a scone, either. Plenty of well-known chains are creating their own adaptations for you to select from when a craving comes to call — but some fast food options are decidedly better than others. Here are some of the more popular fast food scones ranked worst to best.
11. Blueberry scone from Starbucks
When it comes to accessibility, Starbucks scones undoubtedly take the cake. With over 35,000 locations worldwide, the popular coffee chain is easily the largest in the world — basically guaranteeing that when you're needing your flaky pastry fix, you will be able to find a Starbucks just around the corner to satisfy your rumbling stomach.
That being said, when you step up to the counter to place your order for a scone, we recommend shying away from the franchise's blueberry option. Despite its availability, the triangle-shaped pastry filled with dried blueberries, buttermilk, and a hint of lemon comes in last on our list for one very simple reason ... it's just not that good. "Blueberry scones are the worst," said one user on Reddit. "They have no real taste, and it literally crumbles to pieces the moment you get it." Another user on the same thread within the Starbucks subreddit commented (jokingly or not, we aren't exactly sure) that they had nearly choked on the last one they ate, calling it out for being insanely dry. Unfortunately, this baked blueberry creation continually harbors less-than-positive reviews, with consumers referring to it as bland and chalky. So while it's virtually guaranteed to be sitting there waiting for you in a pinch, there are probably better scone choices to spend your money — and your calories — on than a Starbucks blueberry scone.  
10. Cinnamon chip scone from Au Bon Pain
Cinnamon baking chips are used less often than their chocolate chip relatives, but when they are employed, the results are undeniably special. There is nothing like a burst of warm, sweet, melted spice when you bite down into a gooey cinnamon chip cookie, crumbly muffin, or flaky scone. And at Au Bon Pain, the celebrated Texas-based bakery chain, a scone using cinnamon chips as its star ingredient happens to be a staple on its bakery menu.
The fresh-baked daily cinnamon chip scone from Au Bon Pain is more traditional in its flavor, meaning the pastry itself touts a milder, less-sugary flavor. The bulk of its sweetness comes from the nibbles of spicy cinnamon chunks hidden within, sprinkled like buried treasures throughout. But, truly, that is where the excitement lies. Remove the magical cinnamon chips, and you find that the overall scone itself isn't anything all that special. Coupled with the fact that the pastry is a bit more difficult to come by seeing as Au Bon Pain has only 106 locations nationwide, its cinnamon chip scone ranks pretty low on our list ... despite the points that those sinfully good cinnamon bursts earn for it.
9. Chocolate chip pecan scone from Dunn Brothers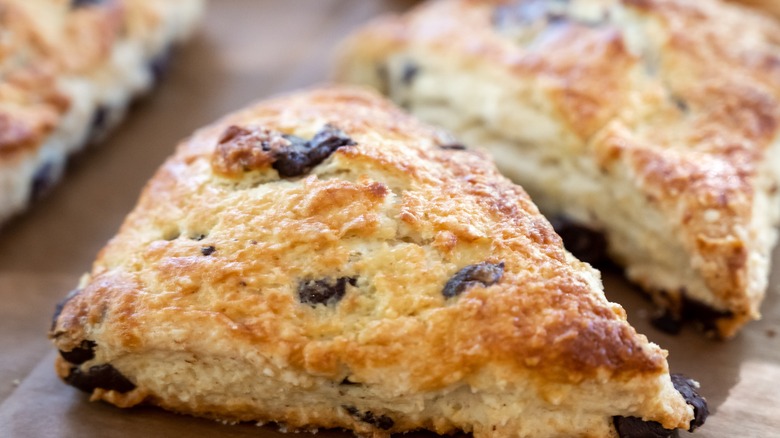 Kelly vanDellen/Shutterstock
Dunn Brothers Coffee, the St. Paul, Minnesota-based chain founded in the late 1980s by brothers Ed and Dan Dunn, is known for making small batches of coffee to ensure optimal drink freshness. The company asserts that it makes all its food fresh every day as well, cracking new eggs for its protein-filled breakfast and lunch sandwiches and baking various croissant, muffin, and scone mixes.
Dunn Brothers rotates its available scone flavors fairly often, but an option currently up for grabs behind its glass bakery window is the chocolate chip pecan. This enormously thick triangular scone is sure to fill you up based on size alone. It features a very dense, cake-like texture. It gains points for not being overly sweet, meaning it'll balance well alongside a specialty coffee full of cream without you hitting sugar overload. It also scores well for the delightful crunch and nutty flavor added by the chopped pecans hiding out in the layers. But on the downside, there is a bit of dryness to address, which takes away from the likability of the pastry overall. The scone is also not as widely available for everyone in the United States – Dunn Brothers only has 57 locations nationwide, and nearly all of them are nestled in the Midwest — and so this one remains lower in rank.
8. Pumpkin scone from Starbucks
When fall comes around, out comes the pumpkin in every which edible way. At Starbucks this means teas, cold brews, and hot mochas flavored with everyone's favorite winter squash ... and yes, pumpkin scones to enrich your autumn experience. Triangle shaped, coated in a thick layer of white icing, and finished with a decorative drizzle, they are a popular fall bakery item for the leading coffee chain.
Overall the pumpkin scones are generally well-liked, as evidenced by the way the treat makes its way back to the menu every season. Many consumers describe them as being soft and full of plentiful pumpkin spice flavor. However, others call them out for being far, far too saccharine-tasting. One user on Reddit under r/Starbucks called the scone much too sweet despite having a sweet tooth themselves, while another admitted that the icing was the tipping point that made it far too rich. On another thread within the company's subreddit, one commenter who did a fair amount of travel shared that in their experience, the flavor and texture of the popular pumpkin pastry seemed to differ regionally. Perhaps this could serve to explain the slightly mixed reviews on the autumn treat — and this inconsistency, along with arguably more sweetness than a scone should possess, costs this particular one some points in our book.
7. Blueberry scone from Panera Bread
An extensive and enjoyable lunch menu can be found at Panera Bread, the popular sandwich chain. But sometimes people forget that the company known for its Citrus Asian Crunch Salad or its epic Chipotle Chicken Avocado Melt has an extensive bakery as well, making it a wonderful option for breakfast on your way to work. At Panera's bakery, you will find different kinds of breads, sweet and savory bagels, baked egg souffles, delightfully crumbly muffins, and — you guessed it — scones. While some of the company's scone flavors have come and gone over the years, one that is consistently offered behind the glass window is the blueberry ... and in this cream-based sweet treat loaded with dried berries, we have a bit of a wildcard.
Some people love the blueberry scone. One user on Reddit under a thread in r/Panera stated that the particular pastry was the only thing they bought at the bakery, going on to boldly claim that: "Nobody else makes one as good." However, there is also quite a bit of negativity to be found out there regarding the triangular treat. Hard, dry, and "eh," were descriptive words used by one food reviewer. With such strong, conflicting feelings, we have to place Panera's blueberry scones somewhere right in the middle of the lineup.
6. Lemon ginger scone from Peet's Coffee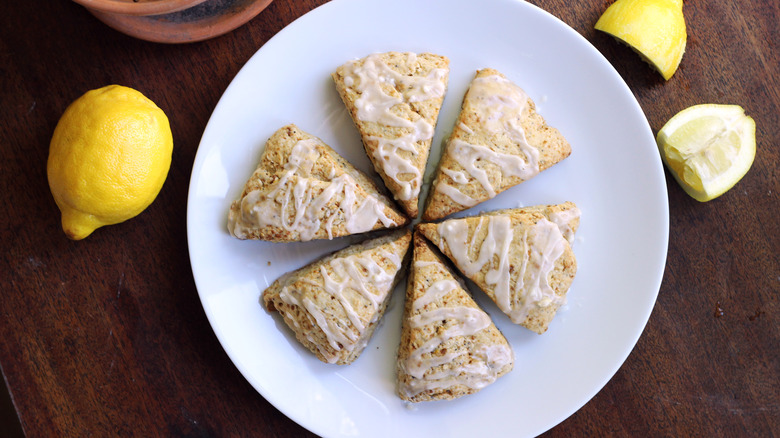 Hopeherr/Getty Images
Ahh, lemon and candied ginger. The two go together like peanut butter and jelly when it comes to baked goods. Tartness from the bright citrus fruit and sweet-and-spicy notes from the popular root of the Zingiber officinale plant make for delicious, zesty pastries such as muffins, cookies, cakes ... or scones. Peet's Coffee hit the ground running with its lemon ginger scone, taking the charming flavor combination as inspiration for a yummy breakfast treat praised by consumers on platforms like Reddit and Tripadvisor.
This lemon-infused pastry baked with ginger and smothered in a luxurious white icing has a flavor profile that feels fresher and lighter than most. Overall, it's a moist, flaky, delicious bite; however, due to Peet's proclivity for bringing its baked goods in from local bakers and artisans, there tends to be a decent bit of variation as to what is available at each location. Therefore, since there's no guarantee that the fresh-baked citrusy scone will be waiting on the shelf at the Peet's Coffee closest to you, it loses points in the realm of accessibility. However, if you are lucky enough to stroll through the doors of the coffee chain and happen across a lemon ginger scone, we recommend you snag it and give it a go — or should we say, a taste.
5. Raspberry white chocolate scone from Caribou Coffee
Caribou Coffee, the celebrated Midwestern chain, is not only known for its creative, creamy caffeinated drinks, but for its all-day breakfast menu as well. Its commitment to using only cage-free eggs in its sandwiches and bakes automatically makes eating the food a more attractive notion, so the next time you stop at the sign featuring a leaping moose in blue, consider popping in for a cold brew and a scone to match.
Caribou currently features a raspberry white chocolate scone on its menu, and overall, we're pretty pleased with the creation. The large, square-shaped scone is surprisingly not very sweet for a pastry with white chocolate in its recipe, making it perfectly suited to pair with a richer, creamier coffee or a large cup of steaming hot cocoa. Tart raspberry definitely runs the flavor show here, with every bite containing multiple chunks of the baked fruit. This, paired with a fair amount of moistness, makes the scone a pretty impressive pastry in our book. However, we have to deduct some points for accessibility. While Caribou does have 472 locations under its belt, it is heavily concentrated in the Midwestern region, with 64% of stores located in Minnesota alone. So actually finding one may put you in a bit of a pastry-seeking pickle, depending on where you live.
4. Raspberry double chocolate scone from Dunn Brothers
In the raspberry double chocolate scone from Dunn Brothers Coffee, you have a slightly more creative take on a white chocolate and raspberry flavor combo, which has been done many times over in the pastry world. A standard-flavored dough with both mini milk chocolate chips and white chocolate chunks combines with raspberries to create a brand new scone recipe out of the Midwestern coffee chain.
As with all the Dunn Brothers scones, the size of the raspberry double chocolate pastry does not disappoint. It is monstrously filling, very moist, and stuffed generously with varied chocolate chunks that elevate the sweetness of the otherwise mild pastry to the perfect level. Some points could be knocked off for texture, depending on one's preference, since there is more of a cake-like consistency to the bake rather than the flakiness that accompanies a more traditional scone. There is also a bit of an issue with the berry-to-pastry ratio, the number of raspberries inside being considered a bit skimpy or lacking compared with the ample size of the scone itself. Overall, though, this newest feature from Dunn Brothers is a very satisfying, delicious pick sure to please both your taste buds and your stomach and keep you going all morning long.
3. Maple walnut scone from Peet's Coffee
There is something about the flavors of maple and walnut that just work well together. The beloved, sweet nutty flavor originating from the sap of the maple tree is somehow amplified by the earthy, smoky taste of baked walnuts, creating an irresistible combination — and when baked into a scone, you can consider us done for. Along with an impressive array of fall drinks like pumpkin lattes or iced coffees with caramel apple, Peet's Coffee offers a maple walnut scone as part of its autumn bakery lineup.
The thick, rounded, drizzled pastry has become a very popular and well-liked seasonal select by consumers. It really is the perfect coffeehouse treat, with its reasonable level of sweetness complementing nearly any specialty drink like a charm. However, given that Peet's Coffee bakery items are outsourced and delivered by various local bakeries daily, consistency could be an issue when ordering one. One city's maple walnut scone may taste different or vary texturally from another's, seeing as there will be different places preparing it. In addition, Peet's Coffee shops are a little harder to come by depending on where you are, with locations in only 10 states. Assuming you are lucky enough to get your hands on one, though, you're likely to find a delectable snack in this nutty scone that can't help but scream "it's time for fall."
2. Petite vanilla bean scone from Starbucks
When we hear the words "vanilla bean," we can't help but visualize those delightful tiny black speckles that aid in the development of the flavor of everyone's favorite ice cream. Now, go ahead and picture those delicious little flecks in a glaze sitting atop a favorite crumbly bake. That's exactly what one finds in the petite vanilla bean scone from Starbucks. With a dough developed by the flavors of both extract and the bean itself, the result is a moist, fluffy, vanilla-forward scone with the appropriate amount of sweetness topped by a speckled frosting vaguely reminiscent of the classic ice cream in a perfect glaze-to-pastry ratio.
The vanilla bean scone has harbored consistently positive feedback from customers and employees of Starbucks alike. It is a daintier size, so expect a smaller-than-normal scone — not a terrible quality if you are watching your calorie intake. In addition, the large number of Starbucks locations makes it an easy find. A little piece of advice, however; don't ask the employees to heat this one up for you when ordering. According to Starbucks workers on Reddit, heating the vanilla bean scone for customers is against policy because of that delightful icing. When it melts, it causes some serious drippage, thus creating issues with the ovens — and danger to employees' hands due to the heat when trying to remove it. Even at room-temperature, though, this scone is definitely worth your time. 
1. Orange scone from Panera Bread
Sliding in at first place on our list comes the highly celebrated orange scone from Panera Bread. Its widespread availability coupled with its universal popularity among consumers makes it the No. 1 choice for your next fast food scone order. A delicious, perfect level of sweetness balanced by citrus notes, this cream-based pastry is chock-full of orangey flavors. But the best part of the whole recipe is found within the glaze topping; fresh shreds of orange zest.
"Ugh the glaze is the best part ... soooo good," confirmed one user on Reddit under r/Panera. In another thread within the same subreddit, two Panera bakery employees discussed the fact that they tended to heavily douse the best-selling pastries in the zesty glaze after baking at their locations ... and no customer had ever complained about them being too heavily frosted. The internet is alight with copycat recipes from bakers working to recreate their favorite, decadent treat from Panera Bread — and you'd be hard-pressed to find a reviewer with a negative thing to say about these scones. So the next time you feel your taste buds tingling, drop in at your local Panera for an orange scone and see what all the buzz is about. We bet you won't be disappointed.