Caribou Coffee Paves The Way For Removing Non-Dairy Milk Charges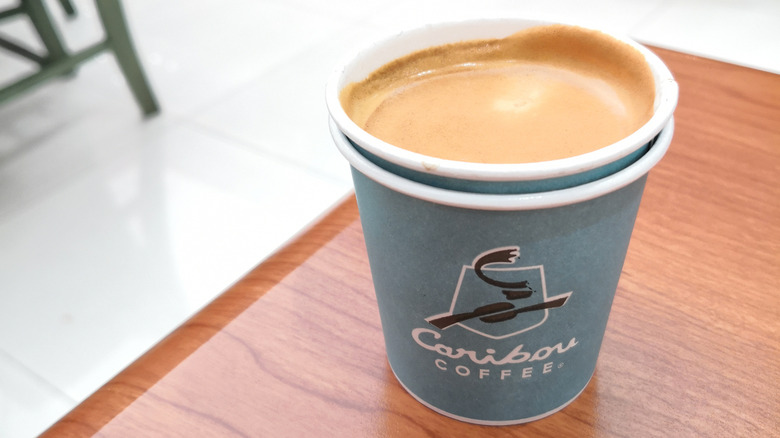 Mousamjm/Shutterstock
Caribou Coffee customers who prefer plant-based milk will soon have conditional cause to rejoice. The chain has announced that it will be dropping the extra fee for non-dairy milk on May 4th, but only under certain circumstances. This is great news for vegan coffee drinkers since Caribou reportedly charges 80 cents more to substitute plant-based for dairy milk in any espresso-based beverage, according to VegNews. About 20% of the drinks sold by the chain are made with either oat or almond milk, so that's a lot of spare change. It probably shouldn't come as a surprise, then, to learn that the chain's not giving up the surcharge without tacking on a few stipulations.
If you want to order your Turtle Mocha Cooler with almond milk without paying extra, you need to sign up to be a member of Caribou Perks. Likewise, even joining this loyalty program won't guarantee the discount. You will also need to order your custom beverage through the app. If you prefer to place your order in-store with a real live barista and/or you don't want to join Caribou Perks, then you're out of luck.
Caribou Coffee isn't the only chain with a plant milk surcharge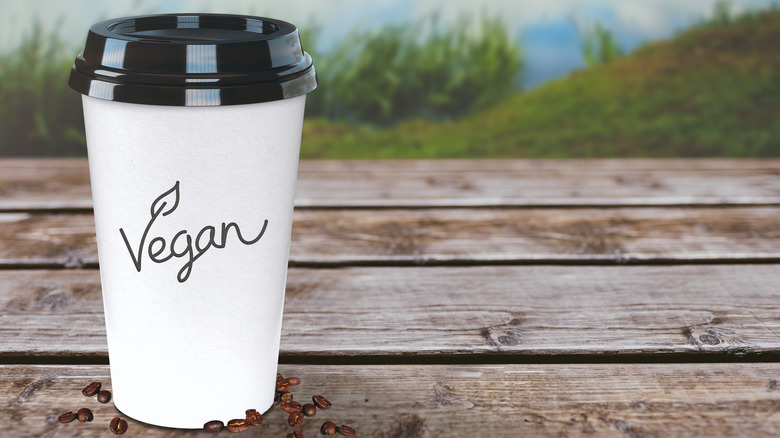 Dennis Pentek/Getty Images
If you generally order off the standard menu at Caribou and don't mind drinking dairy, it may come as a bit of a shock to find out that your vegan friends are having to pay nearly a buck more per beverage, but plenty of other coffee chains charge extra for plant milk. Starbucks' own upcharge, which also runs up to 80 cents, has drawn the ire of PETA protesters and even Sir Paul McCartney. 
According to VegNews, the more budget-friendly Dunkin' is said to charge only 50 cents, and that's only on lattes and other similar drinks. While Peet's Coffee has been known to tack on an extra 80 cents for non-dairy, it did drop the charge for the month of April and may be viewing this hiatus as a trial run for a later policy change. 
So are there any coffee chains that don't charge extra for going dairy-free? Yes, there are a few. Blue Bottle offers surcharge-free almond and oat milk. At Philz Coffee, you can choose from almond, oat, and soy milk without having to pay any more than you would for milk. In fact, so dedicated is Philz to providing dairy-free options that VegNews reports it even dropped 2% milk from the menu in some locations to make room for more plant-based milk. As for Caribou Coffee, it remains to be seen what other changes Caribou may make in the future in regard to its own selection of non-dairy alternatives.