Celebrities And Their Signature Fast Food Orders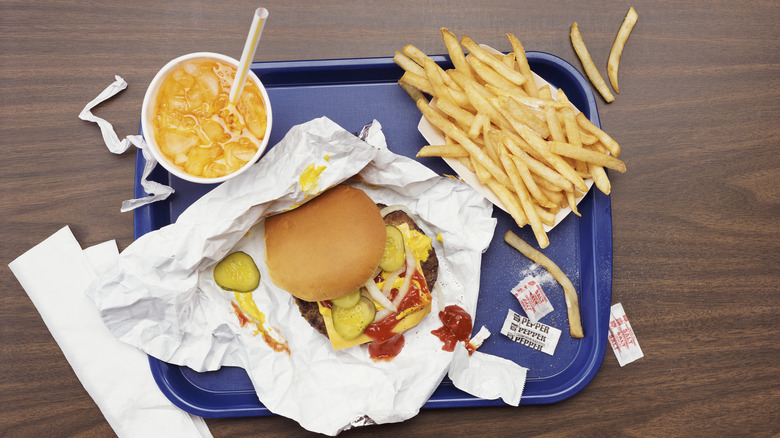 Digital Vision./Getty Images
Paparazzi photos of your favorite actors and musicians chowing down on cheeseburgers and french fries are a way of depicting their "down to earth" side. Some stars have been known to use social media or interviews as a platform to shout out their favorite drive-thru indulgences on their own terms. After all, fast food can be big business for celebrities. When McDonald's teamed up with basketball legend Michael Jordan in the early 1990s to create the "McJordan Burger," it spearheaded the trend of celebrity-endorsed fast-food meals — a power play that most major fast-food restaurants have dabbled in and is still widely seen today.
In contrast with the many star-studded fast-food ads that have come and gone is a deep-seated ideology that celebs (especially females) who regularly eat fast food are flirting with the dark side. Overindulging in fast food is widely associated with weight gain and general unhealthiness, which in a town as image-obsessed as Hollywood is a taboo move. As a result, many celebrities perform a bit of a trapeze act with fast food: they like it enough to be the face of promotional menu items while existing simultaneously enduring the pressure of upholding certain health and beauty standards. Despite this, certain celebrities like fast food and stick to their signature orders without guilt. Wondering what some of your favorites are getting in their to-go bags? Check out our list of celebrities' signature fast-food orders.
Barack Obama's order at Five Guys became a trend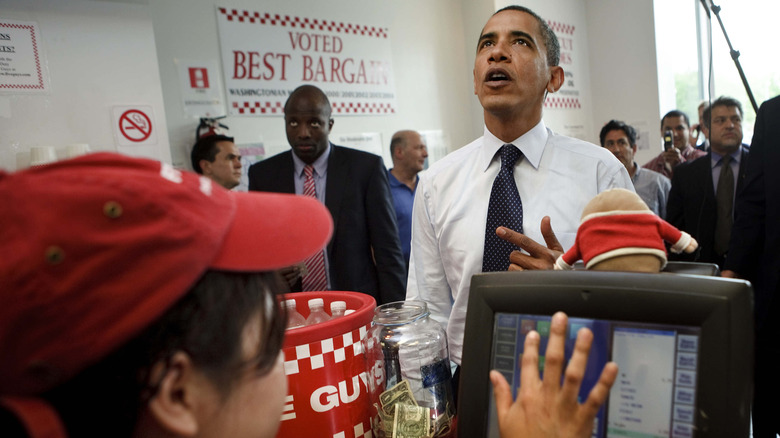 Brendan Smialowski/Getty Images
The Commander and Chief doesn't always take his lunch behind the desk in the Oval Office. When former President Barack Obama was serving his first term in the White House, he was famously photographed picking up lunch at Five Guys for himself and his staff. How does Obama like his cheeseburger? He goes for the classic accompaniments of lettuce and tomato.
But zests it up by adding jalapeños and mustard. He also orders fries. Obama keeps his topping choices pretty minimal, but one of Five Guys' selling points is offering customers up to 15 complimentary toppings. And because he's not your average customer, Obama shakes hands and talks with customers. If he's not in a rush, he may even pose for a group photo.
After the May 2009 visit, Washington D.C. locals were known to come into the Five Guys locations and order "The Obama." It is now among Five Guys' secret menu items and is called "The Presidential." Barack Obama wasn't the only person in his family enjoying Five Guys lunches during their time at the White House. First Lady Michelle Obama has treated her staff to lunch there as well. Barack and Michelle Obama are big promoters of healthy eating and practice what they preach (a.k.a, those Obamas are in shape!), which shows that a trip to Five Guys occasionally never hurt anybody.
Shaquille O'Neal has his McDonald's order down to a science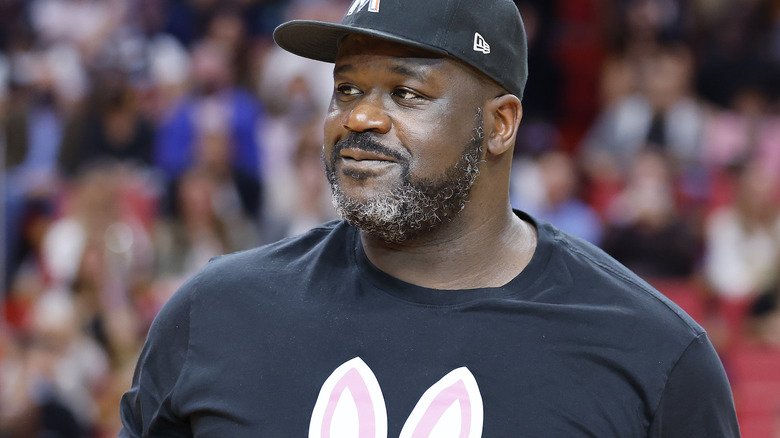 Michael Reaves/Getty Images
Celebrities aren't like most people, and most celebrities aren't like Shaquille O'Neal. The NBA great, who stands seven feet and one inch tall, discussed what he orders at various fast food and fast casual restaurants in a November 2022 episode of "The Big Podcast With Shaq." O'Neal was impressively precise when he rattled off a string of signature orders from places like IHOP, Waffle House, and Subway, but when it comes to McDonald's, The Big Fella does not mess around.
Shaq says his McDonald's order consists of " ... a number one, double cheeseburger and 10 nuggets and a Diet Coke because I'm on the diet." For those of you who require further clarification, a Number One at Mcdonald's is the Big Mac Combo Meal which comes with french fries and a beverage. O'Neal's McDonald's order is not for amateur eaters, but based on his candidness about his fitness and dietary habits, this is not part of Shaq's normal day-to-day menu. In fact, "the diet" he refers to, combined with personal trainer-led workouts, helped Shaq lose 36 pounds and cultivate what he calls a "4.9 pack" of abs. However, when Shaq does indulge in one of these full-scale McDonald's trips, he makes sure to give back. He says he hands a $200 tip to the McDonald's employees who make and deliver his food to show his gratitude for their service.
Adele wants a Big Mac, nuggets, and fries to be her last meal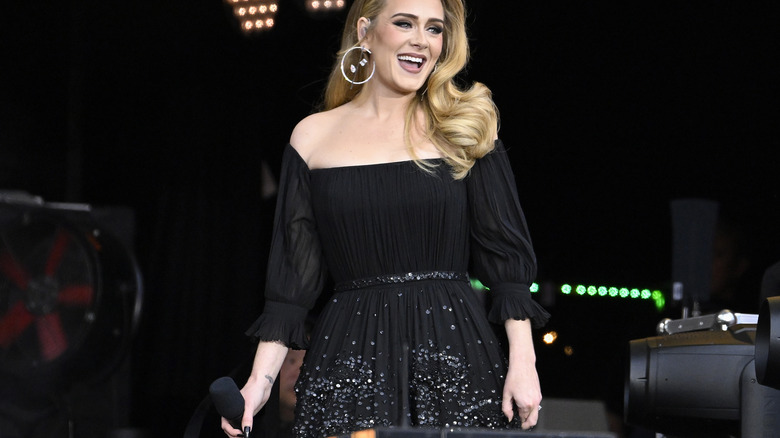 Gareth Cattermole/Getty Images
British songstress Adele also knows exactly what she wants when she goes to McDonald's — and it happens to be quite similar to what Shaquille O'Neal is ordering. In October 2021, Adele sat down with British Vogue to take part in the "Ultimate British Taste Test," where she sampled and had to identify classic British food items while blindfolded. During the taste test — which Adele totally aced — she spoke of her devotion to certain McDonald's menu items in a way that was both cheeky and profound. "My ideal meal, my death row meal, my last meal, would be a McChicken Nugget, with a Big Mac, and then fries. That's my three course." But Adele isn't reserving that enthusiasm for her final hours. She says, "I eat it at least once a week."
In 2021, Adele publicly addressed her 100-pound weight loss, which she describes as a two-year journey centered around exercise rather than diet. Boxing, deadlifting, and cardio are all part of Adele's regular routine. She explained that exercising three times a day began to combat the anxiety attacks she experienced after her marriage ended and that it helps her stay off her phone too. Clearly, her hard work has paid off, so if Adele wants to have her favorite McDonald's order every week, it's safe to say she's earned it.
Gordon Ramsay sneakily orders a Double-Double from In-N-Out Burger
Jason Mendez/Getty Images
The cutthroat world of fine dining, a quest for Michelin stars, and yelling (lots of yelling) were Gordon Ramsay's entry points into celebrity chef stardom, but that doesn't mean he's eating foie gras and truffles all day. Ramsay's knowledge and enjoyment of food is vast and includes the occasional fast food meal. In a conversation with Taste of Home, Ramsey assured that "Every chef in the country loves indulging in fast food," but said he prefers to place his signature fast food order incognito. "... take me to the drive-thru at In-N-Out Burger and you'll see me in the back seat with tinted windows with a Double Double."
There are hundreds of In-N-Out locations in the United States, but most of them are in Southern California, and you won't find one east of Texas. Luckily for Ramsay, he doesn't have to go far to satisfy his Double-Double craving. The chef and television star has a home in the Bel-Air neighborhood of Los Angeles. If you're unfamiliar with In-N-Out's Double-Double, it's two beef burger patties, each topped with a slice of melted American cheese and layered with onion, lettuce, tomato, and spread. The spread is the secret house sauce made from an original recipe that hasn't changed since 1948 (Hint: it's pretty much sweet pickle relish and Thousand Island dressing).
Anna Kendrick spices things up with a Doritos Taco from Taco Bell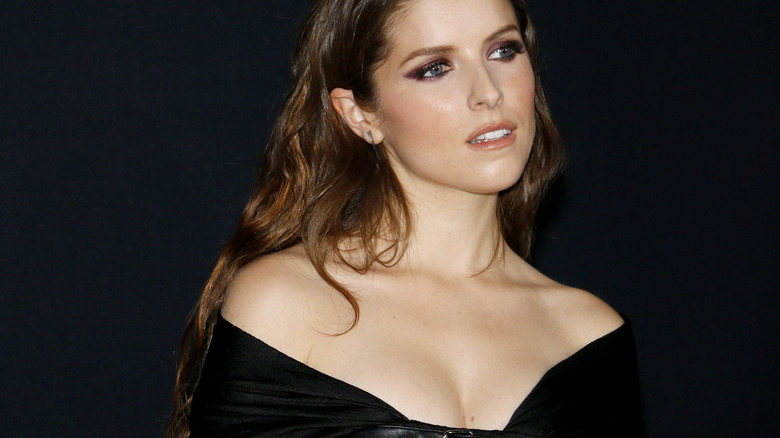 Tinseltown/Shutterstock
Actress Anna Kendrick is a woman of many talents and has a major taste for Taco Bell. In a 2012 appearance on Conan O'Brien, Kendrick elaborated on her penchant for posting late-night Tweets about loving Taco Bell. She admitted she only visits locations that have a late-night drive-thru. After pulling away from the drive-thru window, Kendrick said she sits in the parking lot to eat her food alone in the car. Her signature order? The Doritos Taco.
When Kendrick tried the Doritos Taco for the first time (presumably in the confines of her darkened car), she jumped on Twitter (at 1:34 a.m.) to clue in her followers. "Just tried [T]aco [B]ell's [D]oritos taco. I can see why they sold 100 million of these already. This is no joke." The original flavor was Nacho Cheese Doritos Locos and was later joined by Fiery Doritos Locos and Cool Ranch Doritos flavors. We can imagine Kendrick's heartbreak when Taco Bell discontinued the Doritos Taco in 2019 despite being one of the best-selling items in the restaurant's history. Come 2023, Taco Bell revived the Nacho Cheese Doritos Locos Taco, and we're willing to bet Kendrick was embarking on a moonlit drive to the nearest drive-thru to get her hands on one.
Nick Jonas orders the Stickball Special Sub from Jersey Mike's but gets it Nick's Way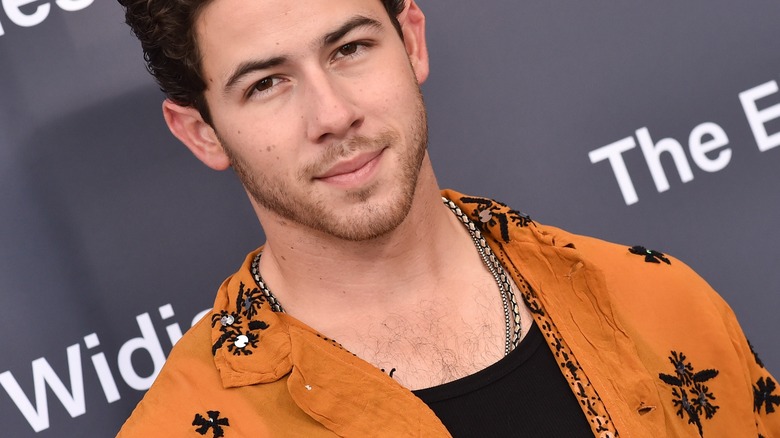 DFree/Shutterstock
New Jersey native Nick Jonas enjoyed his sub from Jersey Mike's so much he made a TikTok video about it. In June 2023, Jonas ordered lunch from the fast-food sandwich chain Jersey Mike's. Midway through the meal, Jonas documented the experience on camera, marveling at his ability to create what he described as "an off-menu item." Holding up half of the sandwich, Jonas broke down its ingredients: "... whole wheat bread, provolone cheese, ham, turkey, salami, lettuce, pickles, oil and vinegar, oregano, Mike's Way ... This is the greatest sandwich I have ever tasted in my life." Could Nick Jonas and Jersey Mike's be the next celebrity fast food collaboration? We can see it already.
Nick Jonas' TikTok is charming, and we definitely aren't looking to take the wind out of his sails, but technically his sandwich is not a wholly original creation. It's a customized version of Jersey Mike's Stickball Special Sub — also known as a #11. The Stickball Special Sub is made with provolone, ham, and salami and can be ordered "Mike's Way," that's the addition of onions, lettuce, tomatoes, olive oil, red wine vinegar, and spices. Jonas indicated in his video that he ordered his sandwich "Mike's Way" (but omitted the onions and spices), but in essence, it was the Stickball Special Sub with the addition of turkey and pickles.
For Kristen Kish Arby's Chicken Fingers and Curly Fries can't be topped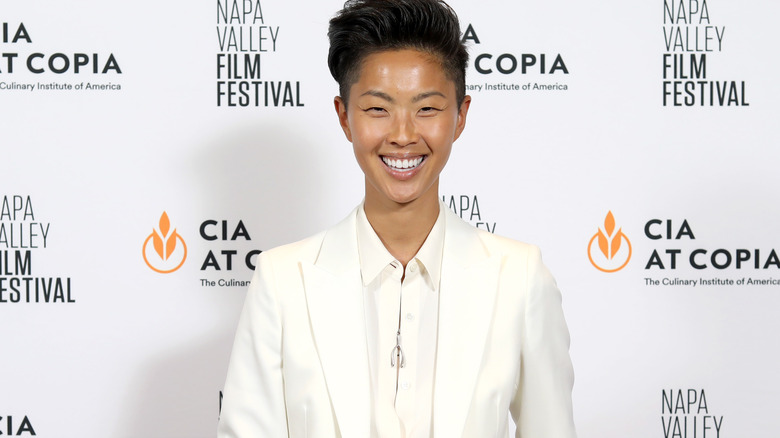 Kelly Sullivan/Getty Images
Gordon Ramsay wasn't kidding; celebrity chefs really do eat fast food, and that includes Kristen Kish. The "Top Chef" alum and TV host cites Arby's as her favorite fast food restaurant. She even discussed her go-to Arby's order in an interview with Mashed, saying, "Chicken fingers and curly fries are by far the greatest fast food I think that is out there." Kish explained that her love of Arby's stem's from eating it as a kid in Michigan and that she sees it as a regional fast food classic. Arby's was established in 1964 in Boardman, Ohio.
We love to hear a gourmet chef gush about such a casual meal. It makes sense coming from Kish, who stars in "Fast Foodies" with fellow TV chefs Justin Sutherland and Jeremy Ford, a cooking show where celebrity guests challenge the chefs to replicate then reimagine a specific fast-food item of the guests' choosing. "Fast Foodies" is just one of many hosting gigs for Kristen Kish, who is set to host Season 21 of "Top Chef" after host Padma Lakshmi announced her departure in 2023 after 19 seasons. 
Rihanna orders chicken nuggets from Barbadian fast food chain Chefette
Rihanna has been known to saunter out of high-end restaurants like Giorgio Baldi in Santa Monica, accessorizing her stylish outfits with a glass of red wine, but even superstars like to have a low-key fast food night in between all the fabulousness. Where fast food is concerned, Rihanna favors fast food from her home country of Barbados and places an order at Chefette. Never heard of Chefette? It's a fast-food chain that only operates in Barbados, with 14 locations throughout the island. Years ago, Rihanna posted a photo on her Instagram account holding chicken nuggets from Chefette with the caption: "A taste of Heauxm."
Rihanna may be partial to Chefette's chicken nuggets, but the restaurant has a lot of variety. From chicken dinners and pizzas to burgers and rotis stuffed with potato, chicken, or beef, Chefette is bringing the comfort food. Rihanna is a proud Barbadian, and although the globetrotting mogul may not make as many pitstops to her homeland as she'd like, when she does, Chefette is her chosen fast food spot.
Prince Harry and Meghan are also fans of In-N-Out Burger and Harry goes all out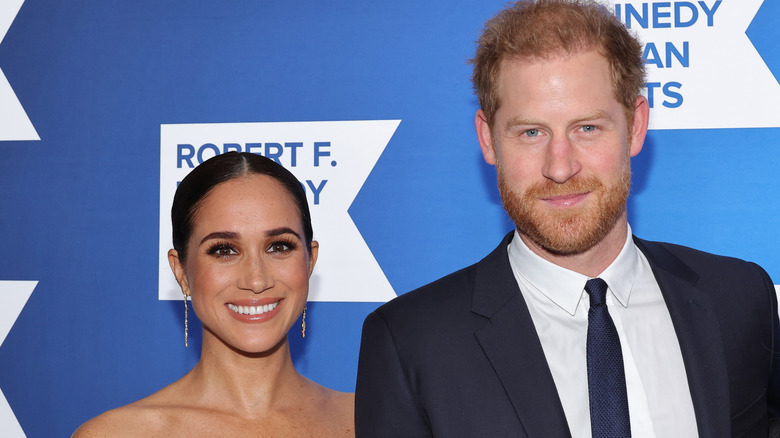 Mike Coppola/Getty Images
Being one of the most famous couples on the planet is no easy feat, but Prince Harry and Meghan Markle stick together and put their family first. They also make time for trips to In-N-Out Burger — especially since Harry is a Californian now. Markle confirmed that In-N-Out is Prince Harry's favorite in a 2021 Variety interview. " ... my husband's favorite is In-N-Out. There's one at the halfway point between L.A. and our neck of the woods. It's really fun to go through the drive-thru and surprise them. They know our order."
And what order would that be? When People Magazine spoke to Prince Harry in early 2023, he clarified what these commuter lunch breaks entail. "In-N-Out is the best! I order two double-doubles, animal style, fries, and a Coke! And that's just for me! Meg gets the cheeseburger and fries with sides of jalapeños. I just stick with ketchup and that special sauce of theirs. So good!" Don't hold back, Harry! Also, what does he mean by animal style? According to In-N-Out lingo, animal style is when you want your burger with lettuce, tomato, extra sauce, grilled onions, and the beef hamburger patties fried in mustard.
McDonald's and Britney Spears have a mutual appreciation for one another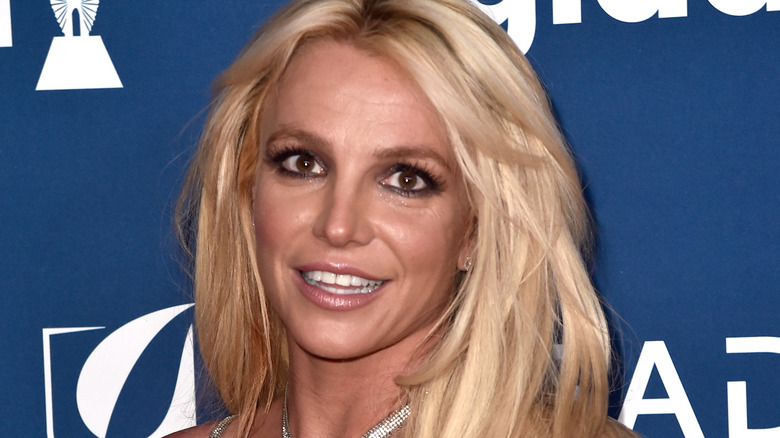 Alberto E. Rodriguez/Getty Images
Pop music royalty Britney Spears is known for her love of not-so-healthy food and drink, but hey, she's human like the rest of us. The star, whose every move was relentlessly documented by the paparazzi in the mid-2000s, was regularly snapped ordering take-out from various drive-thru establishments, and one of her favorites was McDonald's. More recently, Spears told the news outlet ET that she still frequents "The Golden Arches" despite having a sensitive stomach. "The burger is fine, but I have the small burgers from McDonald's. The happy meal!"
McDonald's has been selling the Happy Meal since the late 1970s after advertising executive Bob Bernstein developed it. Perhaps the most memorable part of a Happy Meal is the toy that comes inside, but it can be an appetizing pick for adult customers who want a slightly smaller portion — like Spears. McDonald's Hamburger Happy Meal is one of three options on this section of the menu; the others are a four-piece or six-piece Chicken Nuggets Happy Meal. All Happy Meals come with a fountain drink, french fries, and apple slices. Many celebs share Spears' love of Mickey D's, but few can say they've had their face on a McDonald's fry box. In 2000, Britney Spears and the boys of NSYNC were featured on the boxes as part of a McDonald's-sponsored music event highlighting some of the biggest artists signed to Jive Records.
Hailey Bieber loves Shake Shack burgers and fries with special sauce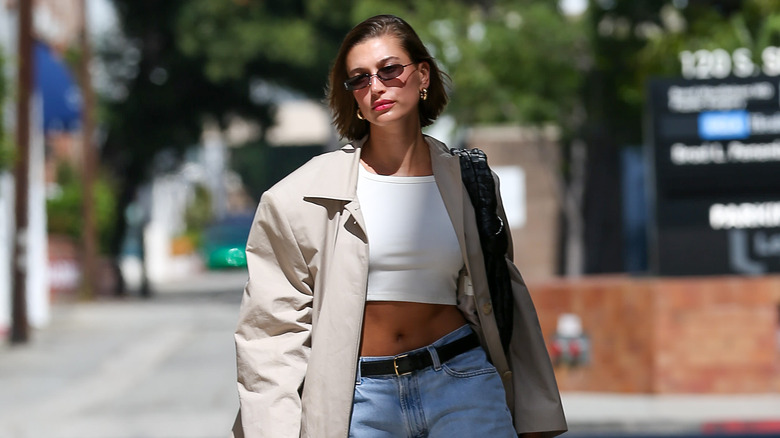 Thecelebrityfinder/bauer-griffin/Getty Images
Mrs. Bieber is known worldwide for her dewy complexion and chic fashion sense, but she's not above getting down with one of her fast food favorites: Shake Shack. In a 2019 interview with Vogue, Bieber told the magazine that Shake Shack was her "guilty pleasure," and that the Shake Shack special sauce was a mystery she wished she could solve. She's right. Shake Shack keeps the recipe under wraps, but copycat recipes incorporate mayonnaise, ketchup, mustard, dill pickle, cayenne pepper, and other spices ... but alas, it's called a copycat recipe for a reason.
The Vogue interview wasn't the only time Bieber publicly showed her love for Shake Shack. She and her soon-to-be husband, Justin Bieber, went on a heavily-photographed fast-food tour of New York City in the summer of 2018. When they hit up Shake Shack, the lovebirds grabbed a couple of burgers with gluten-free buns and french fries. Bieber may not have cracked the code of Shake Shack's special sauce, but she readily admits she can't get enough of it. In a 2019 Twitter post (she deleted her Twitter account in 2020), Bieber confessed that she was tempted to order from Shake Shack twice in one day. Whether or not she did, is yet another mystery.
It's not an act, Ben Affleck really is a Dunkin' devotee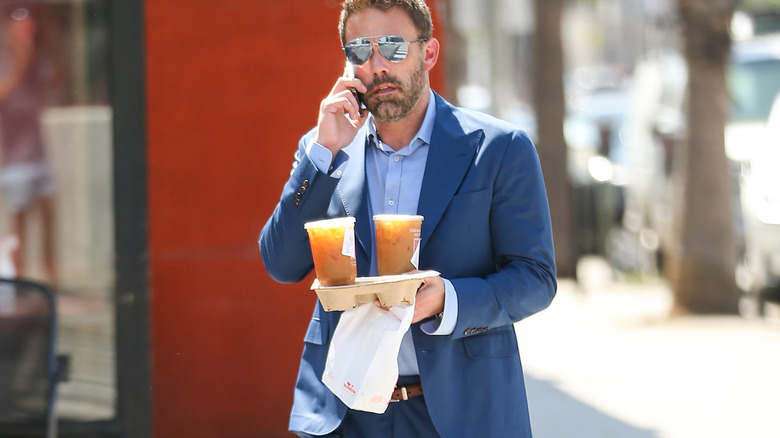 Bellocqimages/bauer-griffin/Getty Images
To New Englanders, especially those from Massachusetts, Dunkin' is a fast food institution. For Ben Affleck, who grew up in the Boston area, morning and afterschool stops at Dunkin' were a way of life (remember the Dunkin' references in "Good Will Hunting?"). More recently, Affleck went full-scale with his fandom by directing and starring in commercials for the brand.
The first ad debuted during the 2023 Superbowl and depicted Affleck as a Dunkin' employee mingling with customers at the drive-thru window. Mrs. Affleck, a.k.a. Jennifer Lopez, also pulls up. The second shows Affleck being mistaken for bestie (and fellow Bostonian) Matt Damon while ordering at the counter. The movie veteran has found creative ways to incorporate his appreciation for Dunkin' into his day job. Photos of Affleck getting an off-duty caffeine fix at the Massachusetts-founded mega-chain have circulated over the years. His order: an iced coffee with milk and two sugars. Affleck says he's a creature of habit in his food and drink preferences but will occasionally switch up the sugar for Splenda or regular milk for almond milk. Either way, Affleck runs on Dunkin'. Some mornings he drinks two iced coffees.