Aldi Products We Wish Would Get An Autumn Makeover
Even before the leaves change and the weather cools, autumn lovers start dreaming of their favorite fall foods ready to hit Aldi's shelves. Visions of pumpkin spice and other cozy flavors are already dancing through our heads. While we don't know what actual fall products we'll find around the store this year, we can still dream about which Aldi products will get an autumn makeover. The flavors of fall extend beyond pumpkin to savory butternut squash, nuts like pecans, and fruits like persimmon. Cozy spices like cinnamon and ginger help to spice everything up, while maple and caramel provide sweetness.
Every aisle of the store could use a little fall magic, whether it's in the bakery, freezer section, or even among the refrigerated products. Some of Aldi's fall products for 2023 include maple-drizzled kettle corn, apple cinnamon coconut clusters, pumpkin spice fruit strips, and pumpkin maple bisque. While this is a good start, we'd love to see even more. Here's our fantasy lineup of which Aldi products we would love to see get a fall makeover.
Pancake and waffle mix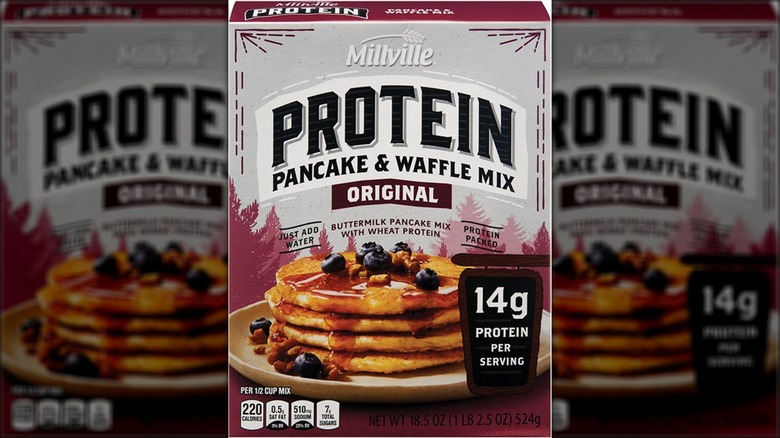 Aldi
First on our list of products we'd like to have a fall makeover at Aldi is the pancake and waffle mix. While you can add all sorts of things to your pancakes and waffles to make them season-appropriate, we would like it even better if the store would offer pre-made pancake and waffle mixes that already have autumnal ingredients included. A pumpkin spice pancake and waffle mix like the one Trader Joe's offers in the fall is the most obvious choice. However, there are other flavor options that the chain could try, featuring various warm spices and ingredients like apples and sweet potatoes.
We like the idea of an apple cinnamon pancake and waffle mix with dried apples that would plump up while cooking. A chai-flavored pancake and waffle mix could be interesting since hot and spicy drinks become more popular as the weather turns colder. We're also intrigued by the idea of the chain possibly offering a sweet potato butter pecan pancake and waffle mix for fall.
Salad kits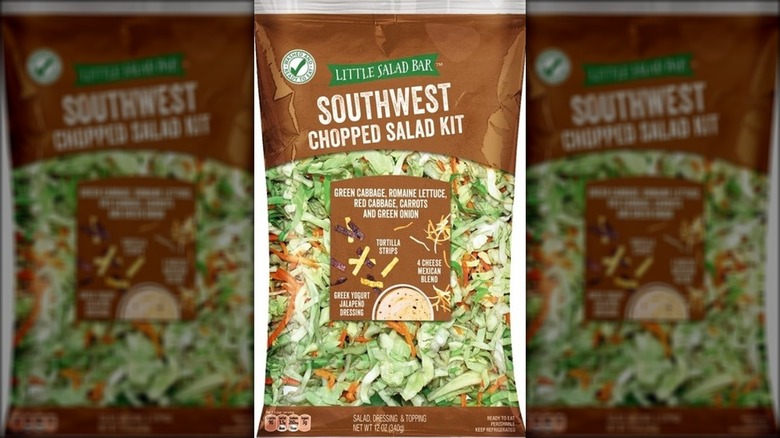 Aldi
Aldi has a fair number of salad kits available from brands like Taylor Farms, Little Salad Bar, and Dole. They include classics like Caesar salad and U.S. favorites like Southwest and avocado bacon ranch salads. We'd love to see the store offer more salads with autumn harvest themes. Aldi has a fall harvest salad recipe on its website, but while offering a recipe is nice, we'd rather not have to buy and put together all the ingredients ourselves. The salad includes candied walnuts, arugula, dried cranberries, apple slices, and goat cheese, while the dressing contains apple juice, vinegar, and olive oil. Plus, it has extra candied walnuts, dried cranberries, and thyme.
We also like the idea of finding a heartier roasted butternut squash fall salad. It might include pre-baked butternut squash, cooked farro, and kale, with toppings like apple slices, dried cranberries, and toasted pumpkin seeds. A good dressing for this salad would contain apple cider vinegar, olive oil, garlic, Dijon mustard, and pepper. Even though this type of salad would be a little more involved than most salad kits, it could be a more satisfying choice.
Preserves, jellies, and spreads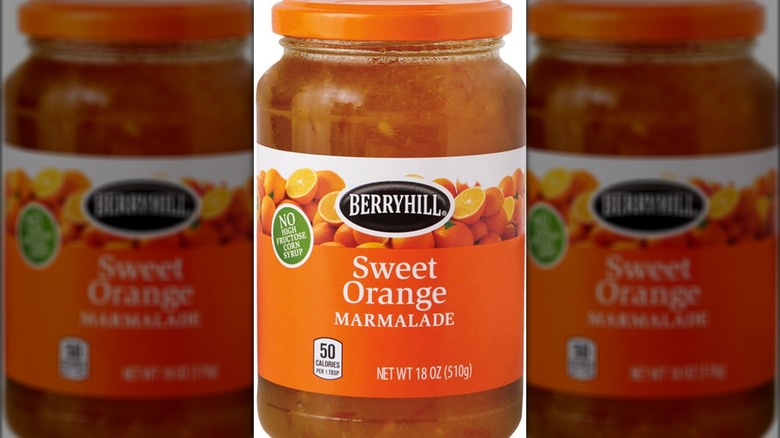 Aldi
Aldi has a large number of jams and spreads available for use in peanut butter sandwiches, or for spreading on toast and bagels. However, they're all plain Jane flavors like grape, strawberry, and blackberry. We would love for Aldi to offer autumn-specific jam flavors and maybe even branch out to fruit butter since they're so popular in the fall. Both jams and fruit butters are made from fruit and sugar, but fruit butters aren't as sweet, don't contain pectin, and often contain spices.
We would love to see more artisanal-style jams like spiced pear jam, which contains fall spices like cinnamon and cloves. Other pear-based options could include fig, pear, and cinnamon jam or ginger pear butter. Other fall butter options that would be good include cinnamony apple butter, salted caramel apple butter, or even pumpkin butter. We also think fall persimmons deserve recognition, so why not offer persimmon jam? Instead of ordinary marmalade, the store could perhaps switch to orange cranberry marmalade, which could make for an interesting breakfast spread teaser on Thanksgiving morning.
Chicken salad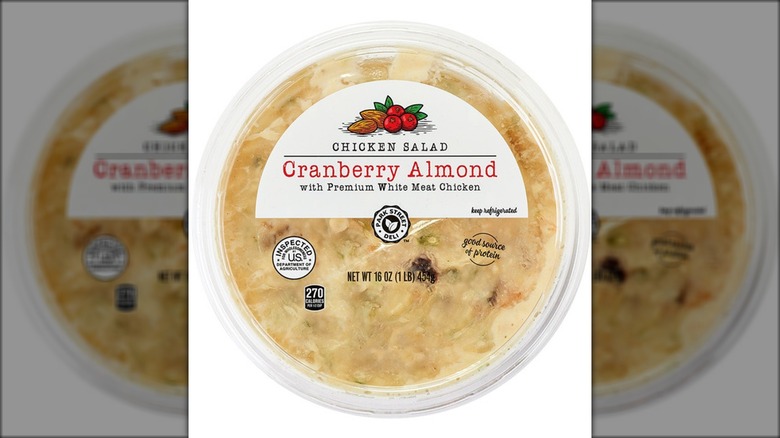 Aldi
Aldi often has both classic chicken salad and cranberry almond chicken salad. While cranberries are a common ingredient for fall foods, we tend to think more of nuts like pecans rather than almonds during fall. So, a remix of the Park Street Deli chicken salad for fall would contain cranberries and toasted pecans rather than cranberries and almonds. The ultimate cranberry pecan chicken salad would also contain diced apples and celery for extra crunch. We like the idea of using an apple variety that's more enticing than Red Delicious apples like sweet Honeycrisp, Golden Delicious, or Jazz apples. For a more sophisticated chicken salad, it could even include pomegranate seeds and pumpkin seeds.
To go full fall, the store could offer a chicken salad with diced, cooked sweet potatoes and dried cranberries. Crisp apples, red onions, and walnuts would provide the crunch it would need to contrast with the softer ingredients.
Salmon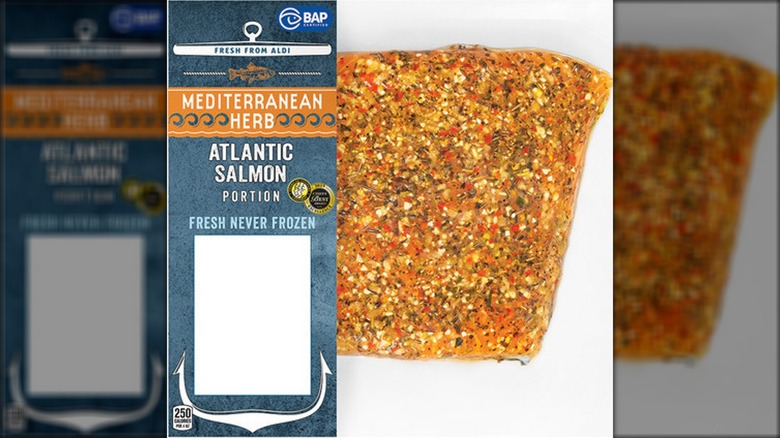 Aldi
You can find salmon at Aldi everywhere from the refrigerated section of the store to the freezer. A favorite find is the Mediterranean herb salmon that comes in a vacuum-sealed bag to maintain freshness. However, in the fall, we'd like to see some other flavors available since Mediterranean herb salmon seems like more of a summer flavor.
When cooked the right way, a sweet glaze can create a pleasing, candy-like texture on the top of the fish that enhances the culinary experience. That's the experience we envision for a fall-themed salmon. One option that would be especially good would be maple-glazed salmon. It would feature glaze ingredients like real maple syrup, Dijon mustard, soy sauce, fresh garlic, and freshly ground black peppercorns. We especially like the idea of brown sugar praline salmon, which would contain brown sugar, Dijon mustard, black pepper, and toasted pecans. It wouldn't even be crazy to consider a pumpkin spice salmon with a glaze that contains ingredients like pumpkin purée, brown sugar, pumpkin pie spice, apple cider vinegar, and roasted pumpkin seeds.
Muffins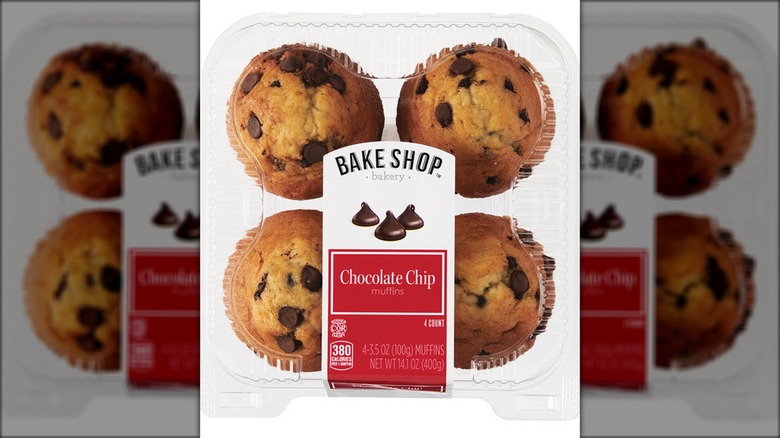 Aldi
Aldi generally has a couple of types of regular-sized and mini muffins available in the bakery section of the store from the Bake Shop brand. However, they tend to be boring, safe bets like blueberry muffins and chocolate chip muffins. We'd love to see some more creative, fall-themed muffins show up as the days get shorter and the weather cools off.
Of course, the idea of pumpkin muffins is likely at the top of the list for pumpkin spice lovers. However, that's not the only way the store could commemorate the season with new muffin varieties. We also like the idea of apple pie muffins or even pecan pie muffins since everyone knows that pumpkin pie isn't the only popular fall pie. Another apple-based fall treat that could be made into a muffin is caramel apples. Our vision for caramel apple muffins includes real chunks of apple, cinnamon, swirls of caramel inside, and a yummy streusel topping. Ginger pear muffins would be a nice change of pace. Cranberry and orange muffins are also some we'd like to make an appearance in the bakery aisle.
Hummus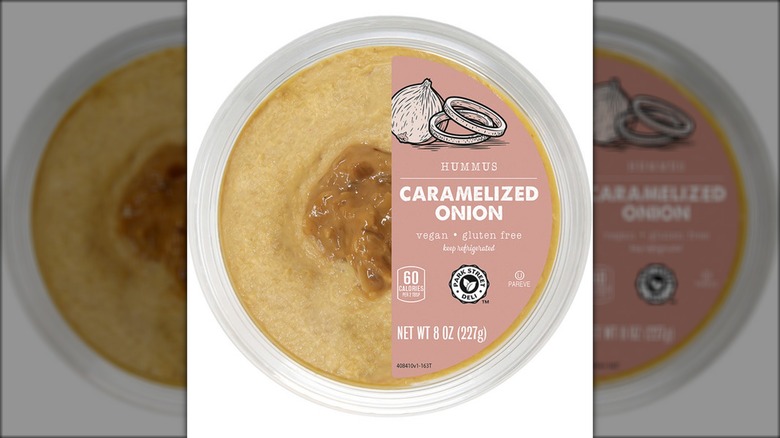 Aldi
Aldi sells a surprising number of hummuses, most of which are from the Park Street Deli. While you can get your hummus blended or topped with everything from red pepper and garlic to pine nuts and caramelized onion, there aren't any that scream "fall." To autumnize hummus, we think the best option is to add pumpkin or butternut squash purée, along with appropriate toppings and spices.
The one we'd like to see is a roasted pumpkin hummus variety. The most basic version just adds cumin and puréed, roasted pumpkin into the mix. However, we'd love to see some with special fall-themed toppings like pomegranate seeds and roasted pumpkin seeds. You could go in a sweeter direction with roasted garlic and rosemary pumpkin hummus. In addition to pumpkin, roasted garlic, and fresh rosemary, it would contain a bit of maple syrup. If the chain preferred to use something other than pumpkin, it could offer butternut squash hummus, which would contain ingredients like butternut squash purée, cinnamon, cumin, and smoked paprika. Pine nuts would be a great topping choice for this one.
Hot chocolate
When Mashed interviewed people about their favorite fall drink, it wasn't all pumpkin spice lattes, as you might think. The favorite was actually hot chocolate. So, as the temperatures drop in the fall, you'll start seeing Beaumont hot cocoa show up in stores again. You can buy it both with and without marshmallows. However, what we'd like to see are some more interesting versions to put a kick in our hot fall drinks. Swiss Miss has a salted caramel hot chocolate that's a big hit. It also has a very popular pumpkin spice hot chocolate. We wish Aldi would get similar fall hot chocolate flavors so customers can have more options to enjoy.
We also like the idea of the store getting spiced hot chocolate for fall that would have a little heat to the drink. In addition to spices like cinnamon and nutmeg, it would have a little chili powder, and maybe even some cayenne if we're lucky. We'd especially love to see it show up at the end of October since spicy hot chocolate is a traditional drink for the Day of the Dead.
Brie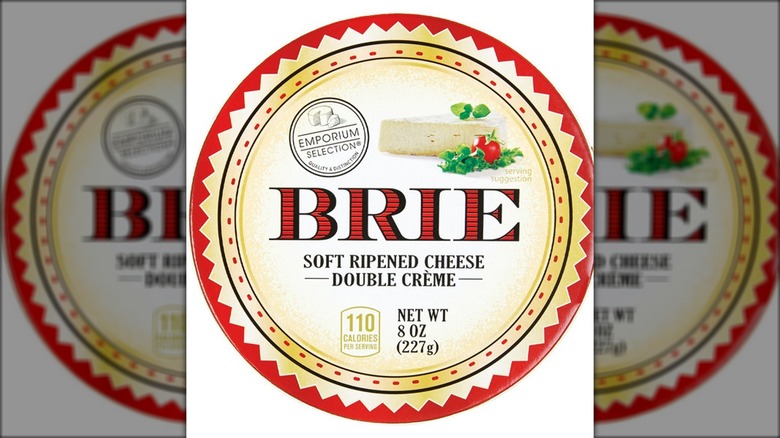 Aldi
Brie is one of those cheeses that begs to be served with or baked with other ingredients. As such, we love the idea of Aldi offering a fall brie kit with extra fall-centric ingredients, and instructions on how to turn an ordinary piece of brie into a culinary work of art. These would be especially good to grab for fall party appetizers that require a minimum amount of work to construct.
The store could offer a baked brie kit with pecans and apples. It would include sliced apples, pecans, and a cinnamon, maple, and brown sugar glaze that you could pop in the oven atop the brie. Another option might be a sparkling cranberry brie bites kit that would come with brie, sugared cranberries, honey, and French bread. Another option might be for the chain to offer brie en croute kits which would come with pastry dough for enclosing the brie with autumnal ingredients. It might come with a side of fig jam or ingredients you could add inside the pastry with the brie, like apples, cinnamon, brown sugar, and pecans.
Danishes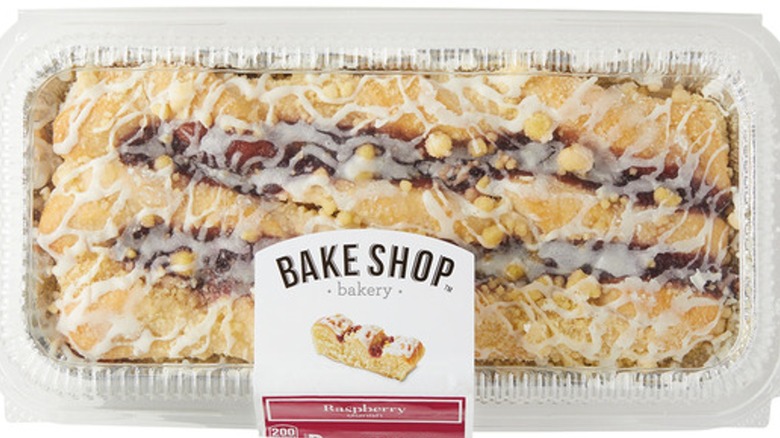 Aldi
Bake Shop brand Danishes are a staple in the bakery section at Aldi. You'll normally find classic flavors like cheese, raspberry, and strawberry. However, we'd like to see a few different options in its fall Danish lineup. Since Danishes are one of the best vehicles for all kinds of fall flavor combinations, we have all kinds of ideas for fall Danish options.
Probably the most obvious fall option would be a pumpkin cream cheese Danish. Fall is also apple season, and apple Danish options could include cinnamon apple and caramel apple. Salted caramel Danishes or perhaps even salted caramel mocha would be a good option. Fall nuts would work well in Danishes, and we think maple pecan or butter pecan would be tasty. Or perhaps it could offer chocolate hazelnut Danishes. For more fall fruit options, the store could try a pear and cream cheese Danish or a fig and cream cheese one.
Cakes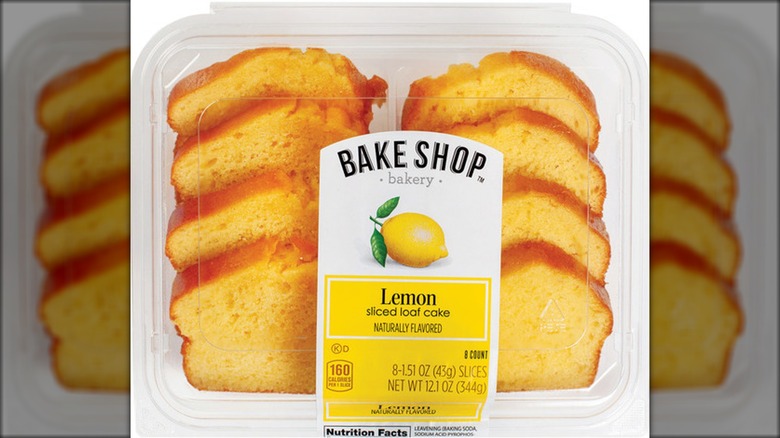 Aldi
We've seen a few bakery cake options like lemon cake slices, but they're rarely as exciting as the frozen cakes you can get like the Specially Selected German luxury cake with marzipan mousse. The main difference seems to be that the frozen ones have frosting layers. In 2022, Aldi offered a mini pumpkin pecan Bundt cake along with a mini maple brown sugar Bundt cake. However, we think Aldi can do better than that, especially for those of us who don't think it's a real cake unless it has loads of frosting.
Among the bakery cakes, it could add a cranberry and orange coffee cake, a simple apple cake, a brown butter chai spice cake, or an apple cider donut cake. We also like the idea of a pumpkin rum cake like the one Ree Drummond makes in the fall of the year. In the frozen cake section, we'd like to see carrot cake and pumpkin cream cheese cakes. While many people find candy corn to be the candy abomination of the season, we still think plenty of people would buy a color-layered candy corn cake. A pumpkin spice latte cake would go over well, too.
Trail mix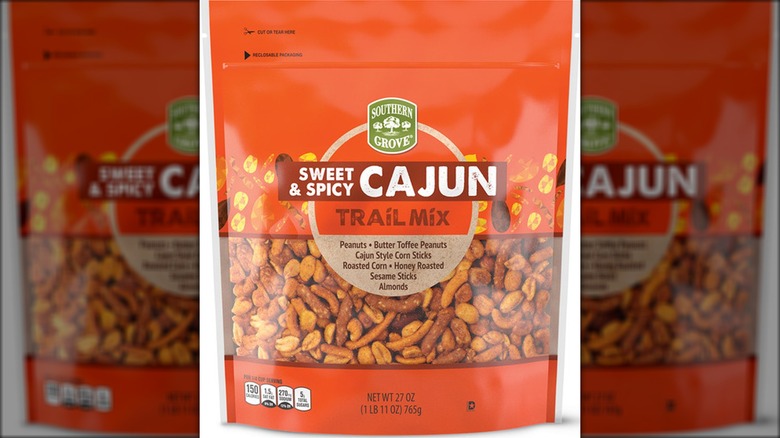 Aldi
Aldi carries a large number of Southern Grove trail mixes, and they come with a wide variety of ingredients and flavors to satisfy all your trail-snacking preferences. They vary from tropical or mountain trail mix flavors to ones with Cajun or Asian flavors. Kroger sells a lovely autumn spice trail mix that has a couple of ingredients we'd like to see in a trail mix, like autumn-spiced nuts and dried cranberries. However, we think Aldi could do it better.
Ingredients we envision in the perfect Aldi autumn trail mix include toasted pecans, roasted pumpkin seeds, and sunflower seeds among the nuts and seeds. The nuts might even have maple glaze. We'd also like to see a lot of colorful dried fruits like dried cranberries, dried apricots, dried cherries, and dried golden raisins. It might even have butterscotch chips or white chocolate chips. If it has a flavored seasoning, pumpkin spice would work beautifully.
The fall cheese lineup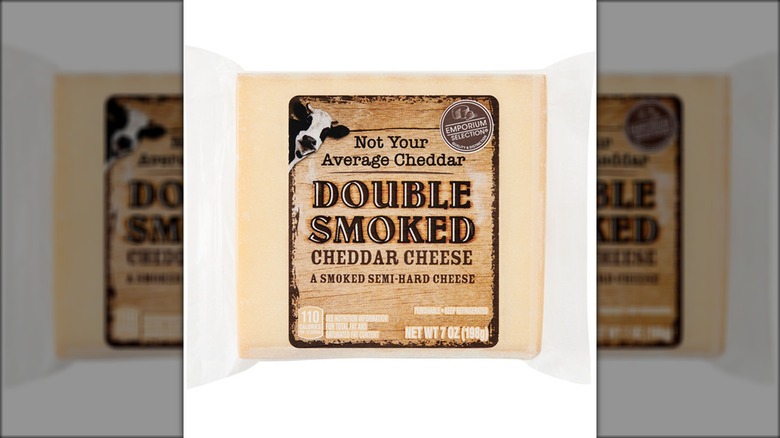 Aldi
In the past few years, Aldi has occasionally put out seasonal or holiday cheese lineups. For example, it had a Halloween cheese lineup in 2021 that included sage derby, pumpkin spice Wensleydale, bat knit crazy cheddar (aged cheese), and no rest for the wicked Wensleydale cheeses (including strawberry and prosecco). While we liked the idea of Halloween-themed cheeses, none of these tempted us into making a purchase. There are a lot of flavors that go well with cheese that we'd like to see them try instead for a fall cheese lineup.
Some specialty fall cheeses we think would work well include maple-marbled cheddar, cranberry Wensleydale, maple and caramel bourbon cheddar, or ginger spice Gouda. An interesting cheese variety Aldi could offer in the fall is gjetost, which is a Norwegian goat cheese that has a caramel-like flavor. Why couldn't the chain offer some fall cheese balls, too? We think a good one would be a pomegranate and pecan cheddar cheese ball, and a balsamic fig cheese ball could be interesting. We also like imagining a cranberry and pistachio cheese ball in the fall cheese lineup.
Ice cream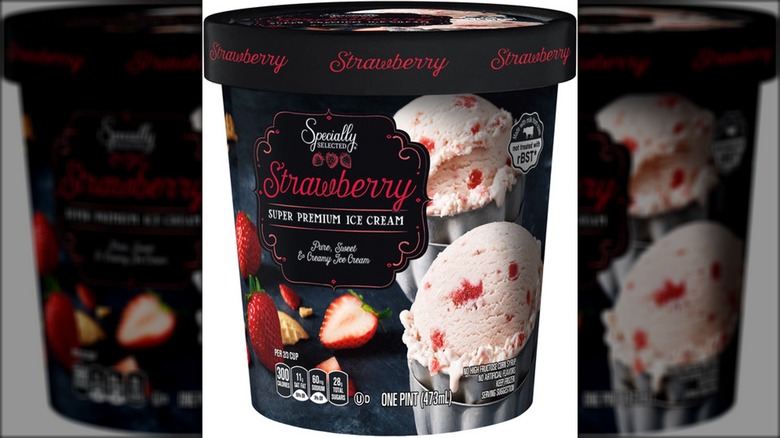 Aldi
Aldi stocks a lot of ice cream flavors, and ice cream is always a great place to add fall flair. In 2022, it offered pints of pumpkin spice ice cream and apple cinnamon ice cream. While these flavors are a good start, we'd like to see even more fall ice cream flavors among the standards of vanilla, chocolate, and mint chocolate chip. Any fall dessert can become an ice cream flavor, so there's no end of ideas for what could become an ice cream flavor.
Some great fall ice cream flavors inspired by fall desserts include pumpkin cheesecake, snickerdoodle, caramel apple, pecan pie, and bourbon apple pie. Some other flavor options include ginger pear, butter pecan, bourbon chocolate chip, cinnamon dolce, cranberry ripple, rum raisin, caramelized fig, apple butter, and salted caramel. It would also be interesting to see the chain feature fall fruits like pomegranates or persimmons in its ice cream lineup.
Frozen pasta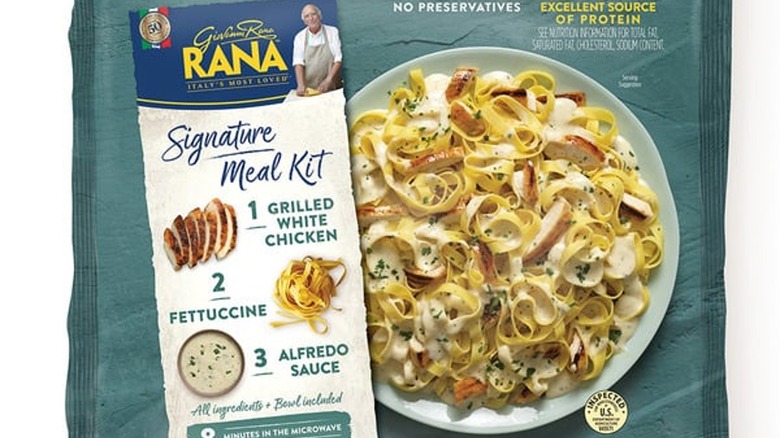 Aldi
Aldi's frozen food section often contains premade pasta offerings that make it easy to get a meal on the table in mere minutes. You're likely to find options like chicken fettuccine alfredo ready to thaw on the stovetop or cook in the microwave. However, we'd like to see some fall-themed pasta show up among the frozen food this year.
The fall pasta dish we'd most like to see available is a savory pumpkin pasta. The sauce would feature pumpkin purée, coconut milk, and tomato sauce, with fresh herbs like sage and thyme. Pumpkin bacon carbonara is another way to use pumpkin purée as part of the pasta sauce. To continue with the pumpkin theme, the chain could offer pumpkin ravioli with a sauce featuring brown butter, parmesan, and pine nuts. We could also go for a fall pasta with roasted butternut squash, sausage, kale, and parmesan. Some other fall frozen pasta options could include gnocchi with sage butter, and butternut squash mac and cheese.
Macarons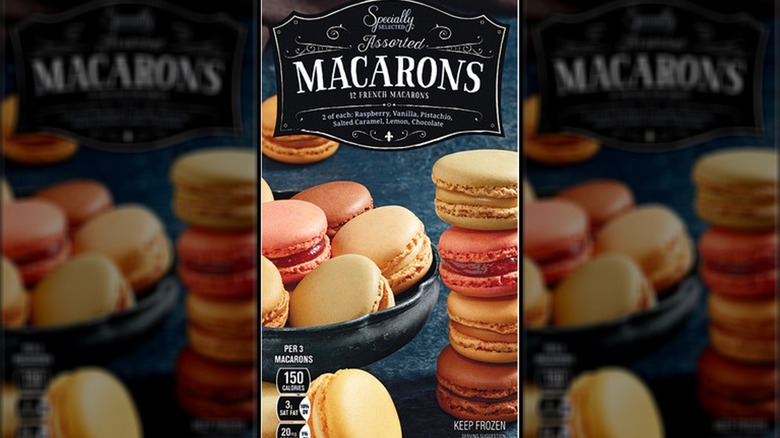 Aldi
An excellent Aldi product candidate for a autumn makeover is macarons. If you visit the frozen-food section at Aldi, you can sometimes find a box of Specially Selected macarons. Some of the flavors already available like pistachio and salted caramel could stay for fall. However, we'd like to see a box that was completely fall-themed.
While most fall dessert fans would love to see a pumpkin spice or pumpkin cheesecake macaron in the box, pumpkin isn't the only option on the table. Some macaron flavor possibilities that echo the flavors of fall dessert favorites include apple pie, snickerdoodle, carrot cake, and s'mores. Fall fruit inspirations include cranberry, ginger pear, fig, and cardamom flavors. Some of the richer flavors that the store could include would be flavors like toffee, maple, butterscotch, hazelnut mocha, chocolate cinnamon, spiced pecan, or chai spice. You can sometimes also find macaron ice cream sandwiches in the frozen food area not far from the regular macarons. We imagine that any of the fall flavors we mentioned would make a great macaron ice cream sandwich.