TikTok's Viral Halloween Cheesecake Features A Festive Cookie Crust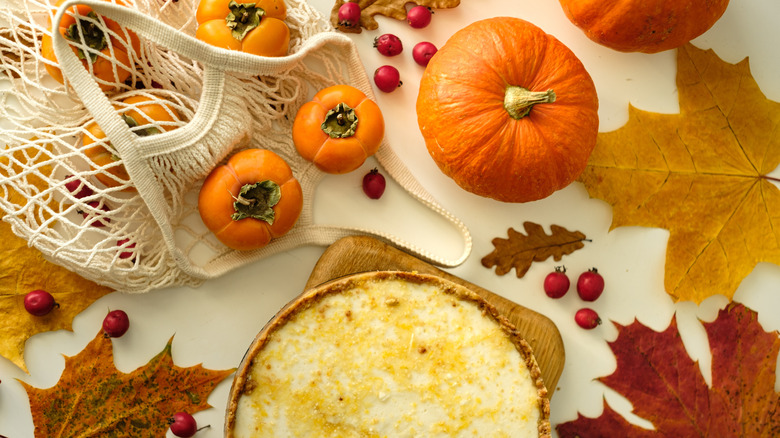 Samoilov/Getty Images
Are you a fall fanatic who's already daydreaming about what you'll bring to this year's Halloween potluck? Well, TikTok has got you covered. It seems like every day, a chef or foodie content creator is taking to TikTok to blow our minds with a brand new way of preparing a favorite food. This time, we're learning how to take the classic Pillsbury ready-to-bake fall-themed sugar cookies and make them into something entirely new.
We all know the look and the taste of those ready-to-bake Pillsbury sugar cookies by heart. There's a new version of the soft, perfectly circular cookie with a printed image every time the seasons change. From chicks for Easter to reindeer for Christmas and even hearts for Valentine's Day, we've seen them all. Still, there's just something about those pumpkins. Every time autumn rolls around, someone is sure to bake up a batch of those pumpkin sugar cookies, and they never fail to warm our hearts with soft, sweet goodness and some welcome nostalgia for Halloweens past. With all of this in mind, who wouldn't want to take Pillsbury's classic fall dessert to the next level this fall?
A recent viral TikTok, which garnered nearly 1.5 million likes just four days after it was posted, proves that we're all ready for the nest phase of pumpkin sugar cookie appreciation. This recipe tests the limits of what we believed those iconic sugar cookies could really be; they make the perfect crust for a flawlessly festive cheesecake.
This cheesecake will rule any Halloween party
The viral TikTok courtesy of @thesqueakymixer shows us how to make an adorable cheesecake crust entirely out of Pillsbury sugar cookies. This cake isn't just crazy cute and downright delicious; it's also easy to make. The creator starts with a nine-inch springform pan that's lightly greased. She covers the bottom of the pan entirely with Pillsbury sugar cookies before baking them at 350 degrees Fahrenheit for about 12 minutes. She uses the pumpkin cookies, but the ghosts are equally cute. Once the base is out of the oven and left to cool, you're ready to whip up the no-bake filling.
Whip one and a quarter cup of heavy whipping cream for around five minutes until it feels like Cool Whip. Separately, use a mixer on 24 ounces of room temperature cream cheese before adding a quarter cup of sour cream, three tablespoons of confectioner's sugar, three quarters of a cup of granulated sugar, two teaspoons of vanilla extract, and a teaspoon and a half of lemon juice. Beat these ingredients together until they're smooth, and then fold in the heavy whipping cream that you prepped. When finished mixing, pour the mixture into the springform pan over the sugar cookies. Wrap with plastic and leave in the fridge for a minimum of three hours or in the freezer for two hours. Add some whipped cream and extra Pillsbury sugar cookies on top for decoration, and you're ready to wow at any upcoming autumn event.