Here's What The Royal Family Eats For Breakfast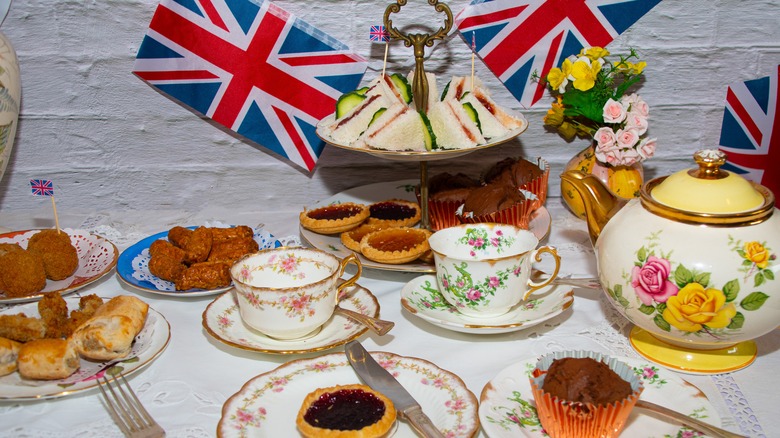 Debra Angel/Shutterstock
When you imagine a day in the life of a member of the royal family, lavish events, diplomatic engagements, and charitable work often come to mind. But before they enter the public eye, they start their day with breakfast like the rest of us. You might be picturing an extravagant feast, complete with butlers and silver trays, but the truth is somewhat more down-to-earth — though undoubtedly still steeped in luxury.
The royal breakfast menu offers an intriguing blend of simplicity and diversity. Whether fueling up for a busy schedule packed with meetings and public appearances or just looking to savor a leisurely morning at one of their residences, each royal has their own go-to breakfast items that set the tone for their day. From nutritious açai bowls filled with antioxidants and vitamins to more indulgent cheesy egg dishes that provide comfort and sustenance, there's a dish to suit every royal palate.
So, if you've ever wondered how to bring a touch of regal elegance to your morning routine — or if you're just curious about what a royal breakfast entails — you're in the right place. In this article, we'll delve into the breakfast habits of various royal family members. You'll learn what they eat, why they eat it, and how you can recreate these dishes to make your mornings a bit more royal.
King Charles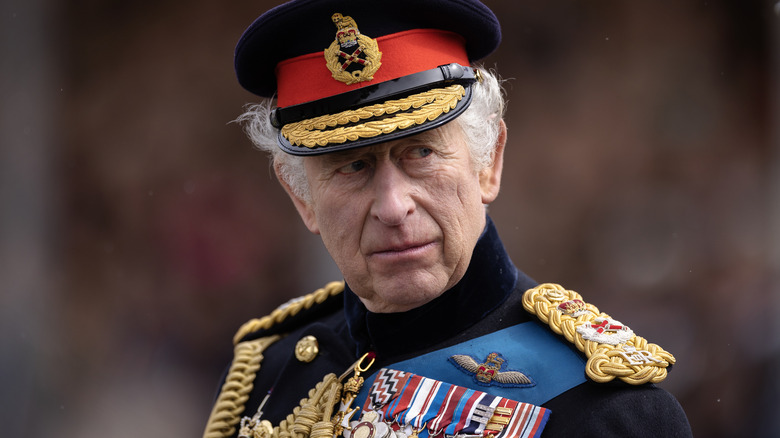 Dan Kitwood/Getty Images
One of King Charles's favorite ways to kick off the day is with cheesy baked eggs, according to a post from the official Clarence House Instagram shared in May 2020. It's a hearty, rich dish that's perfect for brunch, making it a fitting choice for a man whose daily duties often involve strenuous diplomatic and charitable efforts. The King doesn't eat lunch, so he needs a nutrient-dense breakfast to kick off his day. 
But the royal doesn't go all-out on his breakfast every day. On less decadent mornings, the King enjoys a selection of muesli, fresh breads, and an assortment of honey and fruits. Amongst his favorite breakfast fruits are the plums that grow at Highgrove House. His Royal Highness prefers fresh foods over packaged ones, aligning with his public advocacy for environmental sustainability. After all, what King Charles eats isn't merely a dietary choice — it's a statement about his values, which is also why he eats meat-free a couple of days a week. He's long been an advocate of organic farming, having converted Home Farm into a fully organic farm in 1985.
King Charles is so committed to his diet that he carries with him a "breakfast box" when traveling. According to an interview with Chef Graham Newbould in MyLondon, the King's breakfast box has "six different types of honey, some special mueslis, his dried fruit, and anything that's a bit special that he is a bit fussy about."
Queen Camilla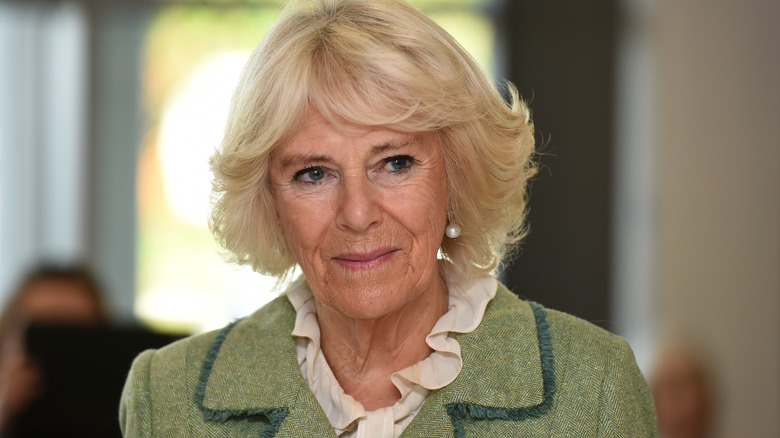 Finnbarr Webster/Getty Images
In 2022, the Queen penned an article about her culinary preferences in You Magazine. In it, she shared extensively about her favorite meals and food memories, such as her fond time spent on the Italian island of Ischia during her childhood holidays, which instilled in Camilla a life-long love of Italian food. Her mornings, however, frequently begin with a British staple breakfast of scrambled eggs and bacon — a no-fuss, satisfying meal of staple British culinary ingredients that provides a protein boost, ideal for a Queen with a demanding schedule filled with charitable work and public engagements. 
Camilla has also incorporated avocados into her breakfast lineup. Initially not a fan, her tastes evolved and now she eats this fruit almost daily. Avocados are rich in healthy fats and offer a different texture and flavor profile that contrast nicely with her more traditional British breakfast items. 
She doesn't always share the King's predilection for fresh food over prepared. One of her favorite start-of-the-day treats is Heinz beans on toast. It's the kind of breakfast that can quickly be put together that provides not just sustenance but also a sense of comfort and nostalgia.
Prince William, Prince of Wales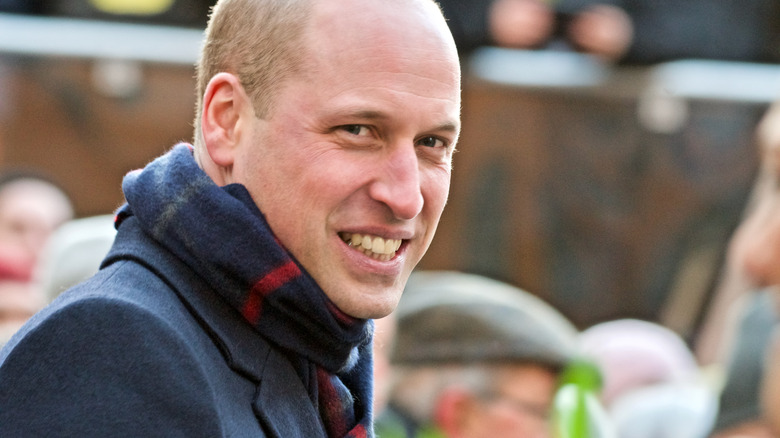 Liv Oeian/Shutterstock
In his younger years, Prince William enjoyed peanut butter & jelly muffins for breakfast, a snack that bridges American and British culinary traditions. As an adult, however, Prince William's breakfast leans toward traditional British fare: sausage, bacon, and eggs, which he says he enjoys cooking at home. These protein-rich foods offer a hearty start to a day filled with royal obligations.
When it comes to beverages, William stays true to British norms with a cup of tea, complete with milk and sugar. He doesn't drink coffee, so sometimes he needs up to three cups of tea to get enough energy to keep up with his three kids. He rounds out his breakfast with buttered wholemeal toast and apple juice, choices that combine simplicity with nutritional balance. Apples seem to be a favorite fruit in the Prince's household, as his three young children also enjoy apples incorporated into their breakfasts.
Kate Middleton, Princess of Wales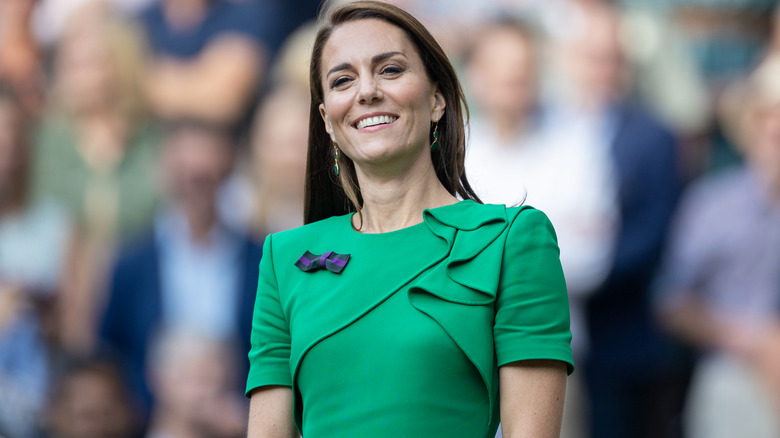 Tim Clayton - Corbis/Getty Images
Starting her day with a bowl of oatmeal, Kate Middleton opts for a breakfast option that's both nutritious and comforting. Oatmeal is rich in beta-glucan fiber and is a slow-release carbohydrate, providing her with the sustained energy she needs to manage a range of royal responsibilities, from public engagements to taking care of her family. It's a straightforward, health-conscious choice that also provides room for variety, as oatmeal can be customized with fruits, nuts, and spices for different flavors and additional nutrients.
Not stopping at oatmeal, the Princess of Wales incorporates smoothies into her morning routine as well. Packed with nutrients, these smoothies can contain anything from leafy greens to fruits providing a quick and efficient way to get essential vitamins and minerals. Kate's smoothies are made with ingredients like kale, spirulina, matcha, spinach, and romaine lettuce. She'll toss blueberries in sometimes as well. Smoothies are also easily digestible, meaning that she can quickly fuel up before she attends to her various royal obligations without feeling weighed down during the day.  They're also a practical choice as she has to be out the door to get the royal children to school.
Prince George, Princess Charlotte, and Prince Louis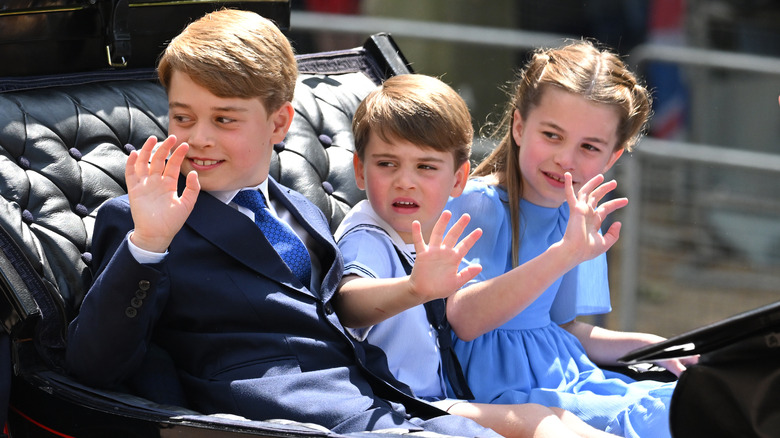 Karwai Tang/Getty Images
When it comes to the younger generation of royals, breakfast is a straightforward affair with an emphasis on fruit, much like the choices of some of their older relatives. During a 2020 school visit, Kate Middleton shared that her children, Prince George, Princess Charlotte, and Prince Louis, are all fans of cereal and apples in the morning. It's no surprise that the kids like cereal — even royal children are still children. They take after their grandmother, the late Queen Elizabeth II, who began her days with a bowl of Kellogg's Special K and an assortment of fruits.
The addition of apples elevates the meal nutritionally and adds a burst of natural sweetness and texture. Apples are rich in fiber and vitamins, making them a great way to add some health benefits to the breakfast table. Diced apples can be effortlessly incorporated into cereal or even added to morning smoothies for a different spin. 
Prince Edward, Duke of Edinburgh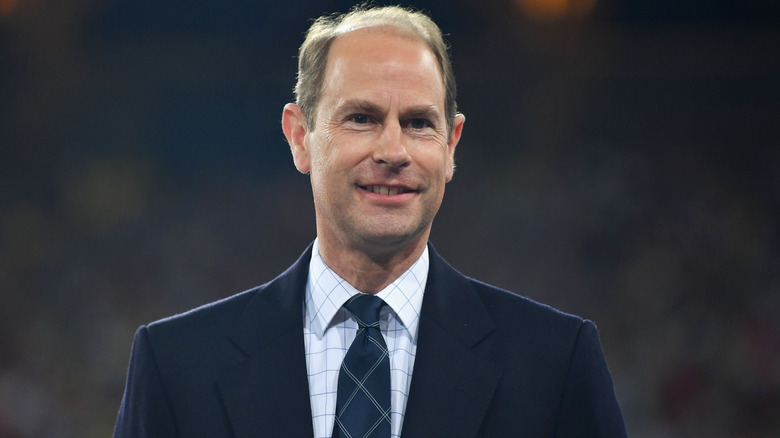 Dan Mullan/Getty Images
For Prince Edward, the Duke of Edinburgh, breakfast is a dairy-rich affair.  Milk, cream, and butter are frequently present on his morning table, underlining a preference for full-bodied flavors and hearty sustenance. Dairy products like these provide a rich source of calcium and other essential nutrients, setting the Duke up for a day of royal engagements and responsibilities. Additionally, an egg usually rounds out his breakfast, offering a dose of protein and completing a meal that is traditional, straightforward, and energizing.
What sets Prince Edward apart from the rest of the royal family is his fondness for a unique treat: the Balmoral Butty. It's not an everyday staple for the Duke, but a special indulgence. While the exact composition can vary, this Scottish-inspired sandwich usually features bacon among its core ingredients, consistent with the royal family's special fondness for this staple of British cuisine. A Scottish butty is rich and flavorful, typically consisting of a big pile of bacon stuffed into white bread and seasoned with condiments like butter or brown sauce.
Sophie Helen Rhys-Jones, Duchess of Edinburgh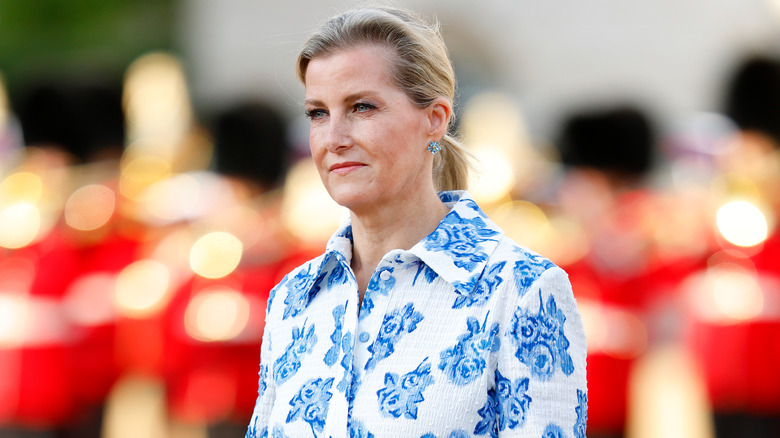 Max Mumby/indigo/Getty Images
Sophie, Duchess of Edinburgh, seems to opt for a morning routine that aligns closely with wellness and nutritional consciousness. She's been seen enjoying berry-rich smoothies, which are not only flavorful but also loaded with antioxidants. Berries like blueberries, strawberries, and raspberries offer a host of health benefits including improved heart health, better skin, and lower cholesterol, per Healthline. Smoothies provide the Duchess with a quick, easily digestible source of essential nutrients, which can be particularly beneficial given the demands of her public role and busy schedule.
Her breakfast choices also complement her broader dietary lifestyle, which is reported to be mostly plant-based, supplemented by lean proteins. Plant-based diets are known for their health benefits, such as lower risks of heart disease, high blood pressure, and certain types of cancers. Lean proteins can come from various sources like fish or chicken, offering a balanced profile of nutrients that can sustain her through a day filled with royal duties.
Princess Anne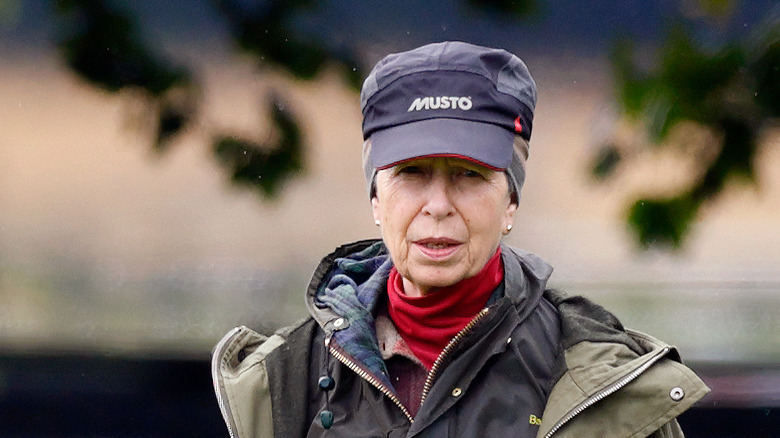 Max Mumby/indigo/Getty Images
When it comes to breakfast, Princess Anne sets herself apart from the rest of the royal family with her choice of overly ripened bananas, almost black with age. Overripe bananas undergo a transformation where their starches convert into sugars, making them incredibly sweet. The natural sugars provide a quick source of energy, which might be a tactical move given her often hectic royal schedule ... or she might simply be the royal with the biggest sweet tooth.
The method by which she eats her bananas is just as unique as her preference for ripeness. According to royal custom, cutlery is always used, even for foods that many would commonly eat with their hands. To eat a banana like a royal, one must cut off the ends, slice the peel down the middle, unpeel it, and then proceed to slice and eat it with utensils. This not only adds a touch of royal etiquette to a simple fruit but also speaks volumes about the ceremonial aspects that are woven into even the most mundane activities for the royals.
Prince Harry, Duke of Sussex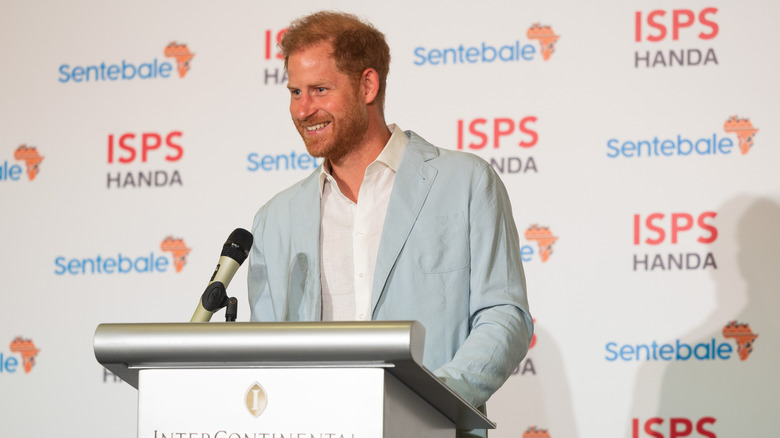 Matt Jelonek/Getty Images
In an interview, the prince said that breakfast is when the royal family gets together, so it's unsurprising that there is some overlap in what William and Harry enjoy eating. Sharing a common interest with his brother William, Prince Harry also enjoyed peanut butter and jelly muffins as a child. One of Harry's other childhood favorites was waffles. 
But it's the Duke's experience with bacon that stands out as a seminal moment. After a trip to Disney as a child, he became enamored with the way Americans cook bacon — generally crispier than the British style. He even went so far as to request that the royal chef prepare it the American way, marking perhaps one of the earliest instances where Harry started to show a preference for doing things a bit differently than traditional royal norms.
As an adult, he has chickens on his property that he rescued from a factory farm, so like many of the other royals, his breakfasts likely include eggs, but his would be picked from his own coop.
Meghan Markle, Duchess of Sussex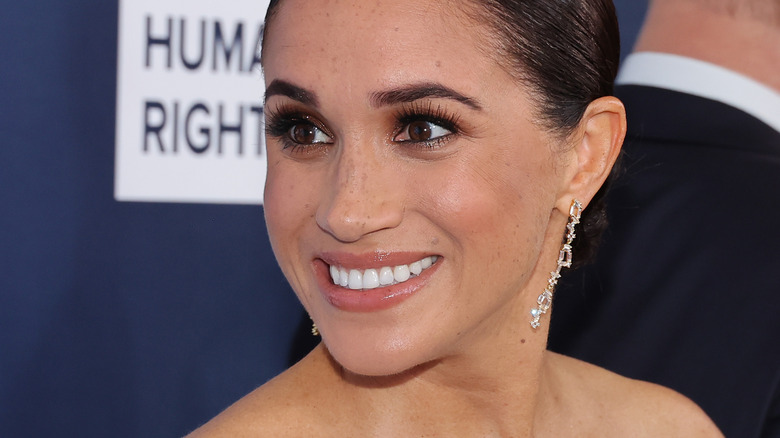 Mike Coppola/Getty Images
Meghan Markle's approach to breakfast reveals a strong preference for foods that are both healthy and easy to prepare. On her Archetypes podcast, the Duchess shared that she loves cooking breakfast for her family because it "feels like the greatest way to start the morning" (via Showbiz Cheatsheet). 
Avocado toast and chia seed pudding are among her favorites, signaling a taste for trendy, nutrient-dense foods. Avocados are rich in healthy fats and fiber, while chia seeds are a good source of omega-3 fatty acids, fiber, protein, calcium, and zinc. 
The Duchess has a specific morning routine, starting her day with hot water and a slice of lemon. This is a classic wellness practice that aims to kick-start digestion and aid hydration. Following this, she opts for steel-cut oats, bananas, and agave syrup. Steel-cut oats are a high-fiber and low-glycemic index option, making them a great choice for sustained energy. Bananas provide natural sweetness and additional fiber, while agave syrup is a popular vegan alternative to honey.
Meghan is also a big fan of açaí bowls, which typically consist of açaí berries blended with other fruits and often topped with granola and honey, making them a rich source of antioxidants and other nutrients. Like her health-conscious sister-in-law, Kate, she's a fan of leafy greens in the morning and sometimes opts for green juice.
Prince Archie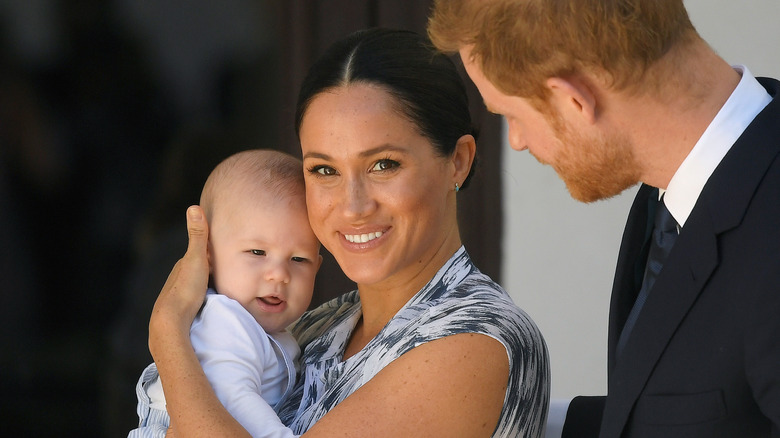 Pool/Getty Images
According to Prince Harry in an appearance on "The Late Late Show with James Corden," his son, Archie, has taken a particular liking to waffles (via Hello!). This revelation adds another layer to the American influence on the Sussex family's breakfast table. Waffles are a staple in American breakfast culture.
The late Queen Elizabeth contributed to this new family tradition by sending Archie a waffle maker as a gift. The waffle maker serves as a culinary bridge of sorts, linking Archie to his British family while he grows up in the United States. 
Waffles don't have to be just a canvas for butter and maple syrup. If you're looking to give the classic breakfast dish a creative twist, the possibilities are endless. While we don't know exactly how Archie dresses up his waffles, Harry said that he typically eats his with yogurt and jam, which is a more nutritious way to sweeten up the dish.
Princess Beatrice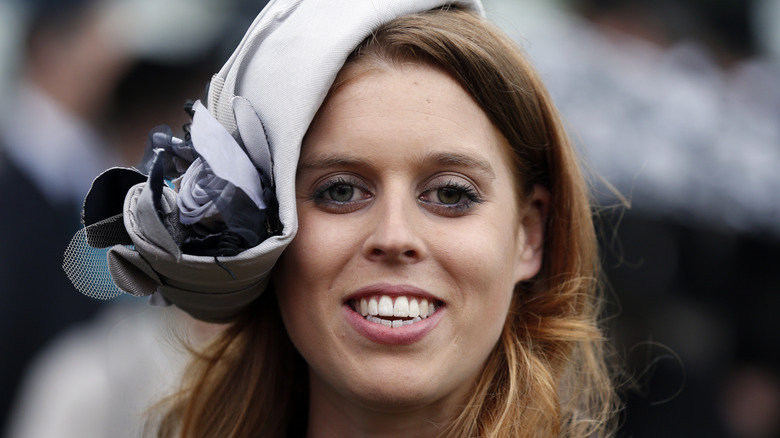 Wpa Pool/Getty Images
For an occasion as grandiose as a royal wedding, the food can be nothing less than exquisite. Princess Beatrice's guests were treated to a lavish breakfast the morning after her wedding to Edoardo Mapelli Mozzi. A meticulously curated spread greeted them, featuring cured sea trout adorned with capers, dill, and lemon. But the feast didn't stop there. The attendees were also treated to a chorizo and ricotta salad — the robust flavor of the meat perfectly complemented the soft richness of the cheese, and it was all tied together with the nutty crunch of toasted quinoa. As if that wasn't enough, the pièce de résistance awaited them: fillet steak.
In the run-up to her big day, Princess Beatrice embraced a wellness journey that saw her consulting with a close friend and nutritionist, Gabriela Peacock. In an interview with Hello!, Gabriela advised to "Opt for a good sized breakfast that will keep you going" She suggested a balanced meal consisting of eggs with vegetables on the side and rye bread or fruit. She also recommended granola and unsweetened yogurt or protein porridge.
Princess Eugenie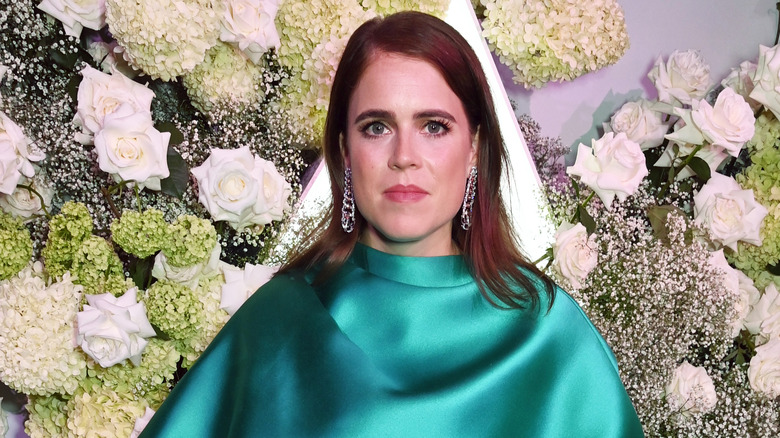 David M. Benett/Getty Images
Like her sister, Princess Eugenie prioritizes her health and wellness but balance seems to be a vital key. She embodies a refreshing blend of everyday joys combined with a penchant for healthier choices, a delightful duality witnessed in her fondness for both croissants and green tea. 
Like everyone else, Princess Eugenie isn't immune to temptation — she works out at a gym that's near a Waitrose supermarket and she's admitted to falling for the warm, buttery allure of freshly baked croissants. Croissants aren't her only temptation. Her royal nuptial foods included crêpes, a nod to how Princess Eugenie and her husband met while on a ski holiday.
Princess Eugenie also relies on a morning staple of coffee to get her through her day. The demands of being a working woman and a royal are vast, and the coffee can help give her an extra bit of pep in her step.