Coconut Muesli Recipe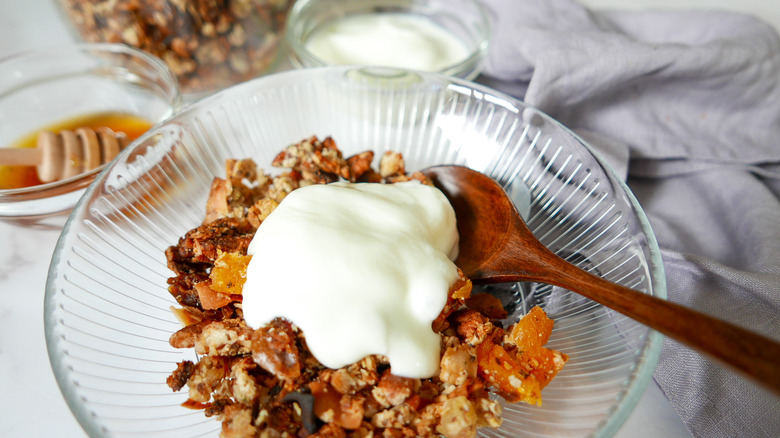 Ting Dalton/Mashed
Wondering what to have for breakfast today? If you've got the time, the answer is coconut muesli, thanks to this recipe from Ting Dalton of Cook Simply at Home. And hey, once you spend the half hour or so to make a batch, you'll have breakfast covered for tomorrow — and the day after that — and the next day, too. "This homemade muesli is crunchy, sweet, and full of great coconut flavor," Dalton says, adding, "I love making a big batch of this and eating it in the mornings with a big dollop of yogurt. It sets me up for the day."
She adds another good point, too: "Rather than shop-bought muesli, you know what you're putting in this recipe — the sweetness comes from the honey, apple sauce, and coconut chips." In other words, this is kind of a "have your cake and eat it too" situation, in that you can have a breakfast that's genuinely healthy and made from stuff you hand-select — and it's genuinely sweet and tasty.
Gather your coconut muesli ingredients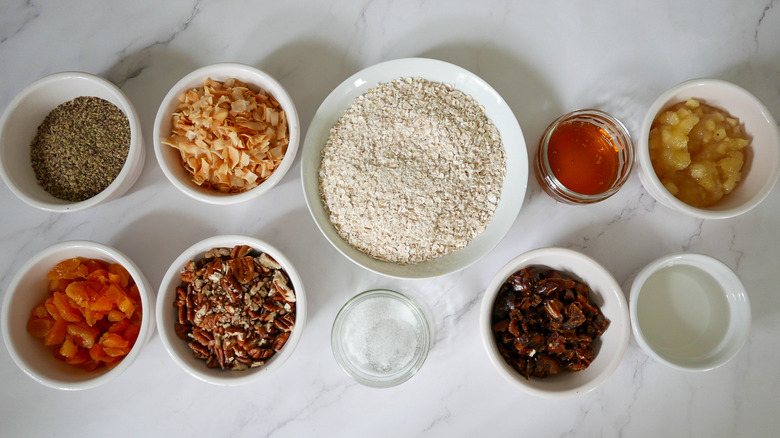 Ting Dalton/Mashed
To prepare this filling and tasty muesli just as Dalton has created it here, you'll need rolled oats, a mix of your favorite seeds (think pumpkin, sesame, chia, flax, etc), roughly chopped pecans, coconut chips, apple sauce, coconut oil, honey, a bit of salt, roughly chopped dates, and roughly chopped dried apricots. You'll also likely want some tasty yogurt to finish it off.
And feel free to experiment. "I've used mixed seeds including pumpkin and flax seeds, which are full of goodness," Dalton says. "I've also used pre-baked coconut chips, but you can use unbaked chips too."
Prepare the wet and dry ingredients separately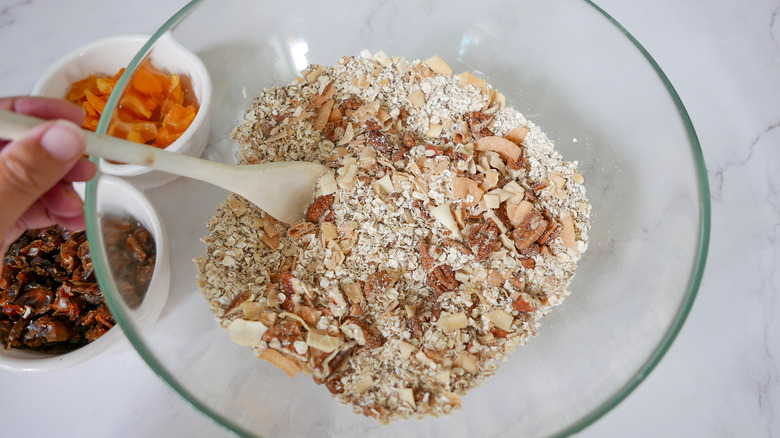 Ting Dalton/Mashed
Start things off by preheating your oven to a modest 280 F. Then get two bowls ready, one of which needs to be a decent size. In this larger bowl, combine the rolled oats, seeds, pecans, and coconut chips, stirring to combine them. Then, in a slightly smaller bowl, combine the apple sauce, honey, coconut oil (heat it so it's melted first), and the salt. Whisk these wet ingredients together well with a fork.
Combine and bake the muesli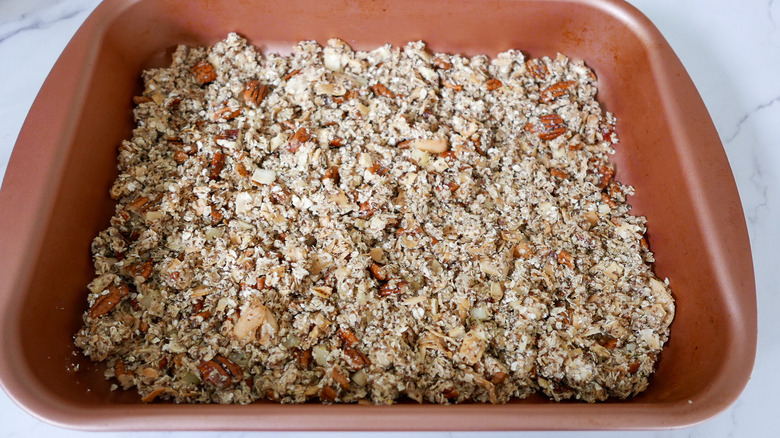 Ting Dalton/Mashed
Next, add those mixed wet ingredients into the larger bowl with the dry ingredients. Toss everything to combine, making sure the dry ingredients get coated evenly with the wet mixture. Then scoop the muesli out onto a large roasting pan (nonstick, lined with parchment paper, or very lightly greased). Pat and press the muesli down into a flat and even layer, then pop it into the warm oven to bake.
Stir in the dried fruit and enjoy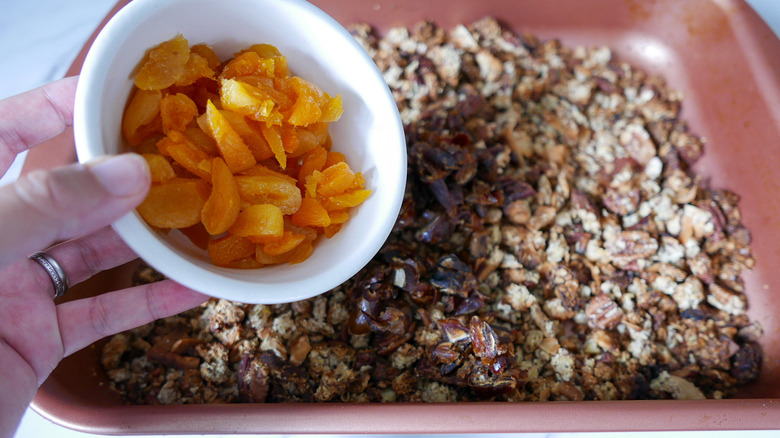 Ting Dalton/Mashed
Bake the muesli in the oven for 20 minutes, carefully reaching in and stirring it once or twice, and then remove the baking dish from the heat. Next, stir in the dried fruit, mixing it in evenly, then let the muesli rest until it has cooled.
"This will keep in an airtight container for up to seven to 10 days — if it last that long," Dalton shares. Serve it atop yogurt, perhaps with a splash of milk to moisten the oats — or soak a portion overnight in the fridge with milk (or juice!) for a softer texture.
Coconut Muesli Recipe
Never buy muesli again: This at-home version is simple, affordable, and tasty. Customize it with your favorite grains, seeds, fruits, and more!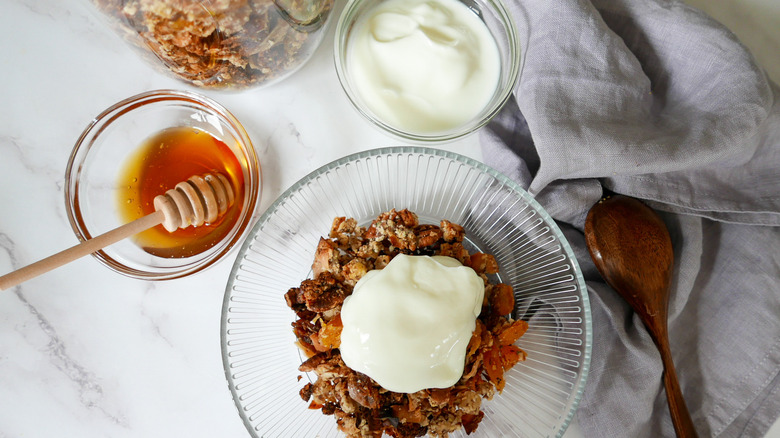 Ingredients
2 cups rolled oats
1 cup mixed seeds (sesame, flax, chia, pumpkin, etc)
1 cup roughly chopped pecans
1 cup coconut chips
1 ¼ cup apple sauce
⅓ cup coconut oil, melted
⅓ cup honey
pinch of salt
1 cup roughly chopped dates
1 cup roughly chopped dried apricots
Directions
Preheat the oven to 280 F
Combine the rolled oats, mixed seeds, pecans, and coconut chips in a large bowl.
Stir together the apple sauce, coconut oil, honey, and salt in a separate bowl, then pour over the dry ingredients. Toss to coat.
Tip everything into a large roasting tray. Pat down the ingredients to form an even layer.
Bake for 20 minutes, stirring occasionally, until golden and crisp.
Remove from the oven, stir through the dried fruit, and leave to cool. Serve atop yogurt or soak in milk or juice to soften.
Nutrition
| | |
| --- | --- |
| Calories per Serving | 551 |
| Total Fat | 31.7 g |
| Saturated Fat | 12.7 g |
| Trans Fat | 0.0 |
| Cholesterol | 0.0 mg |
| | |
| --- | --- |
| Total Carbohydrates | 68.1 g |
| Dietary Fiber | 9.4 g |
| Total Sugars | 44.4 g |
| Sodium | 24.7 mg |
| Protein | 8.6 g |