Jimmy Buffett's Legacy In The Food World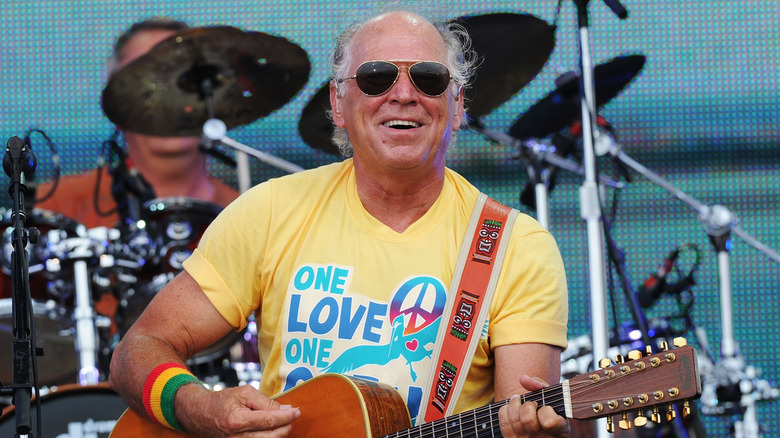 Rick Diamond/Getty Images
To his legions of fans, Jimmy Buffett was revered as the king Parrothead, a carefree troubadour who applied his free-and-easy philosophy to every aspect of his life. His influence extended beyond the world of music, reaching significant milestones in the food industry as his followers grew hungry for living a version of the beachcomber life. Many of his songs centered on the enjoyment of food and drinks. Tunes like "Margaritaville," "Cheeseburger in Paradise," "Boat Drinks," and "5 O'Clock Somewhere" celebrated casual fare and lively libations while expanding our happy hour jargon.
In the course of his five-decade career, he amassed a billion-dollar empire that sent this breezy ocean spirit in unexpected directions. The death of the mayor of Margaritaville brings the opportunity to revisit the impact he had on restaurants, cocktail culture, and packaged snacks. Here are some of the projects that have brought Buffett diehards a taste of paradise. You'll find easy associations with margaritas and cheeseburgers, as well as some sweet surprises that shine a ray of sunshine toward the land of leisurely living. Get your tropical shirt on and explore the food and drink projects that helped turn the crafty entrepreneur into a beach bum billionaire.
Margaritaville Restaurant
Joseph Hendrickson/Shutterstock
The cornerstone enterprise that launched a thousand ship-themed fast casual eateries is, naturally, Margaritaville, a nationwide chain that captured the rollicking soul of Buffett's signature style. Named for his best-known sing-along song, the restaurant boasts 28 locations across North America and five in the Caribbean, allowing fans old and new to savor their own slice of paradise. Every location has its own personality, creating a unique expression of the aesthetic, as YouTuber Eddy Burback discovered when he ate at 22 of the locales in the U.S. (per Boing Boing). Even newbies to the seaside sensibility could enjoy fast casual dining in a space where the accent was firmly on the casual.
The atmosphere may keep things light and festive, but it wasn't entirely smooth sailing getting Margaritaville out of the harbor. A first attempt in Gulf Shores, Alabama in 1985 failed to set sail. A second try in Key West was more successful and introduced a new dimension to the Jimmy Buffett universe. With coastal flavors and juicy cocktails that carry the island motif throughout the menu with supersized screens playing videos of Parrothead favorites, Margaritaville is a plateful of fun that feels like a Jimmy Buffett concert with better food.
Margaritaville Cruises luxury dining
True followers of the Jimmy Buffett philosophy can take to the high seas with Margaritaville at Sea cruises. These luxury liners provide the peak of nautical relaxation, with a laundry list of culinary adventures in tow. Three casual eateries provide line-ups similar to the Margaritaville restaurants, with a Buffett buffet called Port of Indecision continuing the familiar cruise ship trope. Three specialty restaurants serve up pizza, superior steakhouse dishes, and coffee house delights. Cruisers can even order room service for an in-cabin picnic on the water. No matter what the occasion might call for, patrons will find menus offering fine fare prepared with easygoing fun in mind — a sweet distinction from the dining specs on some of the stuffier cruise lines.
And what's a cruise without a generous selection of cocktails to help soften the edges and adjust the attitudes of its guests? Jimmy's ships are home to a nightclub, a dueling piano bar, a lounge with trivia and entertainment, two walk-up bars, and a bar and grill called, not coincidentally, 5 O'Clock Somewhere. With so much refreshment onboard, these floating islands of comfort and chill are like ocean-bound food courts serving culinary coolness in every order.
Margaritaville Casinos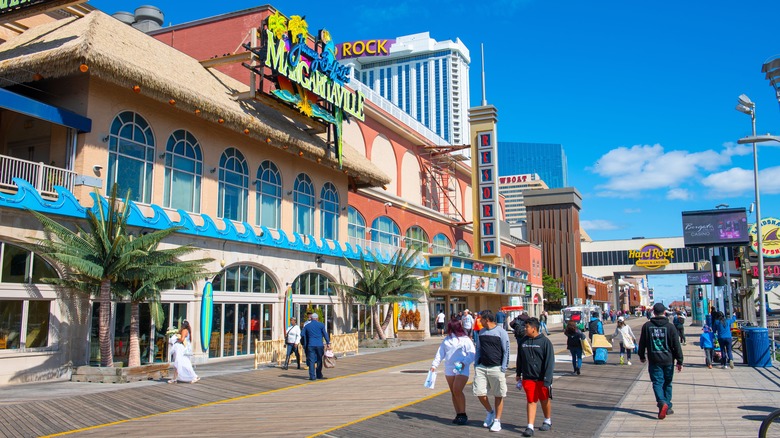 Wangkun Jia/Shutterstock
For gamblers with a taste for high stakes, Margaritaville casinos add big winning action to the laid-back lifestyle. You won't find these gaming halls in the usual places like Las Vegas or Atlantic City. The guitar-strumming businessman located his casinos closer to his original Pascagoula, Mississippi hometown. The Casino in the River Spirit Resort anchors down in Tulsa, Oklahoma, with the bells and whistles of a modern gambling site. The onsite restaurant offers a menu similar to the Margaritaville spread, with bar bites on the table and a bevy of beautiful beach beverages to keep the good times flowing.
Further south, the Margaritaville Resort and Casino helps bring low-key living to Bossier City, Louisiana. This premium hotel and casino combination offers eight Jimmy-themed restaurants for high rollers to spend their winnings on. The cornerstone is Jimmy's Seafood and Steak, an award-winning dining room serving top-tier steak and seafood selections from the nearby Gulf of Mexico. High-quality wines stand in for the usual mixed drinks and beach beers beverage list. This is where Parrotheads trade their boardshorts for khakis, and their surf tees for button-down shirts to take a stroll through the more refined side of their down-to-earth culture.
Cheeseburger in Paradise
To bring the lyrics of one of his most beloved songs to life, the King of Somewhere Hot opened Cheeseburger in Paradise, a burger joint that did its best to make magic with America's mouthwatering fast food specialty. The first spot opened in Indianapolis in 2002, with the company eventually expanding to 23 U.S. locations. The multifaceted menu peppered with more than just beef and buns featured 17 burger options, including a veggie burger that allowed plant-based Buffett lovers to get in on the excitement.
The outlet may not have served up the absolute best burger in the U.S. in its short life, but it took its best shot at joining in on the burger business. Some locations were repurposed as Fuddruckers, a burger chain that has maintained its place on the menu for more than 40 years. If having a cheeseburger in paradise is still on anyone's bucket list, a restaurant in Hawaii that can confidently claim the title of the original Cheeseburger in Paradise can fill the gap. Though the primary location in Lahaina succumbed to the wildfires, a second site in Honolulu is still serving heavenly burgers with all the fixings.
Margaritaville spirits and mixers
When your overall brand is based on a mixed drink, your roster should absolutely include a collection of premium beverages. Jimmy knew this and initiated the most obvious product in the history of obviousness — Margaritaville spirits and drink mixers. A bottled drink line distilled in Mexico by the Sazerac company includes citrusy silver and fruit-forward gold tequilas that add smooth verve to your favorite 'rita recipes. Lazier landlubbers can pour pre-mixed margs, with all the juicy bits already included. For a more direct hit in the tropical region, the line also includes fruit-infused tequilas flavored with coconut, lime, and mango. Sazerac also covers Margaritaville spiced, dark, silver, and coconut rums primed for fabulous potions to enjoy beside the ocean.
The ever-enterprising entertainer also made sure his zero-proof Parrotheads were taken care of. Lime and mango-flavored margarita mixes made by Mott's provide alcohol-free swizzles that let clean-drinking fans sip as they sing along to the soundtrack of supreme slackery. They're perfect for mocktails that recreate the sun-soaked bliss without the brain-bending buzz. No matter what the age or drinking preference of the members of his Caribbean crew, Jimmy Buffett made sure everyone was in on the celebration.
Margaritaville malt beverages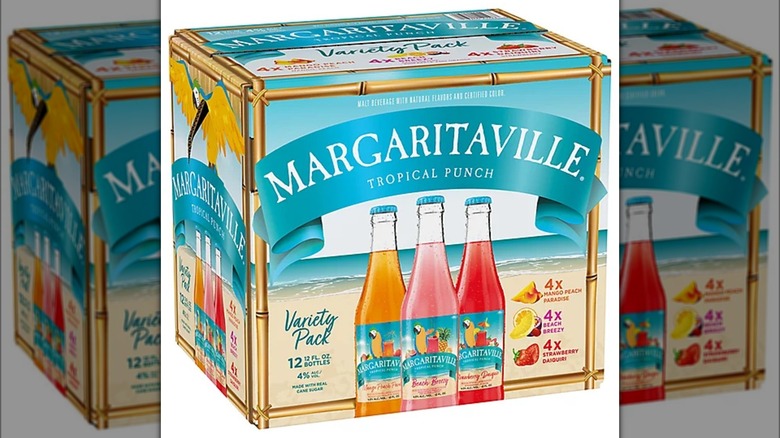 Albertsons
If hanging out poolside in the backyard is as close as you can get to a carefree beach setting, at least you can bring a taste of paradise along with you without needing to hire a bartender. Margaritaville Tropical Punch malt beverages arrived like a sippable message in a bottle to cool down sweltering climes wherever they occur. More like traditional coolers, these drinks tend toward the sweeter side of the lax life, with flavors like mango peach and strawberry daiquiri that bring to mind salty breezes and sandy beaches. All it takes to access this intoxicating inlet to softer shores is a fridge, friends, and a bottle opener.
As with other strategic partnerships in the Margaritaville realm, the company taps into the legacy of drink dynamo Anheuser-Busch for a deep dive, allowing the company to swim alongside well-known names like Seagram. In a strange twist, the Seagram company came to own MCA Records, the label that Jimmy was signed to in the early '90s. The connection ended years before Margaritaville malt hit the market, but it illustrates how the tangled tentacles of the Jimmy Buffett legacy have wrapped around some strange beachfellows.
Landshark Lager and Seltzer
Louis Abate/Getty Images
No food or beverage product in Jimmy's portfolio doesn't reference his songs like LandShark Lager. The name is a nod to "Fins," the concert favorite that inspired Parrotheads to turn into sharks by putting their open palms above their heads like dorsal fins. Though the label claims the lager is crafted by Margaritaville Brewing Company, the website informs visitors that LandShark is actually brewed by Anheuser-Busch. As VinePair explains, the beer producer was looking for a brew to compete against Corona, which Jimmy Buffett promoted in the mid-80s. Bottled beer was a natural addition to the burgeoning beverage catalog, though the difference between beer and cocktails drove the creative minds behind the suds to create a separate brand for the product. After working through a few options, they tapped into the Finhead trend that was already part of the Buffett mythology, and a new brew was born.
LandShark adapted to the ever-evolving beverage industry with LandShark Seltzer, a can filled with fizzy fun courtesy of Waterloo Brewing. Three tropic-friendly flavors, lemon lime, passionfruit strawberry, and pineapple mango, are the mighty Margaritaville empire's effort to cash in on a more urbane beachside drinking crowd.
Frozen drink machines
Amazon
Jimmy was instrumental in turning home bars into cantinas with the Margaritaville line of frozen drink machines. Frozen margaritas can be churned out of these glorified blenders, even if your concoctions run astray from the traditional lime-and-tequila formula. Models run the gamut from single-drink chuggers to virtual bars that serve up three different formulations in a single device. There's no need to spring for a bartender when you have a mechanical countertop craftsman ready to get the good times swinging with the push of a button.
The idea of marketing mixed drink machines to thirsty fans might seem like an easy reach, as well as a bit of a cheesy move for a company that mainly traffics counterculture contrivances in a calypso carnival setting. But the quality of these gadgets is above par, according to users. A USA Today review calls out the Margaritaville drink machine as an obsession-worthy kitchen contraption. Reviewer Samantha Gordon raves about how simple it is to use, saying, "To make a batch of cocktails or mocktails in this beast, it's as easy as using a regular blender — maybe even a little easier." Maybe this contrived concept has sea legs after all.
Tradewinds Island Tea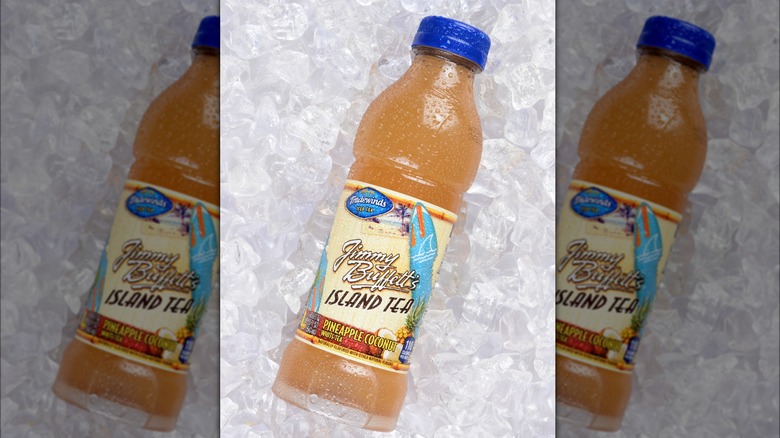 Steve Cukrov/Shutterstock
Crack open a bottle of Tradewinds Island tea to take your tastebuds to the temperate zone, regardless of the weather. Tradewinds, a tea company owned by Purity Organic, captured the refreshing exotic essences in a Southern staple, concocting teas that represent the same as the man who inspired them. Five fruit-filled flavors flesh out the collection, succulent selections like Pineapple Coconut White Tea and Paradise Punch Hibiscus Tea for downhome delight mixed with island home influences.
Connecting with Tradewinds gave Margaritaville Holdings a careful drink company to help bring a more mass-marketable beverage to store shelves. This brand prides itself on creating craft tea, a parallel drawn against the company's craft beer heritage. Natural flavoring and sweeteners help consumers feel even more comfortable getting their sip on, all without a drop of alcohol in the formula. With a focus on Midwestern states as a main market, these teas bring coastal comfort into regions that may not be obvious options for a mega-machine like Margaritaville. Tying the flavors and lifestyle of an easygoing maverick to a traditional regional drink demonstrates the canny know-how that helped the company become a formidable fun factory.
Margaritaville marinades and drink mixes
The Margaritaville madness shows up in the packaged food sector, too. There's practically a pantry full of paradise present in a range of items to help bring the Jimmy Buffett legacy to home kitchens and backyard grilling stations. With on-the-go powdered drink mixes, a simple bottle of water becomes a voyage to Flavortown, filled with the same lime sensation that a Margaritaville margarita is famous for. But the captivating citrus taste is as far as the resemblance goes. These packets have no booze or sugar, making them a low five-calorie indulgence anyone can enjoy. Think of them as an innocent way to escape the grind when imbibing is impossible.
The CEO of casual made sure the culinary celebration continued with a line of packaged foods, condiments, and seasonings as well. Ready-to-cook seafood meals can turn the drudgery of daily dining into a weekday wonderland. And wherever grills get the crowd all fired up, you can add full-blown flavor to your simplest dishes, and turn every plate into a party. Sauces, marinades, and dressings are all on the dock waiting to set sail with your crew, and make your excursions with friends and family even more flavorful.
Margaritaville recipes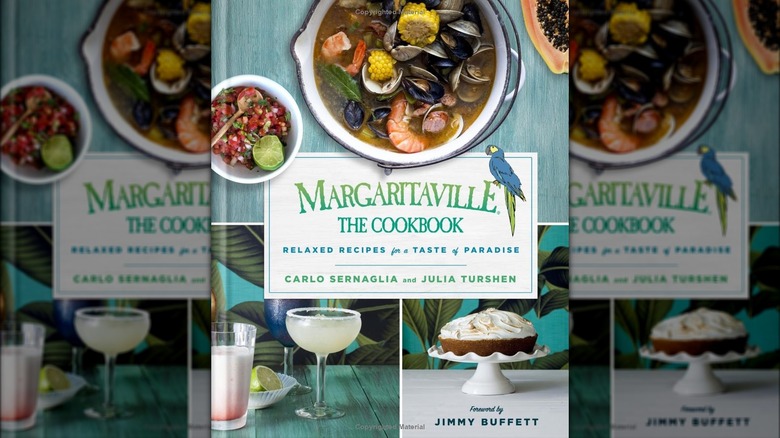 Amazon
You can capture the charm of the restaurant recipes without leaving your own isolated isle thanks to Margaritaville: The Cookbook. Authors Carlo Sernaglia and Julia Turshen aren't simply writers tasked with recreating the eatery's most popular dishes. Sernaglia is the chef who created the concepts for the restaurant, and Turshen is a James Beard award-winning chef. Together, they bring a whopping 125 recipes sanctioned by the brand to a tome that captures the wit and whimsy of the menu's main dishes. Favorites from the Margaritaville table top like Volcano Nachos, as well as internationally inspired creations like Jimmy's Jammin' Jambalaya. Followers without a Margaritaville restaurant nearby can cook up their own version of a seafaring smorgasbord, while dedicated diners can test their kitchen abilities, and make homemade takes on their preferred feasts.
For a free tour around the harbor of happiness, home cooks can also find a collection of recipes on the Margaritaville website. With step-by-step instructions for sliders, burgers, shrimp rolls, and more, party people can plan their own menu from entrées to desserts. There's even a drink collection that includes coffees and smoothies, in addition to the usual suspects found on the sweet tropical beverage scene.
Cocktail guide for boat drinks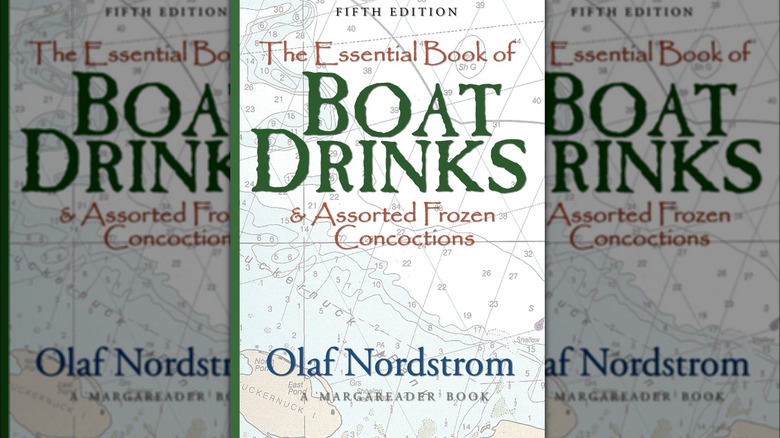 Amazon
Maybe you love the Jimmy Buffett tomfoolery but you're new to the idea of tropical flavors filling your cup. And maybe you're not great at using your intuition or your tastebuds to discern the breakdown of liquor-to-mixer ratios required to make your favorites. Author Olaf Nordstrom comes to the rescue with The Essential Book of Boat Drinks & Assorted Frozen Concoctions, a compendium of colorful possibilities for making your own spirited sloshes. This title was sold exclusively at Margaritaville restaurants and among its online swag collection, but can now be purchased with a simple click of the Amazon app from whatever island you happen to be on. Internet listings for more collectible hardcover editions can be found as well for shoppers who are serious about their Jimmy Buffett memorabilia.
Urban Dictionary defines boat drinks as rum-based concoctions served on sailing vessels to anyone ready to raise a glass. While boat drinks are mandatory to celebrate a life well lived by a true captain of fun and frivolity, the boat itself is purely optional. It's just one more way to carry on the culture the vibrant vagabond created for his ardent admirers to enjoy. Fins up!