3-Ingredient Everything Bagel Recipe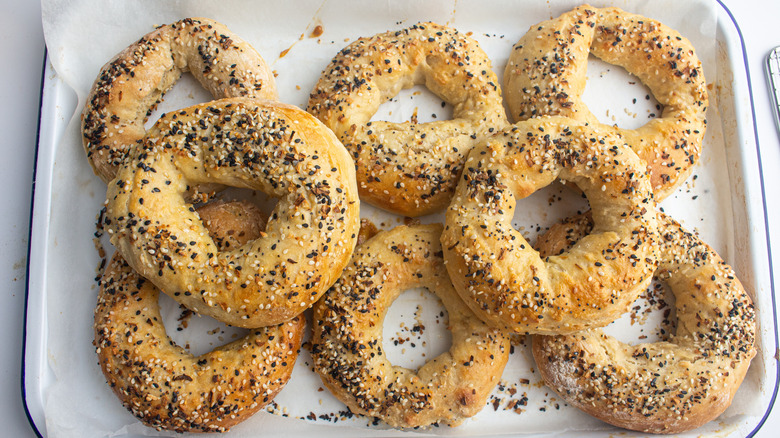 Susan Olayinka/Mashed
If you're hungry for something doughy, filling, and versatile, bagels should be high up on your list of possible options. They have just the right combination of starchy and chewy textures that make them suitable for munching on alone or as the foundation for a sandwich. While you can pop into the store and buy a bag of bagels, unless you are getting them from a bakery, they will usually have extra additives to keep them fresh — not exactly what you always want. Although it might seem like a tricky endeavor to make your own bagels, Susan Olayinka proves that it isn't. Even better, she shows you how to make them with a mere three ingredients.
Olayinka is a Mashed recipe developer and food blogger at The Flexible Fridge, where she shares busy-life-approved recipes that will satisfy the whole family. She adds that she loves "how simple [this recipe] is," remarking that involves "just a couple of ingredients, and it's very easy to make." In 10 minutes, these bagels are oven-ready, and within a half-hour, you'll be serving up a piping hot snack. 
Gather the simple ingredients for these delicious bagels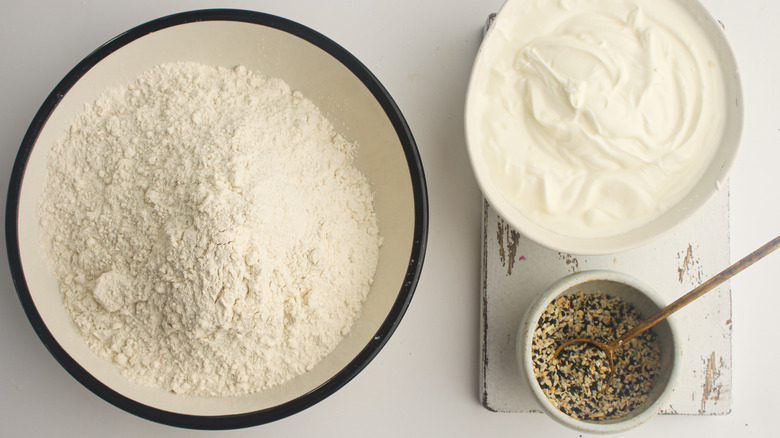 Susan Olayinka/Mashed
Olayinka has developed such an efficient bagel recipe that you will only need three ingredients, including the topping. To keep the preparation simple, Olayinka opts for self-rising flour. If you only have all-purpose flour in your pantry, an easy substitution is to add one and a half teaspoons of baking powder and half a teaspoon of salt to one cup of flour to make an equal amount of self-rising flour. 
Next, you will combine the flour with Greek yogurt, which provides plenty of creamy moisture for blending. Olayinka remarks that "full-fat Greek yogurt works well," so it's best not to skimp on the fat content. Finally, sprinkle some everything bagel seasoning on top of the doughy rings to enhance the flavor. The usual mixture consists of poppy seeds, sesame seeds, dried garlic and onion, and salt. In case you want to add a golden sheen to the bagels, a simple egg wash will do the trick.
Start by combining the flour and the Greek yogurt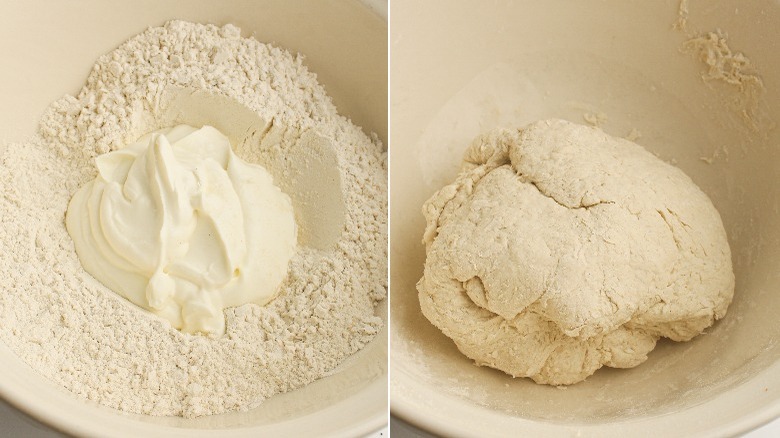 Susan Olayinka/Mashed
The prep for this dough doesn't take long, so be sure to start off by preheating the oven to 375 F so that it reaches temperature by the time you are ready. Next, set out a large mixing bowl and pour in three and a half cups of self-rising flour. Then, scoop two cups of Greek yogurt into the bowl with the flour, and mix the two ingredients with a spatula until they are properly incorporated.
Set the spatula aside and knead the dough in the bowl with your hands. Once you have shaped the dough into a ball, transfer it to a flat surface and keep kneading it for three or four more minutes. Olayinka describes that "the mixture should not be too sticky or dry."
Separate the dough into eight pieces and roll them into cylinders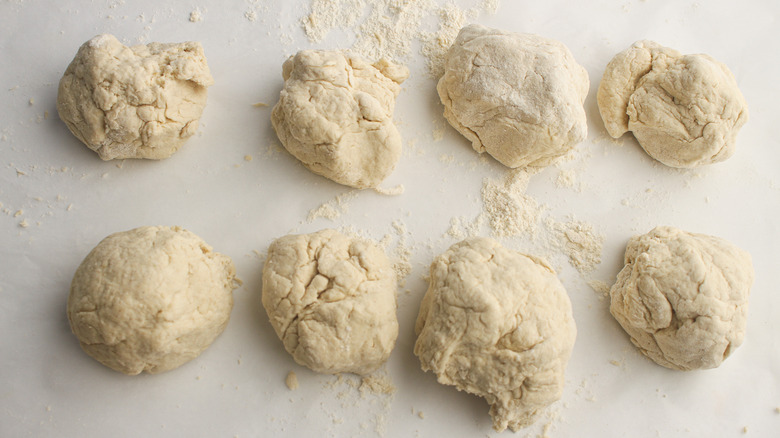 Susan Olayinka/Mashed
Once you have sufficiently kneaded the dough and the texture is neither sticky nor dry to the touch, divide the ball into eight pieces. Each one will be shaped into a bagel, so aim to keep the parts relatively uniform in size. Roll a piece between your hands to form a cylinder approximately four inches in length, and set it aside. Continue with the following seven pieces until you have a total of eight dough cylinders. 
Shape the cylinders into rings and transfer the bagels to a baking sheet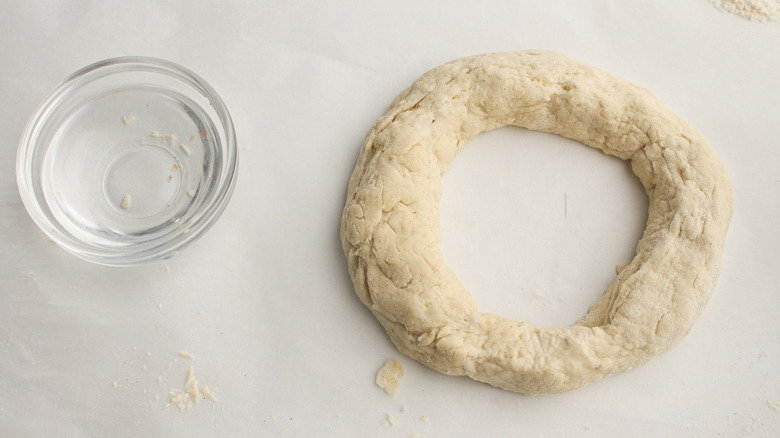 Susan Olayinka/Mashed
At this point, it's time to shape the cylinders into rings to create each bagel. Carefully bring the two ends of the cylinder to join, then pinch the edges to seal them together. Olayinka recommends brushing the edges with water where they connect in order to strengthen the seal. She adds, "Make sure that the holes are big enough, or the bagels will seal up while baking." One by one, repeat the same procedure until you have eight bagels.
Next, line a baking tray with parchment paper, and arrange the bagels on top of the sheet. 
Sprinkle everything bagel seasoning on top and bake the bagels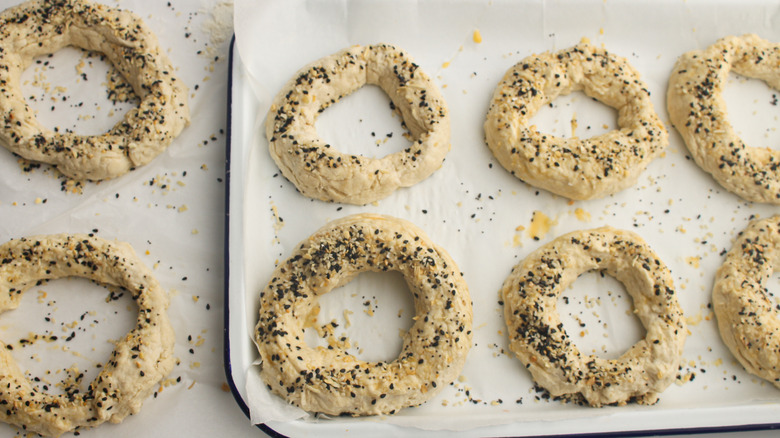 Susan Olayinka/Mashed
If you are planning to use an egg wash to add extra color and shine, brush it over the surface of the bagels to start. Then, sprinkle the bagels evenly with everything bagel seasoning to instantly add loads of flavor. When all of the bagels are dressed, transfer the baking tray to the oven, and set a timer for 18 minutes. Remove them from the oven once they are golden and have puffed up. 
Serve these tasty bagels with your choice of spread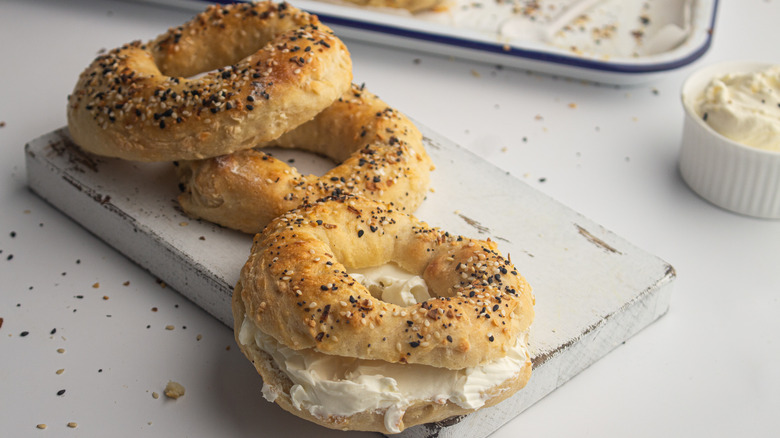 Susan Olayinka/Mashed
Serve these delicious three-ingredient everything bagels hot from the oven as an extra-special treat. Otherwise, they are just as tasty once they have cooled down. Olayinka says her favorite way to enjoy these bagels is "Definitely [with] salmon and cream cheese." Cream cheese is undoubtedly a classic pairing, but thanks to the tasty everything bagel seasoning, butter is another winner. 
To keep these bagels fresh, Olayinka recommends storing them in an "airtight container in a bread bin or sealed in the freezer." You might not get that far once you take your first bite, though!
3-Ingredient Everything Bagel Recipe
If you're hungry for something doughy, filling, and versatile, bagels should be high up on your list of possible options.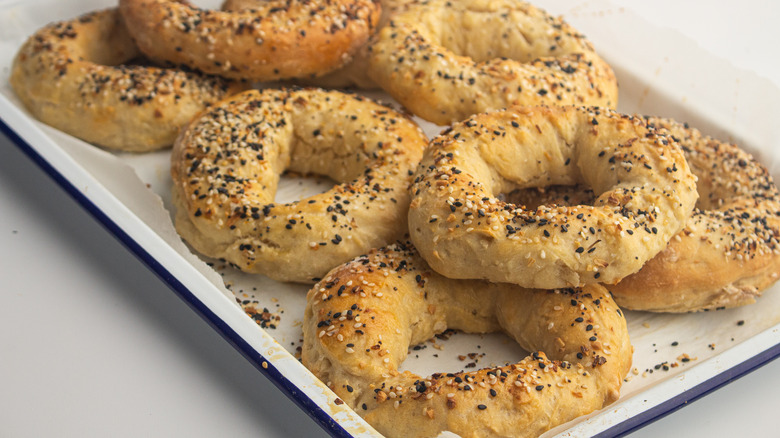 Ingredients
3 ½ cups self-rising flour
2 cups Greek yogurt
1 tablespoon everything bagel seasoning
Optional Ingredients
Directions
Preheat the oven to 375 F.
Pour the self-rising flour into a mixing bowl.
Scoop the Greek yogurt into the same mixing bowl.
Mix the yogurt and flour with a spatula until the ingredients are incorporated. Then, knead the mixture in the mixing bowl with your hands.
Transfer the dough to a flat surface and knead it for another 3 to 4 minutes. The mixture should not be too sticky or dry.
Divide the dough into 8 equal parts and set them aside.
With your hands, roll each piece of dough into a cylinder about 4 inches long.
Join the ends of the dough to form a circle, ensuring that you pinch the edges to seal them. (Make sure that the hole is big enough, or the bagel will seal up while baking.) Brush the seal with water to strengthen it. Repeat the procedure with the remaining dough parts.
Arrange the bagels on a baking tray lined with parchment paper. Optionally, coat the bagels with an egg wash to give them a shiny finish. Top the dough with everything bagel seasoning.
Bake the bagels for 18 minutes
Remove the bagels from the oven and serve them warm.
Nutrition
| | |
| --- | --- |
| Calories per Serving | 258 |
| Total Fat | 4.4 g |
| Saturated Fat | 2.5 g |
| Trans Fat | 0.0 g |
| Cholesterol | 9.6 mg |
| | |
| --- | --- |
| Total Carbohydrates | 43.3 g |
| Dietary Fiber | 1.5 g |
| Total Sugars | 2.5 g |
| Sodium | 686.2 mg |
| Protein | 10.7 g |