The Disney Holiday Treats You Need To Try Before They're Gone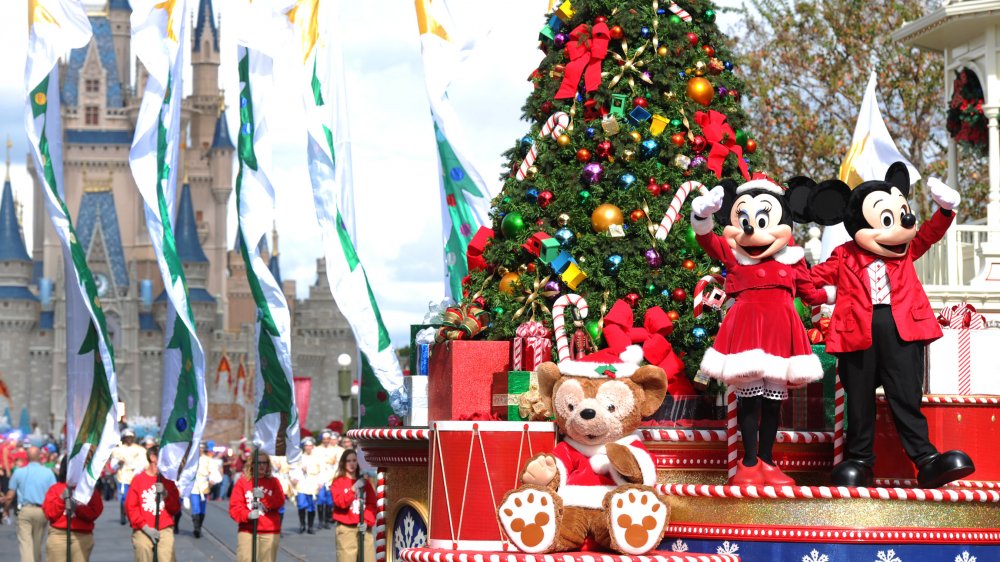 Handout/Getty Images
It's (almost) the most wonderful time of the year at the happiest place on earth, and you know what that means? Holiday parades, carols, light shows, and of course, visits from Santa (though the kids probably can't sit on his lap this year). Although in 2020 the "new happy" might look a little bit different than it has in holiday seasons gone by, the House of Mouse is still going to go all-out for the festive season.
Of course, everyone's favorite part of the whole Thanksgiving/Christmas/Hanukkah/Kwanzaa/Festivus season is the amazing food. Does Disney deliver the goods when it comes to yummy seasonal treats? Does Mickey have big round ears? The Disney Parks Blog recently released a list of this year's holiday treats, any or all of which are going to have you rushing to book a flight to Orlando (or at least really, really wishing you could).
The holiday treats at Magic Kingdom Park and Hollywood Studios
At Disney's Magic Kingdom Park, Disney Parks says there are quite a few amazing-sounding indulgences offered, all available starting on Friday and running through December 30th. There's the Twice Upon a Cupcake, which consists of a vanilla cupcake topped with a frosted Christmas tree and a red velvet hidden Mickey inside. You can also get a Let It Snow Taco (a salted caramel and chocolate mousse-filled sugar cookie "taco" shell), An Orange Bird Christmas (white chocolate mousse with orange curd filling), the Chip and Dale Christmas Churros (gingerbread flavored and topped with apple pie filling and chocolate chips), and a Pistachio Chai Tea Float (where soft-serve meets spiced tea and gets a red velvet cake pop garnish).
At Disney's Hollywood Studios, the new menu items will also available starting Friday, but you can order these through January 4th. There, you'll be able to get a marshmallow-topped Frozen Salted Caramel Hot Chocolate that comes complete with souvenir Mickey Glow, and what goes better with hot chocolate (even the frozen kind) than a cookie? Specifically, a Mickey's Holiday Cookie, which is a white chocolate-encased vanilla butter cookie. You may also want to indulge in a red velvet Holiday Whoopie Pie (the cream cheese frosting's on the inside, as a filling), or Olaf's Snow Flurry, which is a yellow cupcake frosted with vanilla buttercream and flurries of sugary "snow". It also comes with a souvenir glowstick shaped like the snowman whose name it bears.
Disney's holiday offerings at the Animal Kingdom and EPCOT
Right now — and running through the end of November — Disney's s Animal Kingdom is selling a Pumpkin Ice Cream Sandwich made with vanilla ice cream, pumpkin cookies, and fall sprinkles. Staring December 1st and available through the 30th will be a gingerbread-flavored, cream cheese-frosted Menagerie Cupcake that's topped off with a white chocolate bear. December 1st also brings a Santa Mickey Mousse of white chocolate and peppermint on a brownie base, complete with chocolate Mickey ears — you can get these up through January 2nd. There will also be a White–Chocolate Peppermint Cream Cheese Mousse served with peppermint sauce and chocolate cookie crumbles, but this treat will only be available from December 20th through January 2nd.
EPCOT is offering a Spiked Frozen Apple Pie featuring apple pie moonshine, apple juice, and cinnamon. Perfect for ringing in 2021 once the kiddies are in bed, one assumes. If you're looking for treats the whole family can enjoy, your best bet at EPCOT is to visit between November 27th and December 30th for the Taste of Epcot International Festival of the Holidays (via Walt Disney World). One of the many delicious holiday yummies you'll be able to sample there will be a Maple Bûche de Noël — which Disney Parks describes as a Thanksgiving and Christmas mashup of maple mousse and cranberry rolled up inside a gingerbread chiffon cake.