This Is Who Emilia Clarke Hoped Would Win The Great British Baking Show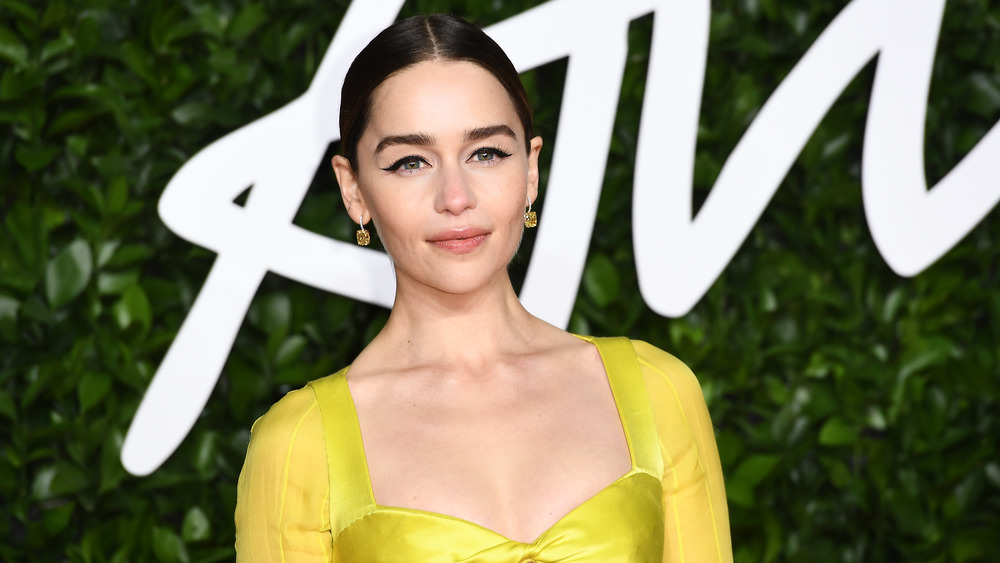 Jeff Spicer/bfc/Getty Images
One of this year's finalists in The Great British Baking Show had a rough year. The latest season was filmed in the middle of the COVID-19 pandemic, so Laura Adlington, the other contestants, and everyone else involved in the show had to isolate in an Essex hotel during the six weeks of filming (via Express). Adlington survived the very first round despite watching her fondant Freddie Mercury melt or explode — it was hard to tell which (via MailOnline). After Adlington made it through the semifinal, online trolls attacked her because they thought she didn't deserve a spot among the final three. The bullying got so bad on Twitter that GBBS judge Paul Hollywood had to step in and tell people to cut it out.
All of this happened to a woman who was on anti-anxiety medication after being diagnosed with general anxiety disorder. Adlington almost didn't apply to be on the show because she didn't think she could handle being a public figure and exposing herself to negative attention.
In the end, Adlington lost to the youngest-ever GBBS winner, 20-year-old college student Peter Sawkins. Despite all this, one message from the Mother of Dragons herself, Emilia Clarke, might have made it all worthwhile.
Emilia Clarke could relate to the baking show finalist's struggles with anxiety
Before the GBBS finale, Game of Thrones star Emilia Clarke sent Adlington a message to let her know she was rooting for her. Clarke might be better known as Daenerys Targaryen, perhaps the most beloved (and in the end, controversial) characters on the HBO series (via Time). Adlington talked about Clarke's message on a recent episode of The Great British Bake Off: An Extra Slice (via Fansided). "Emilia Clarke, mother of Dragons from Game of Thrones, sent me a message," Adlington said. "It just said, 'Laura, me and my friends love you. Thanks for brightening up our lockdown. We hope you win.'"
The actor whose character was nicknamed "Mother of Dragons" for her fire-breathing pet collection coined an equally grand nickname for her favorite GBBS contestant. "I think she called me a 'baking queen'," Adlington said. "So my life is now complete, quite frankly. Friends with Matt Lucas and Emilia Clarke. Doesn't get better than that, does it?" (Lucas is one of the two GBBS hosts, and he just joined the show this season).
No doubt Clarke could empathize with Adlington's struggles in the celebrity spotlight. Clarke has been open about her own anxiety. A panic attack in an airport led her to decide against taking selfies with fans who encounter her in public (via Express).