Egg Casserole Recipe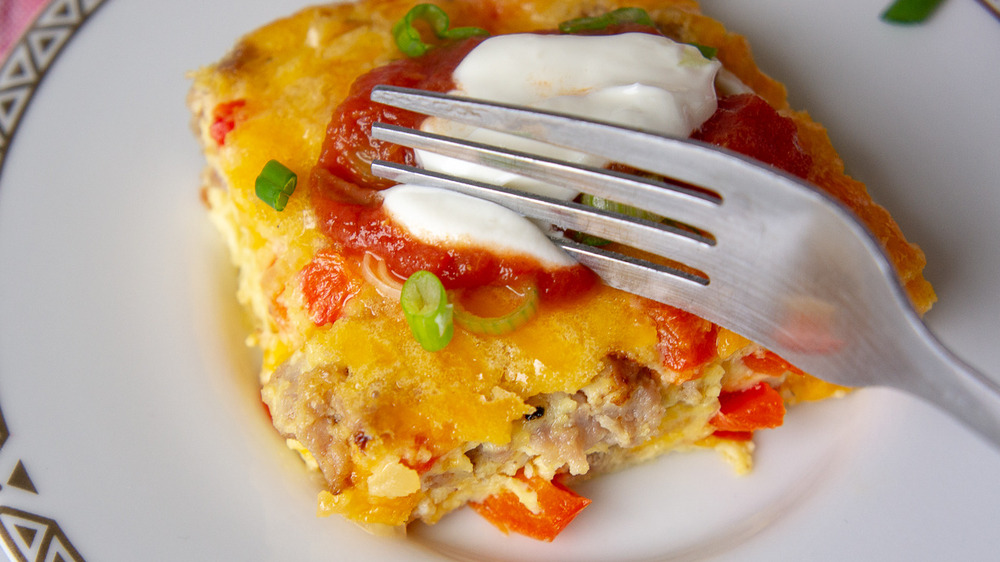 Mikayla Marin/Mashed
When you're cooking for a crowd or simply want to switch things up from the same old scrambled eggs and toast, give a simple yet tasty egg casserole a try. We took some of our favorite ingredients from breakfast and added them into a pan with creamy, seasoned eggs to create a breakfast casserole that eats like an omelet, without any of the bothersome flipping and folding.
The best part is, when it's your turn to whip one up, you can add anything you'd like to it! Go with our suggestions and follow this recipe by Mikayla Marin of The Flour Handprint, or be inspired and use the many helpful tips to customize your egg casserole to suit your family's preferences. This is a delicious and easy way to feed a big family — just one casserole will feed six easily. Or, double the recipe and feed the whole crowd at your next extended family brunch.
Gather your ingredients for egg casserole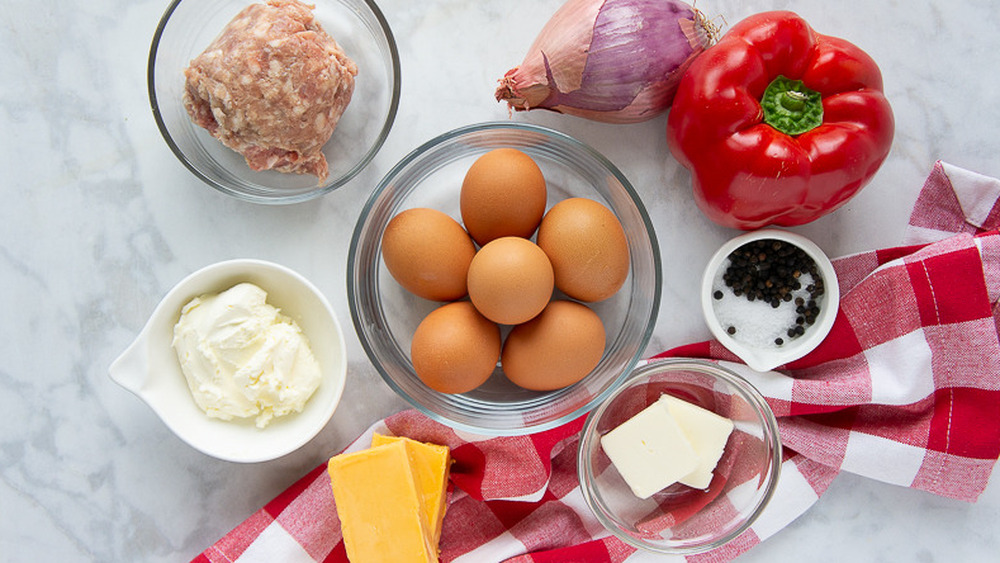 Mikayla Marin/Mashed
An egg casserole, of course, begins with eggs. This recipe calls for a mere half dozen to make an entire 8x8-inch casserole, which is pretty impressive!
Beyond the eggs, you'll need a handful of other ingredients to take this recipe from just baked eggs to a delicious loaded egg casserole. We chose some classic American breakfast ingredients that you could easily spot on any restaurant breakfast menu across the country. Sausage, peppers, cheese, onion, butter, salt, and pepper is all it takes to give this easy breakfast dish so much flavor.
Fresh ingredients pack this egg casserole with flavor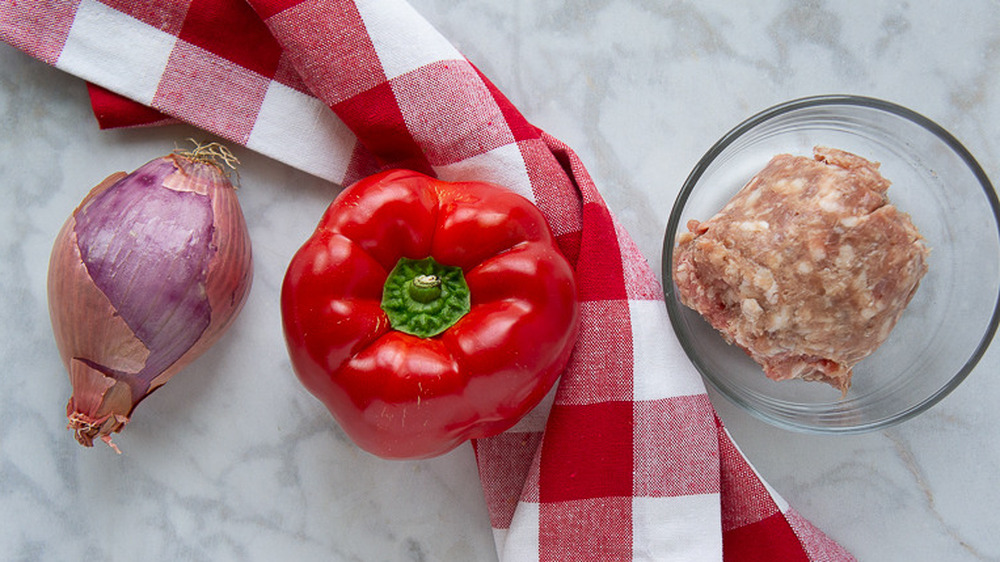 Mikayla Marin/Mashed
There are a lot of different fresh ingredients that you could choose for an egg casserole. For our ideal combination, we chose a classic breakfast sausage, a sweet red bell pepper, and a simple shallot.
Breakfast sausage has that iconic flavor you crave with a breakfast egg dish and crumbles nicely so you get a little bit with every bite. It's then combined with a sweet pepper and shallot, sautéed lightly for tenderness, which complement instead of overwhelm the egg flavor.
If you're more of a bacon person, go for it! Swap in your favorite breakfast meats, or exchange peppers for spinach, kale, or even asparagus.
Creamy elements give this egg casserole the perfect texture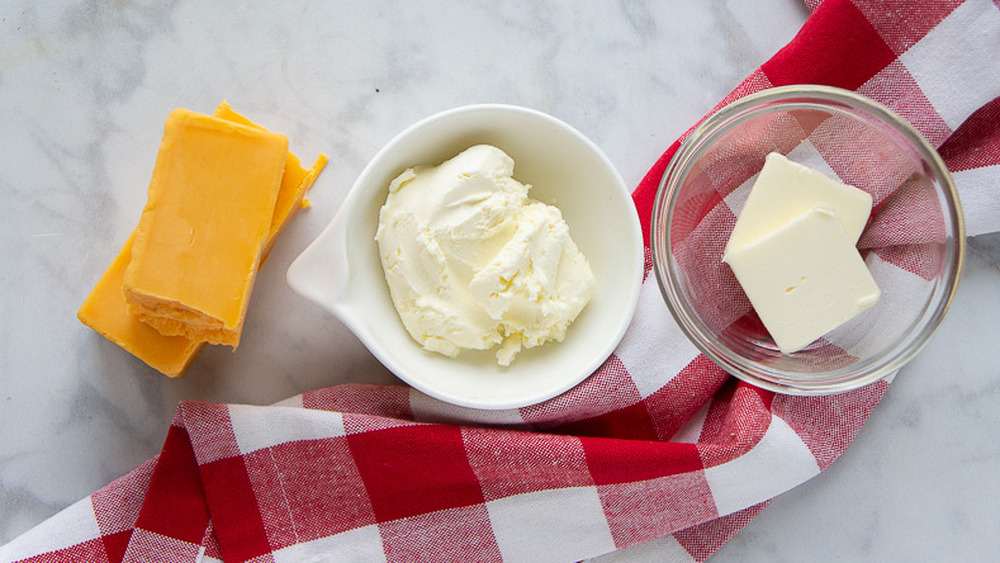 Mikayla Marin/Mashed
There are three additional ingredients you need to make this casserole eggy perfection. One is butter, which you'll use to coat your baking dish, but also mix it into the eggs once melted to add flavor. After all, who doesn't love an egg fried in butter?
Beyond that, there are two cheeses this recipe calls for. A sharp cheddar cheese is mixed into the eggs and even sprinkled across the top. Cheddar is an excellent match with egg dishes, but so are cheeses like Monterey Jack and Swiss. If you choose to swap cheddar for another cheese, just be sure to use a good melting cheese that pairs well with the mix-ins you're adding.
The second cheese is mascarpone, a creamy and smooth, but neutral cheese that resembles cream cheese. When softened and beaten into the eggs, it provides a fluffy texture and creamy flavor to the baked casserole. If you're in need of a substitute, a drained ricotta or small curd cottage cheese, drained of excess liquid, would also work.
Start by prepping the ingredients for egg casserole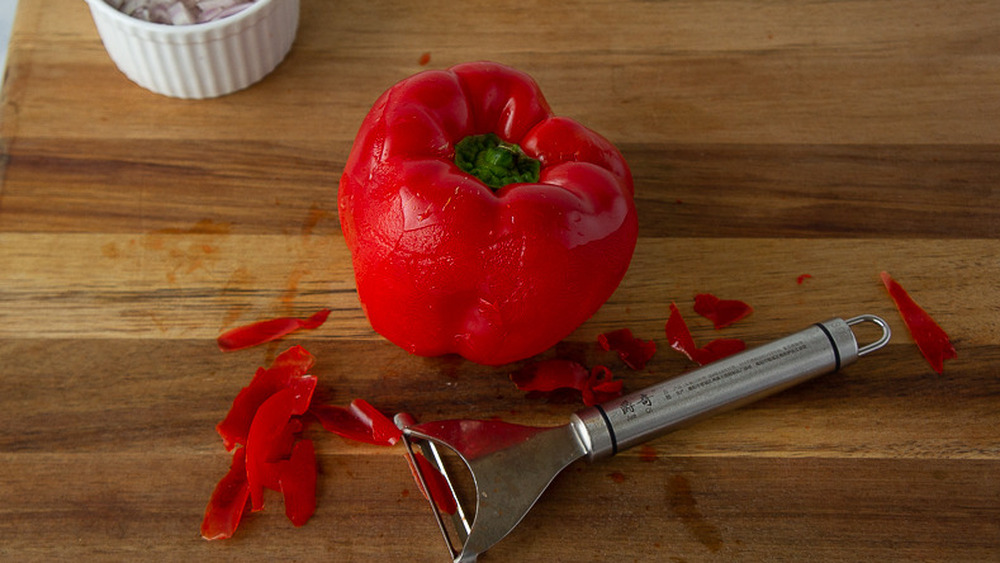 Mikayla Marin/Mashed
Before you get the eggs in the oven (although, preheating your oven to 350 degrees Fahrenheit right now would be a good idea), you have to prep the rest of your ingredients. Start by pulling the mascarpone out and scooping what you need into a bowl to soften. Consider setting this near your preheating oven to speed the softening along.
Then, it's time to prep the veggies. While it's not a necessary step by any means, we like to peel our peppers for dishes like this. Pepper skins are slightly bitter, but when the skin is removed before cooking, the peppers become so tender, they're almost buttery.
It's a small step that can be done in two minutes with a vegetable peeler, and it's well worth it. Once that's done, both the shallot and pepper can be diced, and the cheese grated. Set everything aside.
Brown the sausage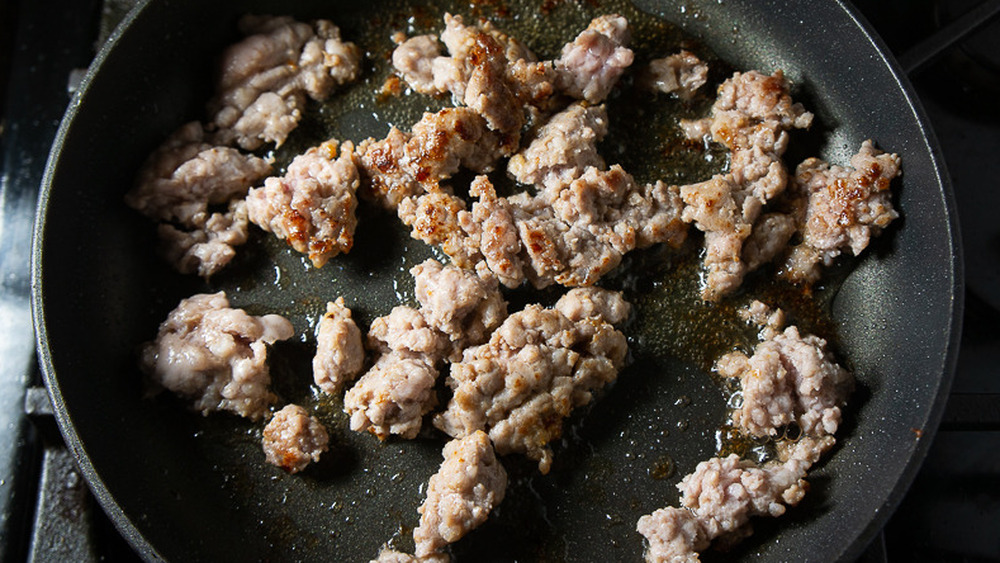 Mikayla Marin/Mashed
One necessary step that can't be skipped if you're adding meat, is to precook it before adding it to the eggs. Most breakfast meats like sausage, bacon, or linguiça have a good amount of fat to them. (That's why they taste so good!) If you add that straight to the eggs, you'd end up with a greasy mess during baking.
Instead, quickly brown the sausage on the stovetop, and move it to a paper towel-lined plate to cool and drain. Be sure to remove any excess grease you can.
It's also important to note what kind of sausage you have. Most breakfast versions come with some sort of pre-seasoning, and adding salt would be too much! But, there are some unseasoned breakfast sausages out there, and you'll want to add a pinch of salt to the meat as it browns if that's what you have.
Cook the veggies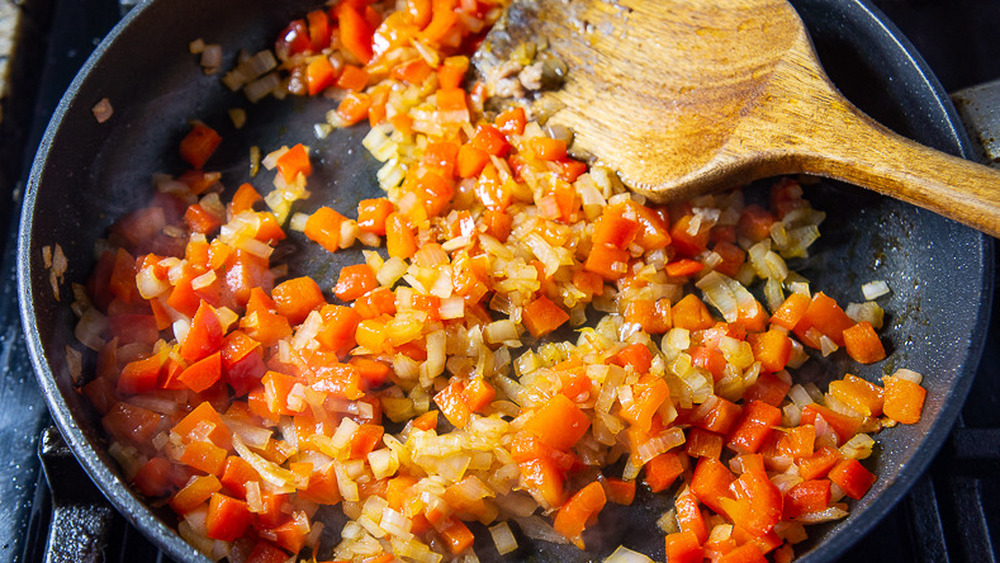 Mikayla Marin/Mashed
It's also a good idea to pre-cook any veggies you're adding. Greens, peppers, onions, or potatoes need a little cooking ahead of time to ensure they're tender and fully cooked when your casserole comes out of the oven. It's very easy to do. Simply add your mix-ins to the residual fat from the sausage. The peppers and shallots are sautéed for just a few minutes, or until they're tender and softened.
If you aren't using a breakfast meat that will naturally provide you with grease for your veggies, swap in a little bit of oil. Whatever you use, make sure all the excess grease is a drained after cooking, then set it all aside.
Whisk the eggs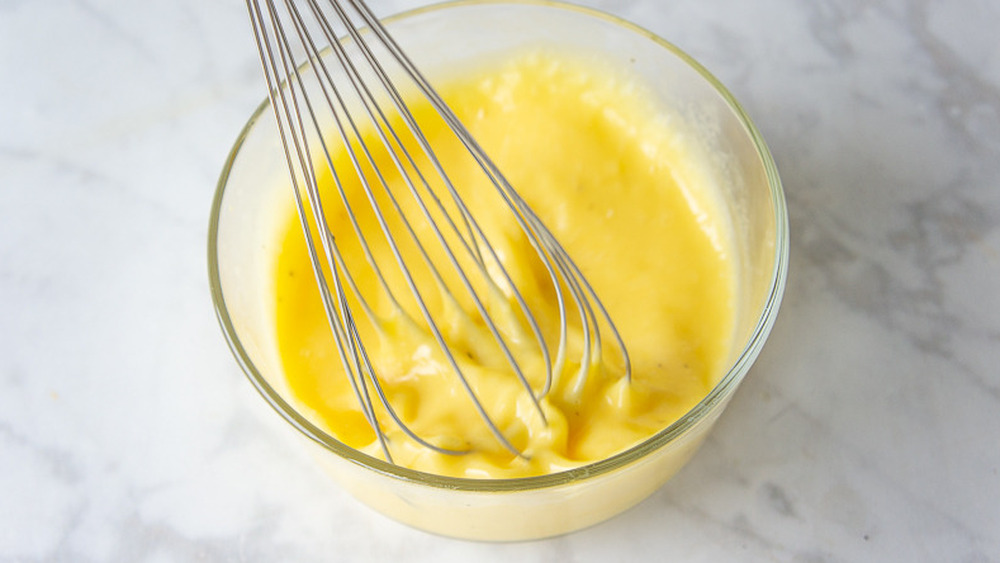 Mikala Marin/Mashed
On to the egg cracking! There are just a few more steps before your casserole is baking away. First, get that butter melted and your pan prepped. We used an 8x8-inch square enameled baking dish, in addition to a simple pastry brush to spread a light coating of the melted butter on the sides and bottom.
Next, get all the eggs cracked into a bowl big enough to whisk in. Beat them until they're well combined and lightened in color, then add the softened mascarpone and melted butter. Beat everything together. The mascarpone will not become entirely smooth, and that's okay — just make sure there are no huge chunks anywhere. Add salt and pepper, and pour it into the prepared pan.
Add in all the extra tasty bits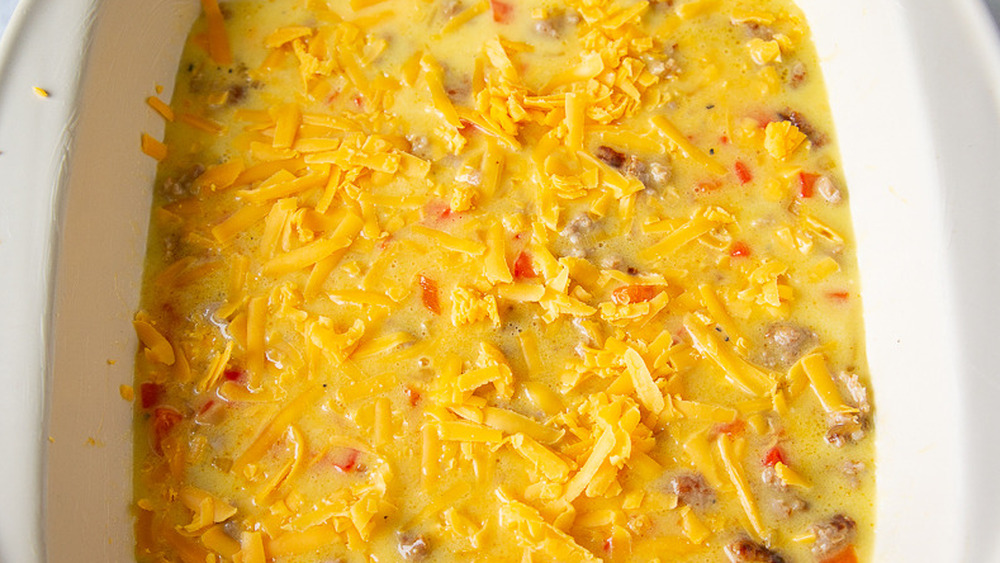 Mikayla Marin/Mashed
Add the sausage, peppers, and shallot into the eggs with all but ½ cup of the cheddar cheese. Use a whisk or spoon to just gently mix it in.
Sprinkle the remaining cheese over the top of the casserole, and pop it into your preheated oven on the middle rack for 25 minutes, or until the middle is set. You'll know the middle is set when you gently tap the pan and there are no "loose" spots, or spots that jiggle like Jell-O when you shake it.
Let the baked egg casserole cool for ten minutes, then slice and serve!
Serving the egg casserole with even more tasty toppings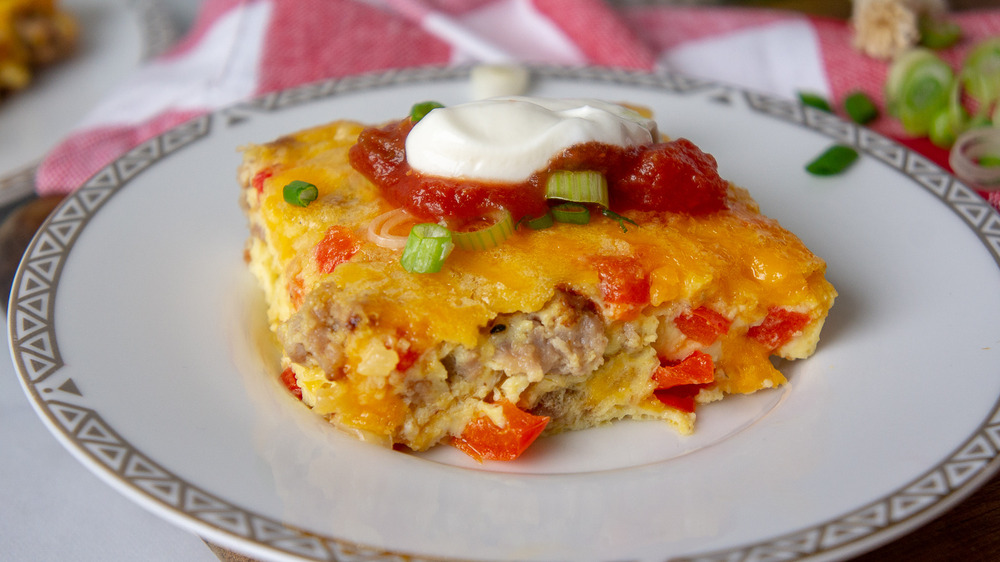 Mikayla Marin/Mashed
When it's time to serve, this can easily be the main part of a family breakfast. This comfortably feeds six people as a main course. If you're looking to stretch it, or simply have it as an element to breakfast, this can serve up to nine when paired with other sides like fruit, toast, or potatoes.
The egg casserole itself is delicious served with a variety of toppings. We like a dollop of sour cream, salsa, hot sauce, or slices of creamy avocado on top. Fresh herbs like chives, onions, or parsley are always welcome, too.
Double the egg casserole recipe for easy meal prep breakfasts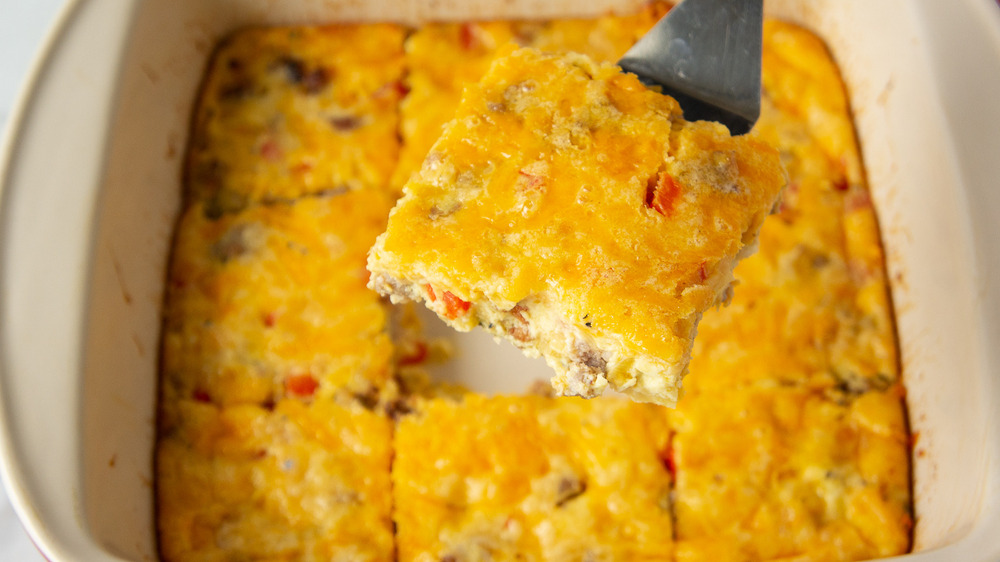 Mikayla Marin/Mashed
When you bake up an egg casserole like this one, the combination of savory sausage, sweet peppers, and creamy cheese makes it a guaranteed hit. Considering this recipe is so easy to make, you can feel free to double it for your next big breakfast. Bake it in a 9x13-inch pan for closer to 35 or 40 minutes.
If you happen to have leftovers, don't worry. Store slices in the fridge in an airtight container for up to three days. Reheat for just 30 seconds in the microwave, and enjoy a slice whenever you'd like.
Egg Casserole Recipe
When you're cooking for a crowd or want to switch things up for breakfast, give this simple yet tasty egg casserole a try.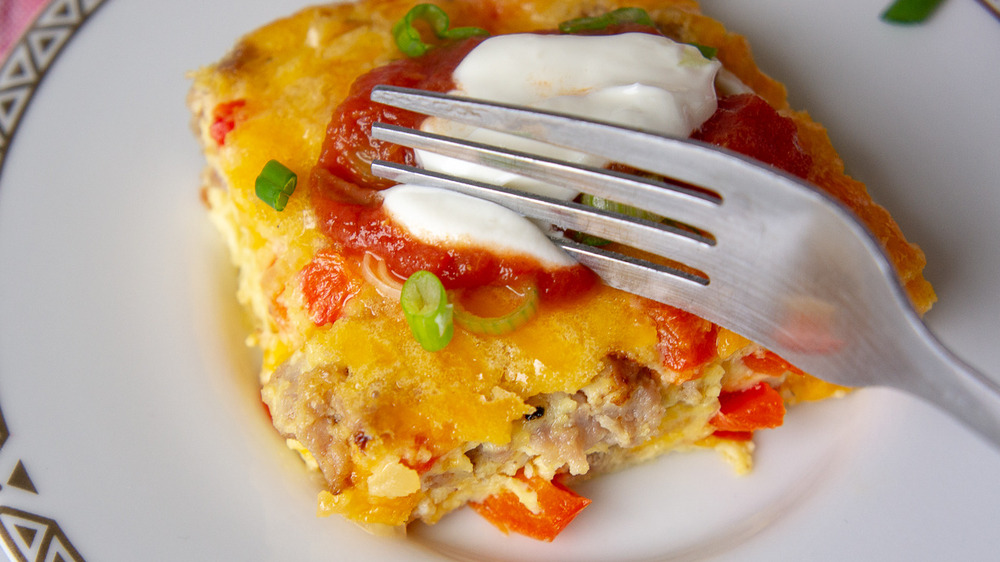 Ingredients
½ pound breakfast sausage
1 medium shallot, finely diced
1 red bell pepper, diced
6 large eggs
¼ cup mascarpone cheese, softened
2 tablespoons butter, melted
¼ teaspoon salt
¼ teaspoon black pepper
1 cup shredded cheddar cheese
Directions
Preheat your oven to 350 degrees Fahrenheit and heat a skillet over medium heat.
Add the sausage to the skillet. Break it apart with a wooden spoon and cook until browned.
Remove sausage from the pan to a paper towel-lined plate, leaving the fat in the pan.
Add the shallot and bell pepper to the remaining sausage fat and sauté for three to five minutes, or until softened.
Remove to a paper towel-lined plate to drain excess grease.
Dip a pastry brush into a little bit of the butter and lightly grease a 8x8-inch casserole pan.
Beat the eggs together in a large bowl until the yolk is well mixed in, then add in the butter and mascarpone cheese. Beat again to incorporate.
Pour into prepared pan and add the sausage, peppers, shallots, salt, pepper and half the cheese. Gently stir to distribute the add-ins.
Add remaining cheese to the top and bake on the middle rack for 25 minutes, or until the middle is set. Allow to cool 10 minutes before serving.
Nutrition
| | |
| --- | --- |
| Calories per Serving | 337 |
| Total Fat | 27.7 g |
| Saturated Fat | 12.4 g |
| Trans Fat | 0.4 g |
| Cholesterol | 252.3 mg |
| | |
| --- | --- |
| Total Carbohydrates | 4.3 g |
| Dietary Fiber | 0.8 g |
| Total Sugars | 2.5 g |
| Sodium | 509.2 mg |
| Protein | 17.7 g |