Dairy Queen's Summer Blizzard Lineup Is Already Here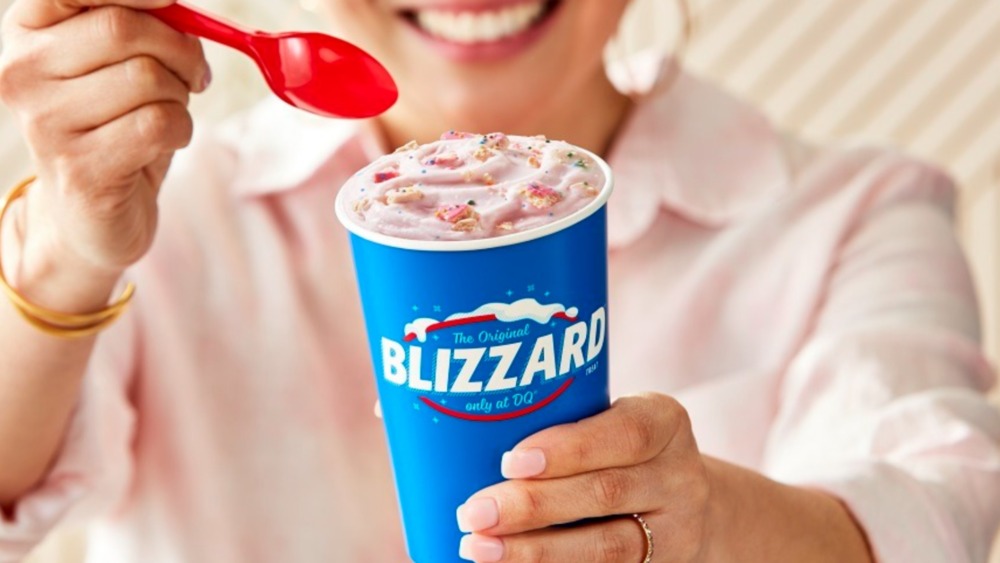 Dairy Queen
Summertime, and the Blizzards are easy...Easy to suck down way too many of them, that is! Nothing says summer like ice cream, or cold drinks, or some weird hybrid of the two. Okay, so summer is still a few months away by the calendar, and the weather's not all that summery in most parts of the country, either. Still, rushing the season seems to be the trend these days — shades of last year where fall flavors arrived mid-August and we'd moved on to peppermint mocha before the Halloween decorations came down, so Dairy Queen's in step with the times by wrapping up spring as soon as Easter is over.
DQ is doing their best to get us pumped up for the season that will be arriving sooner or later by releasing their summertime Blizzard lineup, something their press release (via Dairy Queen) tells us are available in stores starting now and lasting for, you guessed it, a "limited time" (perhaps until June, which may mark the start of this year's pumpkin spice season). There are six new summer Blizzards, each of which, in the words of DQ's public relations department, is capable of "transport[ing] fans to the most iconic summer experiences with just one bite!"
These Dairy Queen drinks will be available throughout the summer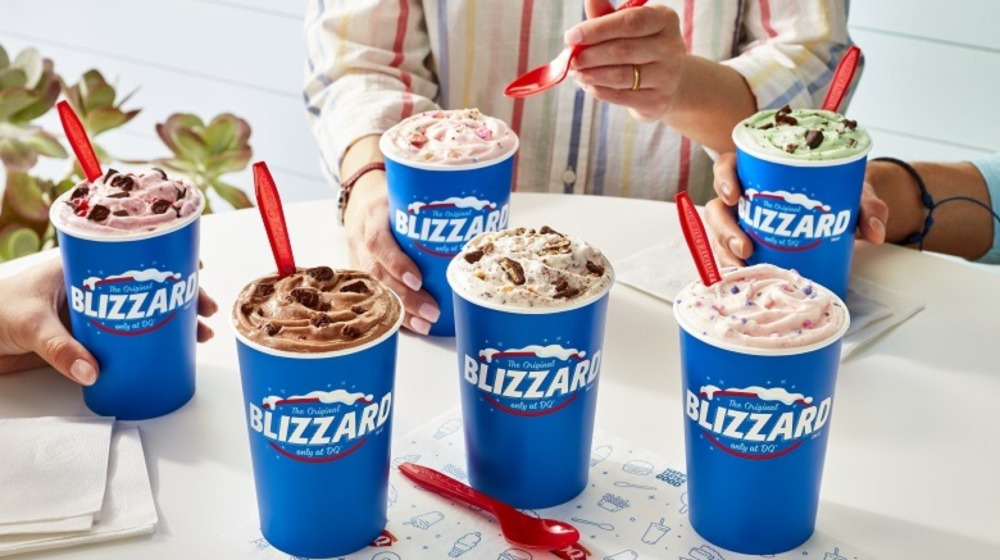 Dairy Queen
Summer flavors typically mean fruit will be involved somewhere, and one of these treats does involve at least a little fruit: Raspberry Fudge Bliss, a melange of fudge pieces, "choco chunks," and vanilla soft serve with a few real raspberries tossed in. Another offering is the ever-popular Brownie Batter, since who among us has not licked the beaters a time or two? Dairy Queen's batter is safer, however, since it has no raw eggs. If you prefer your cookies cooked, you may enjoy the Girl Scout Thin Mints® Blizzard — even Chrissy Teigen agrees these cookies are much better when they're frozen.
Yet another cookie-based Blizzard delivers some serious nostalgia: Frosted Animal Cookie, reminiscent of long-ago kindergarten snack-times. (Unless you're still in kindergarten, in which case, congrats on those high-level reading skills, you truly deserve a Blizzard if mom says it's ok). Sticking with that circus theme, there's also a pretty in pink Cotton Candy Blizzard, which is not a fan favorite, but some people like it. As for the final blizzard, DRUMSTICK® with Peanuts...Wow, DQ's created meta-ice cream! Sure, an ice cream(ish) treat that's meant to evoke another ice cream treat is kind of redundant (and won't those peanuts get stuck in the straw?), but at least this Drumstick-in-a-cup won't melt in your hand.