How Fans Really Feel About Chopped 420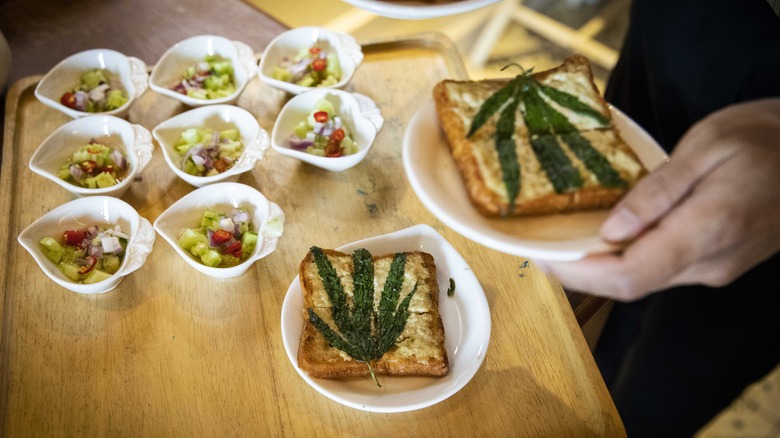 Lauren Decicca/Getty Images
Imagine — the Chopped show you know and love, but the contestants cook in a lush outdoor garden, have access to a "greenhouse" stocked with cannabis flowers and CBD-infused ingredients, and all of their dishes have to contain weed. It's also hosted by comedian Ron Funches. This is actually a real show called Chopped 420. The limited-edition, ganja-focused spinoff of Food Network's Chopped begins streaming on April 20 on discovery+.
"Some people think you can just throw some ditch weed in a brownie and call it cannabis cuisine — but not here," Funches says in a trailer for the show. Chopped 420 will feature professional cooks and marijuana enthusiasts cooking for judges such as chef Esther Choi and drag performer Laganja Estranja, Deadline reports, so you can expect to see food that is much more imaginative than the pot cookies from your high school days. "There's a level of sophistication. It's not just stoner food — although you'd probably love it if you were high," a contestant says in the trailer as the camera pans over to elegantly plated dishes garnished with whole marijuana leaves.
Cannabis fans think pretty highly of Chopped 420
In a Reddit thread about Chopped 420, one user said they're excited to see how contestants manage to celebrate cannabis in their dishes, while still concealing its stronger aromas. The user also said that they are the only person in their friend group of 20-somethings who still watches Food Network shows. "Hopefully this appeals to a younger crowd, further destigmatizes cannabis use, and allows for a new branch of learning for viewers and participants alike," they wrote.
Attracting niche crowds and younger audiences is Food Network's exact intention with Chopped 420, Variety reports. The network is taking one of its most successful shows, Chopped, and testing it for new viewers with a five-episode spinoff. "I think you have to have a really powerful franchise to be able to experiment this way," Food Network president Courtney White told Variety. But if that Reddit thread is any indication, Chopped 420 might have fans from all demographics. "Another medical user here, age 62, and yes, cooking with 420 isn't easy and I think this show will appeal to a lot of people, young and old," they wrote.