Everything You Need To Know About Chopped: Grudge Match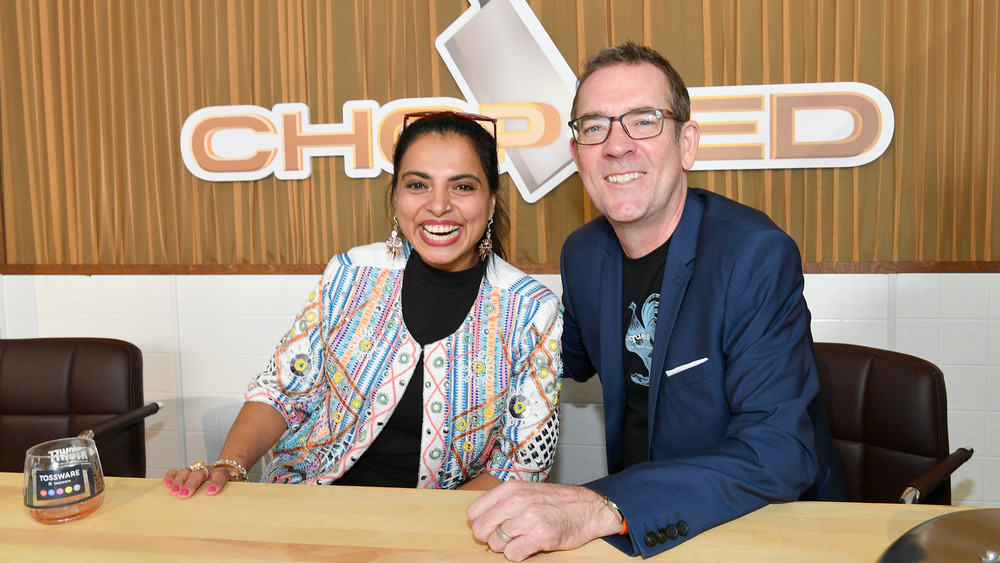 Dia Dipasupil/Getty Images
The Food Network's popular cooking competition is taking the game to a new level with a five-episode series called Chopped: Grudge Match (via Discovery). The show is partly a tournament of champions, with winners from past seasons of Chopped competing against each other, trying to whip up the tastiest and most creative dishes using a mystery box of ingredients. The stakes are higher than ever, with contestants aiming for a $100,000 prize in the final episode – the largest cash prize ever awarded on the Chopped shows.
Where this latest version of Chopped gets interesting is where the "grudge match" comes in. The tables are turned: Some of the show's judges step up to become competitors. Expect some former Chopped champs to carry real grudges, too. One of the first four episodes of Grudge Match will feature four returning champions who all lost in episodes that pitted chefs against Chopped judges. A review in the University of Chicago's student newspaper, the Maroon, blasted the "beat the judges" episodes for showing obvious bias toward the judges. It might be worth watching Grudge Match just to see if the judges still hold a home field (home kitchen?) advantage.
Chopped judges tie on the apron and compete
Two of the first four episodes of Grudge Match will feature returning champions, while the other two will pit judges against each other. The judges who will tie on the apron are Tiffani Faison, Amanda Freitag, Marcus Samuelsson, Chris Santos, Maneet Chauhan, Scott Conant, and Marc Murphy. In one of the judge-vs.-judge episodes, only three judges will compete (via Food Network). They will be joined by Stephen Coe, who just beat Bobby Flay in – you guessed it – Chopped: Beat Bobby Flay (via Inside Hook). Grudge Match will be hosted by Chopped regular Ted Allen.
In each episode, four contestants must make three dishes – an appetizer, an entrée, and a dessert – under a strict time limit. One chef is eliminated after each course, and each of the first four episodes will produce one winner. Those four will battle for $100,000 in the final round, in episode five. If a Chopped judge wins the final round, their prize will go to the charity Turn Up! Fight Hunger, which is organized by Discovery and the anti-hunger effort No Kid Hungry. If a judge wins and Chopped fans claim once again that the fix was in, at least it will be for a good cause.
Episode 1 of Chopped: Grudge Match already aired on the Food Network, on January 5. Upcoming episodes will appear at 9 p.m., 8 p.m. Central, on Tuesday nights in the coming weeks.