Copycat Panera Bread Baja Bowl Recipe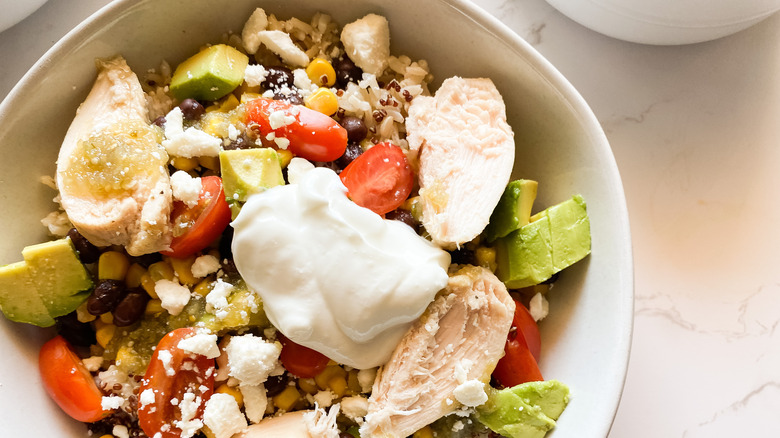 Kristen Carli/Mashed
Let's face it: We all succumb to a Panera Bread craving at one point or another. But wouldn't it be nice to easily recreate one of the chain's most popular entrees at home? With the cost of ingredients spread out over multiple meals, a home re-creation is more affordable. Plus, you'll have much more control over what goes in your dish without having to annoy the Panera Bread chef behind the counter. 
The Baja Bowl with chicken, as re-created by recipe developer Kristen Carli, is the perfect way to satisfy your appetite for a signature warm bowl. Packed with complex carbohydrates and healthy proteins from brown rice, quinoa, and black beans, this tasty, gluten-free dish will boost your nutritional intake for the day and vamp up your energy. Carli also has a few time-saving alternatives up her sleeve to help speed up your cooking prep. For just 40 minutes of your time, you can craft a mouthwatering Baja Bowl at home with ease.
Lay out your ingredients for your Baja Bowl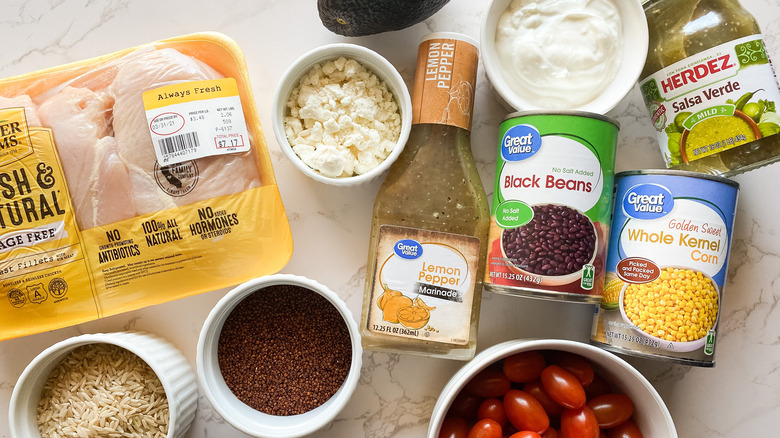 Kristen Carli/Mashed
Before you can begin crafting the perfect copycat Panera Bread Baja Bowl, you'll need to gather your ingredients. Carli's recipe calls for brown rice, red quinoa, chicken breasts, and lemon pepper marinade (or one 12.25-ounce bottle). You'll also need grape tomatoes, an avocado, a can of black beans, a can of corn, some salsa verde, feta cheese crumbles, and Greek yogurt for topping. Unsweetened, plain Greek yogurt is best for this recipe, as it acts as a healthy substitute for sour cream.
Marinate your chicken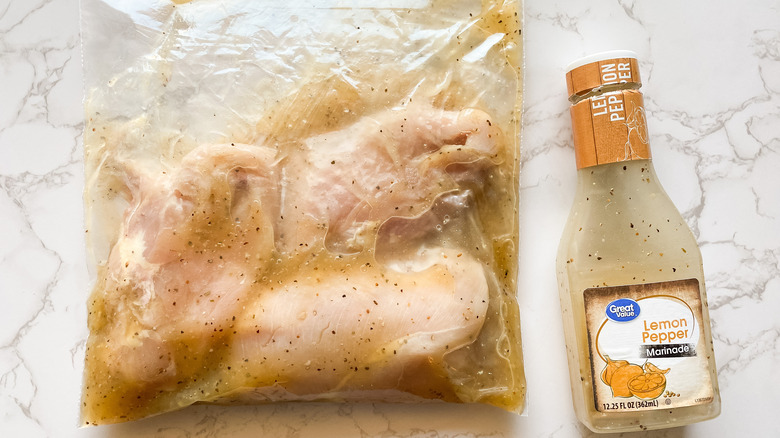 Kristen Carli/Mashed
The longer your chicken gets to marinate while you prep your other ingredients, the better. That's why Carli recommends preparing the chicken first and using a pre-made lemon-pepper marinade to simplify the process. Bottled marinade is inexpensive and already contains the right balance of acid and oil to properly soften your chicken. If you're a "from-scratch" kind of person, however, Carli says the best homemade lemon-pepper marinades include lemon juice, black pepper, olive oil, and garlic.
Carli also recommends marinating the raw chicken in a large Ziploc bag for at least two hours. This should help keep the meat soft and moist while it's cooking. Wondering if you should rinse your raw chicken before marinating it? The USDA strongly advises against it. Doing so sprays harmful bacteria in and around your sink. That bacteria is hard to eliminate, even after cleaning. Instead, toss your raw chicken right into the Ziploc bag with your marinade, refrigerate it, then thoroughly clean your hands and your work surface.
Cook up some brown rice and fluffy quinoa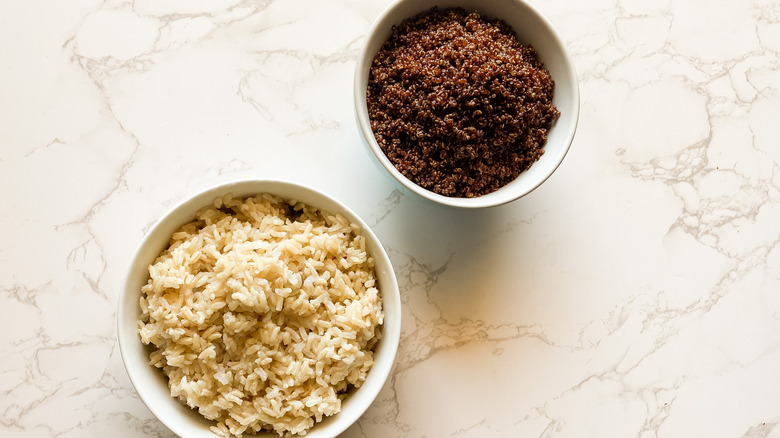 Kristen Carli/Mashed
While your chicken rests in the fridge, start cooking your brown rice and quinoa. Now, this might sound like the most tedious step, especially since quinoa and brown rice typically take a while to cook. Fortunately, Carli has a great tip. "I love cooking quinoa and rice in my Instant Pot," she says. "Quinoa goes in for only one minute, while brown rice should go in for more like 20 minutes."
Pro tip: If you don't have an Instant Pot, make your brown rice and quinoa in a big batch ahead of time! That way, you'll have healthy carbs prepared for the rest of the week, and your Baja Bowl will come together much more quickly when you decide to make it.
Use bottled salsa verde as a topping — or make it yourself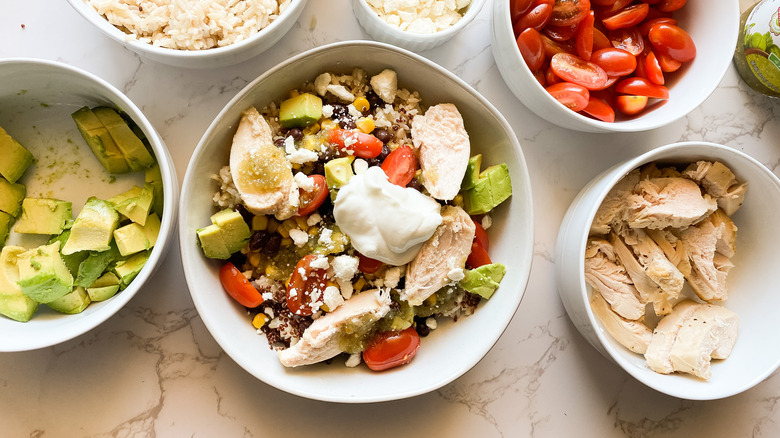 Kristen Carli/Mashed
Wondering how Panera Bread concocts the perfect salsa verde? It's all about the tang. According to Carli, "a homemade salsa verde should be made from tomatillos, garlic, cilantro, and plenty of lime juice." Don't worry too much about perfect ratios when you toss these ingredients into your blender. Taste the mixture after you've mixed it, and add more ingredients as you see fit. After all, your salsa should be customized to your taste.
If you don't have the time or patience, don't worry about creating your own salsa verde. A delicious pre-made substitute can be found at most local grocery stores.
Prepare and combine your cold ingredients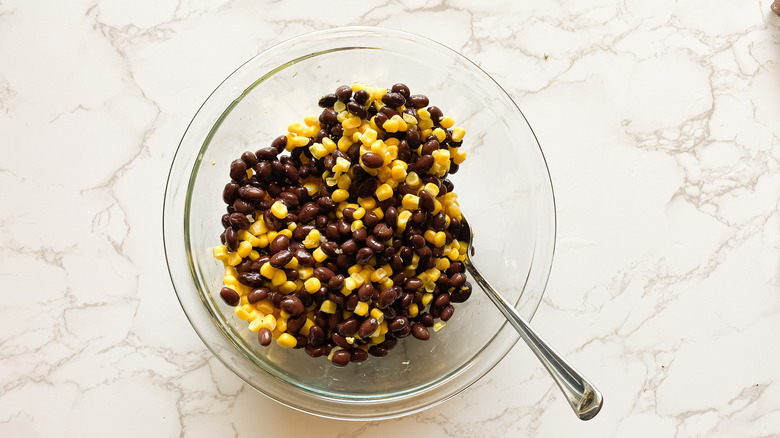 Kristen Carli/Mashed
With the bulk of the work out of the way, it's time to prepare and toss together your fresh ingredients. Grape tomatoes, unlike raw chicken, should be washed to remove bacteria and pesticides.
Once you finish washing and slicing your grape tomatoes, drain the cans of corn and black beans. Then, mix the corn and beans together in a bowl. If you don't plan on using all of your corn and black beans, simply save some in a Tupperware container for later.
Cook your marinated chicken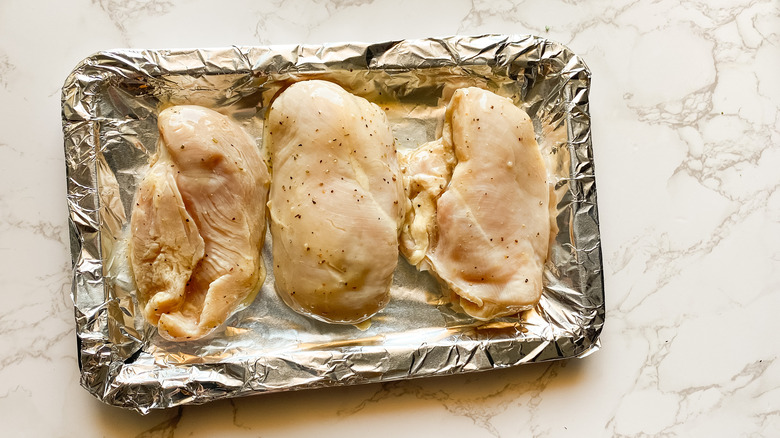 Kristen Carli/Mashed
Your freshly marinated chicken should now be ready for cooking. Carli recommends that you bake the chicken at 350 degrees Fahrenheit for about 20 to 30 minutes. It's very important to keep a close eye on the chicken while it bakes. Chicken breast that sits too long in the oven will easily dry out, says Carli. As such, bake the chicken until it reaches a steady internal temperature of at least 165 degrees, but don't bake it much longer after that.
Pro tip: Hoping for a vegetarian option? As Carli points out, crispy fried tofu would pair beautifully with the other ingredients in this flavorful Baja Bowl.
Assemble the perfect Baja Bowl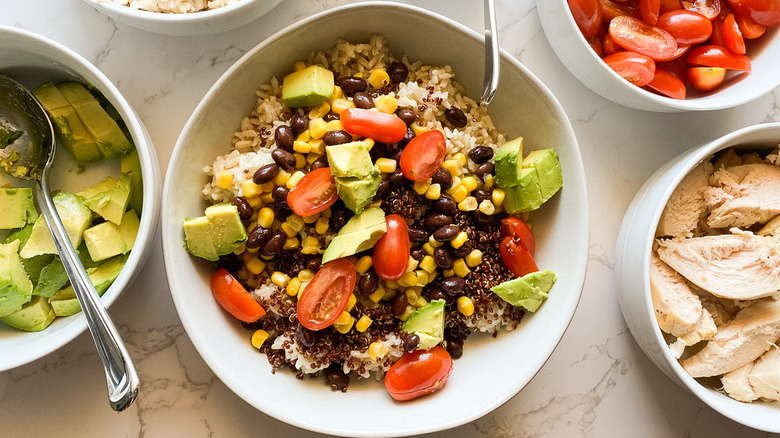 Kristen Carli/Mashed
Putting your delicious ingredients together into one, delicious bowl is arguably the best part of cooking. After you take your chicken out of the oven and slice it, place a mixture of quinoa and brown rice at the base of your serving bowl. Add your corn and black beans to the mix, along with the sliced grape tomatoes and your other toppings: crumbled feta cheese, a heaping spoonful of Greek yogurt, and fresh avocado cubes. Find room for your sliced chicken in there too, and drizzle on your salsa verde. Your bowl is finally ready, and your stomach and wallet will thank you.
Copycat Panera Bread Baja Bowl Recipe
We all succumb to a Panera Bread craving at one point or another. But wouldn't it be nice to easily recreate one of the chain's most popular entrees at home?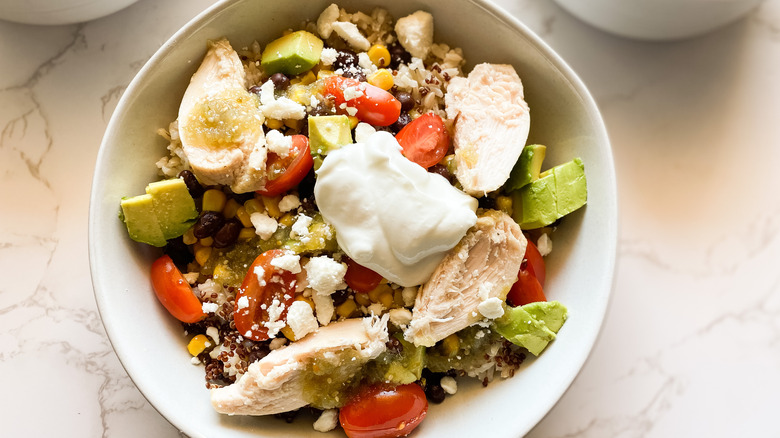 Ingredients
3 chicken breasts
1½ cups (12.25-ounce bottle) lemon pepper marinade
1 (15-ounce) can black beans, drained
1 (15-ounce) can corn, drained
1 cup brown rice, cooked
½ cup red quinoa, cooked
1 cup (8-ounce container) grape tomatoes, halved
¼ cup salsa verde
¼ cup feta crumbles
1 avocado, diced
¼ cup unsweetened plain Greek yogurt
Directions
In a large Ziploc bag, add chicken breasts and marinade. Marinate in the refrigerator for at least 2 hours.
In the meantime, in a medium bowl, add black beans and corn. Stir to combine. Set aside.
Preheat oven to 350 degrees Fahrenheit. On a small foil-wrapped baking sheet, add marinated chicken. Bake for 20 to 30 minutes until chicken is cooked to a minimum temperature of 165 degrees Fahrenheit.
Remove chicken from oven and slice.
Assemble servings by placing ¼ cup of brown rice, 2 tablespoons of red quinoa, and ¼ cup of black bean and corn salsa in a large bowl. Top with about 5 slices of chicken, 1 tablespoon of tomatoes, 1 tablespoon of salsa verde, 1 tablespoon of feta, 1 tablespoon of avocado, and 1 tablespoon of Greek yogurt.
Nutrition
| | |
| --- | --- |
| Calories per Serving | 834 |
| Total Fat | 28.1 g |
| Saturated Fat | 8.1 g |
| Trans Fat | 0.1 g |
| Cholesterol | 94.3 mg |
| | |
| --- | --- |
| Total Carbohydrates | 113.9 g |
| Dietary Fiber | 37.6 g |
| Total Sugars | 6.9 g |
| Sodium | 635.8 mg |
| Protein | 51.6 g |