Great British Baking Show Champ Nancy Birtwhistle's Secret Method To Preventing This Classic Cake Problem
One of the most rewarding parts of watching episodes of "The Great British Baking Show" is how much you learn about baking, from new techniques to flavor pairings to the history of traditional breads, cakes, and sweets. Nancy Birtwhistle, winner of Season 5 of the show, has plenty to teach bakers at home, too. Namely, staying confident even as delicate caramel decorations fall apart (via BBC Good Food), using homemade ingredients whenever possible, and not being afraid to take risks with your baking (per Good To Know).
One helpful trick viewers learned from Birtwhistle while she was on the show was a handy tip for baking a cake with fresh fruit in the batter. In order to avoid discoloration, freeze the fruit first, according to a recap on Eat This, Not That! Fruit that's especially juicy, or that has been cut up, has a tendency to release juices or "bleed" colors when stirred into the cake batter. And that can leave unwanted streaks or discolored patches in the finished product. By freezing fruit before it's added to the batter, it stays intact and thaws gradually during the baking process. 
Try Birtwhistle's fruit freezing trick with recipes for a simple Strawberry Cake from Martha Stewart, or a cherry cake from "Great British Baking Show" judge Mary Berry' (via BBC Food) that uses fresh cherries in place of the glacé kind. Nancy Birtwhistle also uses frozen fruit in her Blackberry and White Chocolate Yogurt Cake (found on her official website), and this tip works just as well for a batch of blueberry muffins.
Other cake tricks from "The Great British Baking Show"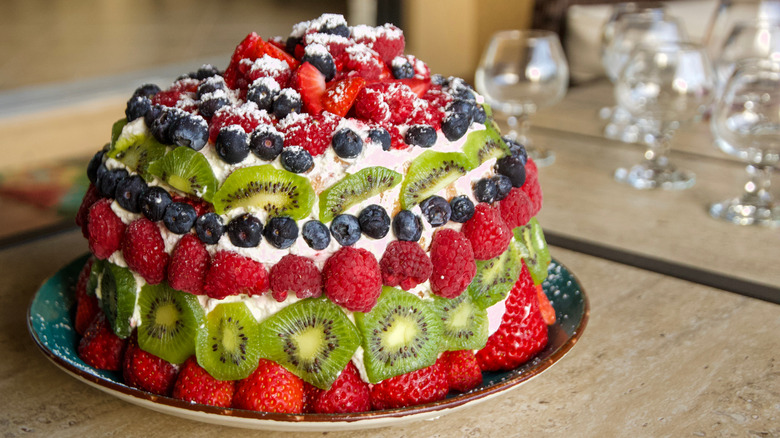 Shutterstock
There have been so many impressive cakes on "The Great British Baking Show," including checkerboard Battenberg cakes, judge Prue Leith's Angel Food Cake slices, and even filled Swiss rolls. With every new episode, viewers pick up more tips and knowledge about creating perfect desserts — and avoiding the common pitfalls.
Winner of Season 3, John Whaite has an ingenious trick for getting cakes to release cleanly from intricate (and notoriously finicky) Bundt pans. According to Fab Flour, Whaite brushes melted butter into all those nooks and crannies, and then freezes the pan for a few minutes to solidify the butter. After freezing, the pan is brushed with butter again and then floured. These steps ensure cakes come out cleanly without tearing apart.
Season 1 winner Edd Kimber stresses the importance of letting eggs and butter come to room temperature before using them in cake mixtures (via Buzzfeed). If these ingredients are cold, they can lead to grainy or curdling batters, and the baked cake won't be light. (Fortunately, it's easy to bring butter and eggs to room temperature pretty quickly.)
One more "The Great British Baking Show" tip for cakes with fruit or candied fruit baked inside is to toss them in flour before adding them to the batter. According to Eat This, Not That!, several bakers making Mary Berry's Cherry Cake found that the cherries sank to the bottom. A flour coating absorbs moisture and keeps fruit suspended in the cake.