Easy Shredded Beef Enchiladas Recipe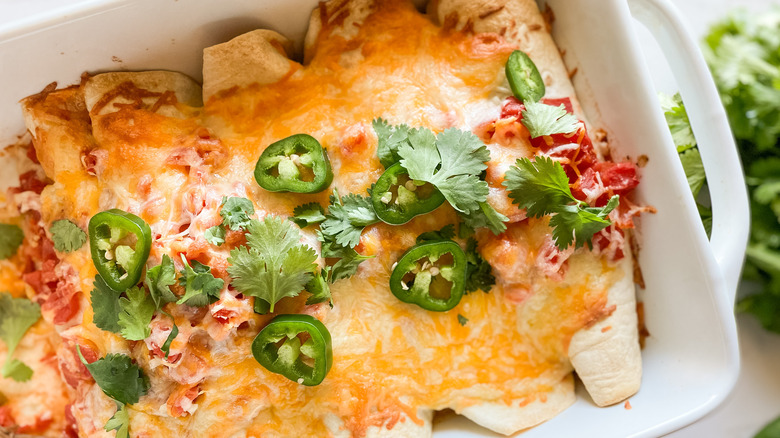 Kristen Carli/Mashed
When it comes to the nights during the week when you're feeling like having good old comfort food, we're here to tell you that enchiladas are where it's at. This delicious Mexican dish is so flavorful and can be made easily with beef, chicken, or cheese. Another plus? It's the perfect dish to put together when you're cooking for a big crowd. According to History of Things, enchiladas were a tradition of the Mayans that dates back to the pre-Columbian days in Mexico. The Mayans used corn tortillas for a great deal of their cooking, and rather than your standard chicken or beef, they actually rolled fish to make this tasty dish.
Recipe developer and private practice registered dietician Kristen Carli curated this easy, yummy recipe for shredded beef enchiladas. Of course, you can replace the beef with chicken if you'd prefer. Carli shares that her favorite part of the recipe is using the slow cooker to prepare it. "I love that these utilize a slow cooker, making them an easy weeknight meal," she shares. "I also love that these please the entire family." 
The dish is also surprisingly simple and quick, considering you just put everything together in the slow cooker and let all the flavors meld. You can do so many other things while your meal is cooking away, and the best part is, your kitchen will smell divine in the process. Keep reading to find out how to make your next favorite enchilada dish.
Gather the ingredients to prepare shredded beef enchiladas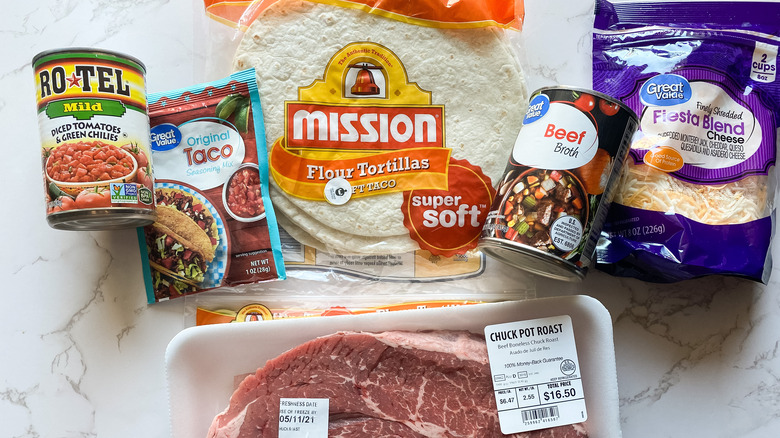 Kristen Carli/Mashed
First things first: Run to the store and grab all of the ingredients that you will need for preparing this tasty Mexican dish. It's not many, and hopefully you already have a lot of the items required for putting this recipe together right at home. 
You will have to get together one chuck roast, a packet of taco seasoning, and a 15-ounce can of beef broth to start. Also, remember to pick up two 15-ounce cans of Rotel, a pack of large flour tortillas, and shredded Mexican cheese. For the toppings, you will need some jalapeño peppers and cilantro. Carli also says that you can top these enchiladas off with guac or sour cream, so grab some of them, too. Once you have everything at your fingertips, you will be ready to begin preparing this yummy dish.
Prep the slow cooker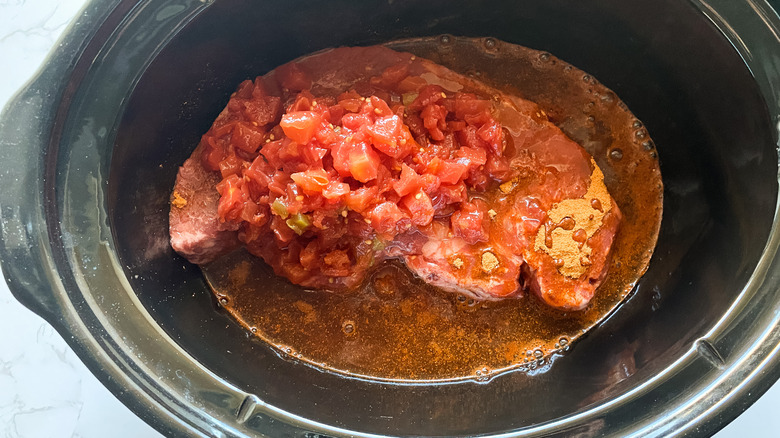 Kristen Carli/Mashed
To get things started, take out your slow cooker, and add the chuck roast to it. Once the meat is ready inside the cooker, take your packet of taco seasoning, and sprinkle it over the roast as evenly as possible. Then, cover the piece of meat with your can of beef broth and one of the cans of Rotel. Cover your cooker with the lid, and then heat on high for about six hours. As a side note, be prepared, because as we mentioned earlier, this recipe is about to make your kitchen smell incredibly delicious! As a matter of fact, you will want to make this recipe over and over again just for this reason alone.
Shred the beef, and preheat the oven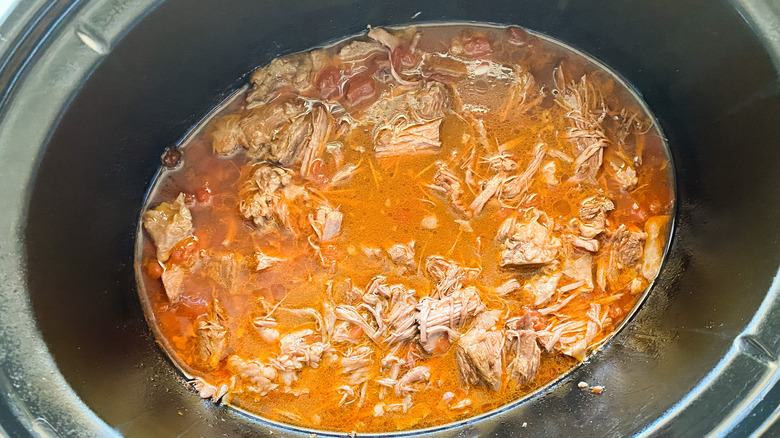 Kristen Carli/Mashed
When the beef has finished cooking for six hours, remove the lid, and turn the slow cooker off. Take two forks and begin the process of shredding the meat. It should just fall apart quite easily, and you will have the perfect shredded pieces of meat that will look so scrumptious. If you'd like to try tasting a little piece at this point to make sure the flavor is good, feel free to go right ahead. When the beef is all shredded, turn your oven up to 350 F. Now, you're ready to move onto the fun part where you will put the enchiladas together.
Prep the enchiladas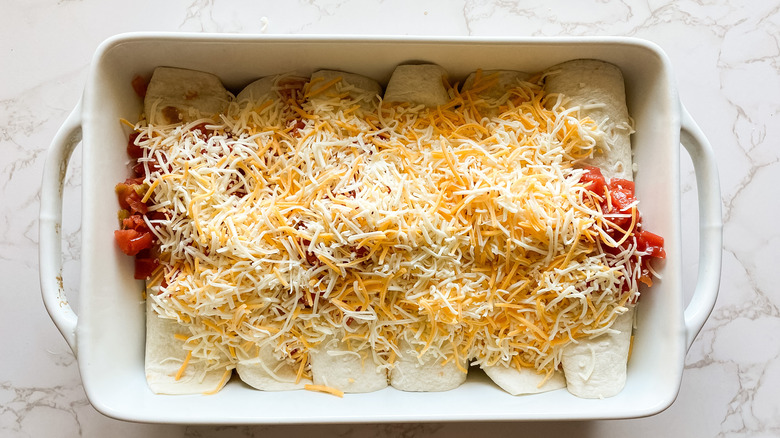 Kristen Carli/Mashed
While the oven is preheating, grab your large tortillas along with a 9x13-inch baking dish, and spray the dish with nonstick cooking spray. You're going to scoop ⅙ of the shredded beef into each of the tortillas. Roll each of the tortillas up nicely, without folding the edges. Then, place each of them with the seam side down in your baking dish. Start with one, and repeat this for each of the six tortillas. Before you pop your baking dish in the oven, take out the other can of Rotel, and place it evenly over each of the enchiladas. You'll also want to sprinkle your cheese on the top. Be generous and do it evenly so each guest gets a cheesy, delicious enchilada on their plate to enjoy.
Pop the shredded beef enchiladas in the oven for 30 minutes, then enjoy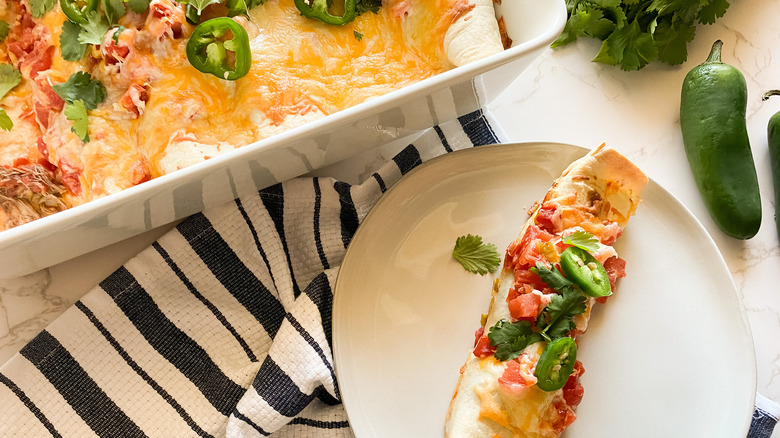 Kristen Carli/Mashed
Place the baking dish in the oven for about 30 minutes. Once your timer goes off, these delicious enchiladas will be ready to serve. Top each serving with some jalapeños and cilantro for extra spice and a really nice garnish. Carli also suggests adding a serving of guacamole or sour cream (or both!) as alternative toppings. "These are best stored in an airtight container in the fridge for up to 4 days," Carli shares. 
Now, it's time to serve, dig in, and enjoy! Your dishes will be oh-so-vibrant and picture-worthy. This meal is best enjoyed while hot, so get everyone together, and get ready for plenty of compliments for a yummy and fun dinner choice.
Easy Shredded Beef Enchiladas Recipe
Top your shredded beef enchiladas with some jalapeños and cilantro for extra spice and a really nice garnish.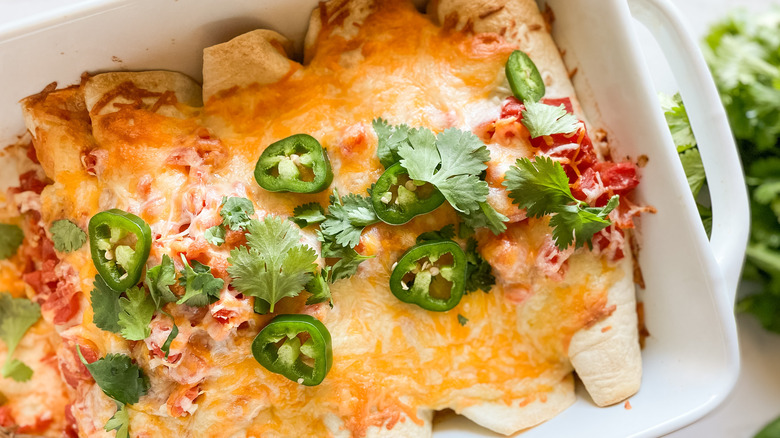 Ingredients
2 ½ pounds chuck roast
1 packet taco seasoning
1 (15-ounce) can beef broth
2 (15-ounce) cans Rotel, divided
6 large flour tortillas
1 ¾ cups Mexican shredded cheese
Optional Ingredients
jalapeños, for topping
cilantro, for topping
Directions
In a large slow cooker, add the beef. Sprinkle with taco seasoning. Then, cover with beef broth and 1 can of Rotel.
Cover with lid, and cook on high for 6 hours.
Remove lid and shred the beef with two forks.
Preheat oven to 350 F.
Scoop ⅙ of the shredded beef into a tortilla. Roll up without folding in the edges. Place seam side down in a large 9x13-inch baking dish. Repeat with all 6 tortillas.
Top enchiladas with remaining can of Rotel and cheese.
Bake for 30 minutes. Top with jalapeños and cilantro.
Nutrition
| | |
| --- | --- |
| Calories per Serving | 597 |
| Total Fat | 26.4 g |
| Saturated Fat | 11.3 g |
| Trans Fat | 0.9 g |
| Cholesterol | 154.6 mg |
| | |
| --- | --- |
| Total Carbohydrates | 36.2 g |
| Dietary Fiber | 4.2 g |
| Total Sugars | 5.3 g |
| Sodium | 1,233.4 mg |
| Protein | 54.8 g |