Enchilada Casserole Recipe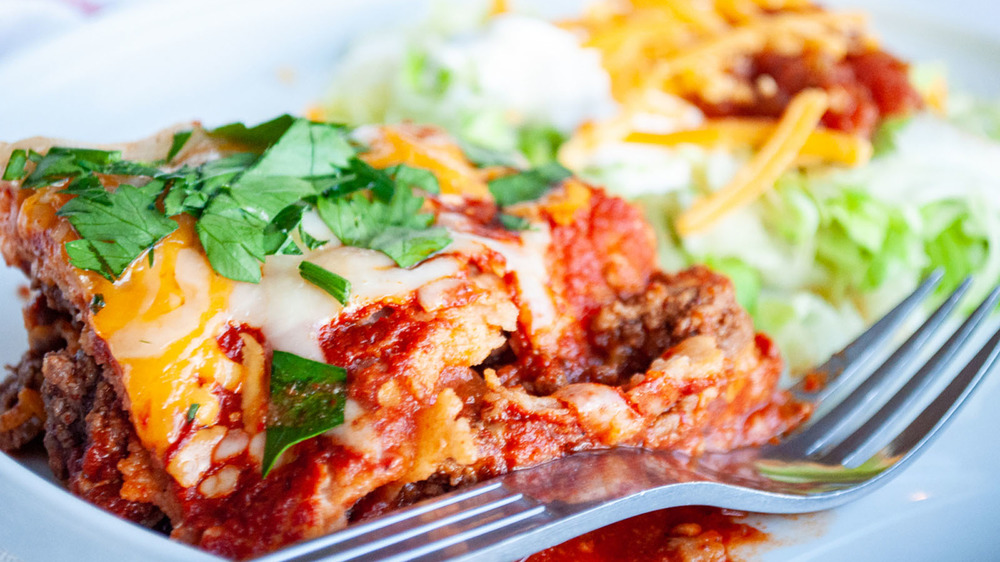 Lauren Sampson
The struggle is real when it comes to satisfying that intense craving for Mexican food. Either the yummy toppings tumble off your hard-shell taco when you tip it to take a bite or no matter how gently you hold it, your enchilada soft shell tears apart in your hands and out pours the fantastic filling. So disappointing! But now we have an amazing enchilada casserole recipe that will fill your belly with a delicious Mexican dish that's insanely easy to eat. Every single forkful is a delightful morsel that your taste buds will thank you for.
Casseroles began popping up in American cookbooks in the late 19th century, according to The Seattle Times, but didn't become wildly popular until the Depression and world wars when food was being rationed. Hearty vegetables and starches would fill up a baking dish and hungry bellies, spreading out what little meat was available throughout the casserole. This type of meal grew in popularity during the mid-20th century as a way to use up leftovers. Even more so when you could bind together crazy ingredients with a can or two of condensed cream of "whatever" soup.
Easy beef enchilada casserole has specific ingredients, but they're fairly inexpensive and the recipe doesn't call for much, making this not only pleasing to the palate but affordable to fix, too. 
Easy enchilada casserole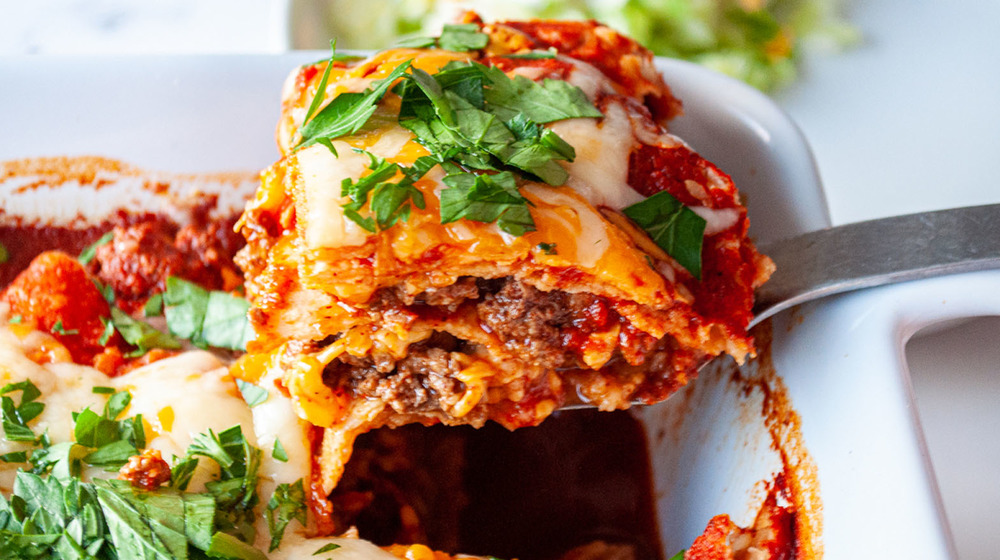 Lauren Sampson
Aside from easily assembling tacos, fixing enchiladas is fairly easy. Just load them up with your favorite fillings, tuck in the bottom and fold the sides. Easy right? Well recipe developer Laura Sampson has an even easier recipe for enchiladas as a casserole. This food photographer, blogger and mother of three who hails from Alaska confessed that just one casserole won't satisfy her hungry brood.
"We eat this easy casserole quite often. I actually make two of them so we have enough for lunch leftovers the next day," Sampson said. "The funny thing is that it's not much different (from enchiladas). It's just quicker to put together when you're in a hurry because you don't have to warm the tortillas before rolling enchiladas.
Turn up the burner and get going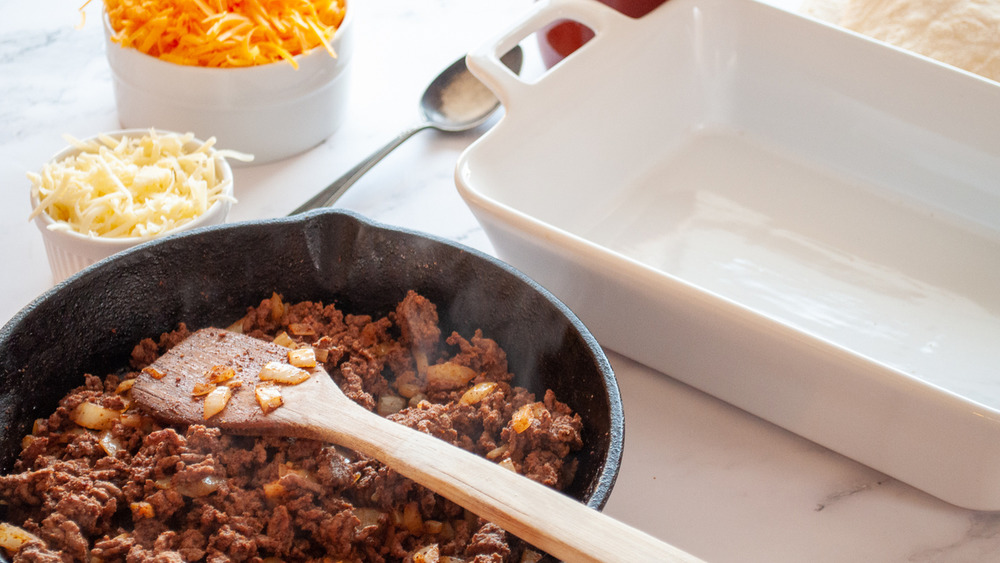 Lauren Sampson
First step: preheat the oven to 375 degrees Fahrenheit. Next step: brown one pound of lean ground beef and drain when it's done. If you're watching your waistline or cholesterol levels, Sampson said you can substitute lean shredded or ground chicken for this recipe. "You could use any lean meat in place of the beef," Sampson said.
Stir one cup of chopped onion into the browned ground beef, add 2 teaspoons of chili powder and 1 teaspoon of ground cumin for some extra kick, then sprinkle 1 teaspoon of salt over the concoction and stir well. Cook for two more minutes.
Stacking the enchilada casserole shells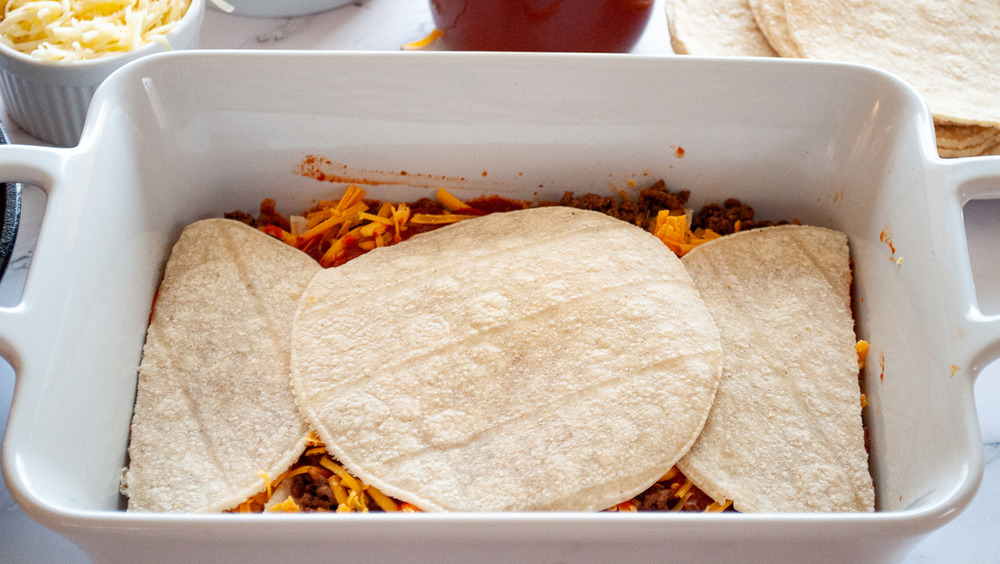 Lauren Sampson
Pour two spoonfuls of yummy enchilada sauce in the bottom of a rectangular 3-quart-sized casserole dish. You'll need 3 cups total of the enchilada sauce for this dish with kick. Have on hand 12 corn tortillas, regular size, although Sampson said any size could be used.
"I used regular corn tortillas. You could use bigger tortillas if you wanted to and just use two per layer," she said.
Here's where your stacking skills will come in handy. Place one tortilla in the middle of the casserole dish. Break in half a second tortilla and lay those two halves over the dollops of enchilada sauce, overlapping the intact tortilla. Face the straight side of the half moon shape toward the outside of the glass baking dish. It doesn't matter which side of the casserole dish you place them, because after building the first layer of the beef enchiladas casserole, you'll alternate the direction the tortilla shells face.
Assemble the layers of your beef enchilada casserole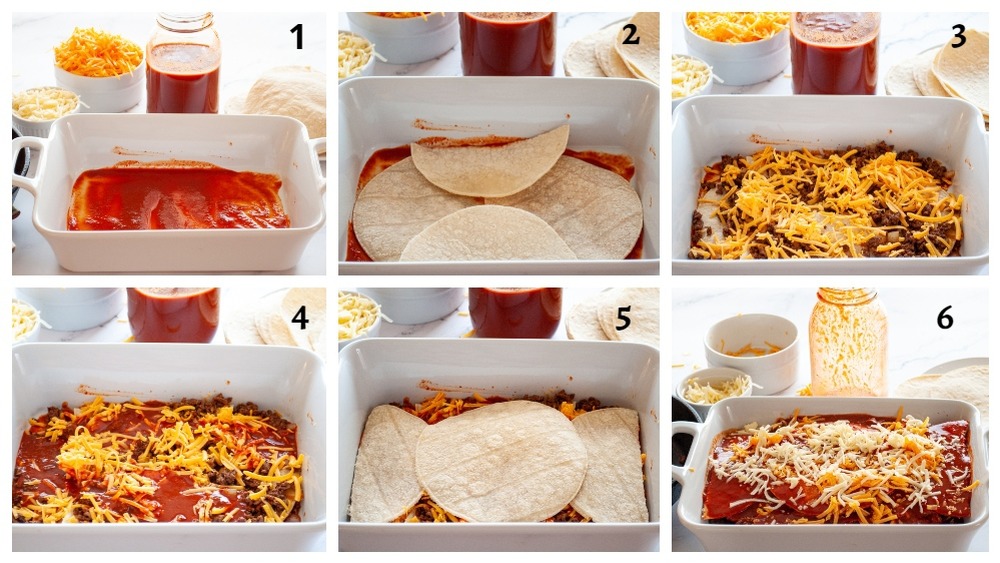 Lauren Sampson
Spread across the tortilla shells one-third of the ground beef, one-quarter of a cup of shredded cheddar cheese and one-fourth of the rest of the rest of the enchilada sauce. Is your mouth watering yet?
Start on the second layer of the beef enchiladas casserole and build it the same as the first, but lay the half tortilla shells the opposite direction as the base. Add in one-third of the ground beef, one-quarter of a cup shredded cheddar cheese and one-fourth of a cup enchilada sauce, the same as the first layer.
Then stack a third layer on this casserole, copying the same steps but placing the half tortilla shell the opposite direction as the second layer. Placing remaining tortillas across the top of the casserole and drizzle remaining enchilada sauce across the top. Sprinkle with the rest of the cheddar cheese and half of the Monterey jack cheese.
The specifics of this beef enchilada casserole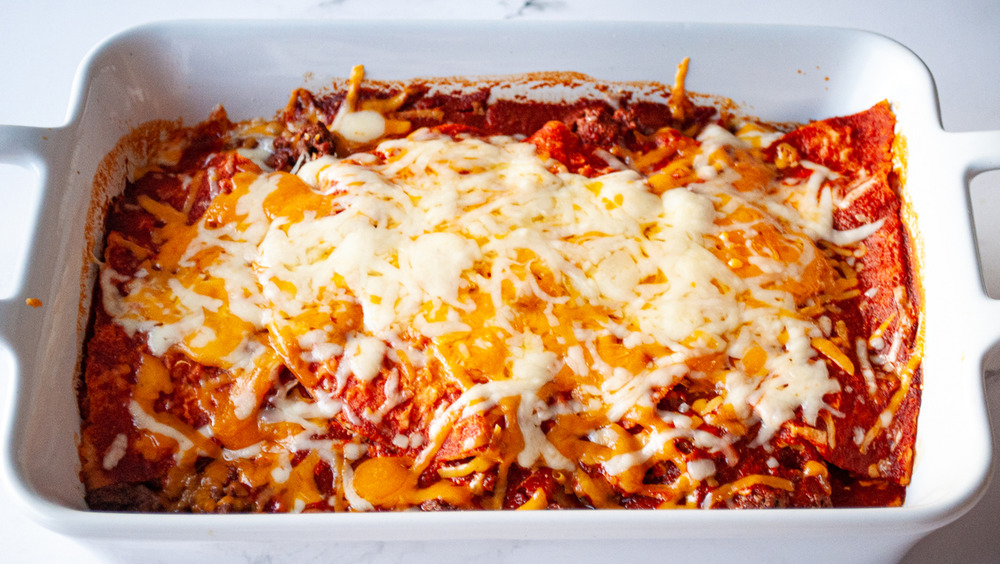 Lauren Samspon
Cover with aluminum foil and bake for 20 to 25 minutes until the beef enchiladas casserole is bubbling. When it's active, peel back the foil and sprinkle with the remaining cheese.
Bake another five minutes or so, until the freshly added cheese is melted. Be sure to let it rest for five to ten minutes before serving, so it has time to set up. It's important to not skip this step no matter how hungry you are.
Foodie Stacey Ballis explains that a casserole fresh out of the oven has liquid bubbling at the surface and hasn't firmed up. "Give your casseroles that bit of time at room temp to firm up and let the sauce settle and you'll be rewarded for your patience," she said.
Pile on the enchilada casserole toppings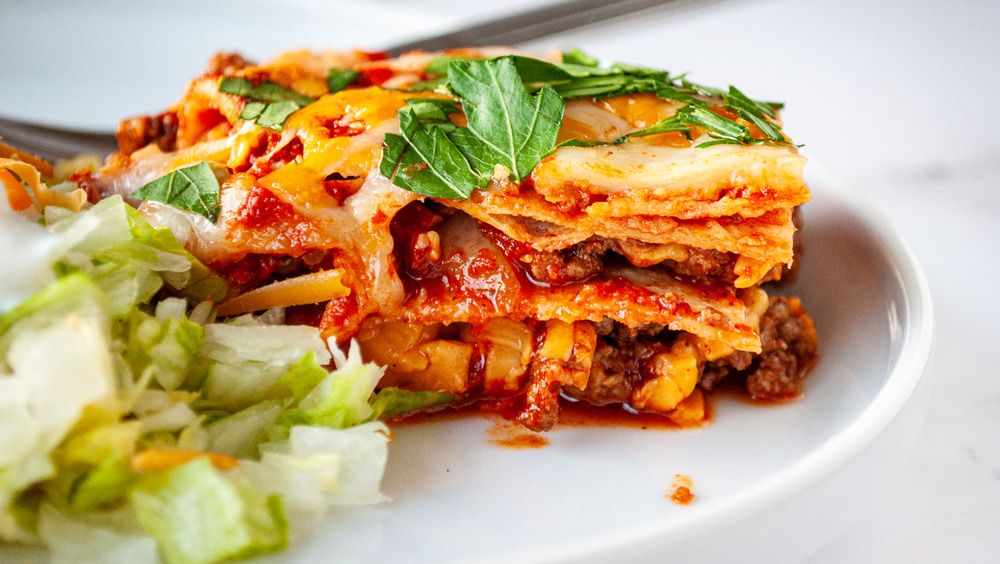 Lauren Sampson
In the meantime, get out all of the garnishes that you can imagine for every diner's preference. Add a glob of sour cream atop your slice, toss on some shredded lettuce or even diced tomatoes or onions. Pour on some picante, salsa or pica de gallo for an added boost on your individual slice. There's no right or wrong way to dress this up for a mouthwatering meal. 
"You can dress these up with sour cream, shredded cheese, chopped peppers, salsa, just about anything will make a great garnish and optional topping," Sampson said.
Fortunately, all of the ingredients and even toppings can be found at large grocery stores.
"Everything for this recipe can be found in major retailers. I live in a small town in Alaska and the ingredients are even easy for me to find," Sampson said.
Enchilada Casserole Recipe
This cheesy beef enchilada casserole is a dish that will hit the spot when you need something easy, that the entire family is sure to love.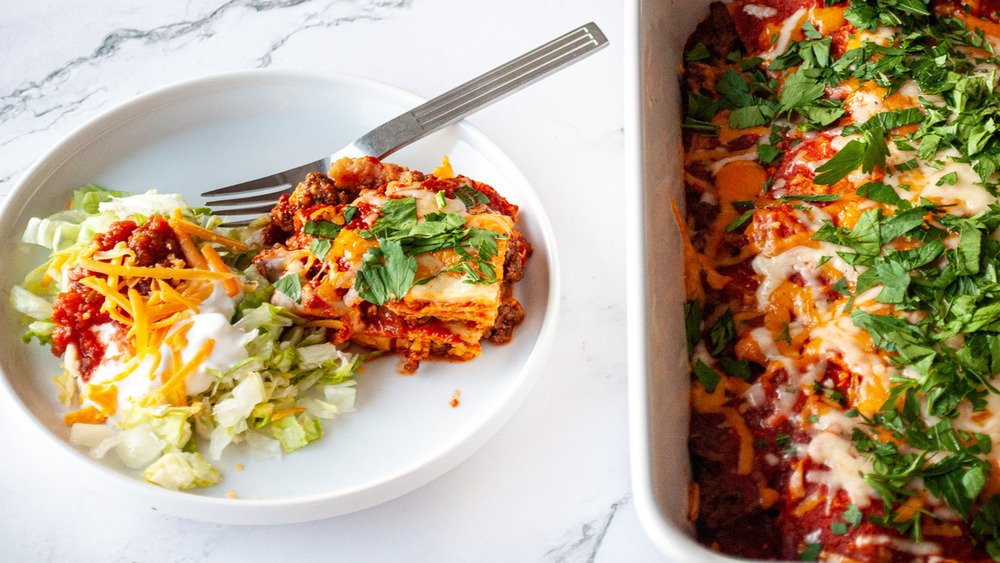 Ingredients
1 pound lean ground beef
1 cup chopped onion
2 teaspoons chili powder
1 teaspoon ground cumin
1 teaspoon salt
3 cups enchilada sauce
12 tortillas
2 cup shredded cheddar cheese
½ cup shredded Monterey jack cheese
Directions
Preheat the oven to 350˚
Brown the ground beef, drain as needed
Stir in the chopped onion and spices
Cook 2 more minutes
Put 2 spoonfuls of enchilada sauce in the bottom of a rectangular 3-quart-sized casserole dish
Lay two tortillas over the sauce, breaking the second one in half and lying on each side for more coverage
Sprinkle with one-third of the ground beef mixture, one-fourth of the shredded cheddar cheese and one-fourth of the remaining enchilada sauce
Make the second layer the same as the first but lay the two tortilla halves the opposite way as the first layer
Repeat the layering process
Make the third layer the same as the first
Lay remaining tortillas over the top of the casserole
Pour over any remaining enchilada sauce
Sprinkle the top of the casserole with half the remaining cheddar cheese and half the Monterey jack cheese
Cover with foil and bake 20-25 minutes until the casserole is bubbling, then remove the foil, sprinkle with the remaining cheese and bake just until it melts, approximately 5 minutes or so
Let it rest 5-10 minutes before serving
Nutrition
| | |
| --- | --- |
| Calories per Serving | 274 |
| Total Fat | 16.2 g |
| Saturated Fat | 7.5 g |
| Trans Fat | 0.7 g |
| Cholesterol | 50.2 mg |
| | |
| --- | --- |
| Total Carbohydrates | 17.5 g |
| Dietary Fiber | 2.9 g |
| Total Sugars | 4.9 g |
| Sodium | 719.2 mg |
| Protein | 14.8 g |