The Cookbook Ina Garten Recommends Beginners Start With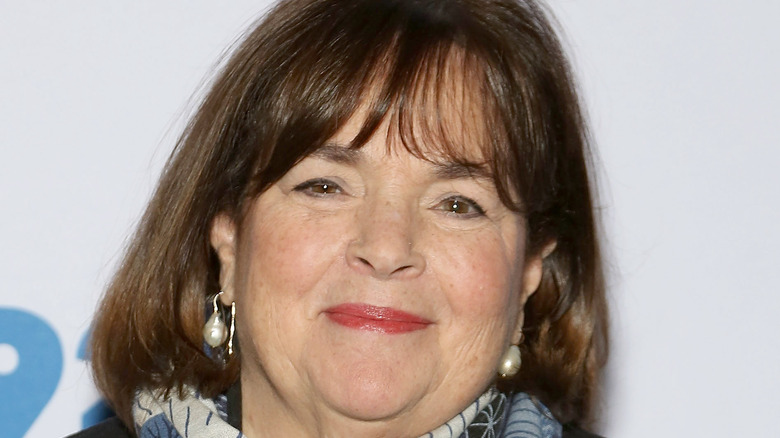 Manny Carabel/Getty Images
We may receive a commission on purchases made from links.
Ina Garten really is just like us. No, seriously. Garten is everyone's favorite celebrity home cook who creates such incredible dishes and ingredients — did anyone say DIY vanilla extract as a holiday gift? You would never guess that the one-time White House administration worker is a self-taught cook. Per Eating Well, the host of Food Network's "Barefoot Contessa" taught herself to cook by working her way through Julia Child's cookbooks. On an episode of "Radio Cherry Bombe," Garten shared that her mom didn't really let her cook at home. So Garten did the next best thing when she was older: "I got Julia Child's 'Mastering the Art of French Cooking' and really started working my way through those two volumes. I was 'Julie & Julia.' ... It's funny. Some people have told me that I'm their Julia Child for 'Julie & Julia,' which is really flattering."
Since then, Garten has become a cookbook author herself, sharing how she whips up mashed potatoes with lemon zest or uses booze as her secret weapon for desserts. Garten has a lot of wisdom, tips, and tricks to impart to us. If you are a fan of the "store bought is fine" chef, then you might wonder which of Garten's cookbooks is best for the newly-minted cook. You are not alone, and fortunately, a fan from Lincoln, Nebraska asked Ina this very question on Garten's "Ask Ina" website forum.
Try Garten's first cookbook
Garten answered her fan from Nebraska's pressing question by suggesting she start with "The Barefoot Contessa Cookbook." Garten wrote, "I always recommend that beginner cooks start with 'The Barefoot Contessa Cookbook,' which is filled with the easy recipes that I used to make at my specialty food store in East Hampton, New York." Perhaps it is its simplicity that makes it the perfect cookbook to use to get started on your Ina Garten cooking journey. 
One reviewer on Good Reads wrote, "Gotta love the Contessa! Simple, accessible ingredients, delicious food — full of the love of feeding loved people." While the book's Amazon Review also cited this cookbook's simplicity, noting this book is not about "getting outrageous" with your recipes, a point proven with Garten's inclusion of recipes for both hummus and guacamole. The review goes on to quote Garten's thoughts on food, "Food is not about impressing people. It's about making them feel comfortable." The celebrity chef also shares a number of tips and tricks in this cookbook that will surely add to the ease of your cooking experience.