Ina Garten Thinks You Should Make This Pantry Staple For A Holiday Gift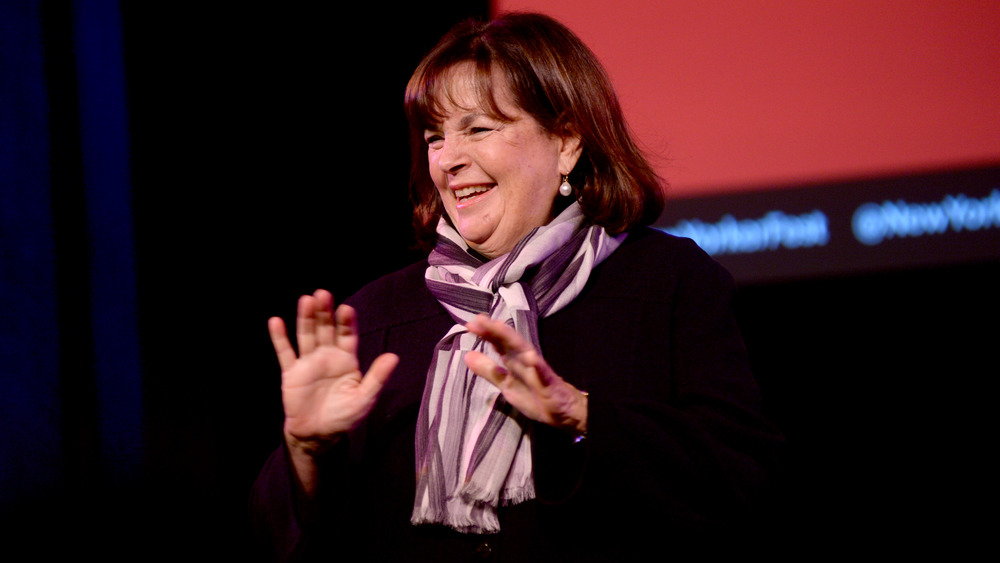 Brad Barket/Getty Images
You probably don't need another reason to listen to Ina Garten, but if so, know that for Thanksgiving this year she's making everything worthwhile in this life by sharing how to make chipotle smashed sweet potatoes, herb and apple bread pudding, and potato fennel gratin. If delicious dishes don't do it for you, then maybe read the celebrity chef's newest The New York Times profile. Filmmaker Nancy Meyers did, and she's got Something's Gotta Give and The Parent Trap to her name, so you know she's on to something (via Instagram). Golden Globe Award-winner Jennifer Garner read it too, and congratulated Garten,"The NYTimes piece captured you perfectly, Ina, I love everything about ... YOU."
In conclusion, she's a beloved star, so when Garten recommends a holiday gift, listen up. Well, that's exactly what she did in the short tour of her kitchen that she filmed as part of her Times profile. "Wait until I tell you about this," Garten says in the video,"This has been going for 35 years." That's right, Garten, Queen of Comfort Food, has 35-year-old homemade vanilla in her pantry. And it's very, very, easy to make. 
This is how to make a perfect holiday vanilla, according to Ina Garten
"What I did," says Garten, "Is I took a jar, and I put vanilla beans in it. They're expensive but you don't have to do it very often." Following that, The Barefoot Contessa simply poured in the vodka. Don't splurge on it. ("This is no time for Grey Goose," says Garten. So maybe go Kirkland?). The only hard part about making good homemade, vanilla is the wait. Be prepared to let your vodka and vanilla bean-filled jars stew for between four to six months before it becomes vanilla extract. That means, of course, if you're planning on giving it as a holiday gift, you'll have to wait until next December. Or, you could just go ahead and hog it all, which is probably what we'll do. 
When it does come time for you to use your deliciously fragrant homemade vanilla extract (to make, for example, sour cream coffee cake), don't forget to use the seeds, too. "The seeds inside become liquid, so you just nip off the top, and you squeeze the beans out," Garten explains. "If you're making something like a vanilla pudding or a vanilla cake you can see the seeds in it, and it just is so flavorful." We'd explain more, but we're off to see about some vanilla beans and vodka. So is, presumably, Nancy Meyers, who messaged Garten on Instagram, "Can we discuss the 35 year old vanilla? xo"