Easy Slow Cooker Dulce De Leche Recipe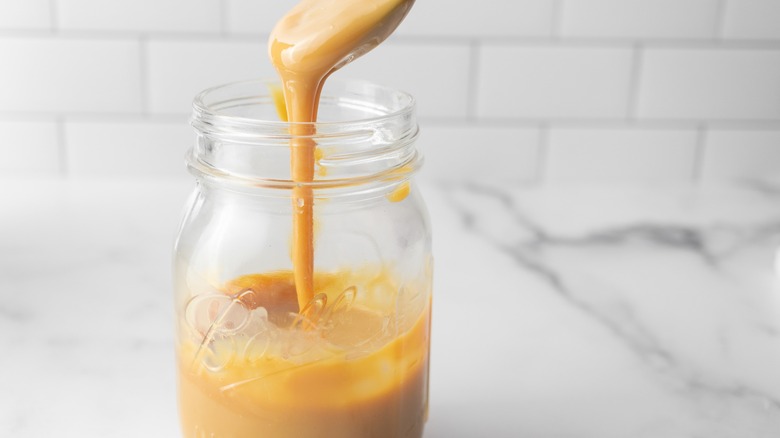 Liz Capozzoli/Mashed
Dulce de leche is a delightful treat any time you want to have something fun. The taste is similar to caramel, but in our opinion, it has that little something extra that makes it even a bit tastier! According to Culture Trip, dulce de leche is wildly popular in both Argentina and Uruguay. A few Latin American countries actually claim to be where dulce de leche originated many years ago. Interestingly, there are even some people who think that it came to be in 1804 by mistake. Rumor has it that Napoleon's chef goofed when making a recipe, which resulted in dulce de leche, after heating up sugar and milk for longer than necessary. Dulce de leche is a decadent treat, though, regardless of where and when it came to be — one that everyone enjoys.
Recipe developer Liz Capozzoli of Owl Baking is the creator of this crowd-pleasing treat. The recipe requires only a few minutes of prep time, which makes it extra sweet since it's so easy to whip up. "My favorite thing about this recipe is how easy it is! It's crazy how a simple can of sweetened condensed milk turns into a totally new thing," she raves. "The end result does not taste or look like sweetened condensed milk at all. It transforms into a rich and thick, caramel flavor and consistency with a beautiful golden color." This all sounds pretty amazing to us. Let's take a look at how to make your new favorite topping!
Gather the ingredients to prepare this slow cooker dulce de leche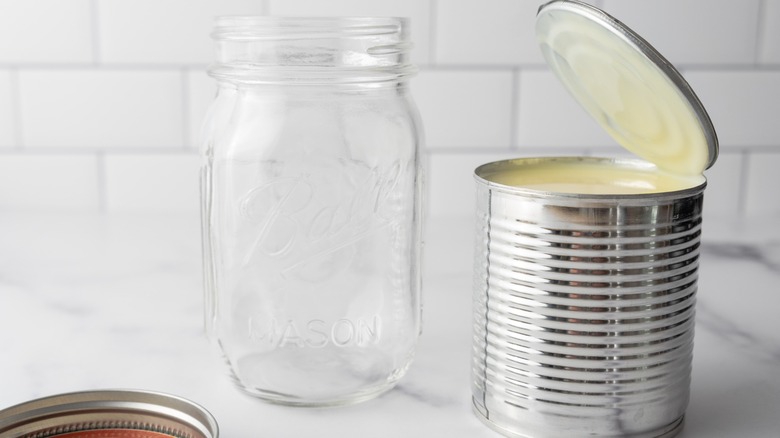 Liz Capozzoli/Mashed
Dulce de leche is probably the only recipe you're ever going to come across that has just one ingredient. On your grocery list, you can simply add a 14-ounce can of sweetened condensed milk, and that's really all you need to whip up this treat! If you want to stock up at the store, it's probably a good thing to keep handy in your cupboard, so you have the solo item ready and waiting for whenever you want to make this yummy topper. It can come in handy when you're having a movie night and want to scoop up some French vanilla ice cream, or you may even want to drizzle some in a batch of special cupcakes for a birthday party or picnic.
Whatever the occasion may be, once you've made this recipe and see how easy it is to do, it is sure to be one of your favorite steps in some of your sweet servings in the future. Now it's time to get down to business, so let's make some dulce de leche.
Prep the slow cooker and your mason jar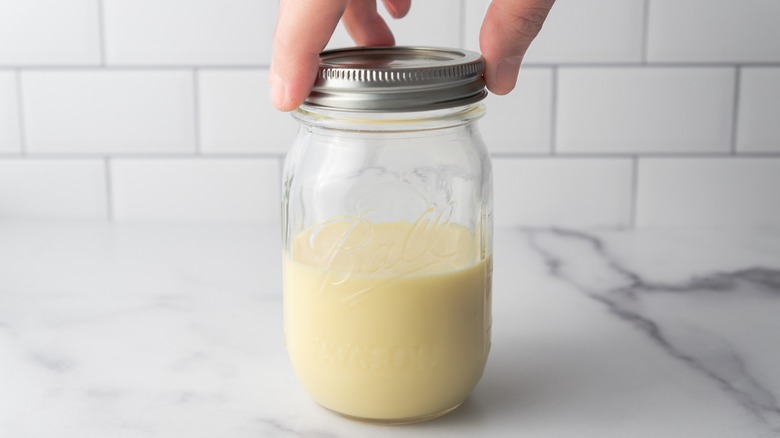 Liz Capozzoli/Mashed
There are a few things you'll have to get ready for this recipe, namely your slow cooker, can of condensed milk, and a mason jar. First off, get out your trusty slow cooker, and fill the inner pot with water. Next, you're going to set the slow cooker aside, because you'll need it in just a second. Then, grab your mason jar or something similar, and pour in the can of sweetened condensed milk. Screw the lid on tightly to make sure nothing will be able to come out when it's slow cooking. "This recipe can be easily scaled, and several jars can be cooked simultaneously," Capozzoli notes. The more, the merrier, because you can store it and pull it out whenever you'd like to use some!
Place the mason jar in the slow cooker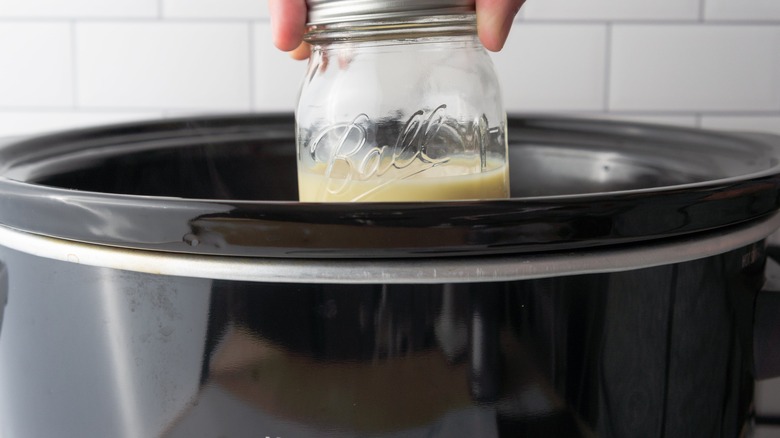 Liz Capozzoli/Mashed
Once you prep your jar and the condensed milk is in it, place it into the water in the slow cooker. Make sure that the water comes up past the lid by at least one inch. If it doesn't go at least one inch beyond the lid, add more water to the slow cooker. Now, place the lid on, and you're going to set to cook low and slow for eight to 10 hours. Set your timer, and that is pretty much it! 
While this sweetness is happening in your kitchen, you have time to get other things done. If you'd like, you can whip up some brownies, cupcakes, or whatever your favorite dessert might be that you can use together with your amazing new topping that will be ready before you know it. If ice cream is your jam, now would be a great time to get to the store and buy one of your favorite flavors to enjoy later on for dessert. In fact, you can pick up some cranberries, blueberries, or sprinkles to dress up the presentation with a pop of fun color.
Finish, and enjoy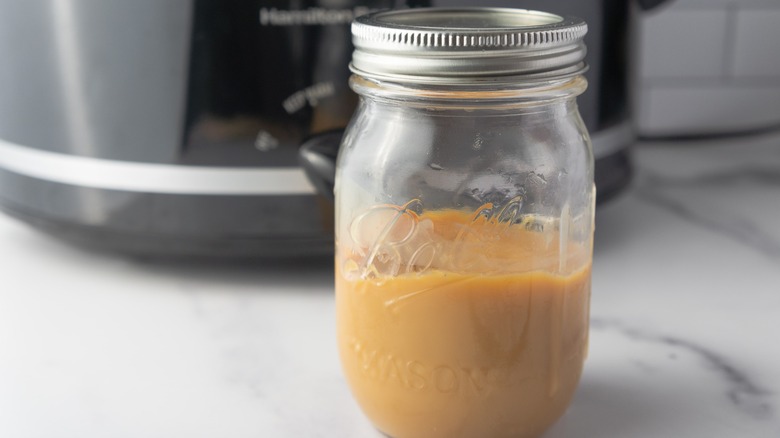 Liz Capozzoli/Mashed
After eight to 10 hours of cooking, this delicious sauce will finally be ready to enjoy. The waiting is the hardest part, but the end result will be totally worth it. Turn the slow cooker off, and remove your mason jar. The dulce de leche should be a medium golden brown color in color when it's done. Once ready, remove the lid, and let it cool for about 30 minutes at room temp. If you're ready to serve it now, you can pour it over whatever you choose to have it with. This will be a very impressive addition to your desserts and a definite crowd-pleaser.
Enjoy as much as you want, and you can store unused dulce de leche in the refrigerator. It will be good for about two weeks, just remember that it's in there so you can enjoy it with many other snacks!
Serving suggestions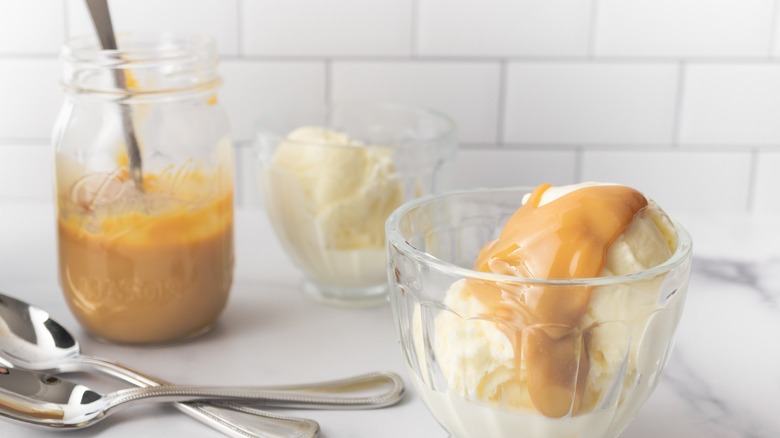 Liz Capozzoli/Mashed
As we touched upon earlier, when it comes to serving dulce de leche, the possibilities are truly endless. This sweet topping pairs well with ice cream, but there are several other things that make a good addition, too. "Dulce de leche can be swirled into brownies (before baking), as a topping for cheesecake, added as a layer in s'mores, spread on toast, as a fruit dip, or as a crepe filling," Capozzoli shares. "It can be used as a replacement for caramel in other recipes, too!" Yum. This recipe has opened up a whole new world of possibilities when it comes to toppings, so whip some up, and enjoy it!
Easy Slow Cooker Dulce De Leche Recipe
This slow cooker dulce de leche recipe will come in handy come in handy when you're having a movie night and want to scoop up some French vanilla ice cream.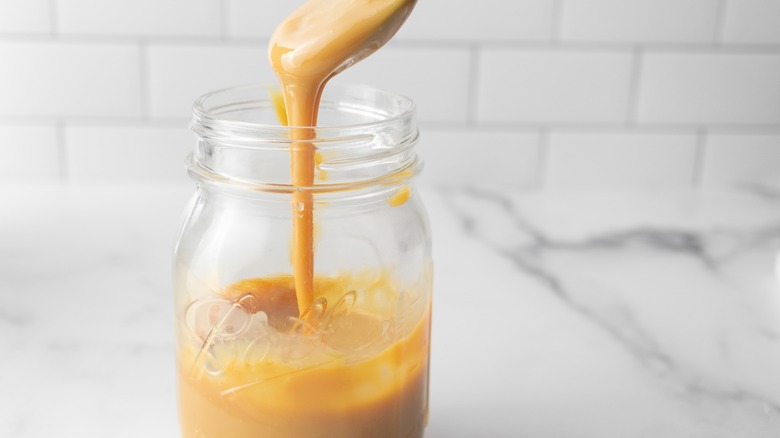 Ingredients
1 (14-ounce) can sweetened condensed milk
Directions
Fill the inner pot of the slow cooker with water. Then, set aside.
Pour the sweetened condensed milk into a mason jar (or something similar), and screw the lid on tightly.
Place the jar into the water, ensuring that the water comes up past the lid of the jar by 1 inch. If it doesn't, add more water.
Put the lid on, and set the slow cooker on LOW. Cook for 8 to 10 hours. When time is up, the milk should be a medium golden brown.
Once ready, remove the lid, and allow to cool for 30 minutes. Remove the jar, and cool completely at room temp.
Store unused dulce de leche in the refrigerator.