Oreo's 2021 Pride Cookies Are More Diverse Than Ever
Pride month for 2021 is not over yet, and neither are the creative ways that the food industry has come up with to celebrate. It's hard to compete with the rainbow cookies that OREO introduced last year, but here they are, one-upping themselves again. This year, the brand is releasing limited edition OREOiD Pride packs that we're sure you and your family will love.
According to a press release sent to Mashed, the brand is continuing their partnership with PFLAG National to share inspirational artwork and encourage members of the LGBTQ+ community to share their coming out stories. PFLAG National is the first and largest organization for LGBTQ+ people, friends, and families that provides support (via PFLAG). In order to highlight those experiences, OREO chose four LGBTQ+ artists to create graphic art pieces featuring the first words they heard — or whish they had heard — when coming out. We aren't crying, you are.
Along with this beautiful artwork, the brand is giving away 3,000 limited edition OREOiD Pride packs to mark the occasion. Fans can choose between five sets of cookies with different color creme fillings that represent different LGBTQ+ identities.
What OREO's new Pride packs look like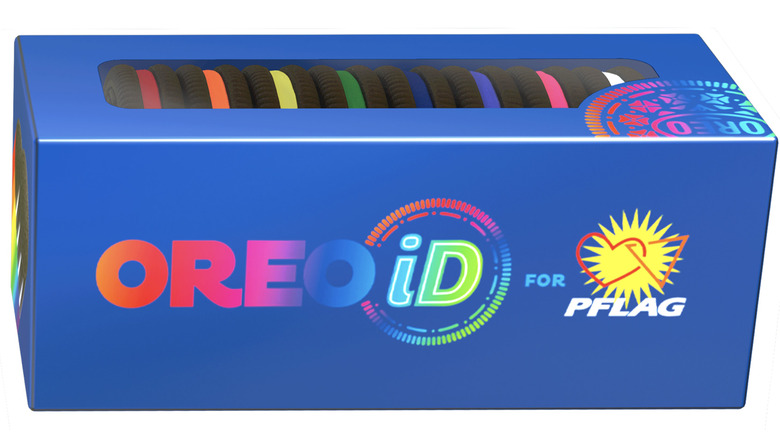 OREO
According to the press release sent to Mashed, the color creme fillings are inspired by the Gilbert Baker Pride flag, the bi+ Pride flag, the lesbian Pride flag, the pansexual Pride flag, and the trans Pride flag. If you're hoping to score one of these limited Pride packs, make sure to keep an eye on OREO's social media June 29, when they plan to announce the drop date.
The press release shared a quote from Senior Brand Manager of OREO Equity, Olympia Portale, explaining that, "This Pride, our mission is to continue the work we've done with our partners at PFLAG National by bringing attention to those pivotal conversations one has when they come out to a loved one." Portale went on to share, "That's why OREO is bringing real people's words to life in an important, proud and powerful way."
Kudos to OREO for expanding its Pride offerings to include multiple identities this year, honoring even more members of the LGBTQ+ community with something so moving (and delicious!). OREO is always releasing new and exciting collaborations and flavors, but this one takes the cake. (Or, should we say, the cookie.)