This Genius TikTok Hack Will Change The Way You Make S'mores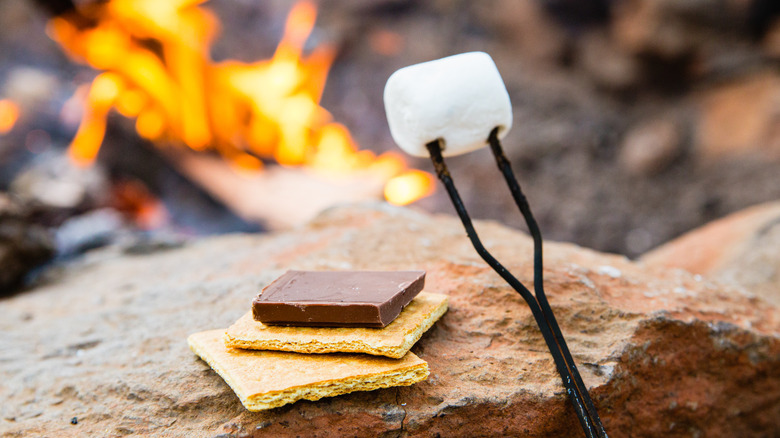 Shutterstock
S'mores are such a classic treat when it comes to summer camps, bonfires, and outdoor gatherings. Making s'mores is a great way to get everyone involved in creating their own dessert. The treat has become so popular, we've seen s'mores products in grocery stores. Aldi fans are excited for a s'mores flavored jumbo cookie kit, and you can find s'mores squares at Costco that don't require building a fire.
But if you're looking to roast your own marshmallow and put together your own gooey treat, then skip the grocery store and get your marshmallows, chocolate, and graham crackers ready. While the most traditional way to make s'mores involves sandwiching your toasty marshmallow between graham crackers with a piece of chocolate, TikTok is changing the s'mores game. For anyone who is ready to add a small twist to their s'mores and try new things this summer, this TikTok hack is for you. And bonus: This might make your s'mores just a little less messy.
How this s'mores TikTok hack works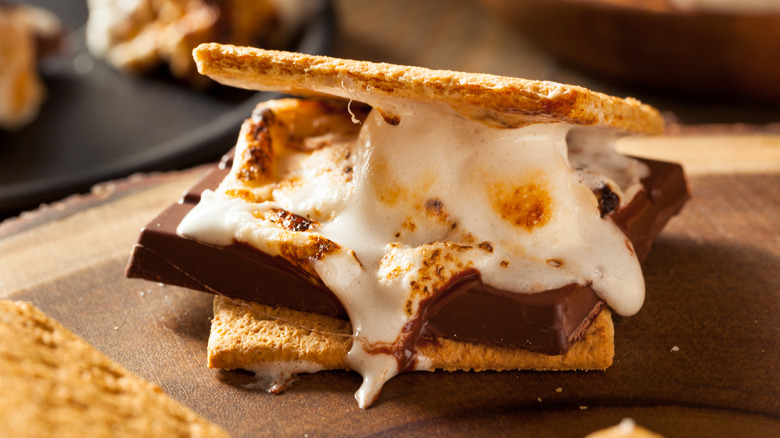 Shutterstock
TikTok user @sarahiil posted a video where the chocolate is stuffed inside the marshmallow before roasting it over a campfire. This means the chocolate is melted over the fire while the marshmallow turns a golden brown. Other TikTok users seem excited to try this out for themselves and tagged their friends to get them in the know. However, other TikTok commenters said that this wouldn't be enough chocolate. After all, marshmallows are only so big. Still, this hack means less chocolate dripped all over you, and the chocolate and marshmallow will really blend together.
Don't have a campfire going? You can still make decadent s'mores in an oven, and even with an oven, you can give this TikTok hack a whirl and stuff your chocolate inside the marshmallow. Plus, if you want to add even more deliciousness to your s'more, there's one ingredient — a peanut butter cup — that will take your toasted treat to the next level. What's your favorite way to make s'mores?