The Trader Joe's Memoir You Never Knew Existed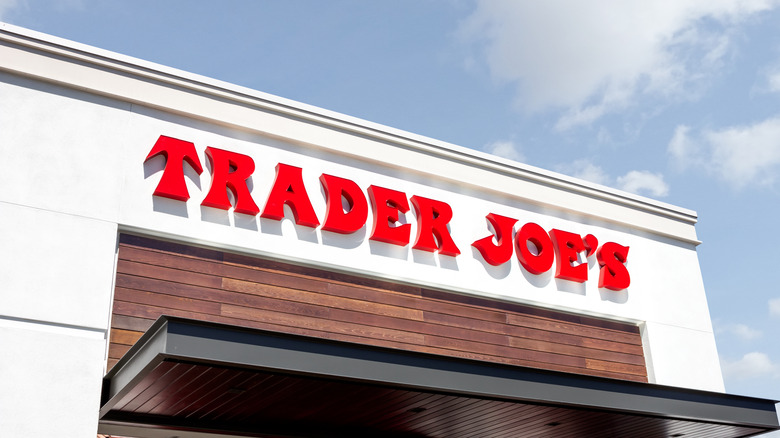 Shutterstock
At some point, between distracted bites of World's Puffiest White Cheddar Corn Puffs and peanut-butter filled pretzels, many steadfast fans of Trader Joe's have probably noticed that the company is pretty secretive. Its executives almost never grant requests for interviews, and there are no signs to indicate the location of its headquarters in Monrovia, California, notes NPR. The company is even more tight-lipped about the third-party manufacturers of its products, says Eater, speculating that Trader Joe's pita chips likely come from Stacy's and its gluten-free chocolate chip cookies seem to be the same as Tate's Bake Shop's.
If you've ever wanted to learn more about mysterious Trader Joe's, you probably pounced at the grocer's first podcast episode that released in 2018, as the company rarely offers information about its inner workings. Now you can get the scoop straight from the source, thanks to a newly published memoir by Trader Joe himself. It's called "Becoming Trader Joe: How I Did Business My Way and Still Beat the Big Guys" by founder Joe Coulombe (with Patty Civalleri).
What you'll learn from 'Trader Joe' Coulombe's memoir
Joe Coulombe opened the first Trader Joe's in 1967 in Pasadena, California (via Refinery29), and remained deeply involved in the ever-expanding chain even after he sold it to the German family who owns Aldi, reports the Los Angeles Times. In the early 2000s, Coulombe wrote "Becoming Trader Joe" not imagining that it would ever be published, but merely with the idea that his research, lessons, and influences should be recorded. It wasn't until 2018 that his good friend brought the book to a publisher, and Coulombe's story has finally gone to print a year after his death in 2020.
The book is "clearly written for entrepreneurs and business types" who want to learn the secrets to Trader Joes' unique success, says the LA Times, but it should also be enjoyed by anyone interested in California history, the evolution of the grocery industry, or classic TJ's quirkiness. One takeaway from the story is that the original Trader Joe helped change American food culture. Coulombe founded the store on the idea that shoppers might want to buy foods that remind them of international travel, according to the LA Times, and still today, its worldly variety of products reflects the "intercultural exploration that has redefined American cuisine."